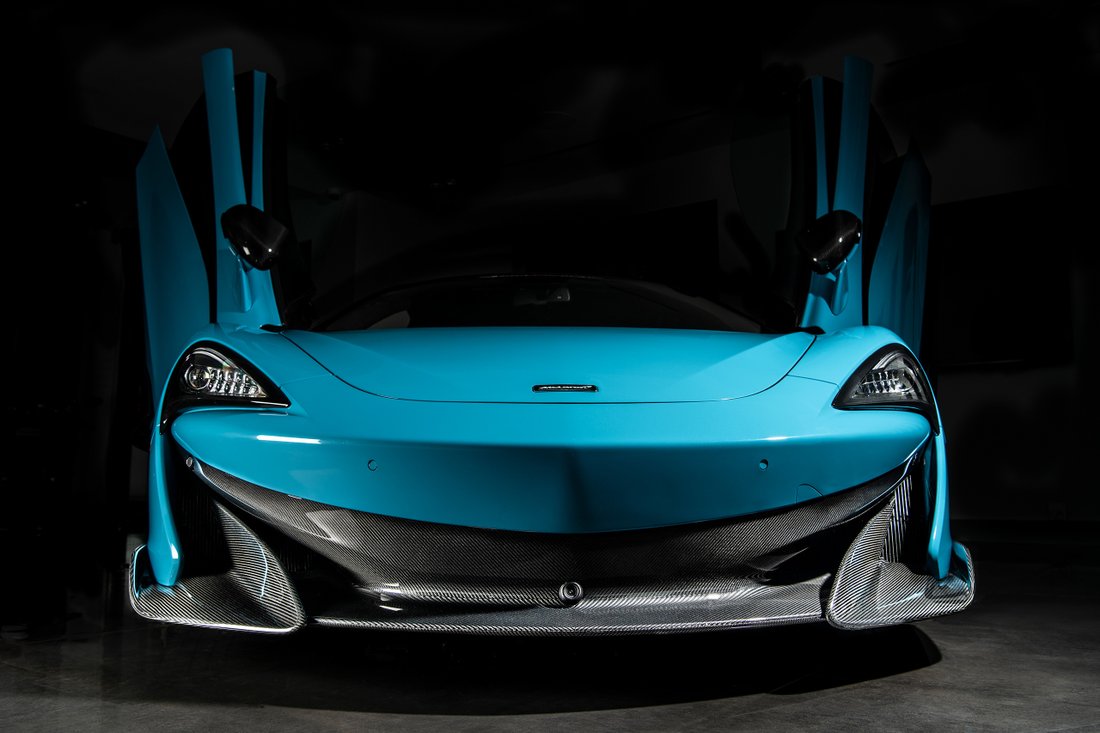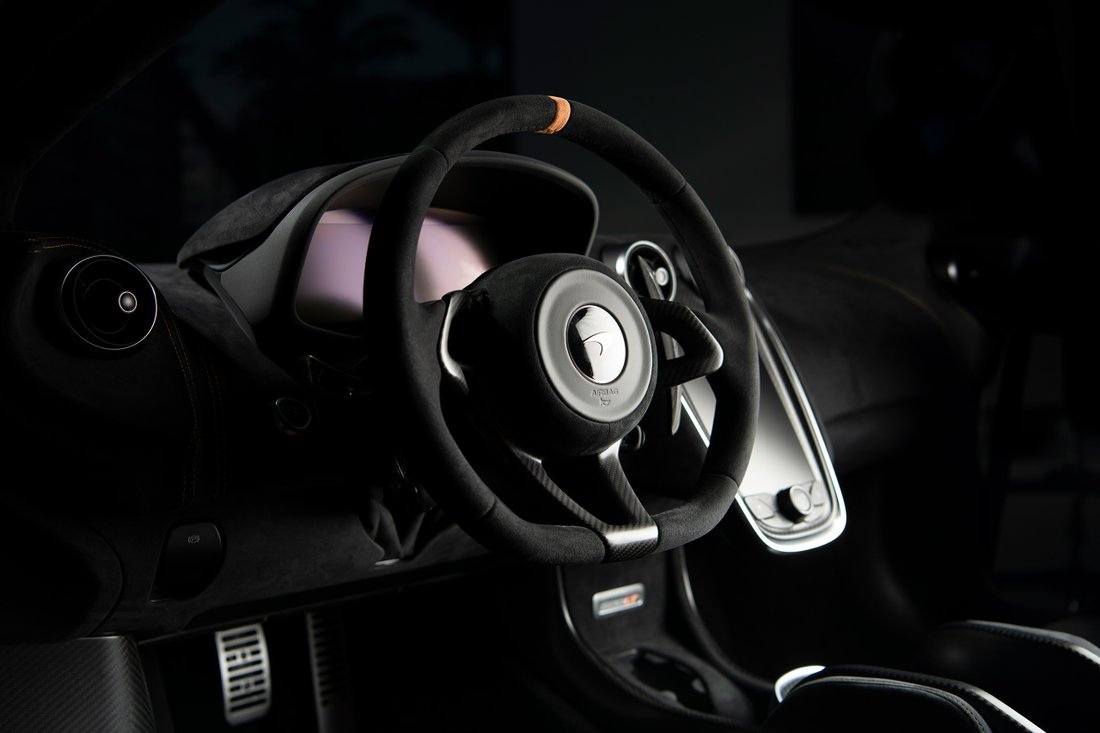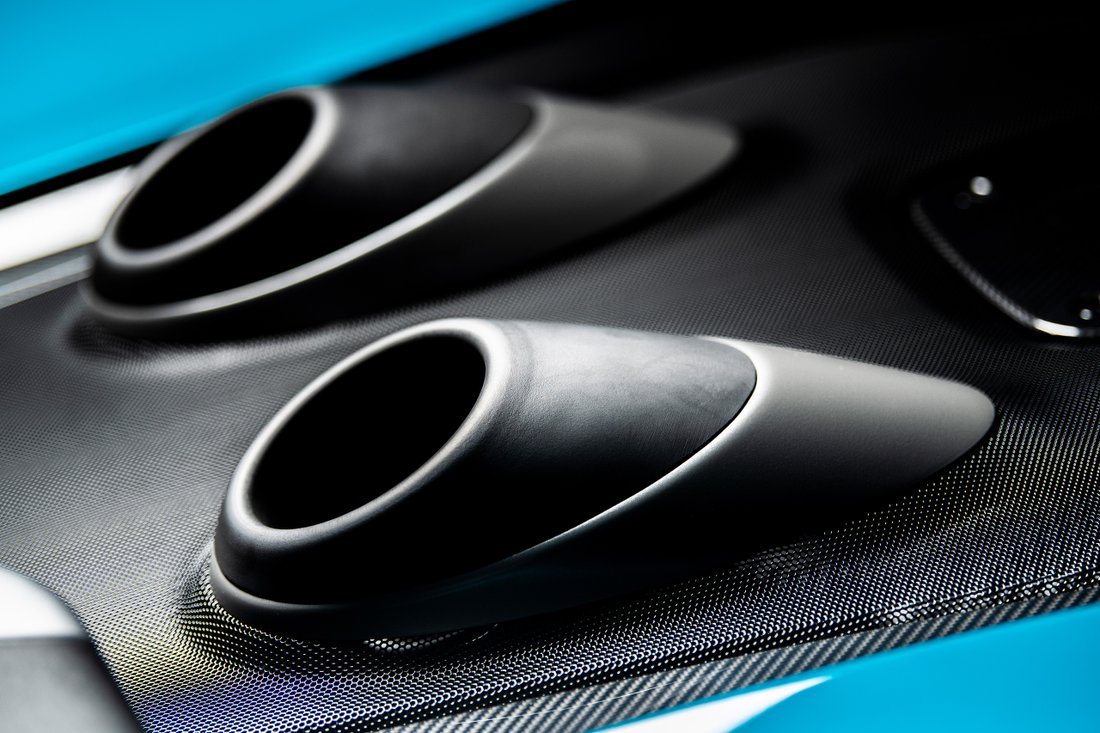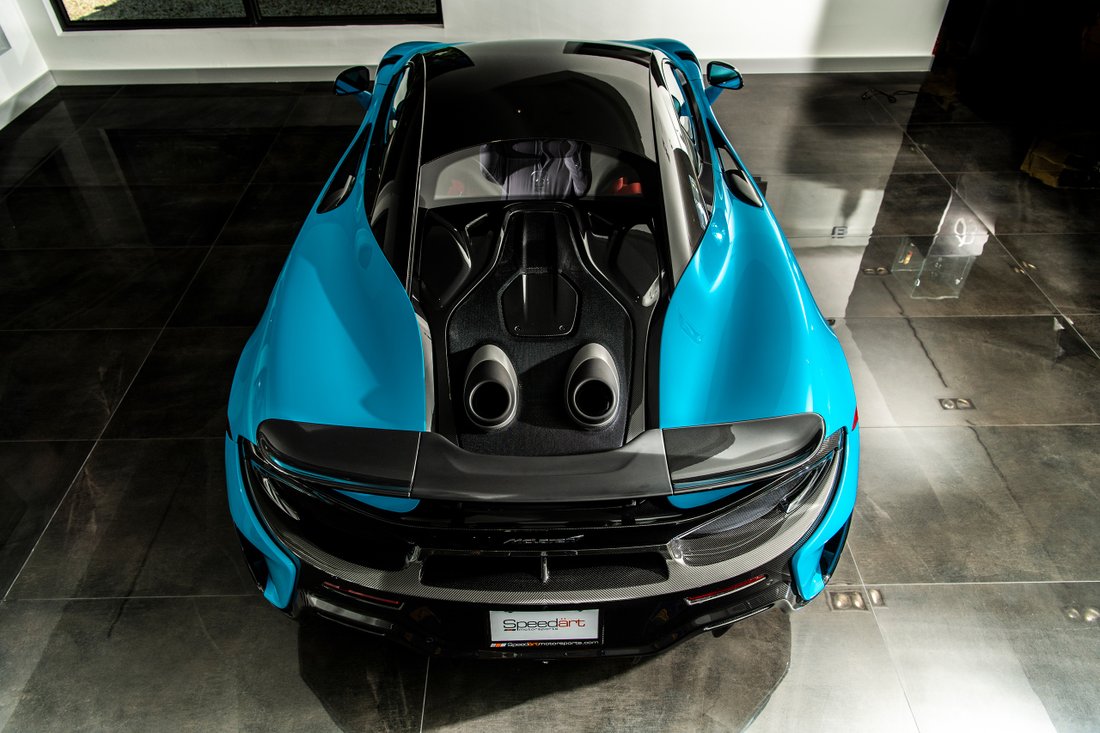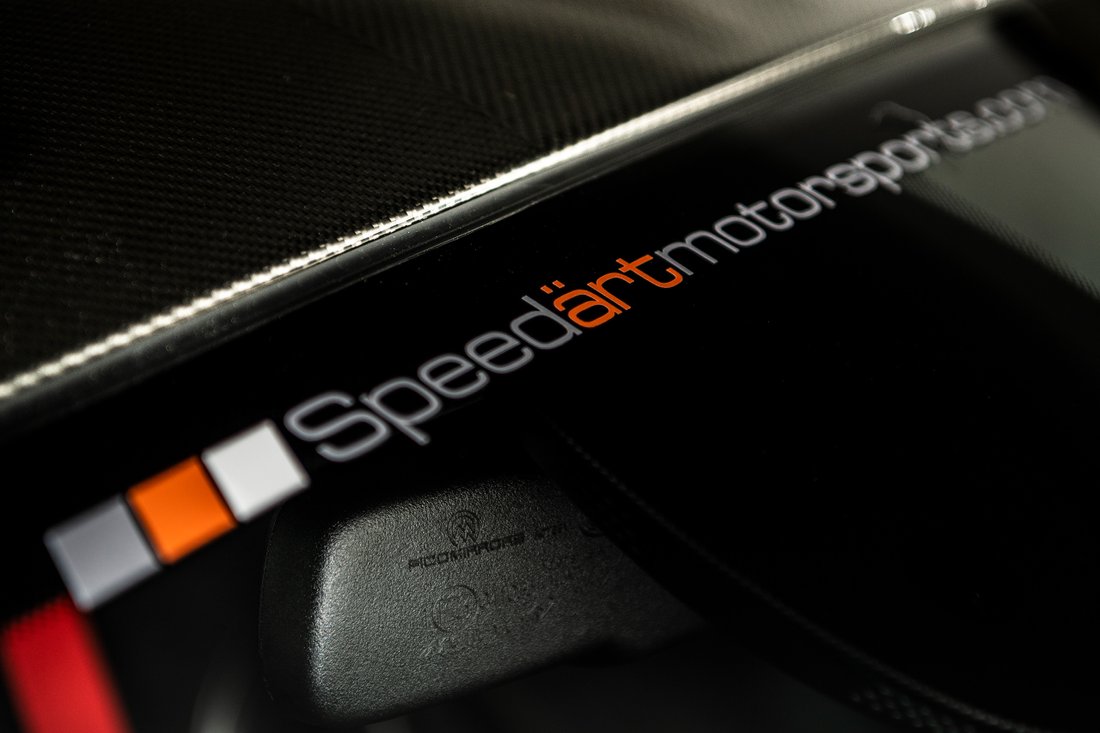 About This Car
High Specification Surrey's Thoroughbred in Fistral Club Sport Livery with Delivery Miles

"A spellbinding track weapon that seems to heighten your senses like an illicit substance– it ti
High Specification Surrey's Thoroughbred in Fistral Club Sport Livery with Delivery Miles
"A spellbinding track weapon that seems to heighten your senses like an illicit substance– it tingles with feedback and is irresponsibly addictive in the best possible way. The 600LT is the second Longtail to hit the road and it sits one rung down from its Super Series predecessor to crown the Sports Series line-up".

Introduced at the 2018 Goodwood Festival of Speed in July, the 600LT follows in the footsteps of the already iconic F1 Longtail and 675LT. It's lighter, more aggressive; it benefits from new aerodynamics, as well as a more powerful engine. It's the most powerful and most track-focused Sports Series model yet and it's here to take on the Porsche 911 GT3 RS!
A tune of the 3.8-liter twin-turbo V-8's ECU yields output totals of almost 600 horsepower and 457 lb-ft of torque, and twin top-exit exhaust pipes centralize mass and reduce overall weight versus a longer system. A more aggressively programmed seven-speed dual-clutch transmission offers launch control as it does in the 570S, but adds a "burnout" mode, perhaps to emphasize its overt badassery.
The cumulative result of those mods—the weight cutting, the downforce, the grip, the muscle—comes across instantly on the road. There's a level of stiffness and responsiveness that makes the 600LT feel several rungs above a run-of-the-mill 570S, making the lesser variant feel remarkably mild, like a grand tourer trapped in the body of a sports car.
The 600LT's rear end stretches 47mm further back than the rear of a 570S, which is how McLaren justifies the Longtail nomenclature. You will need to be very familiar with McLaren's model range to recognize that in person, but the one-piece carbon fibre rear diffuser and bumper assembly is not at all difficult to spot.
Whereas a 570S is lift neutral at 155mph, the 600LT actually produces 100kg of downforce, thanks to an aggressive front splitter and new side skirts, that prominent diffuser and a fairly modest rear wing.
The freer breathing exhaust system and new engine management software lift power by 30bhp over the 570S to 592bhp. McLaren quotes a 2.8sec 0-60mph time and a top speed of 204mph.
Running 8mm closer to the road, the 600LT sits on springs that are 13% stiffer at the front and 34% at the rear, and retuned dampers. The anti-roll bars are stiffer, too, by 50% at the front and 25% at the rear.
The brakes are lifted from the 720S while the standard-fit tyre is a Pirelli P Zero Trofeo R – understandably, McLaren chooses not to disclose exactly how much of the 600LT's newfound cornering ability is down to its rubber, but you can be sure it is a substantial amount.
Gripping roads with super sticky Pirelli P Zero Trofeo R rubber, the 600LT Spider feels absolutely unflappable, squirting ahead and shooting its nose into corners with effortless ease.
The 600LT is explosively fast, it steers beautifully and it is shot through with agility and handling precision. What you do notice, however, is a much richer and more tuneful soundtrack – thanks to those top exit exhausts – and an even more panic-inducing way of climbing from a moderate speed to a potentially custodial one in the lower gears in what feels like no time at all.
Steer the 600LT through a sequence of slow- and medium-speed bends and you won't be able to tell it apart from the 570S – again, the Trofeo R tyres will undoubtedly make it feel very different to that model – but when you point it along a gently meandering road, perhaps one that has a large drop to one side and a sheer rock face to the other, you do appreciate the 600LT's even sharper handling responses and its yet more pinpoint steering. It is so intuitive and communicative that you think rather than drive it along that sort of road.
With its uncompromising chassis settings, the 600LT does inevitably feel less forgiving on a bumpy road, but in what little suspension travel it does have there is exceptionally well-judged damping. That means the car can feel busy over bumps and ridges, but never brittle or uncomfortable. On smoother roads, you'll never give the car's ride quality a second thought.
Speedart Motorsports is delighted to present one of the highest specifications 600LT, finished in striking Fistral Blue and showcasing McLaren's Special Operations arsenal of bespoke options in tandem with the car's Clubsport Pro-Pack appeal.
McLaren Special Operations (MSO) is the manufacturer's special division, dedicated to helping owners take the McLaren experience even further by making what is already special into something truly extraordinary.
The galore of carbon fibre fittings and aerodynamic enhancements like splitters, wings and diffusers makes the mono-cell chassis with the rear extruded aluminum subframe behave in a go-cart manner and aesthetically ads to the marque's racing pedigree.
The assembly of the Fistral Blue LT was completed in November of 2018 and it was delivered in the same month at its designated authorized dealer in West Palm Beach, Florida.
The motorcar was commissioned with the following optional equipment at a cost of $81,000 constituting it as the ultimate iteration of the Long Tail Sport Series:


Carbon Fibre Exterior Upgrade 3 – MSO Defined


MSO Defined Paint of Fistral Blue


MSO Clubsport Pro Pack


Sill Finisher – MSO Extended Carbon Fibre


MSO Defined Harness Bar


Six-Point Harness in Red


MSO Defined Carbon Fibre Roof


Front Fender Carbon Fibre Louvres


Ceramic Brakes with Red Calipers


10-Spoke U/L/W Wheels Finished in Gloss Black


Vehicle Lift System


Lithium-Ion Battery Charger


Fire Extinguisher


Car Cover


Electric Steering Column


Alcantara Designer Interior


Soft Close Doors


Carbon Fibre Plenum


Carbon Fibre Exterior Upgrade 2


Carbon Fibre Exterior Upgrade 1


McLaren Track Telemetry-App & Cameras


Titanium Wheel Bolt Finish


Carbon Fibre & Black Alcantara Steering Wheel


Carbon Fibre & Black Alcantara Headliner


Carbon Fibre Interior Upgrade


Super-Lightweight Racing Seats


Pirelli P Zero Trofeo R Tires


Parking Sensors & Rear Parking Camera


Since its delivery, the motorcar has never been driven on public roads or on the track and the odometer still displays delivery miles, presented in the same condition as it left the McLaren Technology Center in Woking, Surrey.
With production of the limited series 600LT Coupe already ceased this is an opportunity to acquire one of the most exclusive and dynamic Sport Series ever conceived in an absolutely bespoke configuration.
Speedart Motorsports welcomes all serious inquiries as we would like to extend an invitation to all interested parties in order to witness up-close and personal this truly legendary British sporting machine.
The sale of this motorcar is accompanied by owners manuals, service books, window sticker and pertinent documentation, spare keys, lithium ion battery charger and a branded indoor car cover.
Disclaimer Whilst Speedart Motorsports, LLC. ("We") make a sincere effort to contain information  that is accurate and complete, we are aware that errors and omissions may occur. We are not able therefore, to guarantee the accuracy of that information and we do not accept liability for loss or damage arising from misleading information or for any reliance on which you may place on the information contained in this website. We highly recommend that you examine the vehicle to check the accuracy of the information supplied. If you have any queries with regard to any information on our website, please contact us at [hidden information]. This disclaimer does not affect your statutory rights.
Car Details
Year
2019
Location
Miami, FL, United States
Address
3301 NE 2nd Ave
Mileage
39 mi (63 km)
Engine
8 Cylinder
Gearbox
Dual Clutch
Car type
Coupe
Drive
Lhd
Drive train
Rwd
Fuel type
Petrol
Power
600 hp (447 kw)
Condition
Used
VIN
SBM13RAA0KW006797
Color
Blue
Interior color
Black
Contact agent
Speedart Motorsports
You have inquired about this listing
The seller will contact you soon by
For Sale by
Registered on JamesEdition
2019
Address
Miami, Florida, United States
Phone number