Timepieces are more than a classy fashion accessory. According to Technavio, the luxury watch market will grow by $1.64 billion between 2020-2024. The key driver behind that growth is premiumization through product design and innovation. For investors and high net worth individuals looking to hedge their money, the most expensive watch brands in the world could be a rewarding and stable investment.
Take Paul Newman's 1968 Rolex Daytona. That sold for a mighty $17.8 million in 2017, setting a record for the highest price achieved for a wristwatch at auction. The record-breaking sale cemented the fact that high-end watches are a solid purchase.
Watches rarely depreciate in value and don't require maintenance like other investments such as cars and property. According to Knight Frank, watches are one of the areas where "money flows fastest, with the highest 'supply' and turnover."
So, what are the best brands to invest in? The criteria we use include price, exclusivity, and rare collectible status. There are currently over 4,000 high-end watches listed on JamesEdition, ranging from a limited edition Philippe Patek at around $26 million to a sapphire glass Breitling priced at approximately $1,700.
There are many luxe brands for wealthy individuals to consider investing their money in. For the lowdown on our top 25 luxury picks, continue reading.
The 25 most expensive watch brands in the world
1. Patek Philipp
Most expensive Patek Philipp currently for sale: 175th Commemorative Grandmaster Chime, $25,998,597
Most expensive Patek Philipp watch ever sold: Philippe Grandmaster Chime, $31,190,000 million (inflation-adjusted)
The legendary Swiss watchmaker is one of the most expensive brands in the world, boasting the priciest watch listed on JamesEdition – the 175th Commemorative Grandmaster. One of seven, the masterpiece features a hand-engraved rose gold case. Universally appealing, Patek Philipp watches are no stranger to the high-end scene. The priciest wristwatch ever sold at auction is the original Patek Philippe Grandmaster Chime, fetching $31.19 million.
All Patek Philipp watches for sale
2. Richard Mille
Most expensive Richard Mille currently for sale: Tourbillon RM 008, $7,300,000
Most expensive Richard Mille watch ever sold: Sapphire RM56-02, $1,936,000
Screaming innovation and expertise, Richard Mille watches offer wearable luxury and technical finesse. The brand's most expensive watch listed on JamesEdition features a titanium case and a striking canary yellow rubber strap. That exclusive one-of-a-kind is in mint condition, boasting a tourbillon for added accuracy. The 2015 tourbillon sapphire wristwatch that sold at auction for nearly $2 million is an extravagant piece of luxury sportswear that's complex in design, and eye-catching yet sturdy.
All Richard Mille watches for sale
3. Jacob & Co
Most expensive Jacob & Co currently for sale: The Billionaire ASHOKA, $4,247,295
Most expensive Jacob & Co watch ever sold: Billionaire, $18 Million
Driven by creativity and uniqueness, Jacob Arabo began his journey in the watchmaking world at the age of 16. In 1986, Arabo launched his own luxury label, Jacob & Co. Fast forward to the present day and the cutting-edge Billionaire watch with 260 carats of diamonds is part of the impressive collection, while the striking ASHOKA®️ features a white gold strap and case encrusted with diamonds.
All Jacob & Co watches for sale
4. Vacheron Constantin
Most expensive Vacheron Constantin currently for sale: Traditionnelle Grandes Complications, $720,836
Most expensive Vacheron Constantin watch ever sold: King Fuad I, $3,630,000
The oldest watchmaker in Switzerland, Vacheron Constantin has been in the business since 1755. Over the years, the respected player has welcomed high-caliber customers. These range from Napoleon Bonaparte and the Duke of Windsor to popes. The 1929 King Fuad I pocket watch sold at auction for $3,630,000 in 2005. Yellow gold, the refined and highly complicated piece was originally gifted to King Fuad of Egypt, who reigned from 1917 to 1936.
All Vacheron Constantin watches for sale
5. Jaquet Droz
Most expensive Jaquet-Droz currently for sale: Tropical Bird Repeater, $603,654
Most expensive Jaquet-Droz watch ever sold: Tropical Bird Repeater, valued at $661,500 in 2019
Featuring delicately hand-crafted birds and scenery, Jaquet Droz's limited edition Tropical Bird Repeater has a mother-of-pearl dial, a black onyx subdial, and an alligator strap. Think vibrant peacocks, tropical leaves, hummingbirds, toucans, dragonflies, and waterfalls. The piece brings together all the watchmaking and decorative expertise of Jaquet-Droz, a luxury brand that's nearly 300 years old.
All Jaquet-Droz watches for sale
6. Rolex
Most expensive Rolex currently for sale: Cosmograph Daytona, $454,499
Most expensive Rolex watch ever sold: Paul Newman's Daytona, $18,517,000
Rolex is an alluring and iconic brand that wealthy and fanatic watch collectors are drawn to – both appreciate a truly well-made timepiece. The range includes classics like the GMT Master, Day-Date, and Cellini. While the Submariner, Daytona, and Datejust enjoy the highest demand. Rolex watches are among the most collectible, holding their value. The most expensive watch ever sold at auction in North America? Paul Newman's 1968 Rolex Daytona – long considered the Holy Grail among connoisseurs.
7. Audemars Piguet 
Most expensive Audemars Piguet currently for sale: Royal Oak Offshore Chronograph, $431,181
Most expensive Audemars Piguet watch ever sold: Tourbillon Openworked Only Watch, $1,093,169
Prestigious Audemars Piguet boasts more than 130 years of tradition and focuses on producing mechanical creations unimaginable by other watchmakers. The ideal watch for the active elite, the Royal Oak collection is probably the most recognizable. Not to be forgotten is the rose and white gold Tourbillon Openworked Only Watch Edition – a work of art and a feat of mechanical ingenuity.
All Audemars Piguet watches for sale
8. Ulysse Nardin
Most expensive Ulysse Nardin currently for sale: Royal Blue Tourbillon Platinum 799-90BAG, $272,000
Most expensive Ulysse Nardin watch ever sold: Royal Blue Tourbillon, $1,100,000
Ulysse Nardin creates intricate watches with a naval theme, earning the brand a place on the exclusive watchmaking map. The platinum Royal Blue Tourbillon features a blue crocodile strap and sapphire glass, making it an eye-catching piece. The iteration that sold at auction in 2016 for $1.1 million boasts a diamond strap – in total, the piece features 568 baguette diamonds and 234 sapphires.
All Ulysse Nardin watches for sale
9. Greubel Forsey
Most expensive Greubel Forsey currently for sale: GMT Tourbillon Antracite, $250,000
Most expensive Greubel Forsey watch ever sold: Grand Sonnerie, $1,200,000
Greubel Forsey was founded in 2004 and has established itself as one of the most expensive watch brands in the world. The Grande Sonnerie was 11 years in development and has an incredible 935 components, making it one of the most expensive non-vintage watches on the market. And the rose gold GMT tourbillon anthracite features a black leather strap, a rose gold case, and a rotating terrestrial globe offering an intuitive view of time all over the globe.
All Greubel Forsey watches for sale
10. A. Lange & Söhne
Most expensive A. Lange and Söhne currently for sale: Datograph Perpetual Tourbillon, $230,392
Most expensive A. Lange and Söhne watch ever sold: Grand Complication, $2,500,000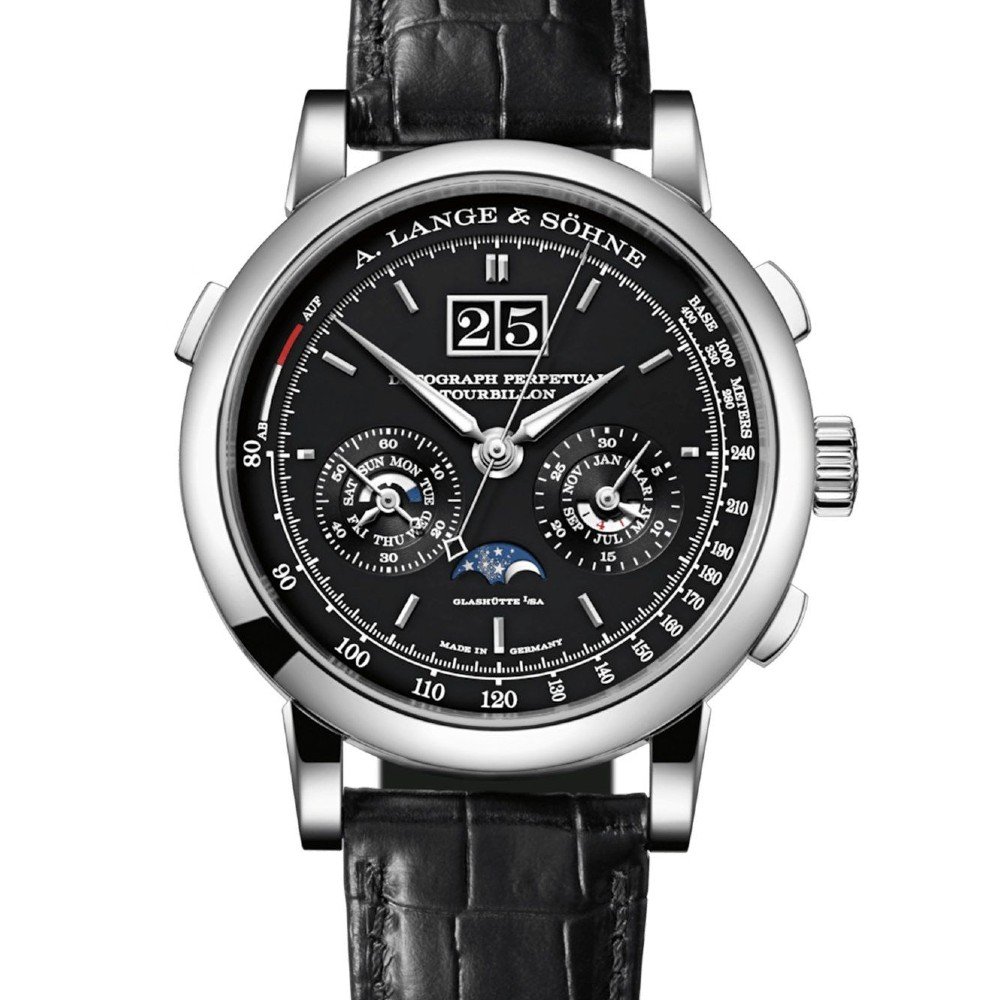 Lange and Söhne stands out in the world of haute horlogerie for creations that are tasteful and classy. The German brand produces pieces that wow the crowd. For instance, the limited edition platinum Datograph Perpetual boasts an alligator strap; there are just 100 in circulation. And the 876-part Grand Complication takes a year to make and is housed inside a large gold case that's 50 millimeters in diameter and 20 millimeters thick.
All A. Lange and Söhne watches for sale
11. Hublot
Most expensive Hublot currently for sale: Mp 02 Key of Time King Gold, $217,000
Most expensive Hublot watch ever sold: The Hublot, $5,000,000
Luxury brand Hublot was founded by Carlo Crocco in 1976. The brand set a new standard by using the first natural rubber strap in watch history. Raising the bar in high-end sports watches, the Big Bang collection is a popular choice when it comes to raw, masculine elegance. Topping the list as the most expensive is a watch called The Hublot – the masterpiece features 1,200 diamonds, and it took 14 months to develop.
12. Roger Dubuis
Most expensive Roger Dubuis currently for sale: Excalibur Spider Double Flying Tourbillon, $257,000
Most expensive Roger Dubuis watch ever sold: Excalibur Quatuor, $1,125,000
This brand is well-known for craftsmanship and prices that match, making it one of the most expensive watch brands in the world. The Excalibur Quatuor requires 2,400 hours to build and took seven years of research. What's more, it has four sprung balances that work in tandem for unparalleled accuracy. Roger Dubuis utilizes the high prices and low supply model, with many pieces being limited edition.
All Roger Dubuis watches for sale
13. Zenith
Most expensive Zenith currently for sale: El Primero Last Tsar, $149,995
Most expensive Zenith watch ever sold: Mahatma Gandhi's pocket watch, $2,466,000
Visionary Zenith stands for constant progress with precise and innovative models. Mahatma Gandhi treasured his sterling silver pocket watch, and in 2009 it sold at auction for nearly $2.5 million as part of a lot including sandals and glasses owned by Gandhi. Zenith watches are built for the elements yet remain elegant and avant-garde.
14. Breguet
Most expensive Breguet currently for sale: Perpetual Calendar Equation Of Time, $141,750
Most expensive Breguet watch ever sold: Marie-Antoinette Grande Complication, $30,000,000
The 1814 Breguet & Fils sold at auction for $5,219,000, but that's not the most expensive Breguet ever sold. What is? The intricate Marie-Antoinette Grande Complication pocket watch, worth $30 million and commissioned by an alleged lover of the French queen in 1782. Manufacturing watches since 1775, Breguet is a classic brand that's timeless and unique.
15. Panerai
Most expensive Panerai currently for sale: Officine Radiomir Tourbillon, $76,320
Most expensive Panerai watch ever sold: Luminor 1950 Tourbillon Equation of Time, $248,400
This Italian brand with a cult following offers quality construction and function-oriented features. The story goes that Sylvester Stallone first brought Panerai watches to Hollywood, where he quickly got other stars hooked on the unique pieces. In 2015, the Luminor 1950 Tourbillon Equation of Time fetched nearly a quarter of a million dollars – an impressive piece dedicated to the genius of Galileo Galilei.
16. Corum
Most expensive Corum currently for sale: White Gold Transparent Diamond and Emerald, $65,995
Most expensive Corum watch ever sold: Men's Tourbillon, $505,500
With only 25 ever made, the Men's Tourbillon by Corum has a price tag to match. Made of white gold and sapphire scratch-resistant crystal, it features a black alligator leather strap and a silver skeleton dial. Also noteworthy is the elegant White Gold Transparent Diamond and Emerald piece with a green leather strap and an open face offering a glimpse into the complex inner workings The Swiss maker creates inventive and novel watches that are guaranteed to catch the eye.
17. Franck Muller
Most expensive Franck Muller currently for sale: Aeternitas Mega 4, $2,700,000
Most expensive Franck Muller watch ever sold: Double Mystery Quatre Saisons, $53,995
The Aeternitas Mega 4 by Franck Muller may have a high price tag, but it's not surprising given the intricate timepiece boasts a jaw-dropping 1,483 components. A top innovator, the exclusive brand counts Elton John as a fan. In general, the collection is filled with art deco styling and stand-out designs. For example, the bold, unconventional, and colorful Double Mystery Quatre Saisons features a remarkable blend of vivid gems.
All Franck Muller watches for sale
18. Piaget
Most expensive Piaget currently for sale: Traditional G0A37043, $49,995
Most expensive Piaget watch ever sold: Emperador Temple, $3,300,000
Made of Polynesian mother-of-pearl and diamonds, Piaget's ornate Emperador Temple is highly jeweled with big-time eye appeal. Since 1874, Piaget crafts luxury watches by fusing a jeweler's refinement with watchmaking sophistication. The Traditional watch has a case set with 42 diamonds, a dial with 290 diamonds, and 12 sapphire hour-markers. Even more impressive is the fact this superstar brand hand assembles pieces.
19. Urwerk
Most expensive Urwerk currently for sale: Turbine UR-202, $49,995
Most expensive Urwerk watch ever sold: Atomic Master Clock & Titanium, $2,900,000
Urwerk's Atomic Master Clock & Titanium wristwatch sold at auction in 2019 for a tidy sum and is an example of a unique, rare, and historically innovative piece. The team dedicated a decade of research and development to the high-performance and cutting-edge watch. In a nutshell, Urwerk is a tour-de-force of modern watchmaking excellence. And the Swiss company's name? A play on the German word for clockwork.
20. MB&F
Most expensive MB&F currently for sale: HM3 Horological Machine No. 3 Star Cruiser, $47,995
Most expensive MB&F watch ever sold: HM6 Sapphire Vision in Platinum, $398,000
MB&F (Maximilian Büsser & Friends) uses traditional watchmaking of the highest craftsmanship and combines that with futuristic, unconventional design. Also known as "Machines", the dazzling HM6 model uses 11 separate pieces of sapphire crystal. A blue gasket ring encircling them adds bold color, making the watch stand out even more. Similarly, the boundary-pushing and limited edition HM3 comprises 304 components and contains 36 jewels. Here you have an avant-garde and innovative brand.
21. IWC
Most expensive IWC currently for sale: Pilot Doppelchronograph, $28,500
Most expensive IWC watch ever sold: Siderale Scafusia, $750,000
IWC (International Watch Company) is a maker of modern classics, founded by an American in Switzerland in 1868. With legions of fans and collectors, the most popular models are the Portuguese and Aquatimer. Pilots often use IWC as their brand of choice, because the timepieces function best under aviation conditions. The Siderale Scafusia is an example of a Portuguese – the custom model took 10 years to produce and features a perpetual calendar and an astronomical display.
22. Blancpain
Most expensive Blancpain currently for sale: Fifty Fathoms Aqua-Lung Diver, $25,995
Most expensive Blancpain watch ever sold: Pain Le Brassus Tourbillon Carrousel $3,850,000
Founded in 1735, the brand has earned respect among watch aficionados for its innovation. Blancpain created the world's first modern diver's watch in 1953 – the Fifty Fathoms. And their Pain Le Brassus Tourbillon Carrousel is an engineering feat. Fast forward to the present day, and you can get your hands on a vintage Fifty Fathoms Aqua-Lung Diver featuring a stainless steel case on a brown leather strap.
All Blancpain watches for sale
23. Girard Perregaux
Most expensive Girard-Perregaux currently for sale: The World Cloisonné Enamel Dial, $24,995
Most expensive Girard-Perregaux watch ever sold: Quasar Light Tourbillon, $417,487
The Quasar Light Tourbillon was part of a limited edition release of the signature Quasar model. The "Light" iteration is one of just 18 worldwide. And the price tag? The result of a tourbillon movement comprising 79 parts. Girard-Perregaux forges forward with innovation and is one of the elites in the watch world. Lovers of haute horlogerie will take great pleasure in the iconic three gold bridge tourbillon, and fans of quartz movements will relish in the complicated electronic movements on offer.
All Girard-Perregaux watches for sale
24. Omega
Most expensive Omega currently for sale: Seamaster Aqua Terra, $18,600
Most expensive Omega watch ever sold: Elvis Presley Tiffany & Co., $1,845,000
Omega's rich history goes back to 1848. Founded by Louis Brandt, Omega went on to become one of the most famous makers of fine Swiss watches. The attractive and rare 1960 Elvis Presley Tiffany & Co. wristwatch sold at auction in 2018 for a mighty amount. There's an inscription on the back that reads: "To Elvis 75 Million Records RCA Victor 12-25-60". In recent years, the brand has pushed into high-end territory with the introduction of co-axial escapement movements.
25. Breitling
Most expensive Breitling currently for sale: Breitling Emergency, $18,030
Most expensive Breitling watch ever sold: Bentley Flying B, $255,000
Satisfying the most demanding customers, Breitling is the go-to of many watch lovers. With bold masculine looks, functional excellence, and attention to the needs of sports enthusiasts, few can resist Breitling's charms. For instance, the yellow gold Breitling Emergency features scratch-resistant sapphire crystal and water resistance of 30 meters (100 feet). Innovations over the years include the slide rule bezel and the SuperQuartz movement that's 10 times more accurate than most.
All Breitling watches for sale
Conclusion
Traditional Swiss brands make up more than 60% of the most investment-friendly timepieces. But there are also a few other successful players on the list, from Jacob&Co and Hublot that have been around since the 1980s, Richard Mille and Urwerk, founded in the late 1990s, and MB&F founded in the 2000s. The third category comprises brands specializing in fine watch making and jewelry watches; these timepieces can be also valuable for watch aficionados and collectors.