RM 11-03 2018 McLaren, $3,992,00. Source: Richard Mille
What is it about a Richard Mille timepiece? A 'racing machine on the wrist', the Swiss watch company was founded in 2001 by Dominique Guenat and Richard Mille. Two decades later, their legacy is clear: Collectors applaud the technical innovation and artistry, and the brand is dominant in the industry.
The most expensive Richard Mille? On JamesEdition, we have this $7,306,000 RM 008 Tourbillon. At the other end of the price scale is this RM 016 Automatic Extra Flat Red Gold at $95,000. In total, we have over 500 Richard Mille watches for sale. 
The independent company produces wow factor ultra-modern watches that are comfortable, accurate, and lightweight. For instance, a Richard Mille Tourbillon contains up to 1,000 components in a case just 45 millimeters thick. Aesthetically bold and instantly recognizable, the timepieces are inspired by automotive design – Formula 1 in particular. 
The RM 001 Tourbillon was the first Richard Mille released, in an initial series of 17 watches. Priced at €159,000, the entire stock of 80 units sold out almost immediately.
"For a long time, I wished to launch my own brand," says Mille. "I wanted to create a new business model, far removed from traditional marketing strategies, something totally original. My goal was to create a new, ultra-high-end luxury segment within the high-end watch business, and I was very eager to know what could come of it."
What makes a Richard Mille unique? The visible movement, spline screws, and characteristic case shape. Materials used in production include grade 5 titanium, LITAL, Carbon TPT, and graphene – used in aeronautics and precision surgery.
Richard Mille watches also boast very high shock resistance. For instance, when Brazilian racing driver Felipe Massa crashed ahead of the 2009 Hungary Grand Prix, he suffered serious head injuries; his Richard Mille was unscathed.
Today, the watchmaker produces fewer than 5,000 per year, with demand outstripping production. By comparison, Rolex manufactures 800,000 timepieces annually, and Audemars Piguet (a Richard Mille shareholder) makes 40,000.
Dubbed the 'billionaire's handshake', Richard Mille watches can be spotted on the wrists of wealthy individuals and celebrities, and among the collections of savvy investors. For instance, Rafael Nadal wore a Richard Mille when he won his first US Open in 2010.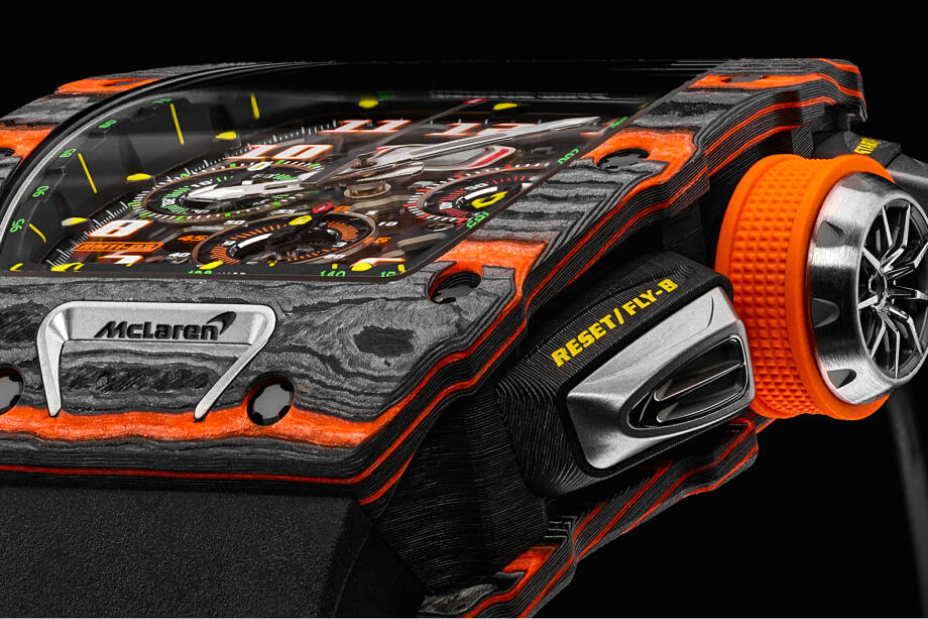 RM 11-03 2018 McLaren, $3,992,00. Source: Richard Mille
Innovative Richard Mille pieces include the RM 027 Tourbillon, the world's lightest mechanical watch in 2011, helping reinvent the concept of the luxury watch. Other standout models? The RM 009 Tourbillon cased in aluminium silicon carbide (AlSiC), Nadal's RM 027-02 Tourbillon made of quartz and carbon fiber, and the RM 008 split-seconds chronograph.
There's also the RM 056: Totally see-through and the first to have a case completely built from sapphire, it was declared best watch of 2012 at the Salon Internacional de Alta Relojería exhibition in Mexico City.
In terms of price? Read on for the most expensive Richard Mille watches we have listed.
Top 10 most expensive Richard Mille watches for sale on JamesEdition
10. Eye-catching RM 59-01 Yohan Blake Tourbillon
Price: $934,000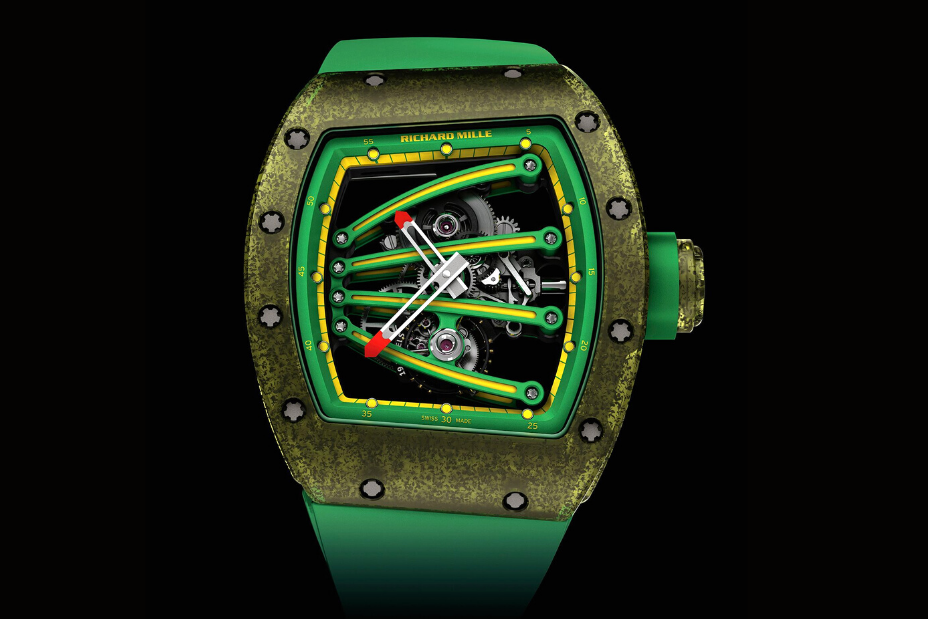 Richard Mille RM 59-01 Yohan Blake Tourbillon. Source: Richard Mille
This striking 2018 limited edition RM 59-01 has original papers and parts. Colorful, with a rubber strap, carbon case, and hand winding manual movement, the piece is used, but in tip-top shape. With only 50 pieces made, the green and yellow detail is sure to catch people's eye and admiration.
9. Orange-strapped RM 52-05 Tourbillon Pharrell Williams
Estimated price: $1,000,000+
Located in Hong Kong, this 2020 RM 52-05 collaboration with superstar Pharrell Williams features a rubber strap, a titanium case, and is hand winding manual. Coining Mille the 'timepiece supreme creator', Pharrell Williams shouted out the watchmaker on his 2006 song Can I Have It Like That. And since, they've co-created the 30-piece limited edition RM 52-05 collection.
8. Intricate RM 27-04 Rafael Nadal Tourbillon collaboration
Estimated price: $1,050,000+
This 2021 manual winding RM 27-04 was designed to resemble a tennis racket and weighs in at just 30 grams. With only 50 made, the brand new watch comes with an original box, plus a five-year international manufacturer warranty. The friendship between Nadal and Mille "grows constantly from their mutual trust and admiration for their respective careers."
7. Sporty RM 52-03 Paris St Germain (PSG) Tourbillon
Price: $1,200,000
The Prince of Qatar, Sheik Khalifa Bin Hamad, is the owner of one of these royal blue and red limited edition pieces. With only 10 made globally, the exclusive collection was produced to match the colors of the French Ligue 1 club. This brand new 2020 RM 52-03 we have on sale is located in Hong Kong, and comes with original paper and parts.
6. Complex and see-through RM 056 Jean Todt Sapphire
Estimated price: $1,650,000+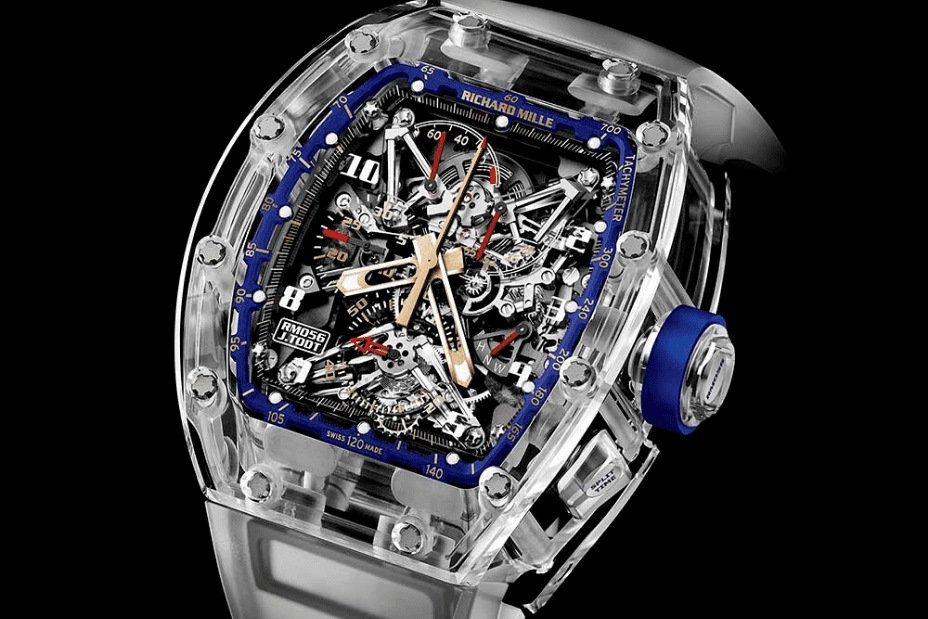 Richard Mille RM 056 Jean Todt Sapphire. Source: Richard Mille
With only three worldwide, this ultra-rare RM 056 celebrating French motor racing executive Jean Todt comes complete with a certificate of authenticity. Pre-worn but in excellent condition, the manufacture of the sapphire structure took years of research and testing to deliver a durable yet comfortable watch decorated in Todt's favorite colors. The work of art features a skeleton dial and a case requiring no less than 1,000 hours of machining.
5. Cool RM 50-04 Kimi Räikkönen Tourbillon Split-Seconds Chronograph
Price: $2,641,000
A partnership with Formula One's Iceman produced this 2021 complicated limited edition RM 50-04. With cutting-edge pale white/cream design and red fabric strap, the hand winding piece features a 30-minute split-seconds chronograph and a skeletonized movement, built using Carbon TPT and titanium. With 30 pieces only, the brand new watch comes with a warranty and papers.
4. Striking RM 52-01 Blue Sapphire Skull Tourbillon
Price: $3,349,500
A dazzling royal blue, this hand winding manual RM 52-01 with a rubber strap is pre-owned but like new, and one of the most expensive Richard Mille watches on JamesEdition. Currently in Hong Kong, whoever purchases the luxury limited edition piece will receive original papers and parts. With a hand-crafted case inspired by the crossed bones of a pirate ship flag, the watch is head-turning and unusual.
3. Reptilian-inspired RM 57-03 Dragon Sapphire NTPT Tourbillon
Price: $3,992,00
A manual winding tourbillon, this special and complex RM 57-03 with a skeletonised baseplate features a rubber strap and a three-part tonneau-shaped carbon case. Highly curved, the watch is comfy, ergonomic, and visually distinct. There are only eight of the limited edition masterpiece, each boasting a hand-polished gold dragon, 19 jewels, a free-sprung balance, and a fast-rotating barrel.
2. Limited edition RM 11-03 2018 McLaren
Price: $3,992,00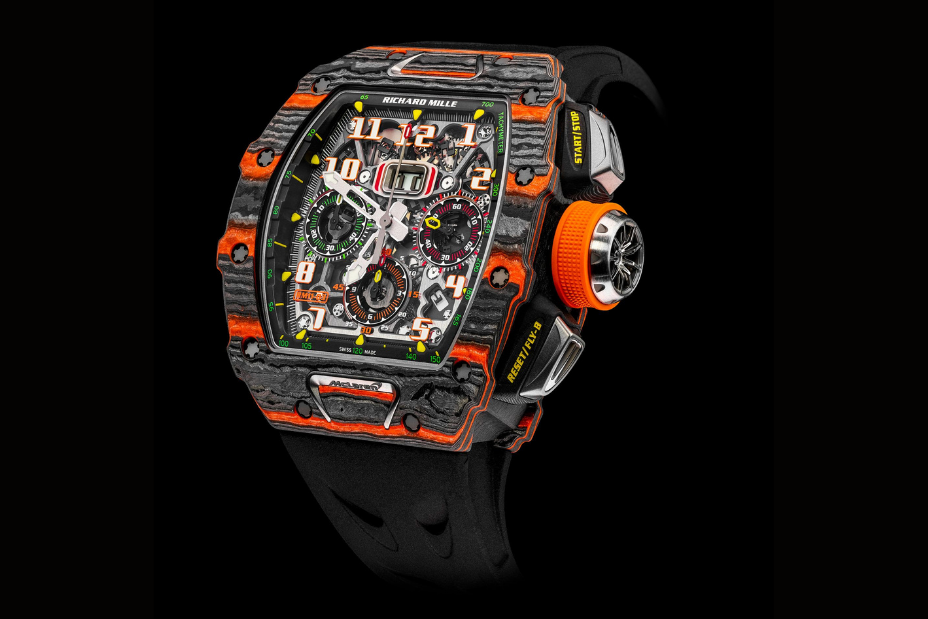 Richard Mille RM 11-03 2018 McLaren. Source: Richard Mille
This automatic self winding RM 11-03 with a carbon case is used, but don't let that put you off. In top condition and with a rubber strap, the watch features a striking color combo of orange, blue, steel grey, and flashes of neon yellow. Complicated and sophisticated, Mille and McLaren Automotive released the RM 11-03 – their first jointly commissioned timepiece – at the 2018 Geneva International Motor Show. 
1. Uniquely-colored RM 008 Tourbillon
Price: $7,206,000
A limited edition 2010 piece with a rubber strap, this timepiece is part of the RM 008 collection and is the most expensive Richard Mille watch we have listed. Used but in mint condition, there are original papers and parts. Visually striking with a carbon case and neon yellow detail, the intricate piece is hand winding manual and sure to be a talking point among watch enthusiasts, motorsport fans, and affluent investors.