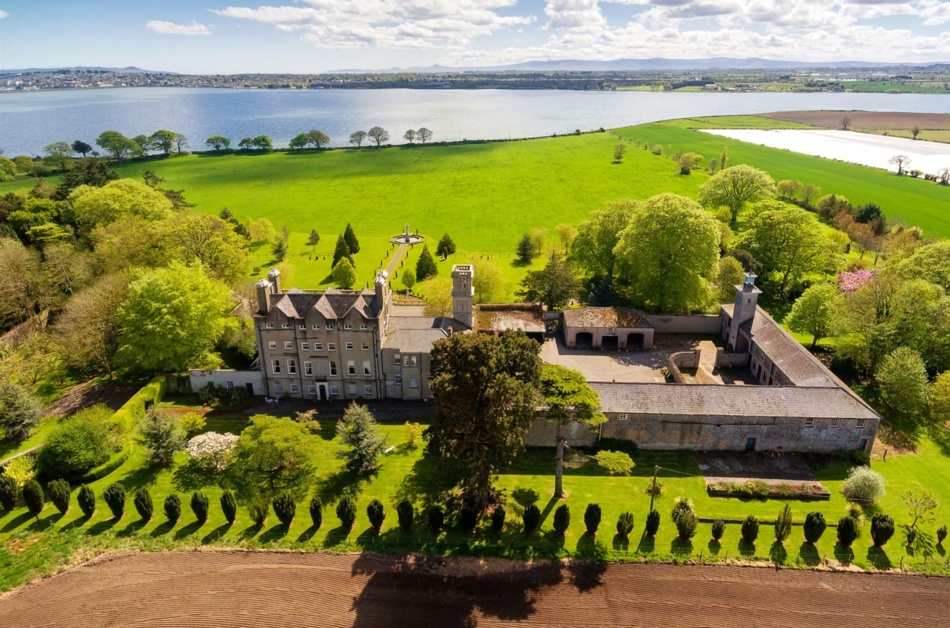 The Abbey Leix Estate, County Kildare, Ireland, approx. $24,263,864.
View Listing
The Abbey Leix, Kilteelagh House or Glanmore Hall?
Ireland is home to some of the most beautiful castles in the world. There are over 3000 castles in Ireland alone and are likely to be put on the market in the years to come; currently, about 50 Irish castles put up for sale via JamesEdition.
Surprisingly, only 3% of investors have the ambition of purchasing their very own castle, and you could be the next one in this top tier segment. Before delving into this sector of the real estate market, you need to consider two factors: what the property will be used for and your maximum budget.
Here at JamesEdition, the maximum price for a castle located in Ireland is about $23,911,575 while the minimum price is around $1,000,000; in both cases you'll become an owner of a 18th-century mansion with acres of palatial grounds.
The price may be affected by the historic value of the castle but only when it has been certified with a blue plaque: a badge honouring a home's heritage and famous former residents can increase a property's price by 3-5%.
But what we love most about historic homes, it can certainly allow you to add some new habits to your daily routine, from equestrian and golf (on your very own golf course) to grand social gatherings.
So, if this sparks your interest, we have gathered the 15 most sought-after castles and palaces in Ireland that could be yours.
15 Castles for Sale in Ireland in 2021
15. Browne's Hill House, County Carlow, approx. $1,201,061
Another of the lower-end budget castles for sale in Ireland is this Georgian mansion, which does require major restoration, meaning you can snap up this property for a good price. It overlooks Carlow town; with over 5 acres of private grounds in which outdoor events could be held or even used for equestrian activities. It compromises an impressive 16 bedrooms over 14,111 sq ft and also includes a library, wine cellar and spacious garage for vehicles, which could be converted into another living space if required.
14. Marlfield House, County Tipperary, approx. $1,637,810
One of the cheaper Castles for sale in Ireland, Marlfield House is a traditional Georgian Mansion built in the Palladian style and is situated on the banks of the River Suir; with stunning views of the surrounding 31 acres of countryside and Comeragh Mountains. It has 14 bedrooms and 9 bathrooms, as well as an array of great facilities including a library, wine cellar and pool. It spans an impressive 22 604 sq ft and is just 10 minutes' drive from the bustling town of Clonmel.
13. Emsworth, County Dublin, price on request
Recently renovated in the last 2 years, this ancient coach house requires very little renovation work and is ready to be set up for guest accommodation almost immediately. It features three reception rooms, a kitchen, cinema room, utility, four bedrooms, three ensuite and main bathroom: as well as a pool, tennis court and garage/driveway space for eight cars. Just an 8-minute drive from Dublin airport, it is a convenient property to accommodate tourists exploring the local area as well as the potential to make it a highly sought-after wedding venue in the capital city of Ireland.
12. Glanmore Hall, County Wicklow, approx. $2,851,004
This unique medieval-style property is a little on the smaller side than some of the others on the list but will make an excellent B&B, hotel or vacation let opportunity. With four spacious bedrooms and three bedrooms, it is situated in 4 185 sq ft in 11 acres of private land and includes stables and paddocks. It would make ideal accommodation for tourists, being just a 30-minute drive from the city center of Dublin. Facilities include a pool and boathouse. This property was renovated in 1993 and most recently, in 2016.
11. Kilteelagh House, County Tipperary, approx. $2,851,004
This attractive Victorian mansion is positioned within 25 acres of private land which extends out to the shores of Dromineer Bay, with a boathouse and direct access to Lough Derg. One of the highlights of the property is that it still has many of its original features, including the windows, floorboards and central rose plasterwork, however, the main interior is light, bright and welcoming. It includes an array of amenities such as a fitness center, library, pool and garage and an on-site boathouse.
10. Lairakeen, County Galway, approx. $3,214,962
This seven-bedroom 19th-century property will make the perfect investment as a wedding venue thanks to its private and picturesque grounds, a hotel or as an apartment rental. Nearby to Banagher town, the convenient location makes it commutable for guests and tourists alike. The main house is complemented by a guest house and studio apartment which can also be converted for more practical use, dependent on the use of the property.
9. Eden Vale, County Clare, approx. $3,578,920
Dating back to 1776, this charming Georgian mansion in County Clare is pleasingly placed upon a steep glen that looks out over a small lake and over 80 acres of land. This property compromises 15 bedrooms and 15 bathrooms spread out over 37 360 sq. ft. The striking aesthetic of the property and its surroundings makes it the ideal investment as a wedding venue or high-end hotel. It features an array of amenities that make this property a stand-out option on the market, including a pool, library and boathouse.
8. Rockville House, County Dublin, approx. $3,578,920
Rockville House, Ailesbury Road is a 6-bedroom, 2-bedroom detached property spanning 3229 sq. ft and is certainly one of the best options if you're looking for traditional-looking Irish castles for sale. The two-story property is characterized by a gothic turreted exterior, which was typical of the Victorian era and is located in the heart of Dublin, making it in easy commuting distance from the city center. There is plenty of potential to further develop the property by creating a sizeable light-filled kitchen/breakfast room to the side and rear, providing planning permission is approved.
7. Rockview, Coliemore Road, Dalkey, County Dublin, approx. $6,369,264
Situated just a short stroll from the center of Dalkey Town, this intimate 5-bedroom property would be best used as a small hotel and will make the perfect base for tourists looking to explore the local area. It offers striking panoramic views across Dublin Bay and Dalkey Island, while the remote seafront promotes a sense of escapism. It offers several amenities, including a library and a conservatory; the latter of which will allow you to fully appreciate the glorious sea views.
6. St George's Killiney, County Dublin, approx. $10,312,142
St George's is a five-bedroomed Gothic-inspired property that was designed and built in the 1870s; set in 1.7 acres of land, including striking landscaped gardens. It's located in the Killiney Hill area with outstanding views of the ocean from all rooms. It would make the ideal spot for a getaway for those looking for peace and quiet or to simply be at one with nature. The property features a spacious garage to store vehicles or could even be converted into another room (such as a gym or lounge area) for those intending to purchase for investment opportunities.
5. The Sophwell Hall Estate, County Tipperary, approx. $10,312,142
This 10-bedroom 18th-century estate is set within an astonishing 300 acres of parkland and woodland and looks out towards a 16th-century castle. The accommodation is grand and luxurious and could be used as a hotel from the get-go. The main house spans 14,235 square feet and includes 5 reception rooms and 10 bedrooms. It also features a boathouse, tennis court and garage as well as plenty of space for equestrian use.
4. Summerhill, Dublin, approx. $10,797,419
This splendid Victorian Italian-inspired mansion is in a prime spot for overlooking Killiney Bay 'otherwise known as Ireland's Bay of Naples', offering panoramic views of the ocean from all angles of the property. The accommodation comprises two stories above a basement level; consisting of nine bedrooms, five bathrooms, a fitness center and an indoor pool. It also features an on-site tennis court for those who wish to play sport as a pastime. This would make the perfect option for your very own vacation home, or even as a small hotel for guests.
3. Seafield House, Kilcrea, Donabate, Co. Dublin, approx. $12,125,866
This spectacular eight-bedroom mansion was built in the 1730s and is situated in 32 hectares of private land. It will make the perfect hotel for tourists, due to being just 15km from Dublin city center. It's ideal for those who wish to get away from the hustle and bustle of the city and prefer a quieter spot to unwind in the evenings after a full day of exploring. It features a fitness center and a wine cellar; making it the perfect base to convert to a fully functioning hotel.
2. Bushey Park, County Wicklow, approx. $15,164,915
This late Georgian property is situated just 13 miles from Dublin city center and 1.5 miles from Enniskerry village. It is surrounded by what can only be described as a picture-postcard scene of the famous Dublin mountains, with wildlife in their natural habitat. The historic building is complemented by modern interiors courtesy of London-based interior designer Simon Kingi, while the exterior features a helipad, boathouse and tennis court.
1. The Abbey Leix Estate, County Kildare, approx. $24,263,864
This striking classical 18-century mansion is positioned within 1,120 acres of historical woodland in a relaxing riverfront location and is home to some of the last surviving trees from ancient Ireland. Guaranteeing privacy thanks to its remote spot, the exterior of the three-story property is reminiscent of historic Italian charm, while the interior features a vast selection of rooms including a library, wine cellar and boathouse.