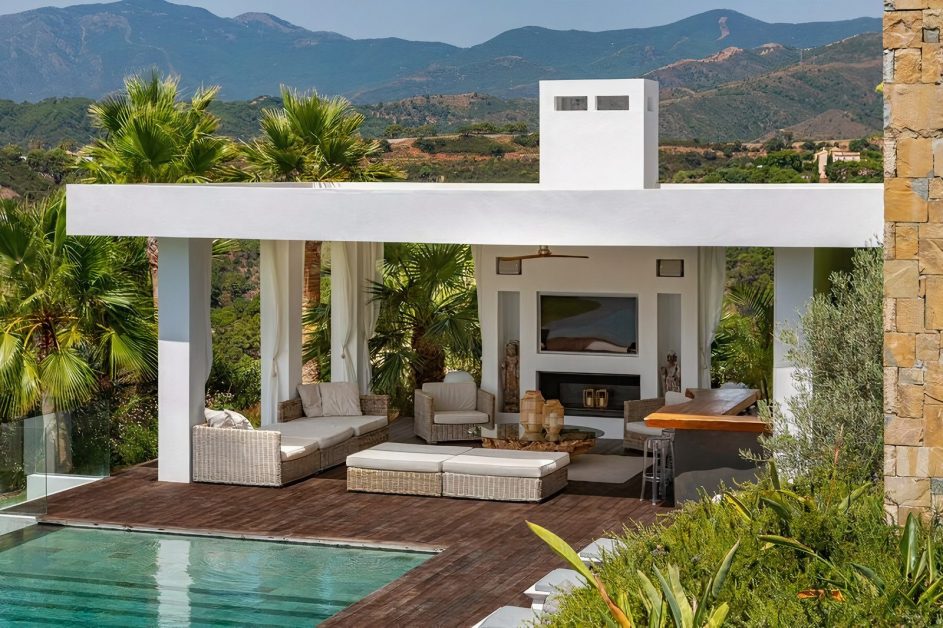 It isn't hard to understand why so many people retire to Spain: From the temperate climate and the healthy Mediterranean lifestyle to the varied and scenic landscape and the affordable cost of living, the benefits are diverse and numerous.
Factors like the weather and diet contribute to individuals living longer. Indeed, research by the Spanish National Statistics Institute (INE) revealed that Spain has more than 8.6 million residents over the age of 65, including 16,000 centenarians – excellent news for ex-pats planning a long retirement.
If you're asking yourself "How can I retire to Spain?", we've collated this handy guide, outlining factors to consider such as visas and taxes, retiring in Spain pros and cons, and answering questions like "How easy is it to retire to Spain?" and "What are the requirements to retire in Spain?".
Retiring in Spain
Retirement in Spain is fairly low cost. To live a comfortable life, $2,000-$2,200 per month should suffice ($24,000-26,400 a year). However, where you lay down roots has an impact. Away from the bustle of big cities like Barcelona, Madrid, and Valencia you can retire on less: $1,700-$1,900 a month ($20,400-$22,800 annually).
More people than ever are enjoying a long retirement in Spain, but how straightforward is it for non-residents to move to the country for their twilight years? From residence permits and the Spanish Golden Visa to finding a property in an area with suitable amenities, there's a lot to mull over. But, if you're armed with the relevant information, there's nothing to stop you from taking the leap and enjoying over 300 days of sun a year.
Who can retire to Spain?
Can you retire to Spain? We've broken that down, covering European Union (EU) natives, non-EU residents, America, and Brexit.
EU citizens
Spain's been a member of the European Union since January 1986 and the Schengen Area since June 1991, entitling EU citizens to free movement. With that in mind, it's super easy to retire to Spain; you don't need a visa or a residence permit.
Non-EU citizens
If you're a non-EU citizen asking yourself "How do I retire to Spain?", you need a long-stay or a residence visa (also known as "non-lucrative") – more on these later.
Retiring to Spain from the UK after Brexit
Can Brits still retire to Spain? Yes, but the path has changed. The process isn't as simple anymore, because UK citizens are now subject to the same immigration rules as non-EU residents.
Read more:
Retiring to Spain from the US
Can US citizens retire in Spain? Yes: If they want to spend more than three months in Spain, they must apply for a long-stay or residence visa.
Read more:
Requirements to retire in Spain
Retire in Spain requirements vary slightly depending on the type of visa, but in general, applicants need:
Passport
Two identical photos
Medical certificate
Private health insurance
Criminal record document
NIE number
Marriage or birth certificate
Spanish visa options for retirees
There are several choices for retirees, depending on their wealth and preferences.
Long-stay visa
This grants temporary residence, enabling ex-pats to retire in Spain. It also allows the person to work – for retirees, that's irrelevant. This type of visa is indefinite and renewable annually, under the proviso that you spend at least six months a year in Spain.
Residence ("non-lucrative") visa
The most common visa for foreigners retiring in Spain, this type is easier to obtain than the long-stay option. When granted, it enables the retiree to live in Spain, without the right to work.
To apply, you must show evidence that you have the financial means to live without working. The minimum amount you must have in your bank account is 400% of IPREM ("the Public Multiple Effects Income Indicator").
That figure is reviewed annually. In 2022, IPREM is €6,948, meaning retirees must show they have €27,792 in a bank account. For each additional retiree, an extra 100% of IPREM is required.
Once you have a Spanish non-lucrative visa, you must apply for a residence permit, which is initially valid for two years, and renewable thereafter. However, you must have resided in Spain for at least six months in the previous two years. Retirees who have lived in Spain for five years qualify for a permanent residence permit.
Spain Golden Visa
Also referred to as a Spain investor visa, this is for non-EU nationals who would like to make a significant investment in the economy – often real estate. It offers the holder (and their family members) residency, plus visa-free access to the Schengen Zone.
Eligibility depends on meeting one of the following criteria:
Purchase property worth at least €500,000 across a single unit or several
Investment in the Spanish public debt of at least €2,000,000
Buy shares in a Spanish company or make a bank deposit of at least €1,000,000
Invest in an innovative new business that provides employment opportunities and has a positive socioeconomic impact
There are many perks to a Spain Golden Visa, ranging from high mobility and family inclusion to no minimum stay requirements. It can also lead to citizenship, if you live in Spain for at least 10 years.
Taxes in Spain for pension funds
Can you move your pensions to Spain once you get residency? It depends on where they were originally set up and whether that country has an agreement in place with Spain. There may also be tax implications, because if you live in Spain for six months of any calendar year, you're classified as a tax resident. Spanish pensions are taxed as general income, at a progressive rate.
For more information, we recommend contacting your pension provider, financial advisor, or local Spanish embassy.
Best places to retire in Spain
This is an entirely personal choice, and depends on whether you're drawn to cities, the countryside, or the beach. Many retirees head for the Costa del Sol with its thriving ex-pat community and abundance of golf courses. Other people prefer the more authentic and peaceful Costa Blanca.
Additional options include the beautiful landscapes of the Costa Brava, the sophisticated capital of Madrid, the tourist hotspot of Barcelona, or the foodie paradise of San Sebastián.
Read more:
Buying a property in Spain
When it comes to retirees buying real estate in Spain, there are no restrictions or special requirements for foreigners. Costs to keep in mind include VAT on new builds and property transfer tax, plus estate agency, notary, and legal fees.
Non-residents can get a mortgage in Spain, and although the process is relatively straightforward, you may prefer to enlist the services of a broker. Furthermore, before buying, you'll need a financial number (NIE), easily obtained by visiting a police station with your passport.
Read more:
How to retire in Spain (Checklist)
Below, we summarize factors to keep in mind when retiring to Spain.
Eligibility
Can you retire in Spain? Both European Union and non-EU residents can. EU natives retiring in Spain have the easiest route; non-EU citizens require a visa.
Visa
There are several options open to retirees: long-stay, residence ("non-lucrative"), and Spain Golden Visa. With residence visas, you must provide evidence of your financial status. A Spain Golden Visa is for non-EU nationals seeking to invest in the economy – often property.
Location
Where you choose to settle depends on the type of retirement you're seeking. For a relaxed beachside life, check out the Costa Blanca, for the hustle and bustle of a city, it's all about Madrid and Barcelona, and if the Basque Country is a draw, head to Bilbao. Meanwhile, for Moorish influences, Granada will be of interest, and for tranquil island life, Menorca and Mallorca will appeal.
Property
Buying real estate in Spain is relatively straightforward. Average house prices depend on where you purchase. For instance, a large city like Madrid or Barcelona will set you back around €3,000-€5,000 per square meter, whereas the Costa del Sol is more affordable, starting at about  €2,050 per square meter. Valencia is cheaper still: approximately €1,485 per square meter, if you opt for a property outside the center.
Insurance
To obtain a visa, you need proof of medical insurance, provided by a Spanish insurance company.
Healthcare
Retirees qualify for public healthcare if they're a resident of Spain. If not, private health insurance is required. Premiums start at around €50 a month, up to €200 for full coverage.
Taxes
Spanish residents need to submit a tax return, and additional levies such as property, wealth, and inheritance should also be kept in mind. You may be able to move your pension once you get residency, but there will be tax implications if you live in Spain for six months a year.
Read more:
Driving license
Retirees from outside the European Union can drive in Spain using a foreign license for the first six months, and for up to two years if they're from the EU. After that, they must obtain a Spanish license.
Banking
Spain has private and state banks, plus regional cooperative and savings institutions. The national bank is called Banco de España. Retirees should open a local account, to avoid credit card charges and dealing with exchange rates.
Cost of living
Given how well-developed Spain is and the excellent standard of living on offer, the cost of living is low compared to other European countries. Indeed, International Living's Global Retirement Index revealed that Spain has the second lowest cost of living in Europe, behind Portugal. Average figures vary by region, but around $2,000 per month should suffice.
Read more:
Find your Spanish home
Looking to retire to Spain? Check out JamesEdition's selection of luxury real estate in Spain, covering everything from beach-facing apartments and architectural marvels overlooking the Mediterranean to rural getaways and city center condos.
Read more: