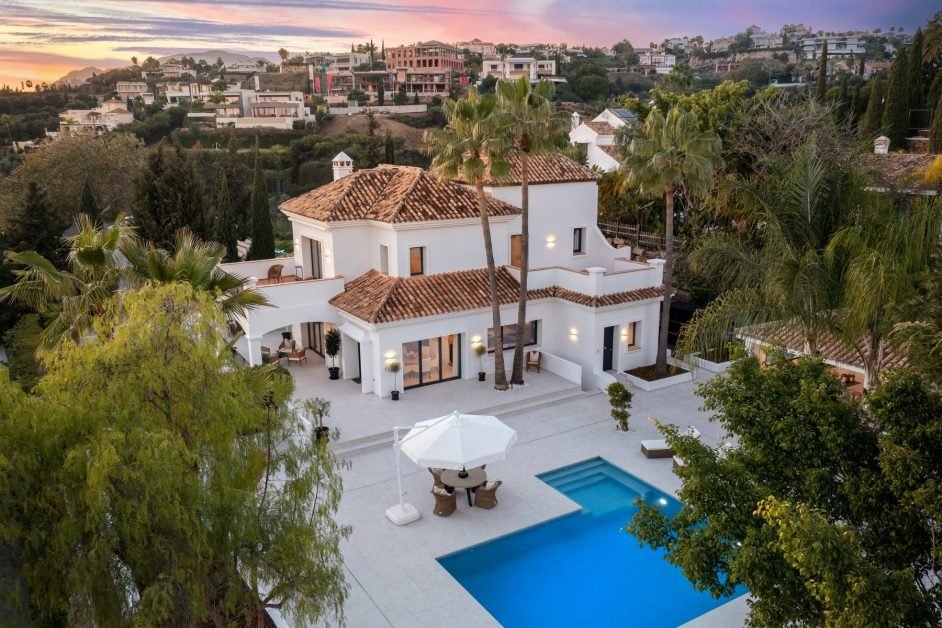 Scandinavian-style villa in "El Paraíso", Benahavís, Spain. For sale by
Golden Avenue
If you're planning on moving abroad, Spain comes to mind for many reasons, from the temperate climate and varied landscapes covering beaches, mountains, countryside, and cities, to the healthy Mediterranean lifestyle.
As a result, Spain is an attractive country for foreigners. However, like other countries, it has something nobody enjoys: taxes. Below, we dive into taxes in Spain in detail, spanning who has to pay them, tax rates in Spain for natives and non-residents, and different types of levies.
Who has to pay tax in Spain?
Paying taxes in Spain depends on whether you're a national or a non-resident. Either way, taxes are owed, but the amount varies depending on what category you fall under.
Income taxes as a resident of Spain
Do you live in Spain for six months (183 days) or more per year, not necessarily consecutively? Do you have vital economic interests in the country such as a family or a business? If the answer to either (or both) is yes, you're deemed a Spanish resident for tax purposes.
As a resident, you're obliged to submit a Spanish tax return and pay income tax on your global income in the following cases:
Annual income from employment is over €22,000
Self-employed in Spain, work for a Spanish company, or run your own business
Rental income is greater than €1,000 a year
Capital gains and savings income is more than €1,600 annually
First year declaring tax residency in Spain
Income taxes as a non-resident
Do you live in Spain for less than six months a year? Then you're classed as a non-resident, meaning you only pay taxes on income generated in Spain. Those taxes apply at flat rates with no allowances or deductions.
Are you a non-resident who owns property in Spain? Regardless of whether or not you rent the place out, you must submit a tax return and pay:
Spanish property taxes for non-residents (also known as imputed income tax)
Local Spanish property taxes
Note: Spain has treaties with other countries to avoid double taxation.
Does Spain tax foreign income?
You're obliged to declare all assets abroad that are worth more than €50,000 via the Modelo 720 form.
Spanish tax rates are progressive, and your taxable amount is the income that remains after contributions to social security and pension, minus personal allowance and professional costs.
Spanish income tax rates in 2023
2023 Taxable base / Spain tax rate: 
€0 to 12,450 / 19%
€12,451 to 20,200 / 24%
€20,201 to 35,200 / 30%
€35,201 to 60,000 / 37%
€60,001 to 300,000 / 45%
Above is a table outlining national Spanish tax rates (Impuesto sobre la Renta de las Personas Físicas or IRPF) if you're a resident.
In Spain, personal income taxes are split between state and region. Each of the 17 autonomous regions decides its own tax rates and liabilities, so there are variations (generally slight) across the country for income, property, wealth, capital gains, and inheritance taxes. As a result, the Spanish tax system is complex; the amount you pay depends on where you live.
On top of that, income tax on savings is levied at the following:
19%: first €6,000 of taxable savings income
21%: €6,001 to €50,000
23%: €50,001 to €200,000
26%: savings income greater than €200,000
Non-residents pay a flat income tax rate of 24%, or 19% if you're an EU or European Economic Area (EEA) citizen. Extra income subject to Spanish non-resident taxes is as follows:
Capital gains from transferred or sold assets are taxed at 19%
Investment interest and dividends are also taxed at 19% (although generally lower via double taxation agreements, and interest tax is exempt for EU citizens)
Royalties are taxed at 24%
Pensions are taxed progressively, from 8% to 40%
Different types of taxes in Spain
From social security and VAT to corporate and wealth taxes, there's a lot to take in around Spanish tax rates. Continue reading for the lowdown.
Spanish property tax
Do you own a place in Spain? Then you must pay property tax (Impuesto sobre Bienes Inmuebles or IBI) that's equivalent to the UK's council tax. The levy applies to non-residents and citizens, and the amount equates to the rental (cadastral) value multiplied by a tax rate set by the local authorities. You're also obliged to pay basura, a rubbish collection tax.
Personal income tax varies, depending on whether you rent the home out and where your primary residence is. If it's rented out, Spanish residents and EU/EEA citizens are levied 19% of the rental income. Meanwhile, non-EU/EEA residents pay 24%.
What if the property isn't rented out? Non-residents still pay imputed income tax (a levy on the potential income the residence could produce) – about 0.4-0.5% of the cadastral value.
If you sell your Spanish property, you pay a transfer tax, (Impuesto Transmisiones Patrimoniales or ITP) equating to 6-10% of the purchase price, depending on location.
For more info check out our comprehensive article on Spanish property taxes.
Capital gains tax in Spain
This is a tax on profits from selling investments like property. The following rates apply:
First €6,000: 19%
€6,001 to €50,000: 21%
€50,001 to €200,000: 23%
Over €200,000: 26%
Spanish wealth tax
This applies to assets with market values exceeding €700,000. In terms of non-residents, the rate is 0.2-3.5%, depending upon the value. Spanish residents may be entitled to deductions, according to the region their assets/properties are located.
A standard €700,000 tax-free allowance applies to everyone. Furthermore, homeowners are permitted an additional €300,000 against the value of their main residence.
Social security
Spanish workers must pay social security taxes whether they're a citizen or an ex-pat with a visa. Contributions are above the Organization for Economic Cooperation and Development (OECD) average, but they offer access to essential benefits like free Spanish healthcare, maternity and paternity care, unemployment coverage, and state pensions.
Rates are as follows:
6.35% for employees
29.90% for employers
Self-employed people also contribute, based on their income.
Inheritance and gift tax in Spain
Inheritance tax (Impuesto de Sucesiones y Donaciones or ISD) is progressive, and paid by the person who receives the assets.
Since 2015, non-residents from the EU/EEA are treated the same as citizens in terms of inheritance and gift tax; the rate varies, depending on the region. Since Brexit, as a non-EU member, British nationals pay tax at a higher rate.
Some areas such as Andalucía updated their policies, resulting in many families not having to pay inheritance tax, so be sure to check local laws.
National government rates are as follows:
Up to €7,993: 7.65%
€7,994 to €31,956: 7.65 to 10.2%
€31,957 to €79,881: 10.2 to 15.3%
€79,882 to €239,389: 15.3 to 21.25%
€239,390 to €398,778: 25.5%
€398,779 to €797,555: 29.75%
€797,556+: 34%
Note: Spanish inheritance tax has both state and regional allowances. Also, each autonomous region is in charge of its own reductions, deductions, and allowances. For more detailed information, we recommend seeking professional advice.
Value-added tax
Known as Impuesto sobre el Valor Añadido (IVA) in Spain, there are three levels:
General: This is 21% on goods and services.
Reducido: This amounts to 10% and covers passenger transport, toll roads, basic foods, rubbish collection, pest control, wastewater treatment, health products, exhibitions, and amateur sporting events.
Superreducido: This is 4% and spans the likes of essential foods, medicine, books, and newspapers.
The government upped IVA from 10% to 21% on alcoholic drinks in 2021. It applied the same rise to beverages with added natural and derived sweeteners and/or sweetening additives. The increase excluded baby milk and liquids considered food supplements for special dietary requirements.
Corporate tax in Spain
Here, the general rate is 25%. As of 2022, newly-formed businesses pay a reduced 10% for the first two years, down from 15% in 2021.
Tax in Spain for married couples
If you're married, you can be taxed separately or together. To decide, compare the Spanish tax rate you'd pay as individuals against the amount as a couple before making a final decision. A married couple's allowance (declaración conjunta) of €3,400 applies to the second taxpayer, plus a general allowance of €5,550 for the first taxpayer.
Crypto taxes in Spain
Is cryptocurrency taxed? Yes, via income tax, income savings tax, inheritance and gift tax, and wealth tax, depending on the situation. General guidance views crypto as a taxable asset.
Beckham's Law
If you're a foreigner, you can take advantage of a special tax regime. Coined Beckham's Law, the program was allegedly set up so the footballer wouldn't have to pay tax on his global image rights when he joined Real Madrid.
The scheme entitles you to pay a 24% tax rate on Spanish income up to €600,000 (47%, otherwise), rather than the progressive rate. It applies for six years, meaning ex-pats pay much less tax during that period, even if they're a Spanish tax resident who spends more than six months in the country per year.
How to pay taxes in Spain
Regardless of whether you're a Spanish native or a non-resident, you must register to pay taxes with the Spanish authority. To do that, you need an NIE number.
Additionally, you also need to fill out the Modelo 30, registering your obligation to pay Spanish tax (as a resident or non-resident) for the first time. You can also change your details using that form.
If you're a non-resident of Spain applying to pay income tax, fill out Modelo 149, then use Modelo 150 to make your declaration. For non-resident property owners, declare via Modelo 210.
For your Spanish income tax declarations, fill out Modelo 100. If you're a US native living abroad, you still need to file a tax return with the IRS, despite not living in America at that time.
Filing your Spanish tax return
In your first year of tax residency, you must file a Spanish tax return. And then, you don't have to if your income from all sources is below €8,000 and you have under €1,600 of bank interest or investment income. The same applies if your rental income is below €1,000 or you earn less than €22,000 as an employee, because your Spanish income tax is deducted by your employer.
Note: Managing taxes in Spain is easier with the help of accounting and tax professionals.
When are Spanish taxes due?
The tax year in Spain runs from January 1st to December 31st. Eligible people must file their tax return between April 6th and June 30th of the year following the tax year. There are no extensions.
Spanish tax deductions and allowances
Spanish taxpayers receive certain deductions. For example, the basic personal allowance for people under 65 is €5,550, €6,700 from the age of 65, and €8,100 from 75.
Do you have kids under 25 living with you? You can claim an additional allowance as follows:
€2,400 for your first child
€2,700 for your second child
€4,000 for your third child
€4,500 for your fourth child
There's also an extra allowance on offer: €2,800 for each child under three.
Do you have a parent or grandparent living with you and your total income is below €8,000? You can claim €1,150 if they're over 65 and €2,550 if they're over 75.
On top of that, it's possible to claim tax deductions in Spain for the following:
Payments into the social security system
Pension contributions
Cost of buying and renovating your main residence
Charitable donations
Taxes in Spain for tourists: Does it apply?
Tourist taxes are becoming increasingly common around the world. Carry on reading to find out Spain-specific information.
What is the tourist tax in Spain?
It's a surcharge that's levied for each night visitors spend in a hotel or tourist accommodation. The amount varies by area and the type of place you stay, and the number of days. In general, it's around €1 per night. However, in some regions like The Balearics, it can be up to €4.
How long can you live in Spain before paying tax?
If you spend more than 6 months (183 days) per year in Spain, you're regarded as a tax resident.
Find your Spanish home
Regardless of whether you're a native or a non-resident of Spain, if you're looking for a property, we're here to help. Our top-class collection of luxury homes in Spain features an eclectic mix of residences across the country, from architectural masterpieces in the Costa Brava and beachside villas along the Costa del Sol to city-center condos in València.
Read more: