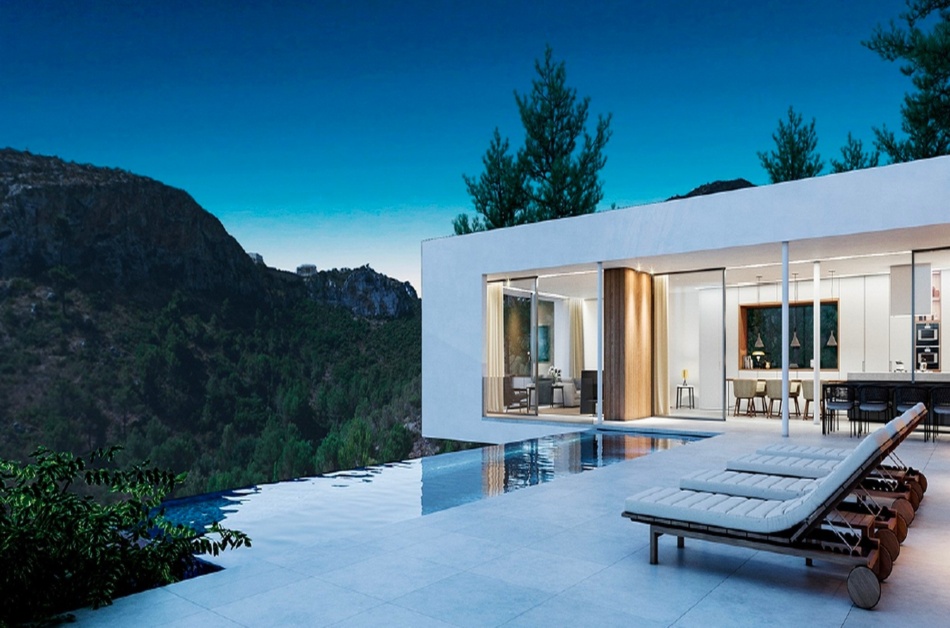 "Minimalist, south facing villa in Son Vida, Palma de Mallorca, Spain, approx. US$4,072,457. "
View the listing
Although the property tax in Spain is lower than Europe's average, you still should be prepared for a number of taxes and fees, including annual taxes and the tax implications of selling a house. Moreover, the full cost of buying, owning, renting out, and reselling a property in Spain varies depending upon the type of property, your residency status, and the community where you buy a house.
In this article, we help you quickly navigate all of the nuances of purchasing and owning a villa in one of the sunniest European countries. So, let's kick-off and get the complete picture of property taxes and fees in Spain.
The property taxes and fees to pay when buying a house
As many of you might know, there are no restrictions on foreigners to purchase real estate in Spain.
Two primary property taxes exist for buyers in Spain: VAT is the main tax assigned for newly-built houses while the transfer tax is the main extra payment on resale homes. In general, a buyer should plan for an additional 8 to 15% of the total sale price.
VAT (IVA) accounts for 10% of the selling price of the new build. The property is considered a new-build if it's sold directly by a developer.
The transfer tax (ITP) is about 7-11% of the selling price and depends upon the region where your future home is located. Also, some regions, such as Andalucia or the Balearics, have progressive transfer tax rates.
Let's get more specific and compare the transfer tax rates in several Spanish communities.
Transfer tax on buying a property in Spain by region:
Asturias, Catalonia, Valencia and Costa Blanca, Galicia: 10.1%
Extremadura: 9.9%
Castilla y Leon: 9.6%
Cantabria: 9.5%
Balearic Islands (Mallorca, Menorca, Ibiza): 9.2% average
Andalucia (with its ever-popular Costa del Sol, Marbella, and Malaga): 9.1% average
Castilla la Mancha, Murcia: 8.1%
Aragon, La Rioja, Pais Vasco: 7.1%
Canary Islands: 6.6%
Madrid, Navarra: 6.1%
Alava: 4.1%
Ceuta, Melilla: 3.1%
When purchasing a house, you should also take into account the lawyer's fee (0.01%), notary fee (0.1-2%, depending on the property price), property registry cost (0.02%-0.175% depending on the property price), and the stamp duty tax (AJD)if you get a mortgage (1-2% of the mortgage amount).
Annual property taxes in Spain for EU and non-EU citizens
A property owner must pay two taxes annually: council tax (also known as Impuesto Sobre Bienes Inmuebles, or IBI) and personal income tax.
The council tax on the property is calculated by the local municipal authority every year and accounts for 0.2-1.5% of the cadastral value on January 1 of the current year. The good news is that cadastral value is usually about 20 times lower than the true market value of a house.
Your personal income tax varies depending upon whether you rent out your house and where you have your primary residence.
If the property is rented out, Spanish residents and EU/EAA citizens pay 19% of the rental income, and non-EU/EAA citizens pay 24%. The rental income must be reported and taxes paid within one month after the rent is received.
EU/EAA citizens also can get an income tax reduction, due to expenses related to the Spanish property. To obtain this reduction, they need to provide all related deeds and documents (e.g., the vendor's contracts).
If the house isn't rented out, non-residents still must pay the Imputed Income Tax (or the tax on the potential income this property could produce) which is about 0.4-0.5% of the cadastral value.
In addition to these two taxes, there is a wealth taxon properties with market values exceeding €700,000. The general rule (applied to all non-residents) is taxation of 0.2%-2.5% depending upon the value of the assets. But Spanish residents may be entitled to individual deductions depending upon the region where their properties are located.
And, finally, Spain had applied an annual 7% tax on solar paneling post-2015 (the so-called sun tax); but, the controversial taxation received much criticism and was canceled in 2018.
Tax implications after selling property in Spain
If you decide to sell your house, you'll pay a capital gains tax on your profits from the sale (i.e. increase in the value of real estate above its purchase price). Like personal income tax, it's rate is 19% for EU/EAA citizens and 24% for non-EU citizens.
There are some ways to secure tax relief; for instance, you can get a deduction if you have lived in the property for at least three years before selling it.
Another tax to bear in mind is Plusvalia, taxation on the plot of the land where the property is situated. It's calculated based upon the increase of the land's value and the number of years you were the owner. The exact figure is given by the local Town Hall.
Other property-related taxes
Although we have mentioned the main property taxes above, there are further payment obligations that homeowners might wish to know about.
Inheritance and gift taxes (or death duty taxes) levied on bank accounts, real estate, and art, have relatively high limits in Spain.
In 2019, Andalucia became the first region to implement a 99% tax relief for EU/EAA-residents–ending with rates as low as 0.5% for gifted amounts of up to €500,000. As a result, required payments dropped from €112,800 to €1,100.
Unfortunately, in other regions payment obligations remain the same. While the minimum rate is 7.65%(for assets with the net worth up to €7,993.46), the figure can be as high as 29.75% (for assets from €398,777.54 to €797,555.10) and even 34% (for €797,555.10 and upwards). Only beneficiaries under age 18 are partially exempt from the fee and receive a tax reduction of up to 5%.
Many factors can increase taxation rates up to 82%. Some expats face double taxation — both in Spain and in the country of their primary residence. That is why inheritance and gift taxation are compelling reasons for consulting a local tax advisor.
Yet another recently emerging concern regarding property tax in Spain is how the situation will affect citizens of Great Britain after Brexit.
Since January 1, 2021, Brits will be charged the same taxes and fees as non-EU/EAA citizens. And while in some situations this won't make much of a difference, there are cases where it can raise taxes by 5%-99% (check out gift tax in Andalucia), substantially increasing the sum to be paid.
Exclusive luxury insights
for newsletter subscribers only
Delivered every week to your inbox