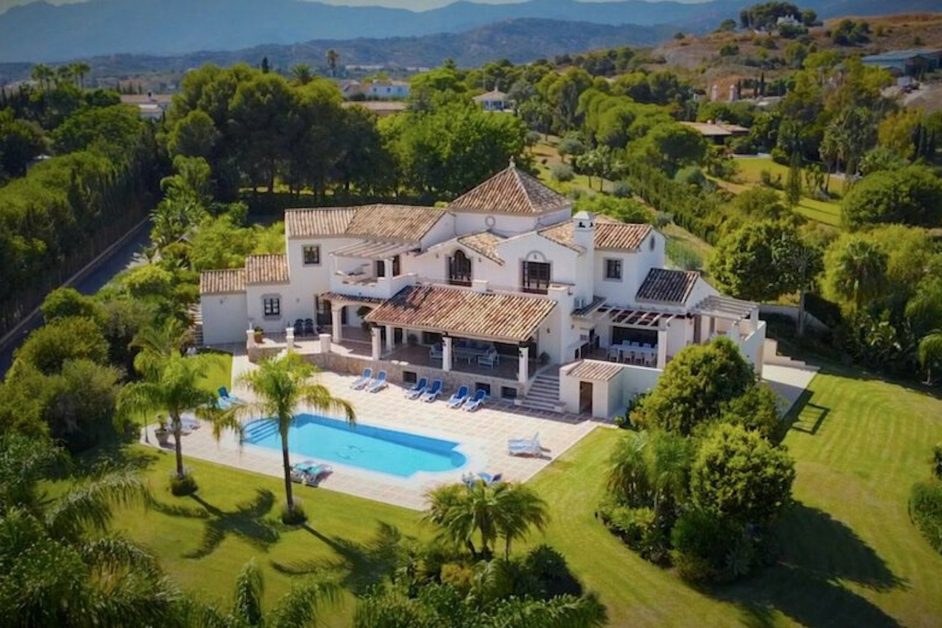 Andalusian-style Mansion in Los Flamingos, Benahavis, Spain. For sale by
Marlo Property
Deciding to move to Spain from the USA is a huge decision. The countries are thousands of miles apart, but the amazing quality of life and opportunities that come from moving to live in Spain make it an attractive proposition for many Americans.
Spain is known for its wonderful climate, cultural cities, and fantastic relaxed atmosphere. The cost of living is generally lower than in the US and you have easy access to other EU countries, providing the opportunity for unforgettable experiences across the continent.
Understanding what you need to move to Spain is essential to make the process as stress-free as possible. Moving to Spain from the USA involves meeting a range of legal requirements and ensuring you comply with visa regulations and other essentials.
Below we're exploring moving to Spain from the US in more depth, providing everything you need to know to ensure moving to Spain is as easy as possible.
Can I move to Spain from the US?
Absolutely! Moving to Spain from the US is not the most common of moves for US expats, but those who do choose to move to Spain never look back. Spain offers an extensive range of visa options that ensure citizens can move to Spain from the US with ease. It all begins with applying for your visa in the US, and once it's granted, you can begin planning your future in more detail.
Spain has a large expat community, so while Americans do not make up a huge portion of the population, there is plenty of opportunity to meet people from all over the world who now call Spain home.
How hard is it to immigrate to Spain?
Moving from the USA to Spain involves following the correct process to ensure you are approved for your visa and can begin your move. The process is not overly difficult, but you should look for help moving to Spain from local specialists or experts in the US who have helped others make the move. There are specialist lawyers and travel experts who can support you while you plan how to move to Spain and ensure it does not become an overwhelming process.
Requirements for moving to Spain from the US
Collecting all the required information on moving to Spain will help ensure you can enjoy your new home as quickly as possible. Here are the key points to consider when moving to Spain from the US, ensuring it is as quick and efficient as possible.
1.
Get your Número de Identificación de Extranjería (NIE) Number
Your Número de Identificación de Extranjería (NIE) Number is the official Spanish identification number for foreigners. People relocating to Spain from America should get their number before traveling. This makes the process quicker and more streamlined. To register for the NIE, you must:
       

Download and fill out an EX-15 application form.

       

Submit the form through the US consulate nearest to you.
It is possible to get the NIE once in Spain. You can apply for the document via the local immigration office or a police station.
2.
Arrange your Spanish Residency
Your Spanish residency will be closely linked to your visa status. All US citizens living in Spain need to obtain a Tarjeta de Identidad de Extranjero or TIE Card. This is the official foreigner ID card in Spain, and it allows you to access a range of Spanish social security benefits and general rights in line with citizens.
To obtain your TIE card, you first need to register as a resident in the town of your new Spanish home. You need to officially get your Empadronmiento certificate (also commonly known as the padrón). You will need to show proof of ownership of your Spanish home to receive this document.
This process takes place at the local town hall of your new Spanish home.
3.
Organize your taxes
Once you decide to live as a permanent resident in Spain, then you must pay your taxes as a Spanish resident. You will also need to do this to be able to receive your TIE card. 
Article 9 of the Personal Tax Income Law states that if an individual resides in Spain's territory for more than 183 days or whose primary financial interests are located in Spain, they must become a tax resident in Spain.
It is especially important to get professional advice regarding your tax affairs in Spain to ensure you are complying with the law.
4.
Arrange healthcare
Private health insurance is necessary for most US residents moving to Spain. However, if you are working for a Spanish company and contributing to Social Security, then you will be able to access Spain's public healthcare assistance.
It is preferable that you obtain Spanish private healthcare and you may be rejected if you try to maintain your US health insurance.
5.
Validate your essential documents
No agreement exists between the US and Spain that allows permanent residents to maintain their US driver's licenses. Therefore, you must apply for a Spanish driving license.
Similarly, validating other documentation, including your passport, is also important so it can be used easily as a form of identification and whenever else it may be needed.
6.
Open a Spanish bank account
A Spanish bank account is essential for anyone moving to Spain on a permanent basis. To access Spanish security benefits and a range of other services it is important to have a local bank account. It also makes day-to-day life much easier and you do not run the risk of running up the high charges than come with using a foreign account.
To open your Spanish bank account you will need your NIE number as well as financial information such as your personal income tax information or current bank statements stating income and/or savings.
Getting your Spanish Visa
There are several specific Spanish visas that are an essential part of how to move to Spain from the US. There is a range of different options to consider depending on your circumstances.
Student Visa
American citizens who enroll in an accredited exchange or study program in Spain can apply for a student visa. You can also get a student visa for an unpaid internship or research or training in Spain. Student visas can be a useful gateway for a work visa.
Student visas are different depending on the length of your stay, with options for 90 days, 180 days, and 180 days+. Students usually need an offer letter from their educational institution before they can apply for their student visa.
Work Visa
A work visa is a standard visa available to US citizens who have had a job offer from a company in Spain. Your company needs to apply for your work visa on your behalf. They must be able to prove you are filling a demand shortage or a role they could not fulfill easily with a person from the EU.
Work visas are usually valid for one year but are often extended, dependent on your contract and role.
Some US citizens may also obtain a highly skilled visa, a kind of work visa for Americans hired to a managerial or senior leadership role or hired by the government or a Spanish university at a senior level.
This is a two-year visa and allows applicants to bring their families with them. Many people begin in Spain on a regular work visa but as they progress within their company are able to switch to a highly skilled visa.
Non-Lucrative Visa
A non-lucrative visa is for US citizens who plan to retire in Spain or live in Spain permanently without employment. You must have the financial means to support yourself. It is initially valid for 1 year and is then renewable every 2 years after that.
In 2022, you must have a monthly income of €2,316.08 or an annual income of €27,792.96. You need an extra €6,948.24 for each member you plan on taking with you to qualify for a non-lucrative visa.
The Spanish non-lucrative visa does not allow you to work in Spain but as most people accessing this visa are retirees, it probably isn't part of the plan.
Golden Visa
The Spanish Golden Visa is a perfect option for anyone looking to invest in Spain or buy Spanish property. Eligibility is entirely dependent on minimum investment in Spain which can be achieved in one of the following ways:
       

A property purchase in Spain worth at least €500,000.

       

An investment in the Spanish public debt of at least €2,000,000.

       

Investment in a new business offering employment, contributing to scientific or technological innovation, and having a measurable socioeconomic impact in the area it will be based.
The Spanish Golden Visa is also a work visa so users can work in Spain as well as live there.
Buying a Property in Spain
One of the most crucial steps is finding your dream home and buying a property in Spain. Moving to Spain from the US may mean plenty of visits to your favorite regions and finding the perfect location and also that perfect property. Once you have the essentials in place such as your visa and NIE number, finding your dream property and the path to ownership is not too tricky.
The first step is to select your dream location. While you may have an impression of Spain generally there are significant differences between the regions and you need to make sure you find an area which suits you and your family.
Get advice and seek guidance from local realtors and specialists who can give you insight into different areas along with their pros and cons.
Once you've found that dream home, it's time to start your due diligence. You must ensure the property specialists you work with check a number of legal factors including whether the property is legally built and legally for sale.
You should also check in advance if you have the necessary building certificates or planning permissions if you have grand plans for a property you hope to buy. You will find local realtors and property specialists more than willing to help and advise.
We'd also recommend you seek local guidance for any building surveys before agreeing to purchase any Spanish property.
Once you have completed all the legal checks and are satisfied the property is ideal for your needs, it's time for the initial agreement and deposit payment.
Spain has no minimum deposit payments but most properties have around 10% of the overall property value as the deposit payment.
After this is agreed upon and you have your deposit paid, it is time for any final checks and surveying before the final contract.
In Spain, you must sign the final contract in the presence of a notary. If you are not in Spain at the time you can appoint a solicitor on your behalf.
The notary issues all documentation you need and will ensure the balance for the property is transferred to the seller. Then, you're ready to move in and enjoy your new home.
Don't forget that as the buyer you are responsible for most of the costs involved in the property purchase. These costs differ slightly from region to region but usually reach around 8% and 12% of the overall property price.
Your Checklist for How to move to Spain from the US
Once you've decided Spain is the country for you, then the steps for how to move to Spain from the USA become ever more important. The process can be time-consuming but it is worth it when you get to enjoy your new home.
So, is moving to Spain easy? We can provide you with a comprehensive checklist for how to make it as straightforward as possible.
1.
Build up your knowledge of Spain
Vacationing in Spain can be one of your favorite past times but when you decide you want to call the country home it's time to expand your knowledge of all things Spanish.
Take time to get to know everything you can about the country, its traditions, and its culture. The more you know, the more comfortable you will feel integrating into Spanish society.
There are four main languages in Spain:
       

Spanish

       

Basque

       

Catalan

       

Galician
99% of the Spanish population speaks the Spanish language and English is also spoken widely across the country.
However, overall proficiency levels are not especially high, and learning the Spanish language should be a priority if you are planning to call the country home. It will help make settling in easier, as well as day-to-day life.
Spain is renowned for its warm climate and many people consider this a driving force behind their decision to move to the country. In the warmest areas, you can expect bright sunny days for over 80% of the year but there are cooler seasons too, as well as plenty of rain.
Of course, temperatures and climate vary by region so you should explore and research carefully to find the ideal spot for your dream home.
2.
Choose your favorite location
As mentioned above, you need to pinpoint the location you want to call home in Spain. It is important to note that if you're moving to Spain for work or study you may be limited by region, but if you can choose where you want to live then the possibilities are endless. 
You could opt for a beachside villa or something more urban in one of the country's biggest cities. The pace of life you're hoping for will influence the location you choose, and you can seriously begin your property search once you have your preferred location agreed upon.
The most sought-after Spanish destinations for foreign buyers on JamesEdition include the Costa del Sol and Costa Blanca areas, Mallorca, Ibiza, Barcelona, and Madrid. 
3.
Plan for the Spanish cost of living
Financial security and sufficiency are important parts of the visa process and so you must have a budget available.
Yet, if you're investing in Spain this is less necessary and your Golden Visa application will already have proof of your income and ability to live freely in Spain.
The cost of living in Spain is low compared to the USA.
4. Receive your visa and residency status
You can only become a permanent resident in Spain as a US citizen with the right visa. Our discussion of visa options above should provide you with all the information you need about the options available.
5. Find and purchase your Spanish property
Owning your dream Spanish home is a big part of the relocation process. Contacting local realtors in your chosen area will give you access to exclusive properties and the chance to select from a range of those that perfectly meet your needs.
Once you've made the offer, your deposit, and finally signed the deeds for your new home, it's time to plan the logistics.
Book your flights, get quotes for removals, and check to ensure all your affairs in the USA are properly settled before confirming your leaving date.
6. Arrange your private health insurance
Unless you are working for a Spanish company you will need to arrange private Spanish health insurance. In the US it is fairly standard to arrange private health insurance and the processes in Spain are pretty similar.
There is a wide range of companies to choose from, but you may need to have your insurance in place prior to arranging your visa, so you can prove to the Spanish authorities you will have the right protection when you move.
7.
Legalize and translate your important documentation
Getting your most important documents translated into Spanish and apostilled can make life a lot easier when you arrive.
It makes application processes less difficult and is a good idea for all your key documents (including birth and marriage certificates) as well as work-related documentation and accounts.
This minimizes the chance of stop-start processes once you move to Spain as your documents have been officially legalized.
8.
Arrange your residence permit
Once you have moved to Spain you need to get your TIE card within 30 days. It is a legal requirement to have this residence permit in place as quickly as possible. It also allows you to claim certain Spanish rights quite quickly after your arrival.
9.
Register your address
Permanent residents in Spain, or anybody living in the country for six months or more must register their address with the local town hall.
You need to take proof of your address such as your property deeds and you will receive your certificado de empadronamiento. Similar to your TIE card, this will allow you to access certain rights while living in Spain.
10.
Open a Spanish bank account and register for tax
We've already highlighted how important your Spanish bank account will be for managing day-to-day life in your new home. Furthermore, it is an essential consideration for those intending to receive income in Spain through work,  property rentals, or any other means. Without a Spanish bank account, you will be subject to high fees almost every time you access your account or use your card.
All US citizens working in Spain must also be registered to pay taxes. Your employer may register you with the Spanish tax agency on your behalf but if you are self-employed this is your responsibility. Tax legislation can be complex so it is always recommended you find a local, knowledgeable professional for advice on your Spanish tax affairs.
11.
Explore local schools
The majority of US expats send their children to private international schools in Spain. International schools teach in both Spanish and English and often allow students to continue with the same curriculum or exams as they were working towards in the US. This can be especially beneficial if you have older children.
Public schools in Spain are a good choice if you want to immerse your children in their new Spanish community and get them used to speaking and learning the Spanish language.
12.
Arrange local services and essentials
Other tasks to consider once you're settled in your new Spanish home include applying for your Spanish driver's license and getting a Spanish SIM card. Most expats keep both a US and Spanish SIM card so they can use their old SIM when returning to the US without accruing high charges. A Spanish SIM card will offer more affordable rates for calls, messages, and data while in Spain and across the wider EU.
Find your perfect Spanish Home
Spain offers a completely different pace of life, atmosphere, and opportunities for US expats, and finding your dream home is the final piece of the puzzle for the move. The decision to move abroad an exciting opportunity and your new home should be somewhere you're anticipating moving to, which offers everything you could want from a property. 
Read more: