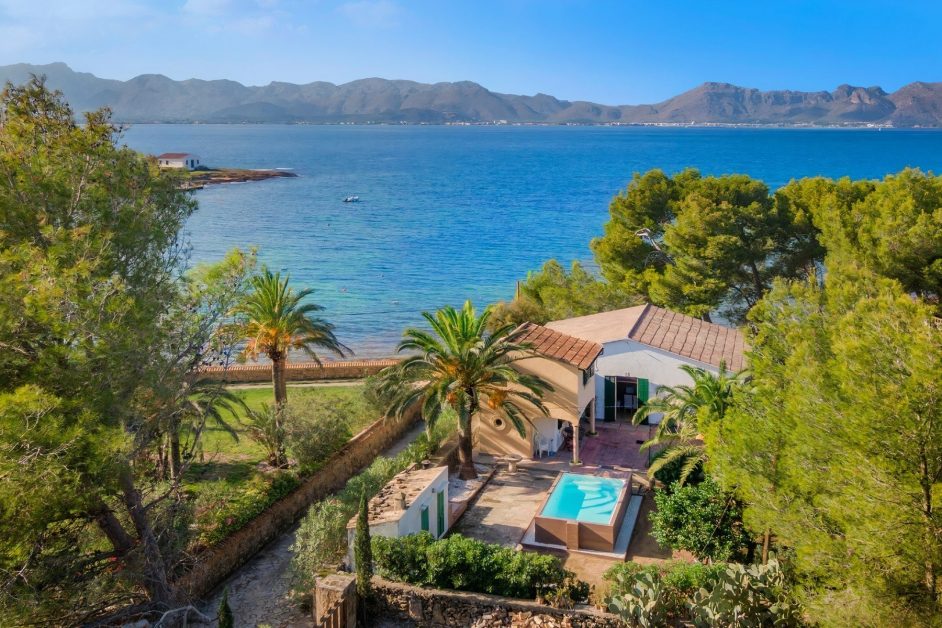 Making the decision to move to Spain is a fantastic and life-changing moment. Many people have fond vacation memories and favorite areas explored over their vacations. However, when it comes to making a permanent move or even buying a second home, it is vital you choose the best location for your needs.
The best places to live in Spain will depend on your individual circumstances and also what you want from your new home. Here we're exploring some of the best areas of Spain to live in, including the pros and cons of a range of popular locations.
Data from our users shows that some areas in Spain stand out as the most popular. On JamesEdition.com, the most sought-after areas in the country are Marbella (visited by 17% of users), Barcelona (visited by 2.5% of users), Estepona (2%), Madrid (1.5%), followed by Sotogrande, Ibiza, and Mallorca (1% each). The Costa del Sol is particularly popular and attracts many foreign investors every year.
1. Marbella, Costa del Sol: For wonderful family living
Marbella ranks as the best place to live in Spain with a family. Right on the south coast and in the exclusive Costa del Sol, it is the perfect choice for people with young families hoping to help their little ones settle easily into their new home.
Marbella is known for its popularity with tourists, but the area's high-end reputation extends far beyond this . The city has streets of beautiful renaissance architecture, traditional winding narrow streets, and some of the most stunning beaches in Europe. There is a large and welcoming expat community to help newcomers settle in and the range of properties available ensures you can find a perfect villa or apartment of any size to accommodate your family.
Pros of Living in Marbella
        Strong network of expats and a lively community
        Excellent international schools
        Bright, sunny weather for over 300 days of the year
Cons of Living in Marbella
        Limited skilled or professional job opportunities
        Less authentic Spanish experience due to large tourist population
        Demand for property keeps prices high
2. Estepona, Costa del Sol: for glorious beaches and calm living
Many of our users on JamesEdition seek properties in Estepona and this lesser-known Spanish coastal town has many hidden charms. Estepona is on the Costa del Sol and just 30 minutes from the glamour of Marbella. It is just 40 miles from Malaga Airport and beautifully located with the most striking beaches and coastline to enjoy.
Estepona offers a quieter pace of life than Marbella or Puerto Banus. The town is packed with traditional white-walled properties and the mountainous backdrop means residents can enjoy the best of both worlds. Bright, sunny weather almost all year round attracts many expats to Estepona, with many beautiful properties available to live in or as a second home. Estepona also offers a good range of excellent international schools for those looking to move their family over to Spain.
Pros of Living in Estepona
        Year-round warm, sunny weather.
        Home to some of the world's most glorious beaches.
        Great infrastructure including transport connections and healthcare.
Cons of Living in Estepona
        A more sedate way of life than busier cities.
        Property prices are on the rise due to demand.
        Lacks the variety of lifestyles and opportunities of a big city.
3. Frigiliana, Costa del Sol: For an amazing rural escape
Frigiliana is a beautiful hidden paradise on the mountainous slopes of Sierra Almijara. It is just 70km from Malaga on the southern coast of Spain and is a beautifully picturesque choice for people looking for a new home in Spain. Narrow winding streets and traditional Andalusian-style properties create a beautiful and traditional atmosphere. The high vantage point means residents enjoy fantastic views across the Costa del Sol and the rural, country feel of the town means you can explore some of the most amazing natural beauty Spain has to offer.
Frigiliana is one of the best places in Spain to live due to its gorgeous natural surroundings, with the Santa Fiora Botanic Gardens, Playa Burriana Beach, and the Nerja Caves to explore. It's the perfect choice for those seeking a slower pace of life.
Pros of Living in Frigiliana
        Slow, relaxed pace of living
        Unparalleled scenery and natural beauty
        Easy access to a range of natural, stunning beaches
Cons of Living in Frigiliana
        Limited job opportunities
        Less urbanized with fewer opportunities and activities than larger cities
        English is not as commonly spoken as in more populous areas
4. Malaga, Costa del Sol: For a balanced lifestyle
Malaga is your classic Spanish beach town that offers exactly what you'd expect and more, with rich diversity across the region. Property prices and cost of living are lower than in more busy urban centers, such as the capital. However, you are still benefiting from being in one of the best places to live in Spain with many opportunities to explore and enjoy the diverse culture.
Malaga Airport serves the area well and you can access urban exploits as well as outdoor pursuits with ease, with easy access to the Sierra Nevada ski resort for winter sports in the colder months. Malaga is a perfectly balanced option for people looking for the best of both worlds, great beachside relaxation but also stunning mountains and scenery.
Pros of Living in Malaga
        A strong, prominent economy.
        Exceptional transport links including the airport.
        A perfect blend of seaside and scenery.
Cons of Living in Malaga
        A less international culture and profile than Madrid or Barcelona.
        Relatively high cost of living compared to less prominent coastal towns.
        Low-to-moderate English proficiency.
5. Alicante, Costa Blanca: For retirees looking for sunshine
Alicante is known for its traditional vacation destinations such as Benidorm and its beautiful, stretching coastline the Costa Blanca. It has the largest ratio of expats in the whole of Spain and has become a go-to choice for retirees looking for a wonderful place in the sun to call home. While some expats live in the city and enjoy the heart of the action, many retirement communities have developed in the surrounding towns and villages. This is perfect if you're looking for a slower pace of life and the chance to enjoy the buzz of the expat community.
The city has a traditional quaint old town which is perfect for enjoying a stroll and a lively market offering a chance to immerse yourself in traditional Spanish experiences in addition to the expat way of life.
Pros of Living in Alicante
        Huge expat community to welcome you.
        Lower cost of living than Barcelona or Madrid.
        High levels of English.
Cons of Living in Alicante
        Few work opportunities.
        The local Valenciano language is required for some official documentation.
        The rainy season can be long and torrential.
6. Toledo, Central Iberia: For great value homes
Toledo comes out at the top of most lists when considering property affordability in Spain. It ranks as one of the ten best places to live in Spain due to its fantastic properties and quality of life. Toledo is just one hour from Madrid and it offers its residents a quiet and relaxed pace of life. You can explore the local mountains or enjoy the buzz of the city center there is something for everyone.
The city has a rich history and has been a UNESCO World Heritage site since 1986. Its skyline is world-renowned due to the famous painting by El Greco and its fascinating history dates back to ancient Rome and its role in the Middle Ages as the capital of the Spanish Empire and a center of peace, where Muslims, Christians, and Jews coexisted happily. The city has also become known for its incredible food and beautiful traditional architecture.
Pros of Living in Toledo
        Great value homes
        Exceptional scenery
        Rich culture and history to explore
Cons of Living in Toledo
        fewer activities and social opportunities than in larger cities.
        English is less common than in larger municipalities.
7. Barcelona: For a unique cultural experience
Barcelona is one of the most popular vacation destinations in the whole of Spain and increasing numbers of expats choose the city as their preferred place to live when moving to Spain. Barcelona is often considered the best area to live in Spain due to its vibrant and unique culture.
Barcelona is world-renowned for its striking and one-of-a-kind architecture, especially the works of Antoni Gaudí. You can walk the streets Gaudí walked and explore his Sagrada Familia, Park Güell, and Casa Batlló. Barcelona is also home to the largest collection of medieval paintings in the world, at The National Art Museum of Catalonia. Barcelona is the proud capital of the Catalonia region of Spain and its unique culture does make it stand out as somewhat different from the rest of the country.
Pros of Living in Barcelona
        Lively expat community.
        Huge range of activities, social events, and opportunities to enjoy.
        A perfect balance between wonderful architecture and stunning natural scenery.
Cons of Living in Barcelona
        Comparatively low salaries for a city of its size and popularity.
        High property prices due to high demand.
        High tourist population throughout the year.
8. Madrid: For professionals seeking the buzz of the capital
There's a reason Madrid is the capital of Spain. It really does offer almost everything you could want from a city, with a bright and vibrant culture, buzzing nightlife and a huge and welcoming expat community. The job market is competitive but there are plenty of opportunities for ambitious professionals looking for their next move. Its major industries include sales, transport, business services, and hospitality.
Madrid is also rich in culture with beautiful architecture, amazing historical sites, museums, and galleries to explore. It also has some of Spain's finest restaurants with 23 restaurants holding 29 Michelin stars across the region.
The only thing Madrid is missing is a beach, which is something many expats in Spain consider essential.
Pros of Living in Madrid
        Varied and competitive job opportunities.
        Buzzing expat community and nightlife.
        Excellent transport connections throughout the city and to other urban centers.
Cons of Living in Madrid
        High demand for property keep property prices high.
        No beaches.
        Busy nature of the city impacts air quality, pollution, and noise levels.
Choosing the best place to live in Spain
Discovering which Spanish location is best for your new home, or even a second property, takes time. Individuals must consider their main requirements from the move and take the opportunity to explore areas in depth before making a final decision.
Read more: