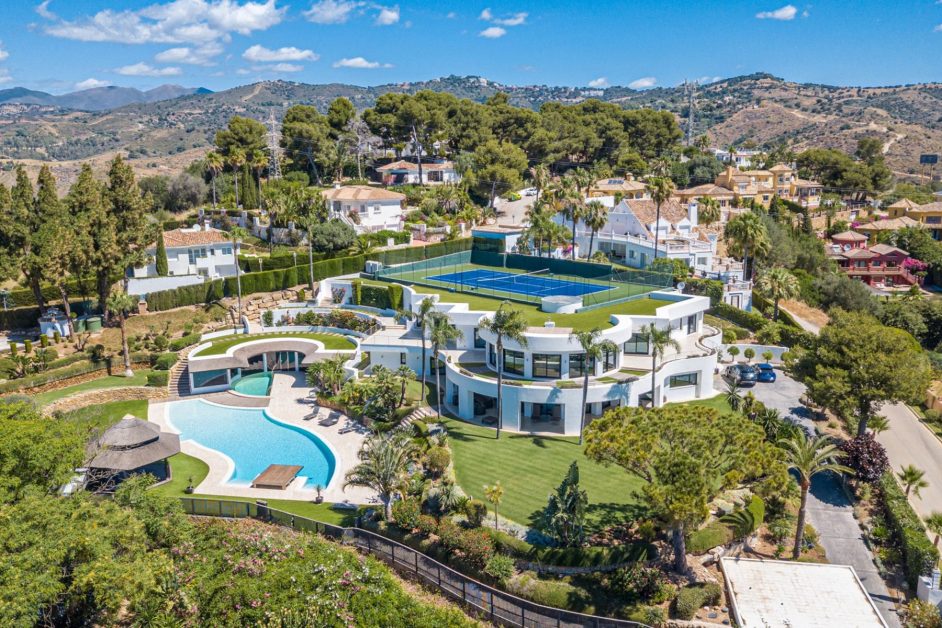 Home in the prestigious area of Hacienda Las Chapas, Marbella, Spain. For sale by
Panorama Properties
When it comes to selling property in Spain, there's a lot to consider. Is it a good time to list your residence? What steps are involved? How much will you need to pay in fees and taxes? Below, we dive into analyst predictions and offer a comprehensive seven-step guide.
Is now a good time to sell property in Spain in 2023?
To sell or not to sell, that's the eternal question. Analyst forecasts diverge somewhat, but they agree sales and prices are expected to cool in 2023. However, figures will remain high, with around 550,000 transactions predicted. There's debate around values: Some people believe they'll go down by 1% to 3%, while others are of the opinion they'll rise by up to 2%. Meanwhile, the European Central Bank (ECB) has a more dreary outlook: A drop of around 9% over the next two years.
The Bank of Spain expects "a fall in momentum" into the first half of 2023, as per its prognosis of financial turbulence and interest rates showing no signs of decreasing. These factors negatively impact demand, while high inflation curbs spending.
With that in mind, many estate agents are saying now is a good time to sell property in Spain. Indeed, According to the General Council of Official Associations of Real Estate Agents of Spain, "homeowners with property in Spain who'd like to sell should take advantage of the moment".
Mortgages are now more expensive for individuals and investors, but the greatest impact will be felt by the former. Demand will disappear from the market, and with the same supply, prices will fall.
How to sell a property in Spain (step by step)
If you're looking to list your home, what's involved? Below, we outline the process, from picking an agent to signing the contract.
Step 1: Choose an estate agent
If you're looking to sell in Spain, agents have local knowledge and expertise and can advise on an appropriate listing price. They also take care of viewings.
Picking an English-speaking agent with experience and overseas contacts is a good idea, particularly if you live in a popular hotspot that attracts ex-pats and outside investors. Be sure to opt for a licensed, accredited agent, and personal recommendations are valuable, too.
Of course, you can sell your residence privately if you prefer (or are approached), saving hefty fees.
Step 2: Advertise your property
Your estate agent plays a pivotal role in advertising the house. When it's time to list your property, it's a good idea to spruce the place up and tidy it thoroughly before photos are taken. Wealthy homeowners and ex-pats should request that their listing is placed on a high-end marketplace like JamesEdition.
Step 3: Instruct a solicitor
Appoint a conveyancer to advise and handle the legal and administrative aspects of selling Spanish property. Again, personal recommendations are ideal. Your estate agent should be able to make suggestions here.
Step 4: Pick a notary
El notario plays a central (and neutral) role. How? They manage paperwork, taxes, and registering the sale. When you accept an offer, it's time to agree on a notary with your buyer. There are about 3,000 notaries in Spain; they charge a standard rate.
Step 5: Prepare relevant documentation
When selling your property in Spain, you need the following:
Title deeds
Receipts for local municipal property tax
Copies of recent utility bills
Details of community statutes
Efficiency energy certificate
Zero mortgage balance certificate
List of items included in the sale (furniture, etc.)
Residencia card (if applicable)
Step 6: Sign the deposit contract
When the buyer's conveyancer completes the necessary due diligence, the next step is signing the deposit contract. This preliminary paperwork is prepared by them, and then both parties sign. At this point, a completion date is set.
When the preliminary contract is signed, the buyer pays a deposit (usually 10%), confirming their commitment.
Step 7: Sign the contract of sale
To finalize selling your property in Spain, a meeting is held between yourselves, the buyer, and each side's legal representatives. The notary also attends. At this stage, the contract of sale is signed and the notary lets the Land Registry know about the sale and sends over copies of the title deeds. Next, the final balance is transferred to you, and the buyer gets the keys.
Fees and taxes for selling a property in Spain 
What's the cost of selling property in Spain? As the seller, there are a handful of fees and taxes to pay (although the buyer is hit more heavily). Continue reading, as we delve into outgoings.
Estate agent fees
If you use an estate agent, you typically pay them 4-6% of the sale price. Another outgoing is the energy performance certificate – you can expect to pay between €150 and €300.
Note: If you don't live in Spain or have a Spanish bank account, you'll most likely encounter fees when transferring the proceeds of the sale back to your home country.
Lawyer's fees
Here, you can expect to pay 1% of the sale price, plus VAT. Agree on the percentage at the start of the contractual relationship.
Plusvalía
Selling property in Spain and the tax implications is an area that cannot be ignored. Plusvalía is a land appreciation levy – the amount due is based on the increase in value of a property since it was last sold. Plusvalía is set by the local municipality and is paid by the seller. However, you may choose to negotiate with the buyer on this.
Note: Changes were made to Plusvalía in 2021, and different rules apply if the seller is a non-resident, so be sure to stay up to date.
Capital gains
This is owed on profits made from selling a property in Spain – the difference between the sale price and the amount you initially paid. The rate depends on your residency status: Non-residents pay a flat rate of 19%, while citizens pay on a sliding scale depending on how big the profit is. Current rates are as follows:
First €6,000 profit: 19%
€6,001 to €50,000: 21%
€50,001 to €200,000: 23%
€200,000+: 26%
How can I reduce capital gains tax in Spain?
The good news? There's a capital gains tax exemption if you meet the following three conditions:
Spanish resident
Lived in the property for at least three years
Plan to use the proceeds to buy your new main residence in Spain
Note: It's also possible to deduct conveyancing fees as an expense when calculating capital gains (unless you're a non-resident).
How long does it take to sell a house in Spain?
The process generally takes around six months, but can be less or more, depending on property location and circumstances.
Final checklist: What you need to do to sell your property in Spain?
When selling your property in Spain, you need an estate agent (unless it's a private sale), a notary, a lawyer, and the following documents:
Title deeds
Receipts for local municipal property tax
Copies of utility bills
Details of community statutes
Efficiency energy certificate
Zero mortgage balance certificate
List of items included in the sale
Residencia card (if applicable)
The costs of buying and selling a property in Spain vary by region and property, but it's wise to make a rough calculation at the outset, so you know what to expect.
Find your ideal place to live in Spain
If you're selling property in Spain and looking for a new place, we're here to assist. Our deluxe selection of property for sale in Spain features a diverse mix across the scenic country, from sea-facing villas in Marbella and striking homes along the Costa Brava to penthouses in Málaga and city-center residences in Bilbao.
Read more: