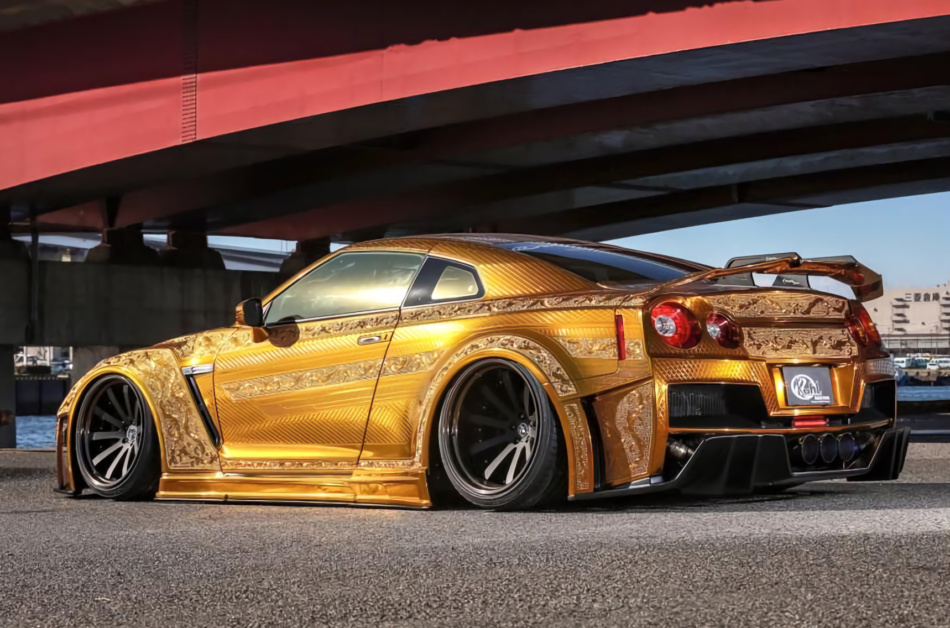 Gold-plated Nissan GT-R unvailed in Dubai in 2016. Image: Nissan.
With all the changes that 2020 brought, we left behind the belief that luxury assets primarily should be bought and sold offline within the meticulously created environs of upscale boutiques and showrooms. This year, even the most demanding buyers purchased some of the most expensive things in the world via online venues; acquired items included a $9-million diamond ring and a $4-million Ferrari 550 GT1.
Sotheby's and Christie's reported record successes in online auctions of their multi-million high-jewelry sales, Bloomberg informed us that the online resale market of luxury goods also soared as wealthy buyers went on a "spending spree," and conglomerates of Richmond, LVMH, and Kering discussed a new co-created, dominant neutral e-com platform for the luxury industry.
Since we now can buy everything online, what should we select for those who already have everything?
"In the pre-Covid era, the best gift for the 'person who has everything' would be something experiential, like visiting the Titanic in a submarine, eating dinner on an iceberg, or touring the Louvre Museum privately–so you can be all alone with the Mona Lisa," says Brian Daniel, the owner of  The Celebrity Personal Assistance Network and a former personal assistant of UHNW families. "But in the period of restrictions, material gifts are coming back to the fore. In this case, an important motivation is to have bragging rights–of having something unique."
With that in mind, we've selected the most unique (and – for that matter – most expensive) assets you can purchase online via JamesEdition.
1. Yersin mega yacht: a custom, 250-foot ice-class explorer
Price: $87,213,844
An ice-classed, Polar-coded explorer brings plenty of opportunities to ensure an expansive worldview (especially in comparison with the minute world seen from the window of a jet). The custom-made Yersin with its spacious grand salon, dining room, bar, and library also is an excellent mode of transportation for family-friendly expeditions.
Understandably, mega yachts with extra features are popular right now, as they can be used for self-isolated vacations or as remote and safe homes on the water.
2. BlackBerry Porsche Design P'9981: a collection of golden smartphones designed by a supercar brand
Price: approx. $32,971,357
Eight units from the collection of 25 BlackBerry Porsche Design smartphones await an owner with a special interest in either the historic American BlackBerry and RIM Canada or Porsche Auto and the affiliated Porsche Design. This buyer also will be the only person in the world to own a collection of eight P'9981 pieces–which itself would be priceless.
Another perk is that, out of all the BlackBerry handsets, only the 25 golden smartphones have fine, status-defining, easy-to-remember VIP PINs (Personal Identification Numbers).
3. Limited Patek Philippe watch at the price of a New York penthouse
Price: approx. $26,000,000
If you ever have wondered if a watch could be as valuable as a Manhattan penthouse with a view of Central Park, have a look at this limited Patek Phillip Grandmaster Chime in a completely hand-engraved, rose-gold case put up for sale in Hong Kong for $26,000,000. Together with top-tier luxury real estate, a few mega yachts and jets, it's one of the most expensive things for sale online in 2020.
The watch is one of seven pieces created in 2014 to celebrate the 175th anniversary of Patek Phillip. The Grandmaster Chime 5175 was a starring item in the 175th Commemorative Collection. With 20 intricate complications, it also became one of the world's most complicated wristwatches.
4. Lamborghini Veneno Roadster: an ultra-rare hypercar and a future collectible
Price: $8,360,484
A supercar purchase always is a good idea. And buying the Lamborghini Veneno Roadster is a rare, one-of-only-nine opportunity for a car enthusiast.
The car was developed to celebrate Lamborghini's 50th anniversary, was unveiled in 2013,  and–obviously–still is the most expensive production car in the world. The Veneno is Lamborghini's interpretation of a racing prototype built for the road. The car has a top speed of 356 km/h (221 mph) and a 0–100 km/h (0–60 mph) acceleration time of 2.9 seconds.
5. 1966 Ferrari 275 GTB: the most expensive classic car on the market in 2020
Estimated price: $3,337,528
The 275 GTB is one of the best classic Ferrari models in terms of investment. The car listed for sale certainly will be a beautiful addition to any car collection.
The 1966 Ferrari 275 GTB is a rare (one of 88 built) long nose example. Finished in metallic gray over black leather, the car maintains its original paint color and interior. The factory-upgraded original engine six carburetors are certified in the Ferrari Classiche Redbook.
The car has known three owners; it was first sold in Italy, then transferred to Switzerland in the 1970s, and returned in Italy in 2004.
6. Iconic Cosmos-inspired tourbillon by Pharrell Williams
Estimated price: $1,000,000
Richard Mille's iconic RM52-05 calibre, Pharell Williams' name, and a cosmos theme: these three elements make the Richard Mille manual winding tourbillon Pharrell Williams a truly exciting stunt of watchmaking acrobatics. The watch is one of 30 limited pieces built in collaboration with the musician who reportedly drew inspiration for the timepiece from the Star Trek movies that he grew up watching.
RM52-05 is a manual winding tourbillon movement with hours and minutes. The baseplate and bridges are made of Grade 5 titanium: a biocompatible, highly corrosion-resistant and remarkably rigid alloy (90% titanium, 6% aluminium, and 4% vanadium) that enables the gear train to function effortlessly.
The watch comes with a price on request tag, but the estimated value is about $1 million (an estimation supported by the previous selling prices of other Richard Mille pieces which are considered three times rarer than this watch).
7. Van Cleef & Arpel ring previously owned by a royal family
Price: $2,000,000
The $2 million Van Cleef & Arpels ring currently up for sale in California rivals some of the best pieces auctioned this summer by Sotheby's and Christie's.
The jewelry features an ultra-rare 13.05 carat Burmese "no heat" sapphire. Most sapphires available on the market today are enhanced by heat, and natural unheated gems are highly coveted for their rarity and sustained value. The sapphire in this ring is surrounded by 14 round-cut diamonds with an exceptional DE color grade and VVS clarity.
The ring's provenance is also worth mentioning; it reportedly previously was owned by a member of an undisclosed royal family.
8. Nissan GT with engraved gold body
Price: approx. $435,629
From its customized body to its 8-liter, twin-turbocharged V6 engine, this car looks exactly like another legendary gold-plated Nissan GT-R ; its engraving perfectly matches the Oriental pattern created by artist Takahiko Izawa for the previous famous gold GT-R. Incidentally, the car currently for sale also is listed in Dubai — where the golden Nissan was unveiled in 2016.
Thus far, we don't have enough information to confirm whether this Nissan GT is an original gold version of the Nissan GT-R or a masterful customization. But, with its impressive performance and unique (if blingy) exterior, this car is certain to please a supercar collector.
9. Fine ammunition with golden shotgun shells
Price: $377,893
One of the most expensive things in our lifestyle section, this ammunition is a great buy for someone who has already spotted a castle with spacious lands and desires to pursue hunting as a hobby. Each of the 20 shells is filled with 1 ounce of fine gold, and the item is suitable for hunting, as it fulfills all requirements of the Commission Internationale Permanente pour l'épreuve des armes à feu portatives (C.I.P.).
For buyers less interested in outdoor pursuits, the ammunition could instead play the role of artefact in a library or cigar room.
10. P-51 Combat Fighter: a custom motorcycle made from military-grade aluminum
Price: $100,000
The Combat Fighter is the ideal motorcycle for those who've already owned a couple of CVO Harleys. Combat Motors builds innovative and powerful vehicles that look like steampunk-inspired works of art permitting race-inspired performance.
The P-51 Combat Fighter is the world's first and only vehicle to be carved entirely from solid billet blocks of military-grade aluminum (combined with carbon fiber), resulting in an extraordinarily robust, fatigue-resistant, heirloom-quality motorcycle.
Exclusive luxury insights
for newsletter subscribers only
Delivered every week to your inbox