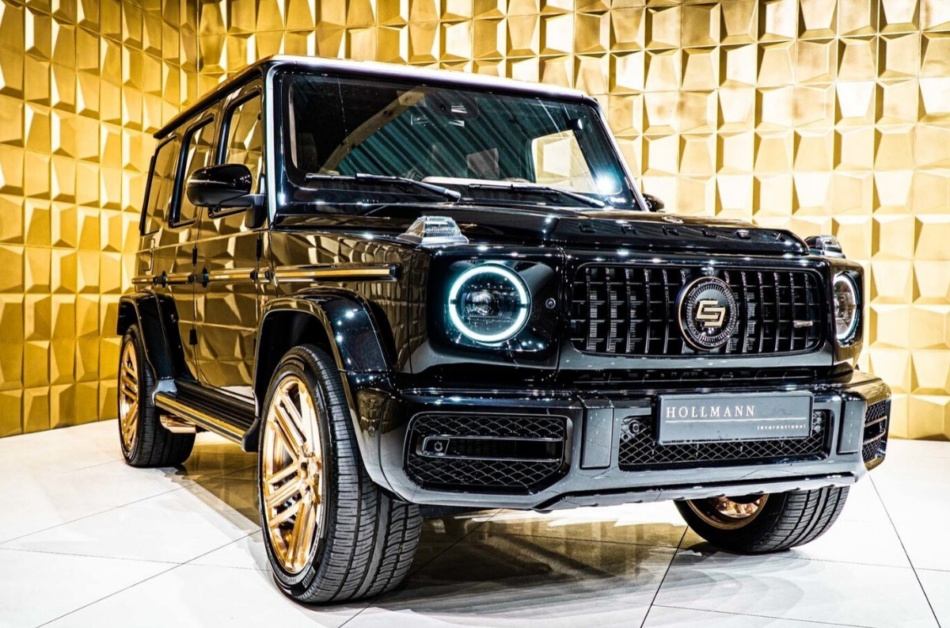 Mercedes-Benz G 63 AMG 2020 "Steampunk Edition" with the custom painted roof and the cabin decorated with embroidery. Price on request.
View the listing
Since 1979 the Mercedes-Benz G-Class (aka Gelandenwagen, or G-Wagon) has been one of the most recognizable and high-profile off-roaders the world over.
In more recent years Mercedes-Benz has made the G-Wagon more comfortable and more high-tech while also offering high-performance AMG versions, including the latest models like the 2020 AMG G63, 2018 and 2019 AMG G63, the AMG G65, and Brabus- and Mansory-modified examples. But the charmingly boxy SUV has lost none of its rugged off-road capabilities.
Hollmann International in Stuhr, Germany has the largest selection of G-Class Mercedes-Benzes on JamesEdition. We've inspected this impressive collection to compare the 2020 G-63 AMG interiors, color range and engine choices, cover special and modified models (such as Star Trooper, Edition 1, Brabus, and Mansory).
G-Wagon Engines: the V8 AMG G63 vs. the V12 AMG G65
The most basic choice for an AMG G-Class buyer is engine. Both are potent, sophisticated, and powerful, but one comes with extra power and a higher price tag.
The AMG G63 comes with a 4.0-liter twin-turbocharged V8 with 577 horsepower. The AMG G65, meanwhile, comes with a 6.0-liter twin-turbocharged V12 rated at 630 horsepower. Both are more than powerful enough to push this 5700-pound SUV along, and with ample ground clearance, full-time four-wheel drive, a two-speed transfer case, and three locking differentials, these vehicles are just as impressive off the road as they are on it.
Shades of G-Wagons: 2020 AMG G63 colors, from white or matte black to silver and custom bronze
G-Wagon is a recognizable shape in any color, particularly the flashiest new models like this custom 2020 AMG G63 "Steampunk edition". Color choices for the 2020 G-Class range vary widely and are available in both metallic and matte finishes, including silver, black, white, orange, and custom, sintered bronze. And we have to say, it's not the only example of how  bodypaint may influence the value of a car.
3 Six wheels: The 2015 G63 AMG 6×6
One of the most legendary trucks anywhere in the world, the Mercedes-Benz G-Class 6×6 was built from 2013 to 2015.
Underneath an extended pickup version of the G-Class body is the twin-turbo V8, six wheels with six-wheel drive and portal axles, five electronic differential locks, and a luxuriously appointed G63 AMG interior fitting of an expensive sedan.
Among the 6×6's other interesting features are a compressor that can reduce or increase tire pressure and an extra driveshaft for the rearmost wheels.
German tuner Brabus, which specializes in Mercedes vehicles, made an even more exclusive version of the Mercedes-Benz G-Class 6×6 in 2015, with a body kit and the engine tweaked to 700 horsepower, enough to rocket the six-wheeler from 0-100 km/h in just 4.4 seconds. Only a handful were built, and one of them, G-Wagon 6×6 in gloss black, is currently available at Hollmann International.
Limited edition Mercedes G-Wagon: from Brabus 800 and Edition 1 to Mansory Star Trooper and Gronos
Brabus, which has been tuning Mercedes cars and trucks for over 40 years, has turned its attention to the four-wheeled G-Class as well, including the V12-powered G65 Brabus G900, of which there are reportedly just 10 in the world. Keeping with Brabus tradition, "900" refers to the vehicle's horsepower figure.
Another firm called Mansory, known for its attention-grabbing carbon fiber body kits and color schemes, has gotten its hands on the G-Class as well, adding its body modifications onto the 2020 G63 AMG Mansory.
Another Mansory-modified, limited edition G-Wagon is the Gronos, based on the V12 AMG G65. The Gronos (apparently a portmanteau of "G-Class" and the Greek god "Cronos") features lightweight carbon fiber bodywork with a wider stance than stock, larger wheels, a newly designed exhaust, and 840 horsepower. Inside, extra carbon fiber trim and special stitching distinguish the Gronos from other G-Class Benzes.
Yet another eye-catching Mansory is the Star Trooper. The Star Trooper started life as a G63, and with the help of German fashion designer Phillip Plein decked it out in grey camouflage, special wheels, red highlights, completely restyled interior, and an 850-horsepower version of the 4.0-liter V8 engine thanks to larger turbos and new exhaust.
Other available customized and special models on the latest G-Class platform include the Edition 1. Finished in a sinister-looking matte black with subtle red accents, the Edition 1 is a special limited-production version of the G63 by Mercedes-Benz only built during the earliest part of the model's production. Other distinguishing features include a grey decal running between the doors, tinted turn signals, and red trim and stitching on the seats.
And one last special version of the G-Class is the G63 AMG "Gepanzert," or "Armored." Based on the 2020 G63 AMG, it is a bulletproof version of the famous SUV. The latest armored G-wagons feature not only special glass and blast protection but also custom luxury interior equipment.
G63 AMG Interior
As is the case with body kits, wheels and tuning packages, there is nearly no limit when it comes to choosing the interior features of a G-63 AMG. From stitching patterns and dash materials to 3rd row seating and upholstery colors, there is a huge array of choice. You can even get one with a bright blue or red interior.
G-63 AMG Prices
Styling, equipment, and performance vary widely on the G63 AMG, and so does price, both for standard models like the 2020 G63 AMG and for limited edition special models. Of course, none are cheap and all are exclusive, but while some are merely pricey, some are among the most expensive vehicles on the road.
Prices range from the low €200,000s for factory G63s to the mid-€200,000s and €300,000s for limited edition Brabus G-Wagons and nearly €600,000 for the most expensive Mansory versions. The Brabus 6x6s, meanwhile, cost nearly €1M euros.
More inspiration from JamesEdition:
Exclusive luxury insights
for newsletter subscribers only
Delivered every week to your inbox