Article at a glance:
It's safe to say that luxury armored vehicles are under-explored breeds in the high-end automobile niche. We can easily imagine such vehicles in a political-thriller-movie-style convoy, leading a motorcade of formidable, black limos. But our imaginations seldom range beyond such imagery.
To learn more about luxury-class, bullet-resistant vehicles, we spoke with Trasco, one of the world's leading commercial armored car manufacturers from Germany. During its 35-year history, the company has produced numerous armored G Wagons, stretched limousines and sport cars for governmental clients and economic leaders worldwide.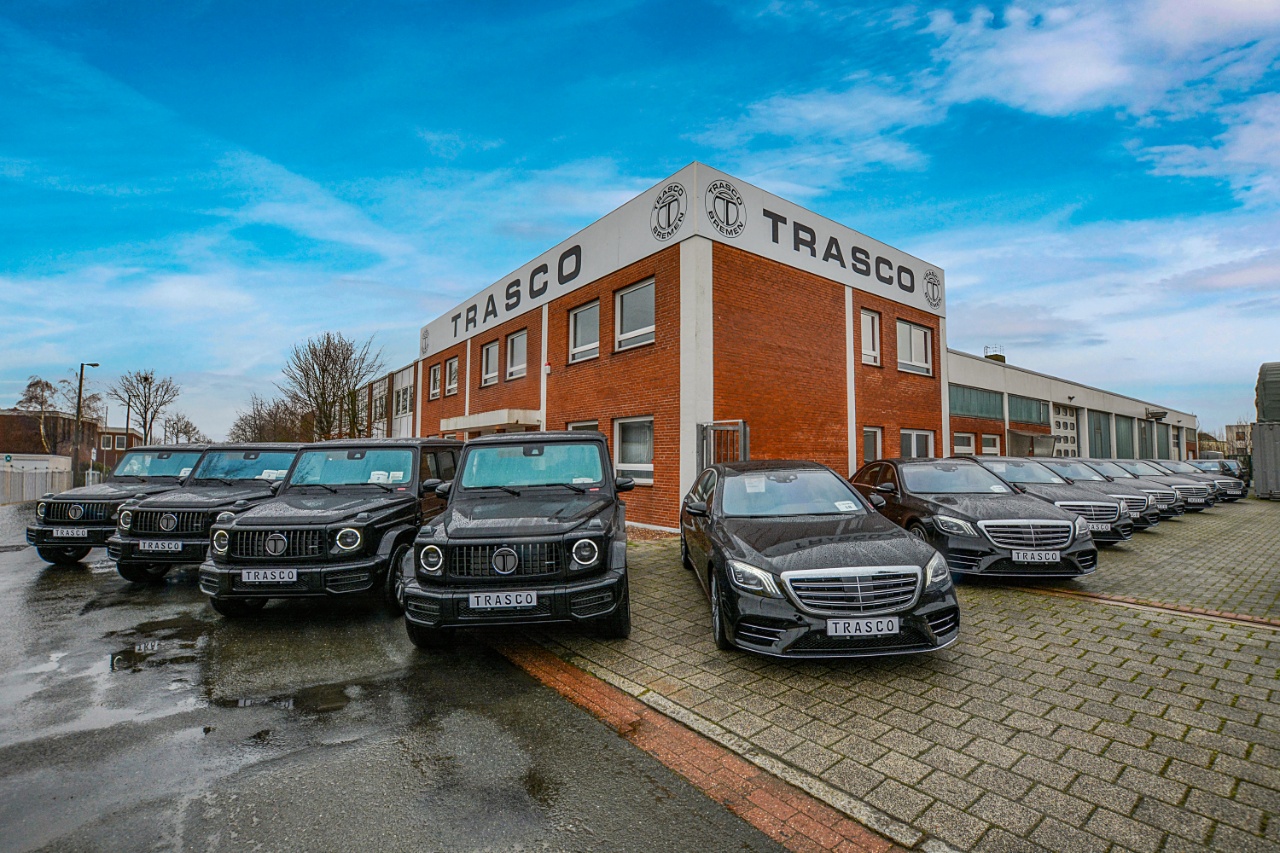 Trasco specialists answered the most frequently asked questions concerning premium-class armored cars and told us about the top armored vehicles in their inventory.
Three key facts to know about luxury armored vehicles
For most of us, it's obvious that commercial and, in general, civilian armored vehicles are different from military bulletproof motors. But what about the armoring technology and equipment in the top automotive segment?
1. What are the armoring standards for luxury vehicles?
There are a variety of armoring standards for civilian vehicles.
Ballistics Rating (BR) is a European classification which certifies both the materials used and vehicle construction. The scale is graded from B4 to B7 where B7 is the highest protection level. Other standards and grades in armored car construction and testing are VPAM (in Germany), VASG (in the UK), and NIJ (in the US). Further grading scales can include VR4-VR9 or PM4-PM9 grading scales and occasionally a simpler, numeric scale graded from 4 to 7.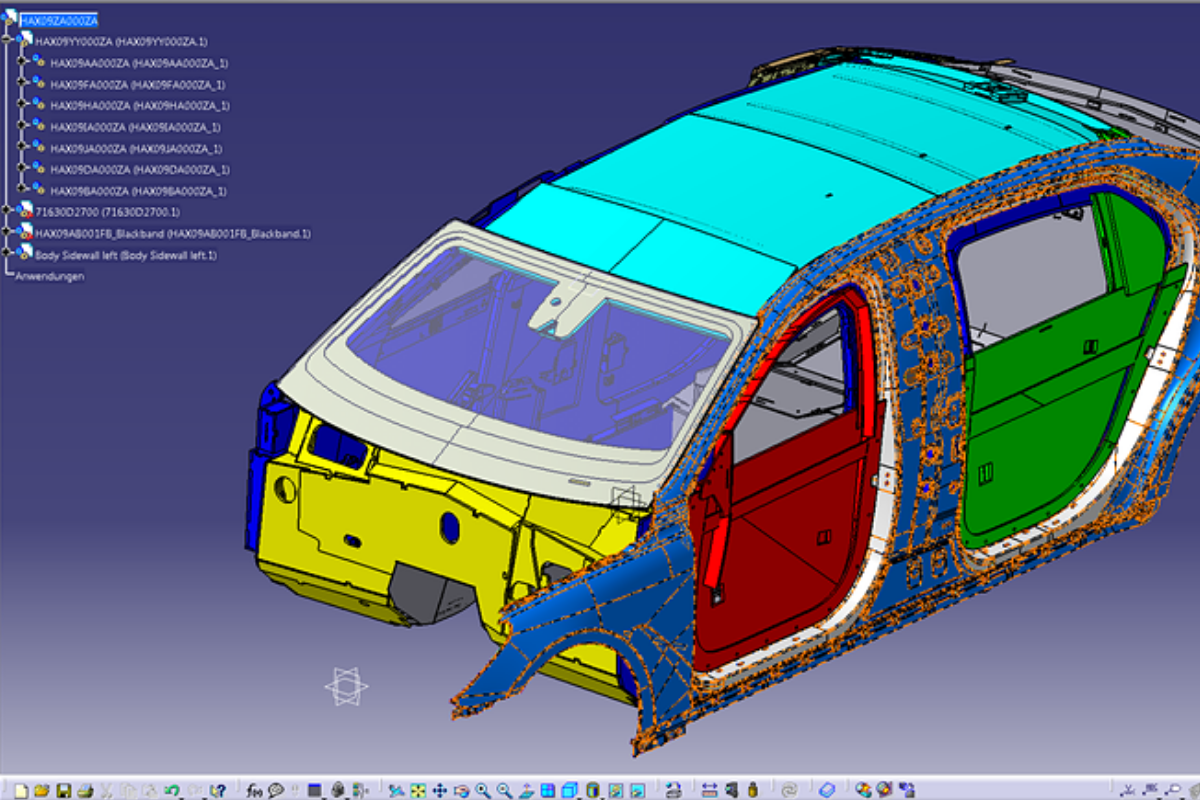 Ballistic materials used by Trasco Design Engineers
Also, a few years ago Trasco has developed and registered a new lightweight armoring solution A-KIP (Anti-Kidnapping). The equivalent of a 4th armoring level, it can be used on almost any street-legal model of luxury sedan, SUV or sports car. Any Aston Martin, Ferrari, Porsche, Lamborghini, BMW, Mercedes-Benz, Bentley, or Rolls-Royce car can be outfitted with this special lightweight armoring.
If you want to know more about how these various standards complement one another, take a look at the complete car armoring levels scheme.
2. What car models are luxury armored vehicles based upon?
Luxury armored SUVs most often are built around the Mercedes-Benz G Wagon G63, Rolls-Royce Cullinan, BMW X7, Aston Martin DBX and Lamborghini Urus.
Sedans are created using the Mercedes S-class or Maybach, BMW 7-series and Audi A8. Armored stretch limousines usually are based on Mercedes-Benz and BMW cars.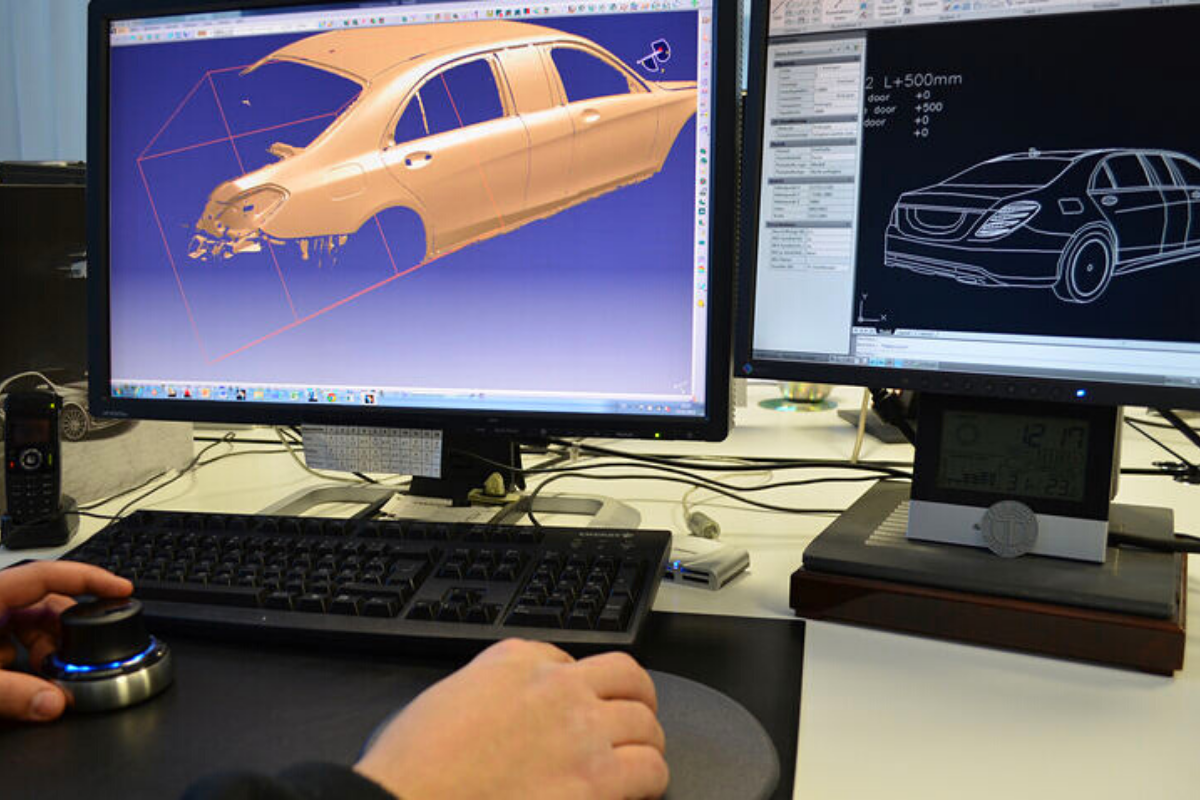 Prototyping process by Trasco Design Engineers
Sports cars are extremely rare examples in the squad of luxury armored vehicles. One of these unique cars is an armored Aston Martin DB11 produced by Trasco.
3. Do armored luxury cars have any special body or interior equipment?
Yes, these cars may feature any luxury equipment according to client's requirements and wishes, such as partition walls with sliding LED-screens, special leather interiors, sliding armored sunroofs, automatic fire extinguishing system or general system upgrades.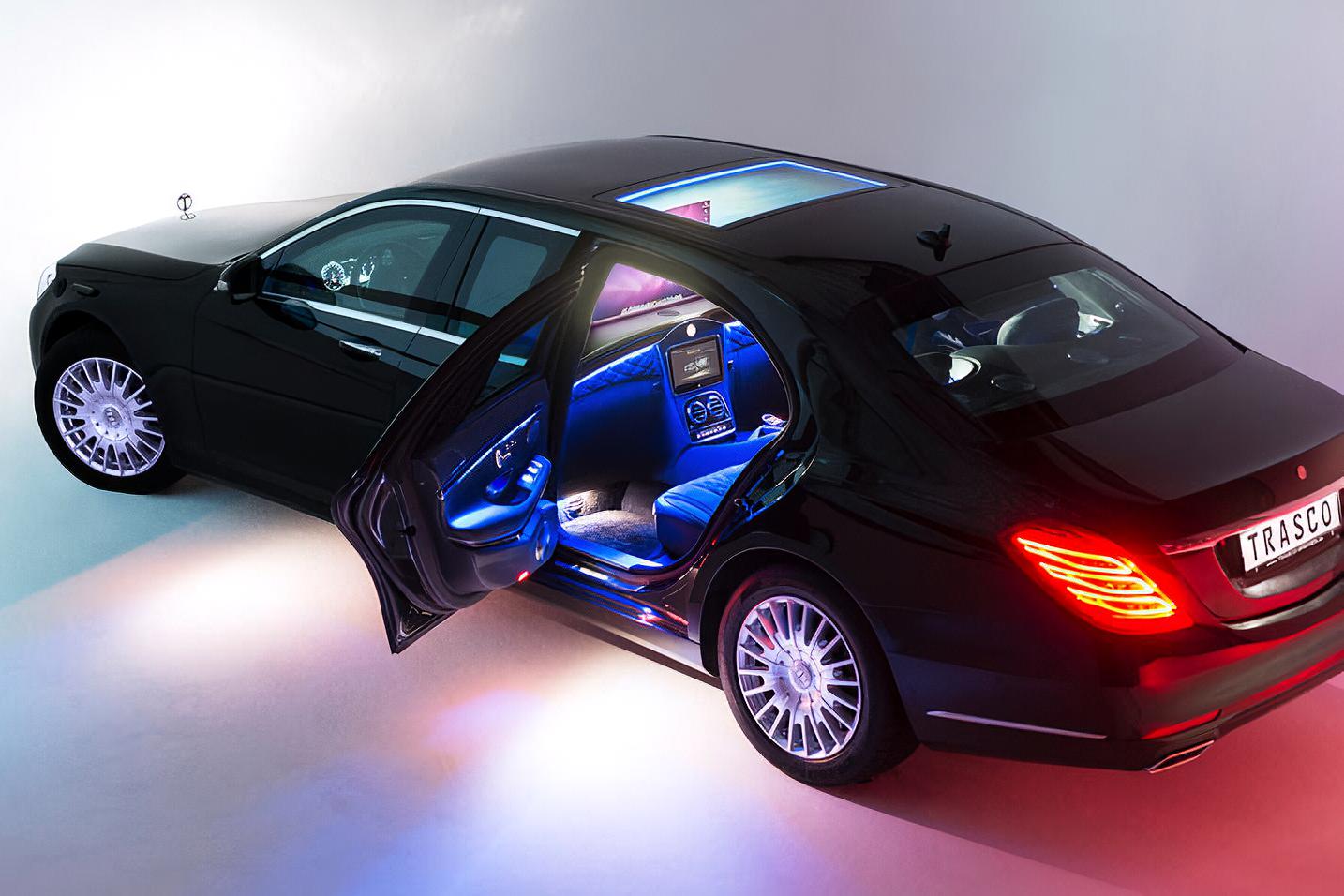 Special equipment by Trasco Bremen GmbH
Armored G Wagon: the leader in the squad of luxury armored SUVs
The Mercedes G Wagon is one of the most commonly used vehicles in car armoring. And Trasco, being a German company with a long story of upgrading Mercedes with bullet-resistant equipment, features some of the most impressive armored G-Class cars on the market.
Today, the company has two armored G Wagons available for sale.
Armored Mercedes-Benz G-63 AMG
The obsidian black, metallic 2020 Mercedes-Benz G63 AMG with a 7th armoring level is a brand-new vehicle made a few weeks ago in Trasco's plant in Bremen and is ready for delivery from stock.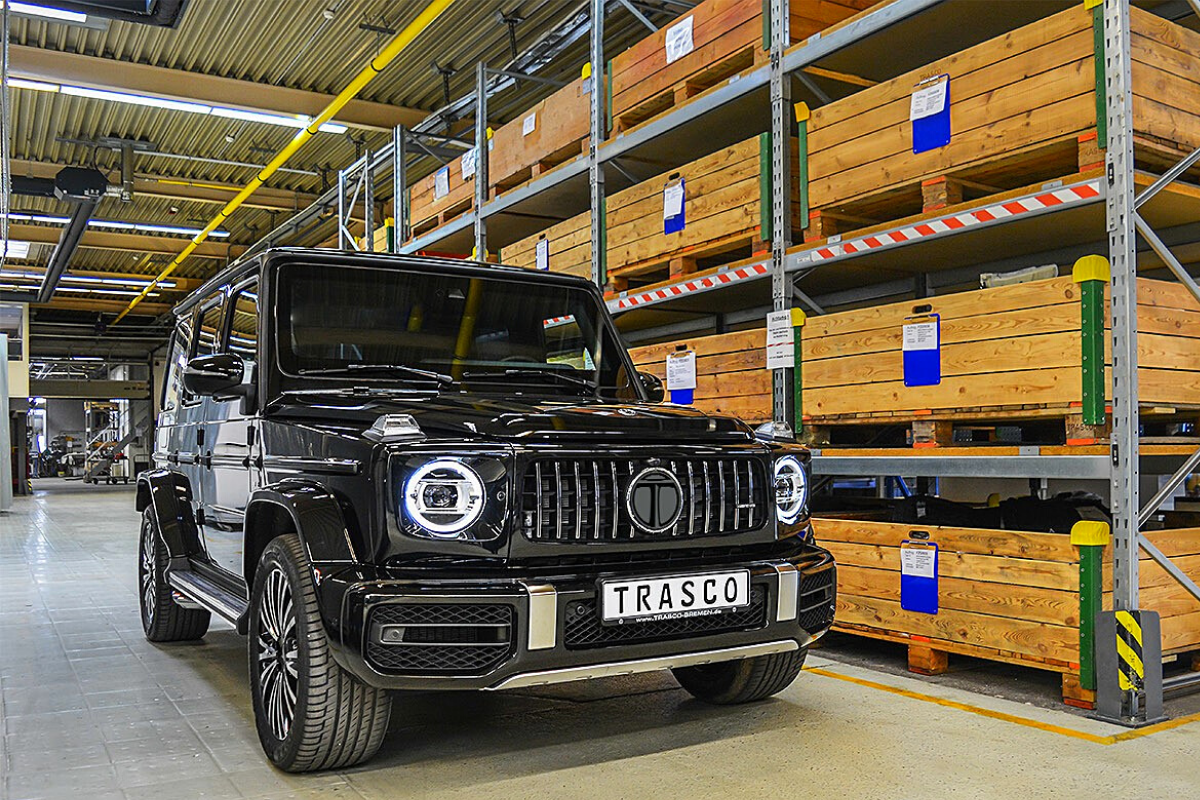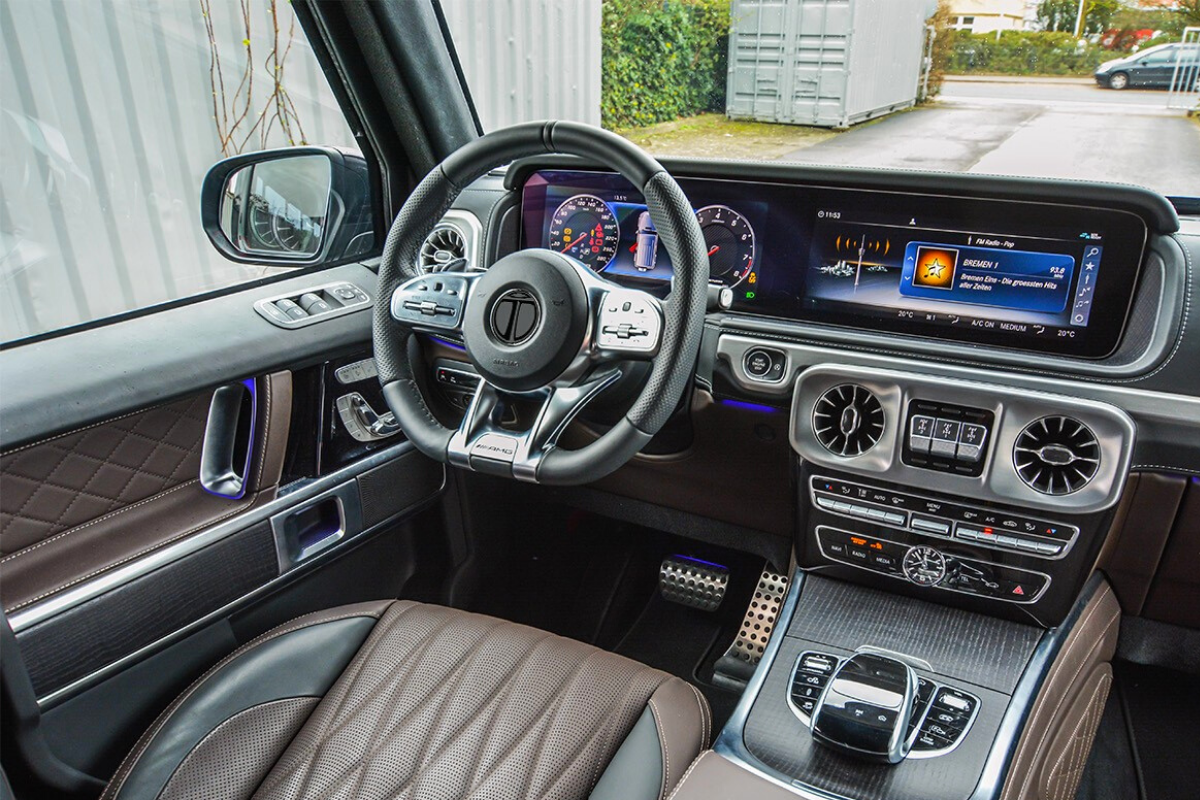 Armored 2020 Mercedes-Benz G 63 AMG by Trasco, interior (US$491,795)
View the listing
The vehicle interior and exterior modifications are totally aligned with luxury standards. The vehicle boasts espresso-brown leather (804 Exclusive Nappa AMG) and ash wood decoration, 64-color ambient lighting and a Widescreen Cockpit display. Details such as multibeam LEDs make the vehicle's exterior even more impressive.
Armored Mercedes G-Class with an extended wheelbase
Another excellent, armored G Wagon in the company's inventory is a 2020 G63 AMG with an extended wheelbase.
This fully-armored car features level VR7 of protection, ballistically certified according to VPAM BRV 2009. The vehicle is extended by 50 cm (approx. 20 inches) and has an enlarged rear door with a distinctive, square design. And its equipment is made not only for protection but also for the ultimate, five-star comfort of a passenger.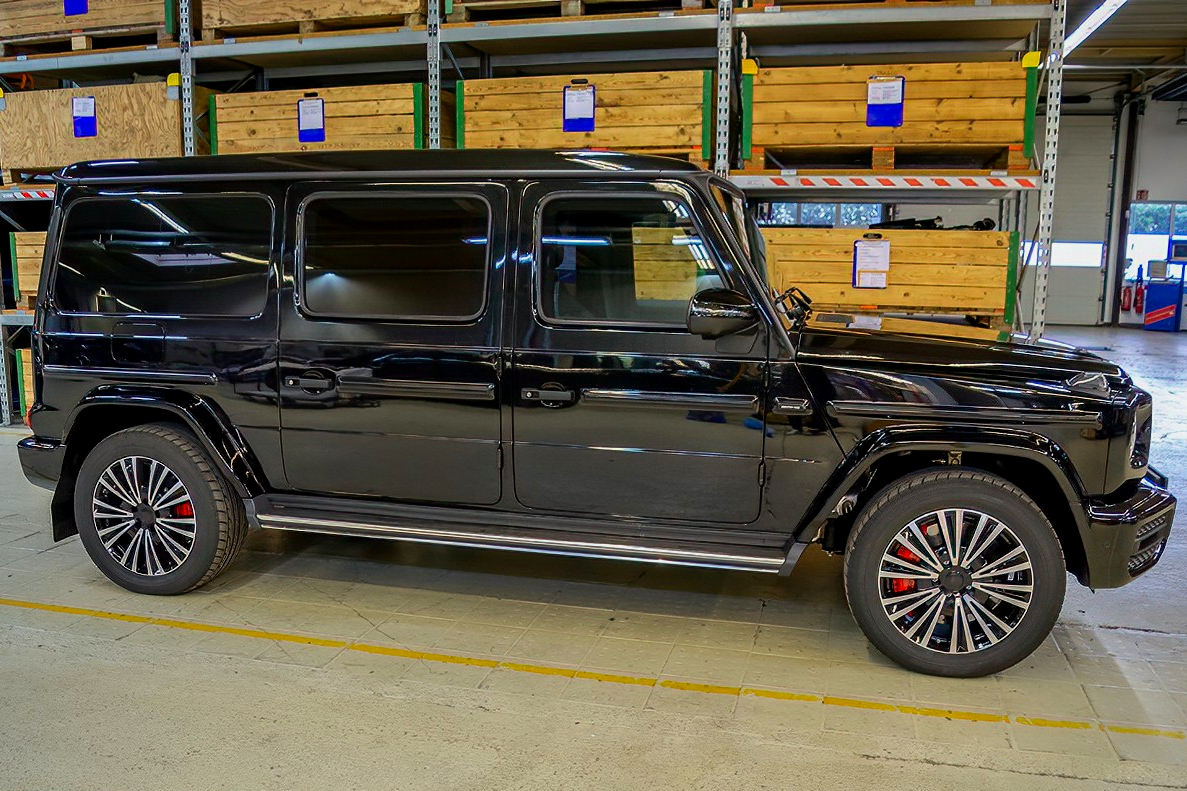 Trasco Armored 2020 Mercedes-Benz G 63 AMG with an extended wheelbase (US$1,157,669)
View the listing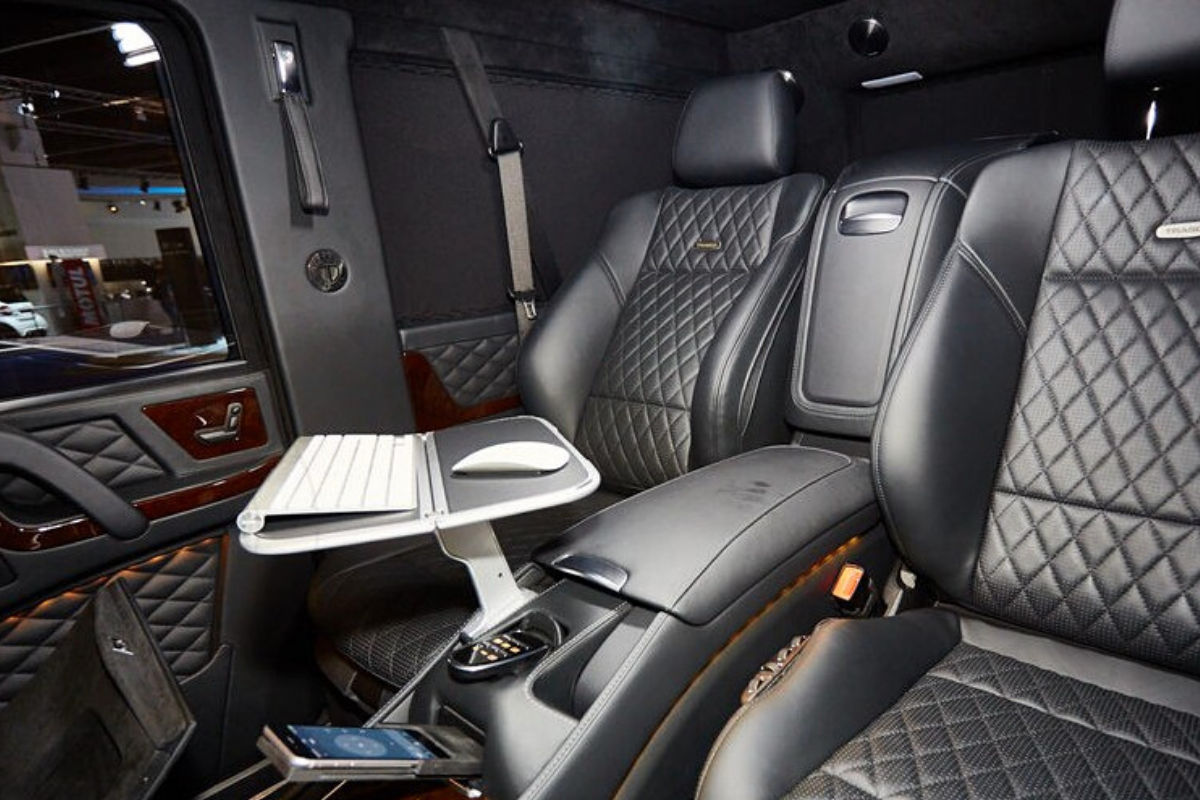 Trasco Armored 2020 Mercedes-Benz G 63 AMG with an extended wheelbase by Trasco, interior (US$1,157,669)
View the listing
The vehicle is equipped with an exclusive partition wall, a luxurious multi-media system with a 27″ iMac controlled via iPhone, a Bang & Olufsen sound system, a bar compartment, separate luxury rear seats with exclusive center console, work tables and a large, armored windshield. Features such as a fire extinguisher system, oxygen supply system, sirens, blue-lights, reinforced suspension, and armored windows that can be lowered add an additional feeling of safety.
Armored Rolls-Royce Cullinan: the ultimate, luxury, bulletproof  SUV
The Rolls-Royce Cullinan was created with the latest personal safety developments such as self-levelling air suspension, electronically controlled dampers, and a stereo camera that scans the road ahead and proactively adjusts the suspension. Overall, this SUV provides an ideal  base for a luxury armored vehicle.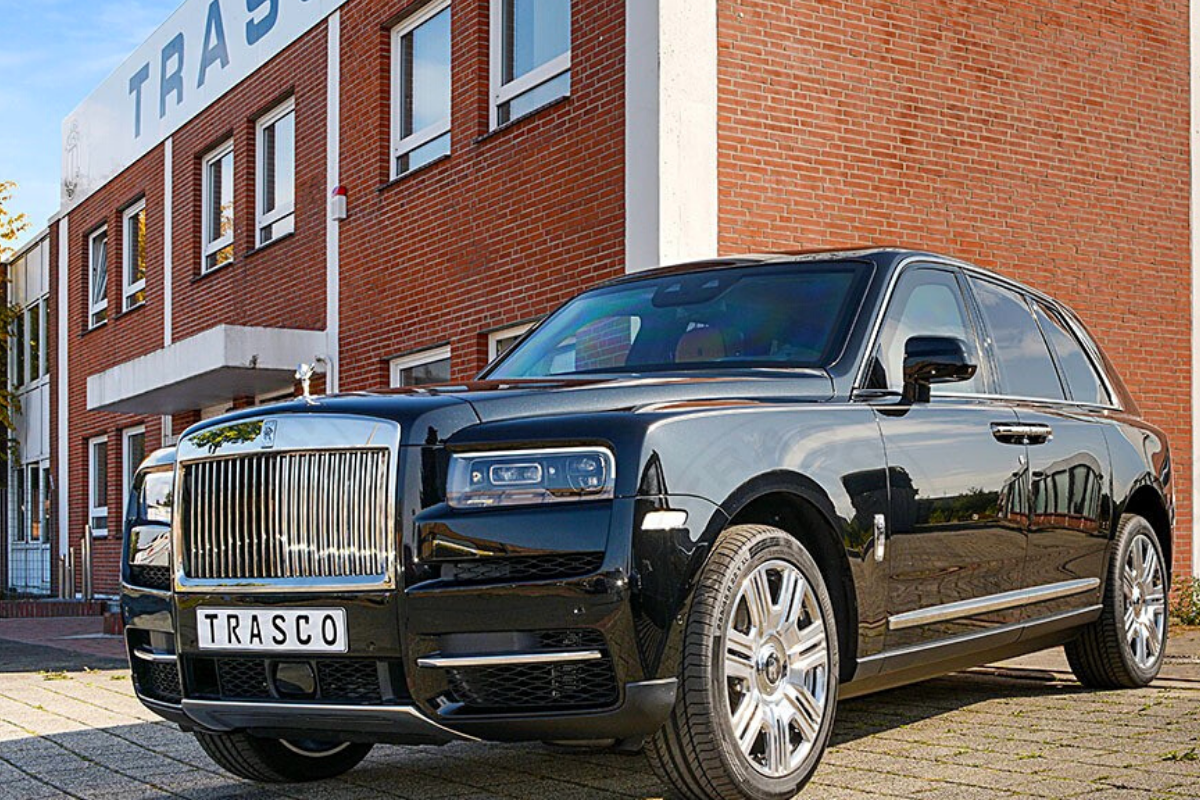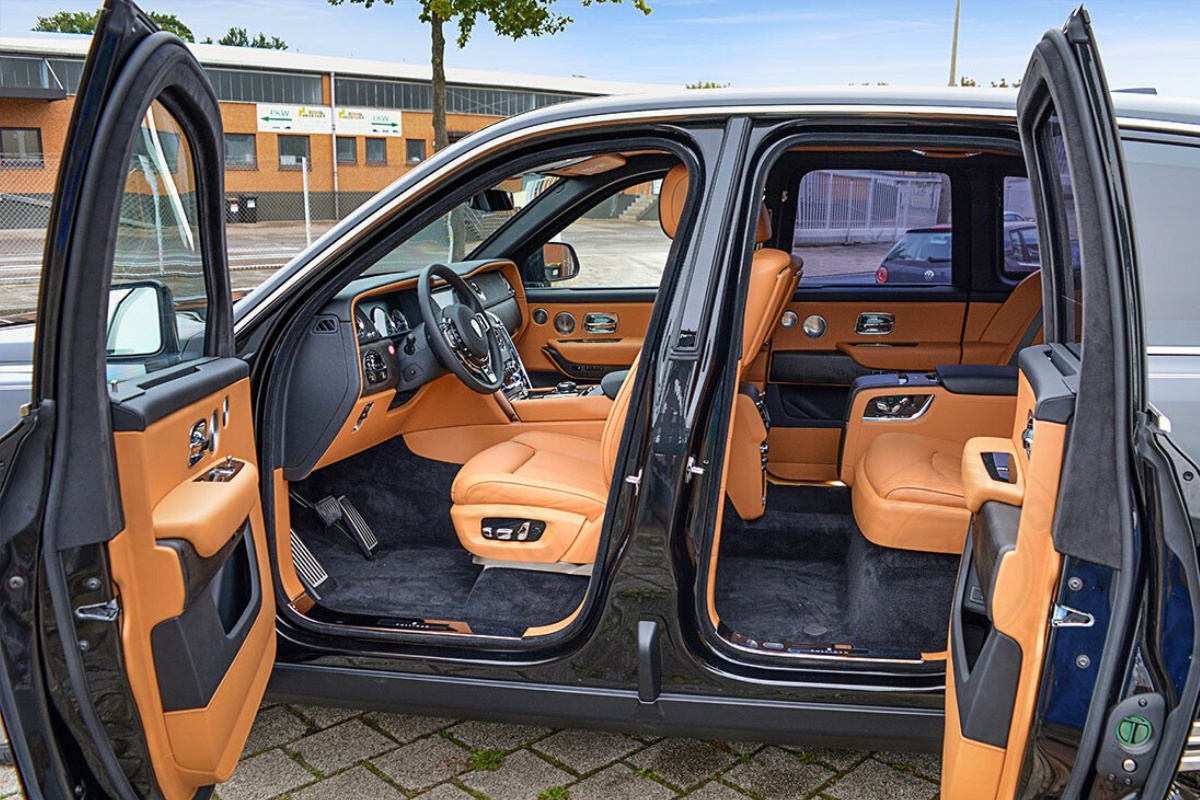 Armored 2019 Rolls-Royce Cullinan by Trasco, interior (US$1,063,166)
View the listing
The armored 2019 Rolls Royce Cullinan modified by Traso has a level 6 armoring. The armored vehicle finished in jet-black looks almost identical to a standard vehicle therefore avoiding any unwanted attention.
Armored Aston Martin DB11: the perfect balance between the driving excitement, refinement, and protection
Trasco, as a high-end manufacturer and OEM supplier, is constantly researching and testing new armoring materials including steel, high-tech composites, fibers, and glass to find the lightest, most secure and most cost-effective solutions possible.
One of the results of this ongoing research is the armored Aston Martin DB11, a rarely seen sports coupe with reliable ballistic protection.
The armoring package incorporated in the Trasco Q-Line Sports car line-up is based on Trasco's new A-KIP® (Anti-Kidnapping) lightweight armoring concept. For this vehicle, the company uses certified, ballistic steel combined with special composite materials providing level 4 protection.
The additional weight of this future-armoring in the Aston Martin DB11 is less than 150kg (330 lbs), and the gross vehicle weight remains unchanged. Therefore there is no compromise of the vehicle's original performance or comfort characteristics.
Another important benefit of A-Kip® armoring concept is that discretion is maintained, it is always an important aspect for clients of these vehicles that any unwanted attraction is avoided.
How much for an armored car?
Naturally the prices are dependent on the level of armoring and which Luxury vehicle is selected as the platform along with any optional equipment but an Aston Martin DB11 in Trasco A-Kip® could cost as little as €300,000 (approx. $US356,279) whereas an extended and level 7 armored G63 is a cool €980,000 (approx. $US1,163,843).
Finally, civilian armored cars also can be custom-made and are not based upon any production vehicle. The tactical, off-road Terradyne Gurkha (with a resale price of about US$300,000) or the limited, 1-of-100 Knight XV by Conquest Vehicles (with a price of about US$800,000) are prime examples of custom-made, civilian armored cars.