It might be challenging to navigate through dozens of yacht brands available on the market. To help you focus your search, we handpicked today's best yacht brands (and superyacht shipyards) that form the future of luxury yachting.
In this article, you'll find the world's most innovative ocean-going vessels, yachts with cutting-edge technologies, eco-friendly upgrades and pioneering design. Beginning with superyacht brands (150 ft. plus boats) and giga yachts (260 ft. and longer), our list continues with the most sought-after 50-100 ft. boats and finishes with the coolest 30-50 ft. vessels.
So, let's kick-off.
Superyacht shipyards: the 10 best yacht brands
Benetti
Top Benetti yachts for sale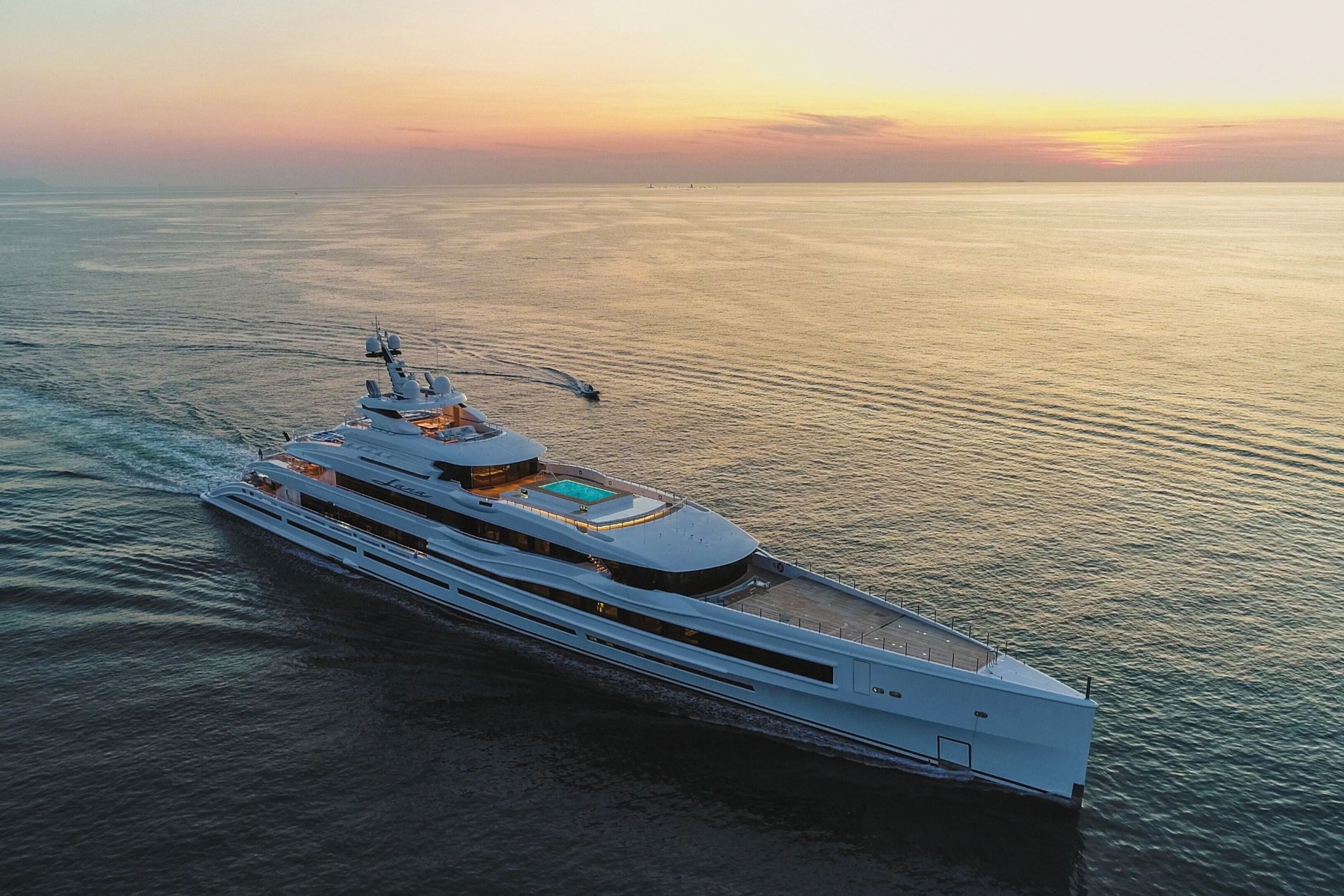 Custom Benetti giga yacht FB277, 351′ (107 m). Image: Benetti.
Benetti is the only superyacht brand that has won the Boats International magazine Shipyard number 1 award six times in a row.
The Italian company was founded in 1873 by Lorenzo Benetti and was sold to well-known superyacht builder, Azimut, in 1984. Today, Benetti builds superyachts in the shipyards of Viareggio, Fano, and Livorno and has seven motor yacht models sized 95 ft. and longer in its lineup. The builder also produces custom boats in the mega and giga yacht categories.
Oceanco
Top Oceanco yachts for sale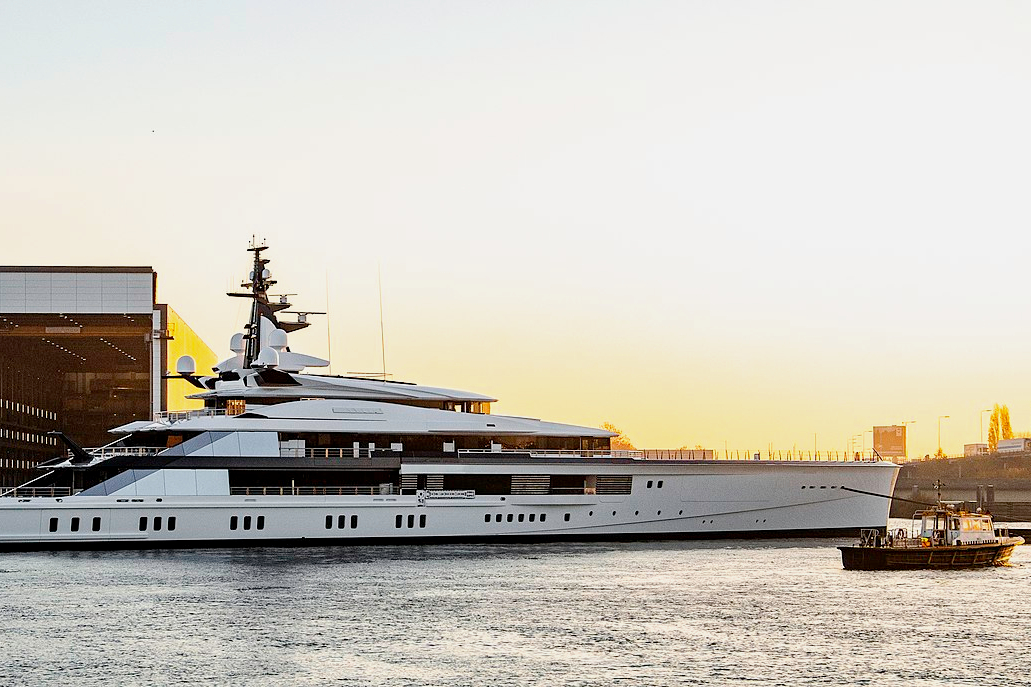 Oceanco, 2019 custom giga yacht Bravo Eugenia, 357′ (109 m). Image: Oceanco.
Oceanco is a Dutch company founded in 1987 with a shipyard based in Alblasserdam, Netherlands. A winner of multiple yacht show awards, the brand features impressive ocean-going cruisers and expedition yachts up to 420 ft. long with advanced green technologies and design innovations. In 2018, the builder launched Project Bravo: a fuel-efficient, eco-friendly, 357 ft. superyacht with a sharp, innovative design. In 2020, the Oceanco fleet only features boats longer than 100 ft., and the largest available yacht is 361 ft. long.
Heesen
Top Heesen yachts for sale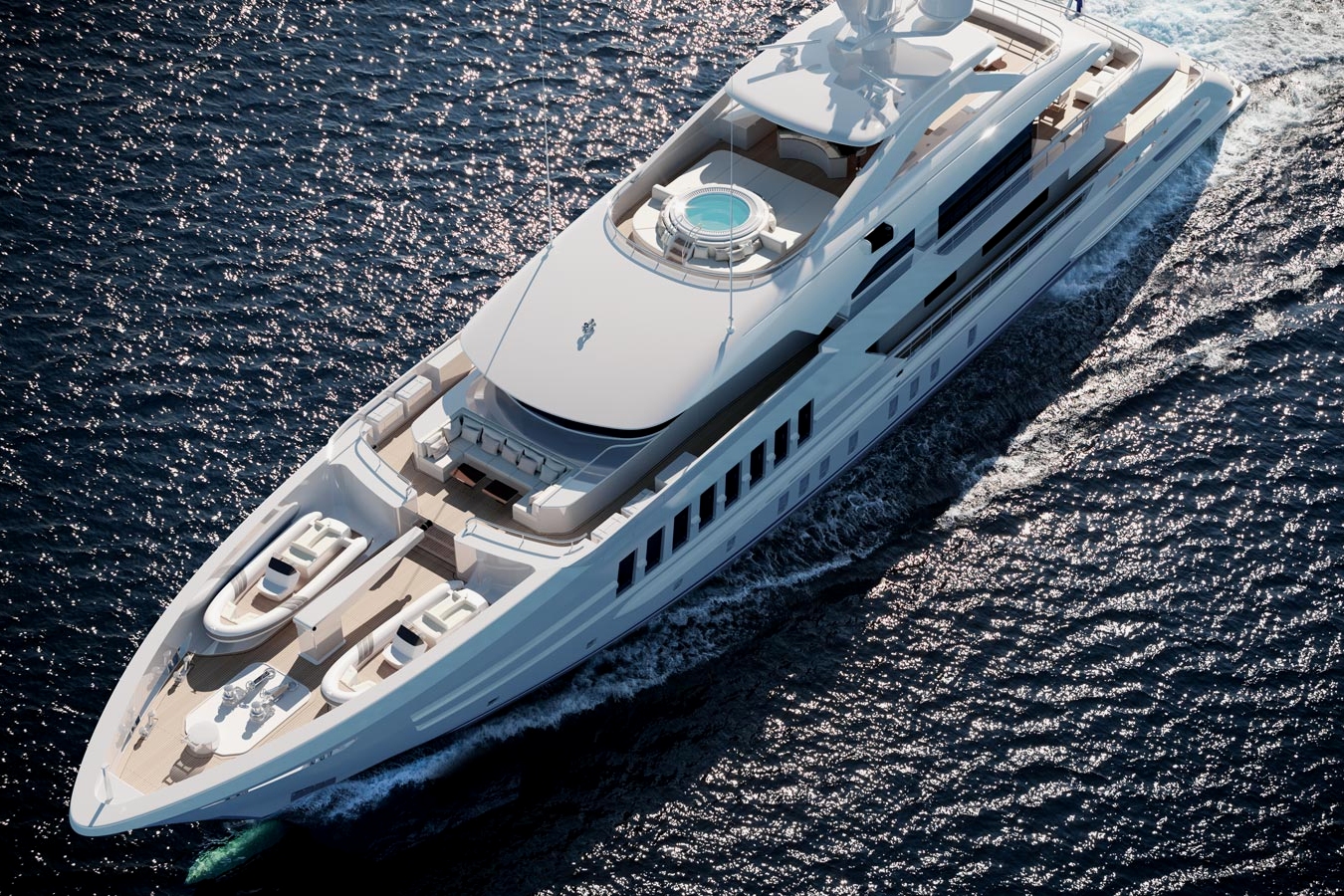 Heesen 2020 custom yacht Project Triton, 180.5′ (55 m). Image: Heesen.
This Dutch superyacht brand, founded in 1978, specializes in producing custom-built boats. Consequently, the Heesen fleet is limited, and each yacht is a rare find.
There are three paths to owning a Heesen boat. With the Pure Custom program, a buyer can order a one-off yacht, featuring an individual design and custom engineering. The Platform Concept program offers standard, engineering solutions and custom exterior design. The most cost and time-efficient option, however, is to buy one of a few brand new, custom superyachts available for sale either immediately or within the space of a few months.
Dynamiq
Top Dynamiq yachts for sale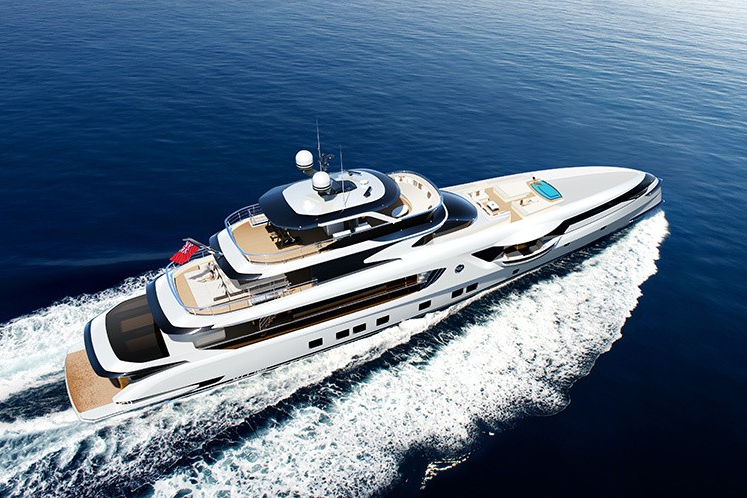 Dynamiq is a superyacht brand, meeting the needs of intelligent buyers for next-generation yachts: chic, efficient, easy to order, and effortless to customize. It is the only Italian superyacht shipyard building yachts completely engineered to the highest standards set forth by leading naval architects and structural or mechanical engineering companies in the Netherlands.
Baltic Yachts
Top Baltic Yachts for sale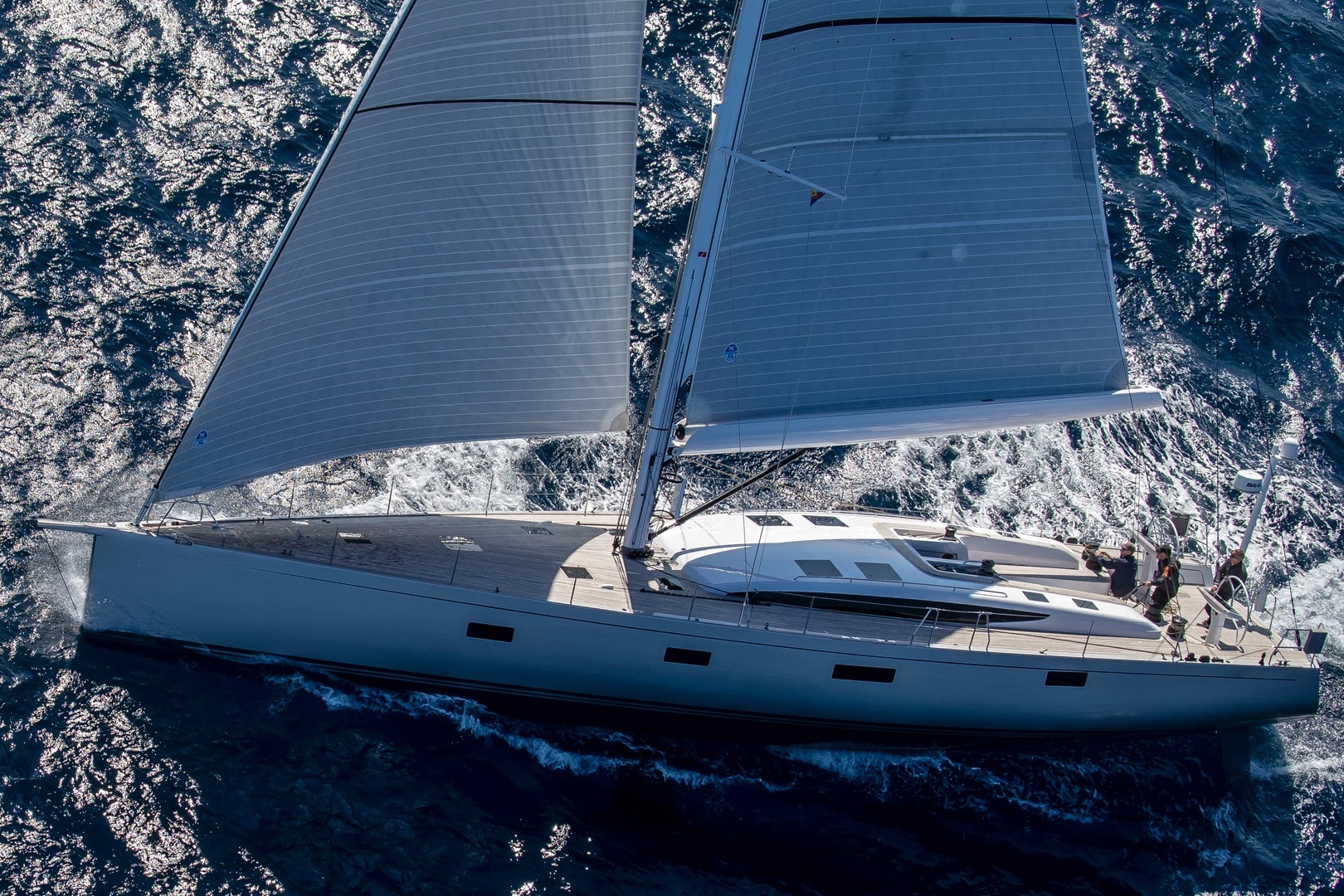 Baltic Canova, 142′ (43 m). Image: Baltic Yachts.
With the inspiring slogan of "Lighter, stiffer, faster," Baltic Yachts is the one of the luxury sailing yacht brands specializing in carbon fiber, custom yachts. And, most importantly, it's one of the few companies that focuses solely upon sailing boats. The company strongly committed to greener, sustainable engineering solutions.
Westport
Top Westport yachts for sale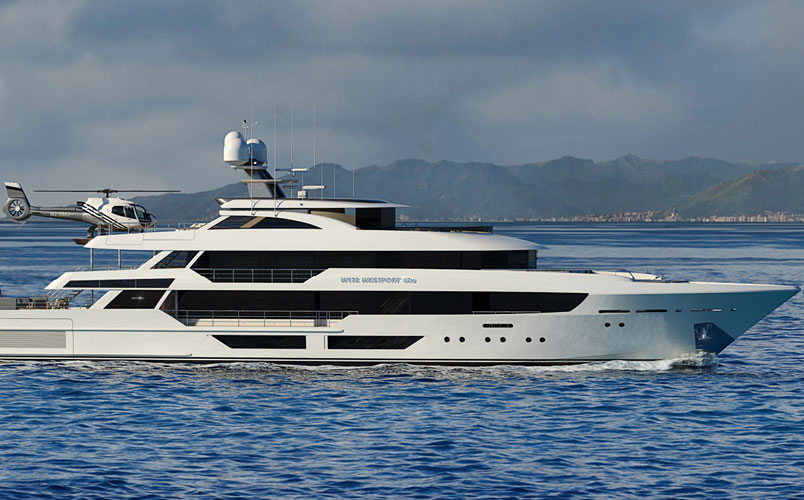 Westport W172, 170.5′ (52 m). Image: Westport.
The first American yacht brand on our list, Westport is the largest yacht builder in North America. Founded in 1964, the brand originally produced commercial, ocean-going, power yachts for the North Pacific. This heritage influences the quality of construction that enhances a vessel's "steadfast seaworthiness." Westport was the first builder to introduce composite materials.  Today, Westport's fleet includes five models ranging from 112 to 172 ft.
Sunseeker
Top Sunseeker yachts for sale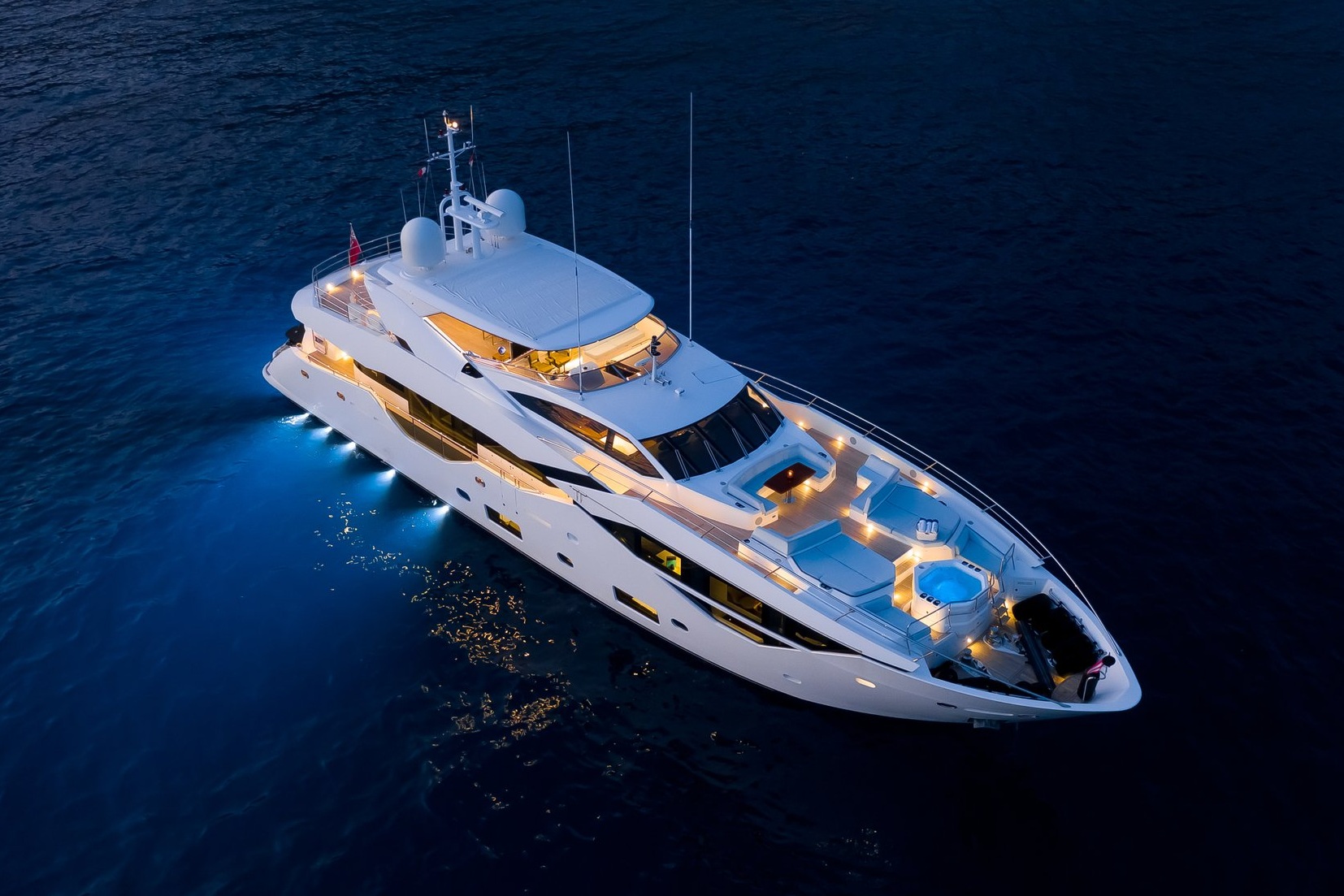 One of the largest UK yacht builders, Sunseeker mainly manufactures its vessels in Poole, Dorset. Four superyacht models (ranging from 116-161 ft.) secure Sunseeker's place in the niche of large and extravagant vessels. The brand also features five, beautiful 76-100 ft. motoryacht models, sports and cruise yachts (52-744 ft.), and performance boats.
Mangusta
Top Mangusta yachts for sale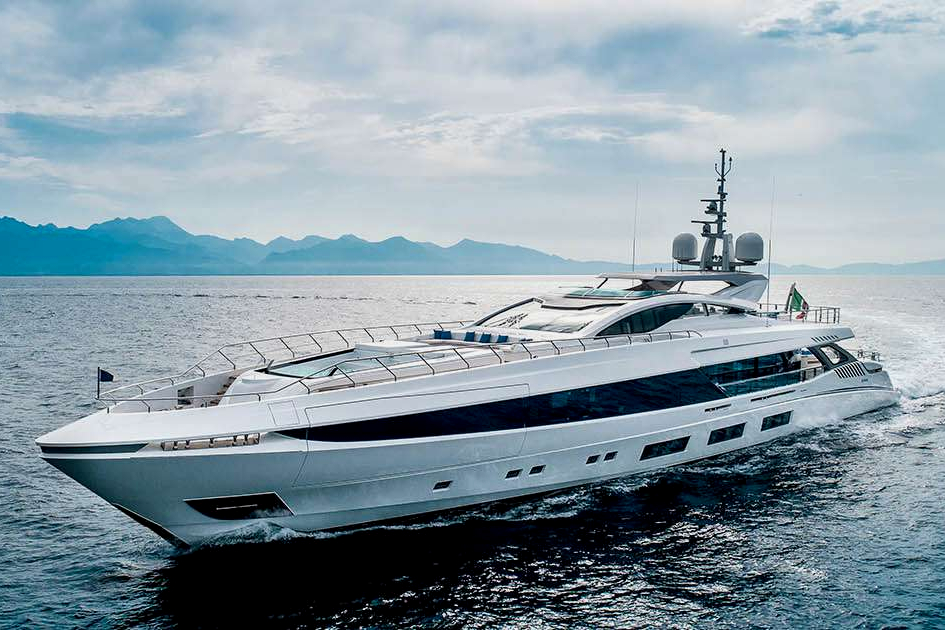 Mangusta Gransport, 170′ (54 m). Image: Mangusta.
Created in 1985 as a brand focused on open, fast boats, today, Mangusta produces eight, luxury, sports yachts and five, voyage superyachts ranging from 104 to 215 ft. For true yacht enthusiasts, they also offer custom yachts which can be uniquely designed from start to finish.
The company, owned by the Balducci family, manufactures its perfectly elegant Italian boats in the Tuscan shipyards of  Viareggio and Pisa.
Richmond
Top Richmond yachts for sale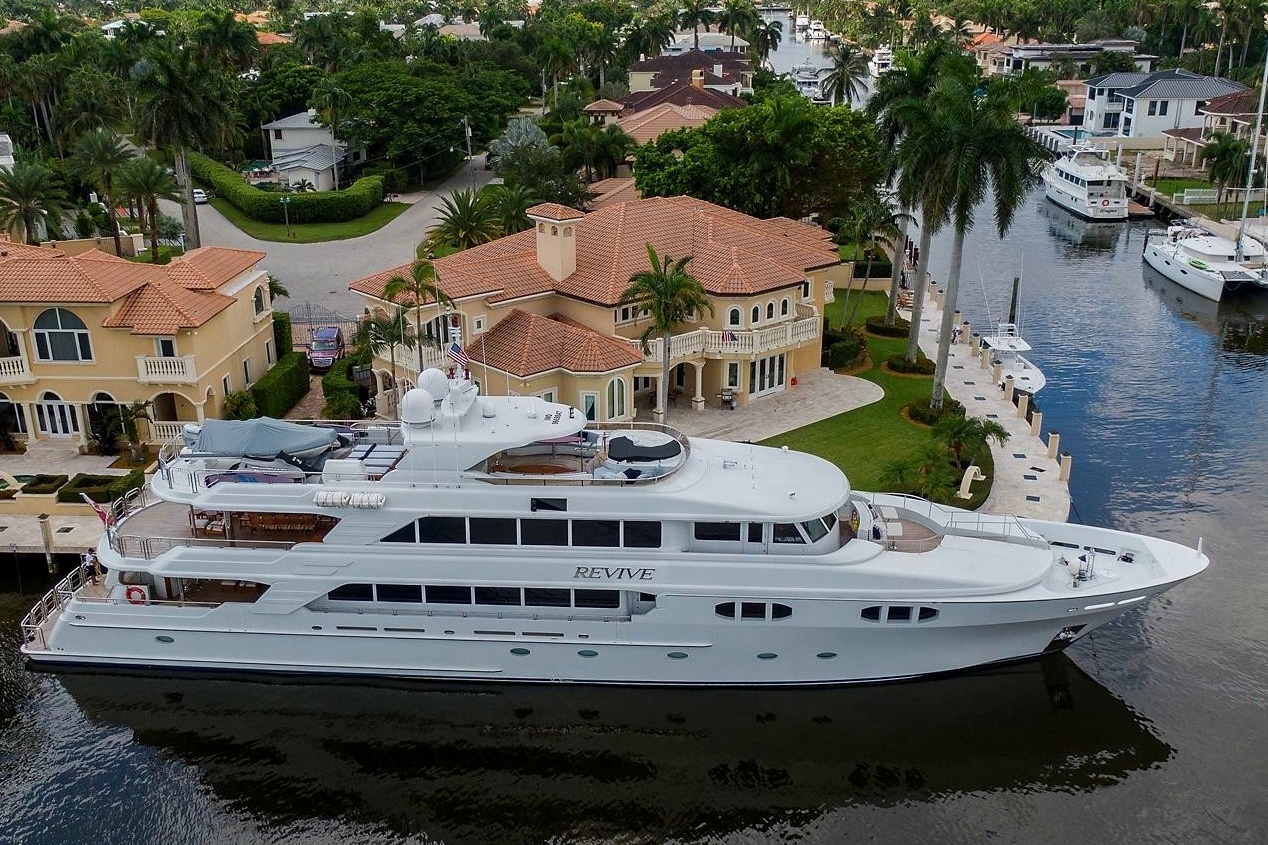 Richmond Yachts 2013 tri-deck motor yacht, 150′ (46 m), (US$14,900,000)
View the listing
Richmond is another American yacht brand founded in the early 2000s. The company originated when Texas entrepreneur Don Davis decided to order a customized boat. A few years later, he established Richmond shipyard in the city of Richmond, British Columbia. Presently, the yard builds 120-150 ft. yachts with modern composite hulls and impressive exterior features such as spacious sky lounge decks or multifunctional aft decks.
Broward
Top Broward yachts for sale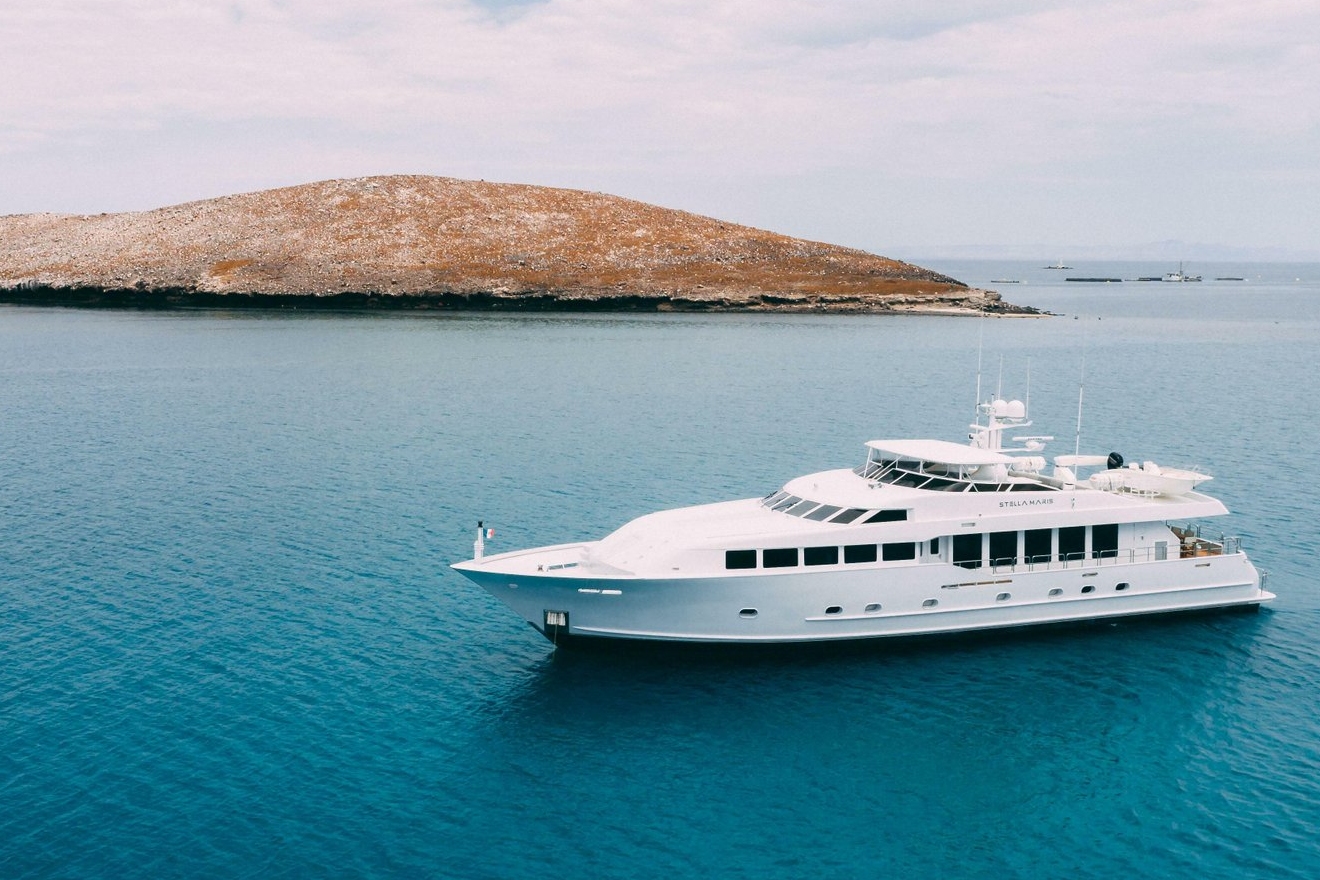 Broward is an American custom boat builder and yacht service provider located in Dania Beach, Florida. For over 60 years, the company has specialized in the design development, naval architecture, engineering, and construction of first-class motoryachts up to 165 ft. long.
The best yacht brands in the 50-100′ range
Beneteau
Top Beneteau yachts for sale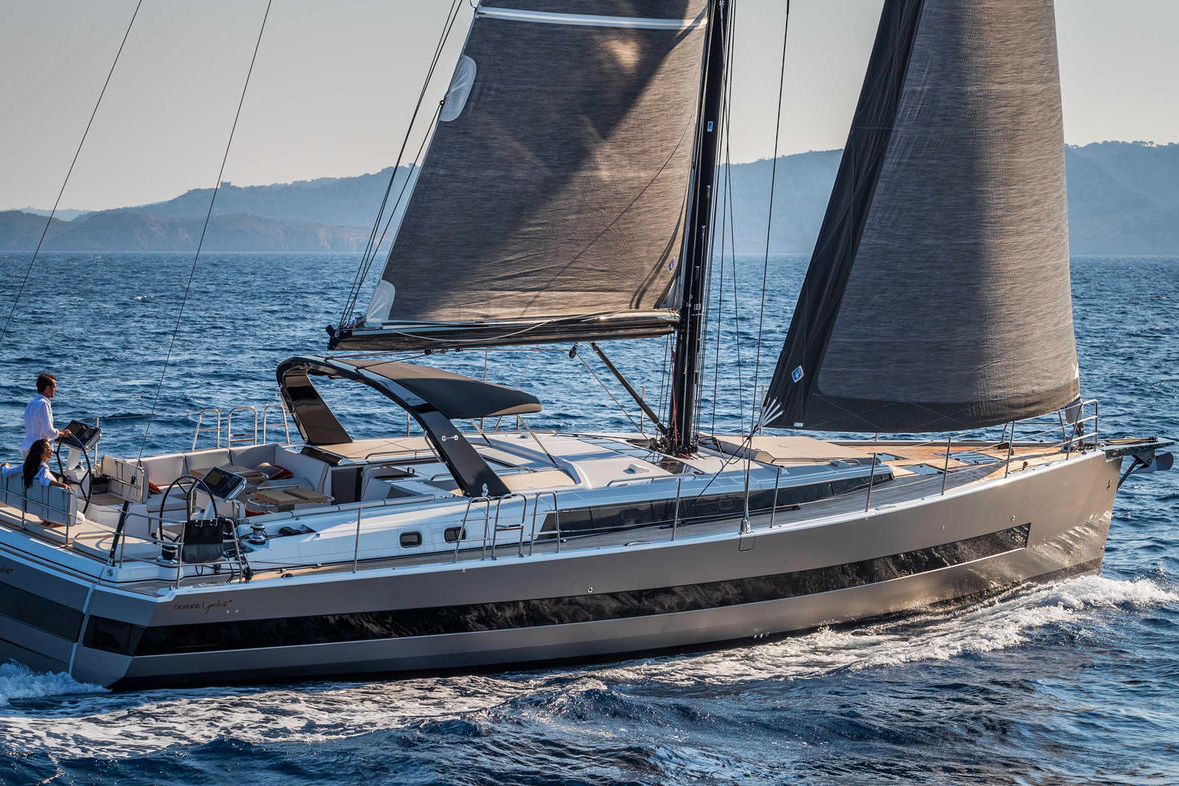 Beneteau Oceanis, 62′ (19 m). Image: Beneteau.
One of the world's oldest yacht brands, Beneteau was founded by Benjamin Beneteau in 1884 at St-Gilles-Croix-de-Vie as a modest boatyard and started building sailing yachts in the 1960s. Today, the company has seven, motoryacht models and four, sailing boats in their product range. Beneteau is known for its perfectly designed ocean racers, produced in collaboration with leading naval architects.
Numarine
Top Numarine yachts for sale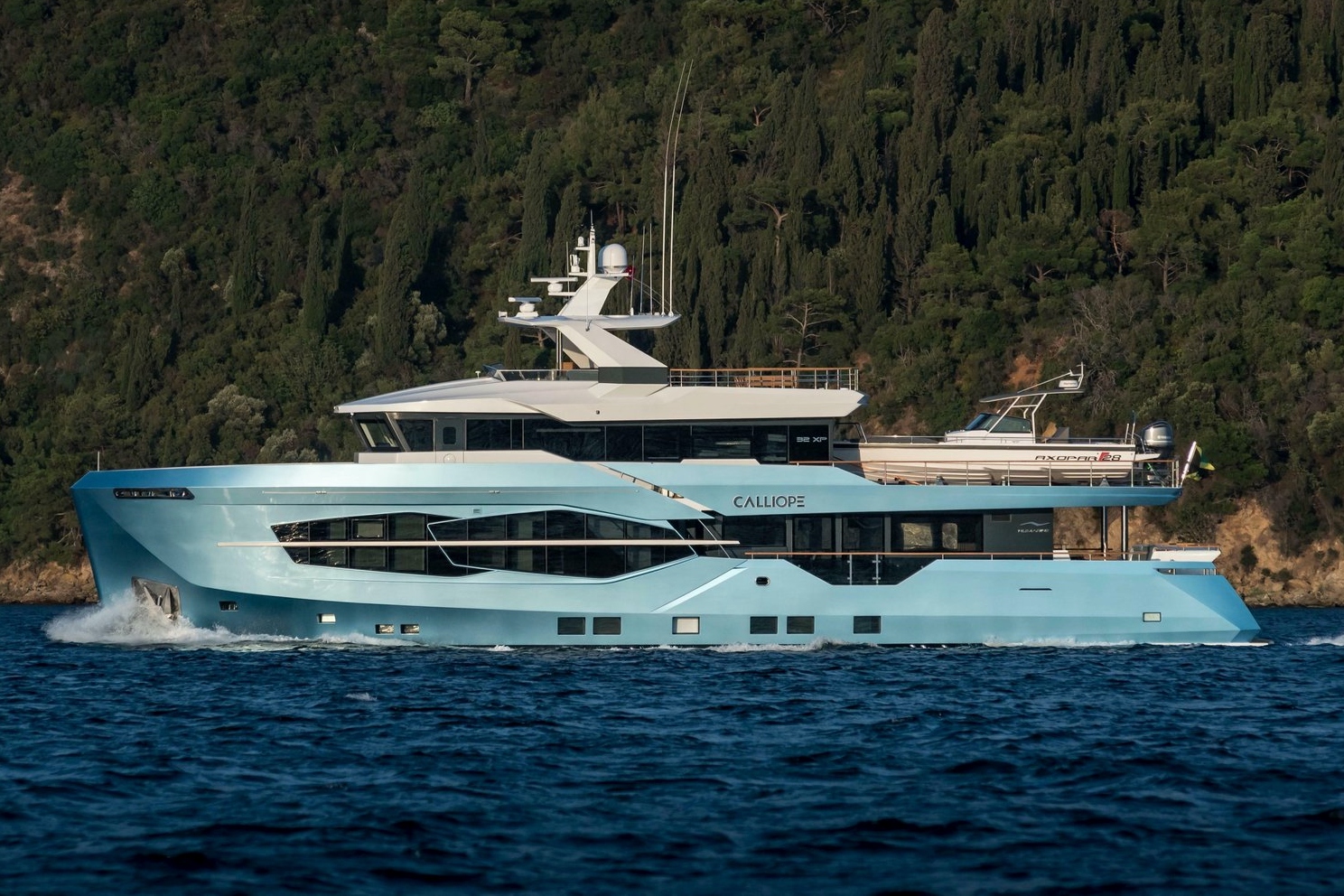 A performance, motoryacht brand, Numarine features Flybridge and Hardtop collections and a new Explorer line. Flybridge and Hardtop boats are 62-105 ft. long, while Explorers range from a 7 ft. mini-pocket yacht to a 135 ft. vessel with an ocean-going performance.
VanDutch
Top VanDutch yachts for sale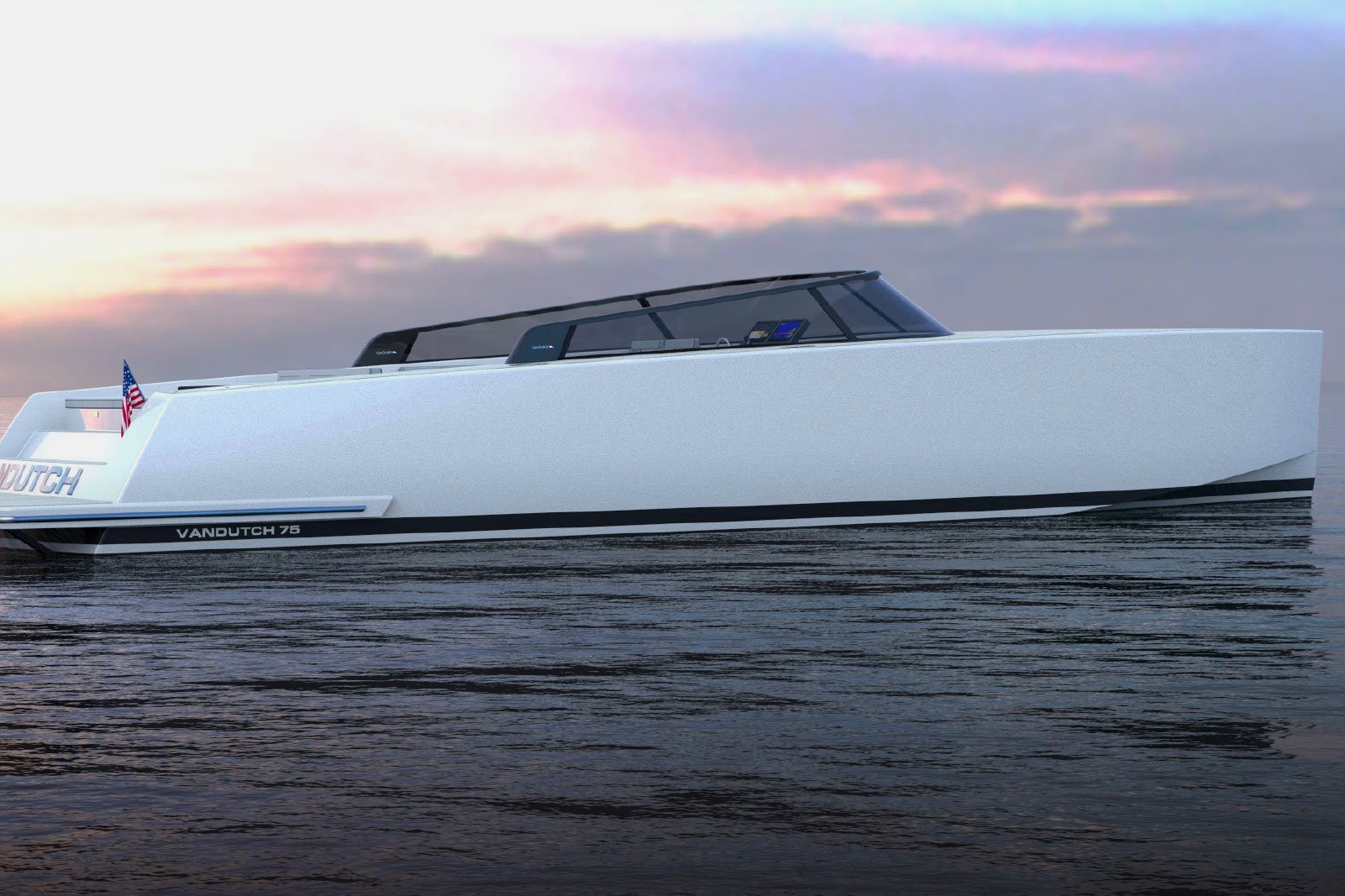 A Dutch yacht brand with its genesis in 2008, VanDutch impresses with its ultra-modern design and technical innovations. The company started by manufacturing 30-40 ft. boats for day cruising. Subsequently, inspired by the success of its first models, VanDutch introduced a larger, 75 ft. yacht that retained a sophisticated yet simple exterior design but masterfully hid a master cabin and two guest bedrooms below deck.
Ocean Alexander
Top Ocean Alexander yachts for sale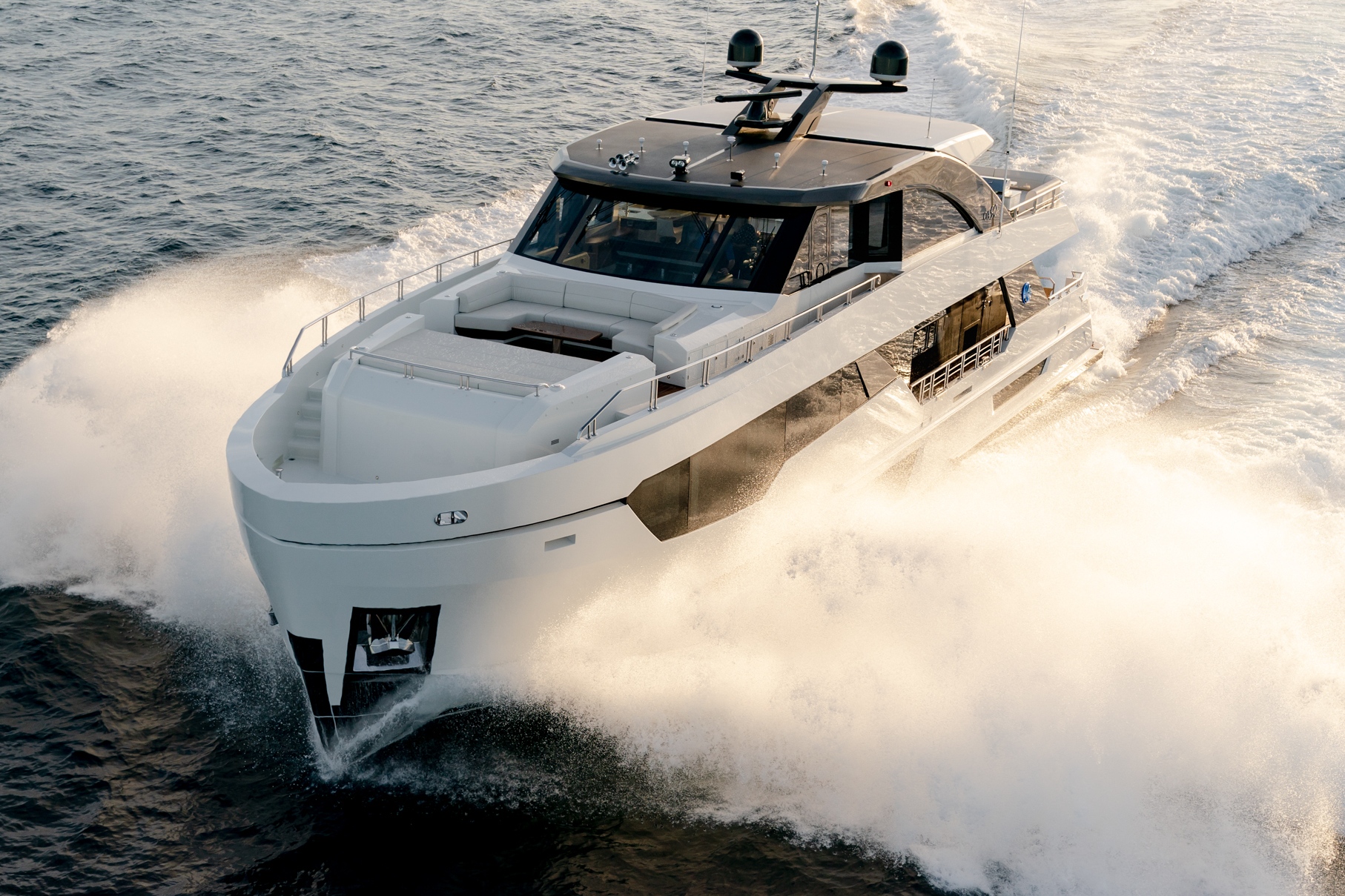 Ocean Alexander 28R, 90′ (27,48m). Image: Ocean Alexander.
A company with Taiwanese roots, Ocean Alexander now is located in the United States and has a factory on Merritt Island, Florida. The shipbuilder has produced premium-class motoryachts since 1977, and some of its earliest models have become sought-after classics. In 2015, the Showboats International magazine placed Ocean Alexander in its list of the world's top five best yacht brands.
Azimut
Top Azimut yachts for sale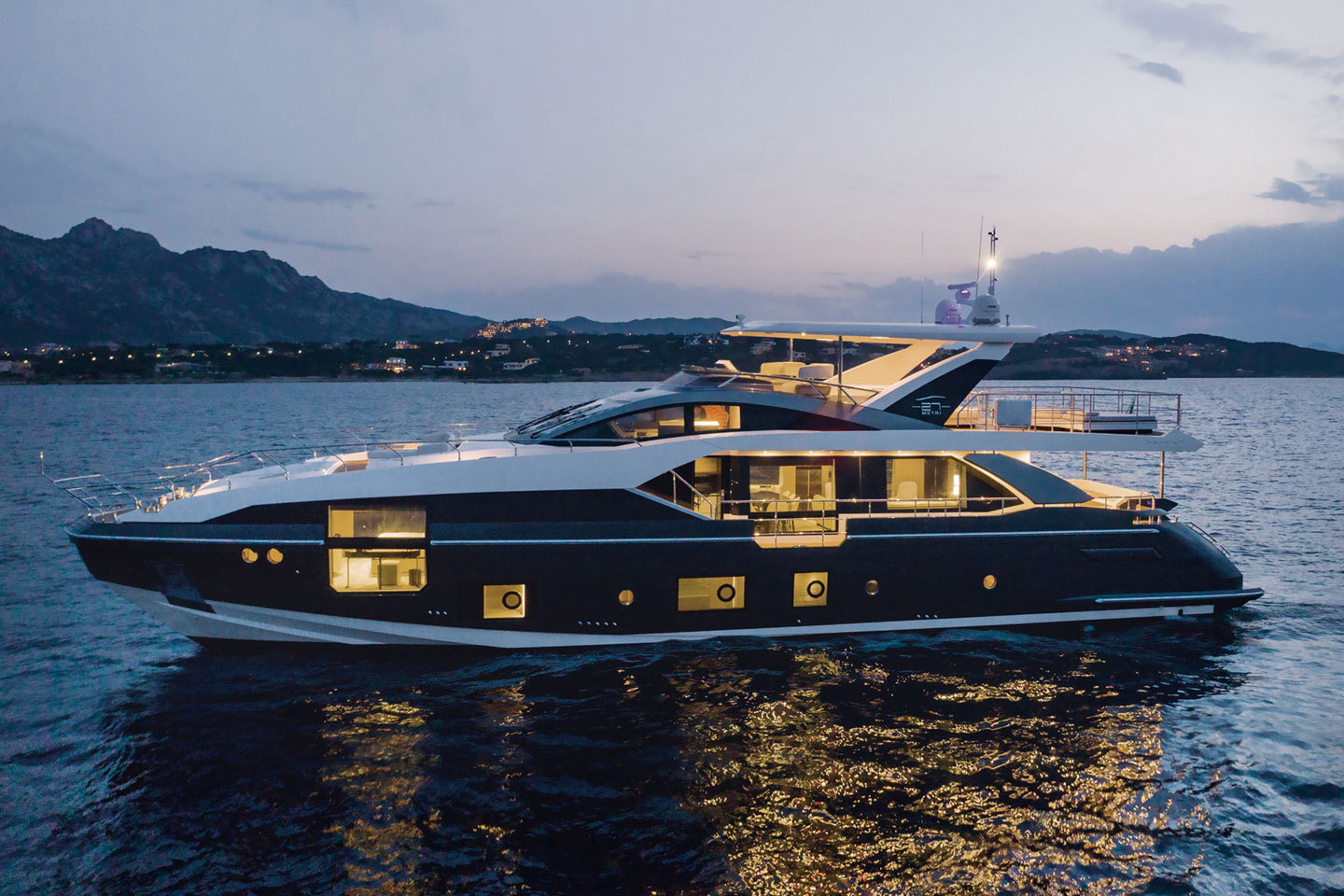 Azimut Grande, 88.5′ (27 m). Image: Azimut.
Azimut boats boast a recognizable and classically stunning Italian design. As company representatives say, aesthetic appeal is the main reason for a buyer to choose an Azimut yacht over another brand. But the company possesses strengths in developing innovative solutions such as crafting hybrid engines or using nanotechnologies to create long-lasting, anti-fouling coatings with a lower impact for marine life.
Sunreef
Top Sunreef yachts for sale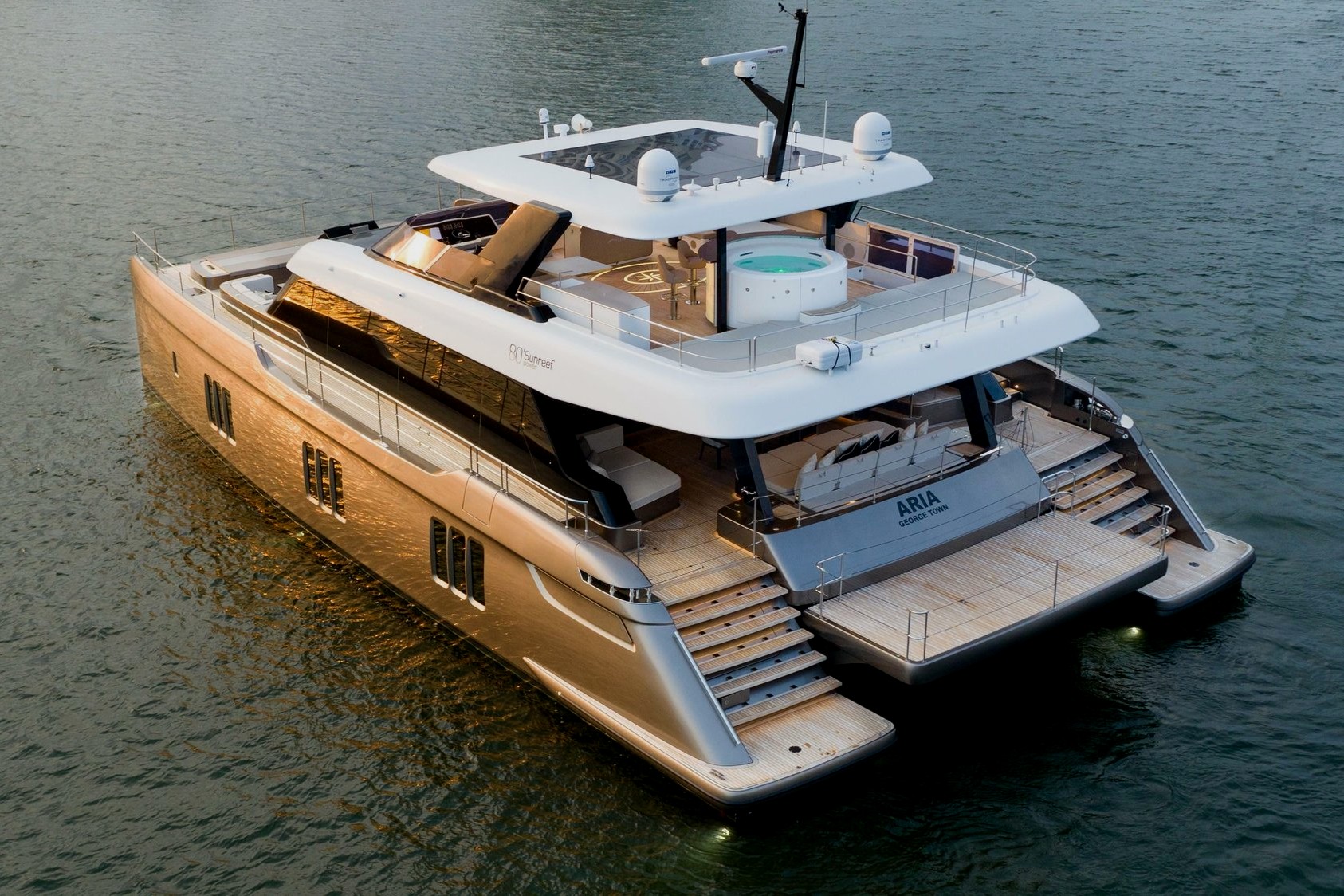 Sunreef is one of the world's leading catamaran yacht brands. The company produces high-class power and sailing catamarans ranging from 60 ft. to an impressive 210 ft. The largest Sunreef boats, such as the Supreme models or 150-210 ft. power trimarans, perfectly fit into our superyacht selection. But, the brand's signature models are 60-100 ft. vessels. Recently, Sunreef introduced state of the art eco-catamarans in this size range. The new yachts are equipped with solar panels and ultra-silent electric engines.
Cranchi
Top Cranchi yachts for sale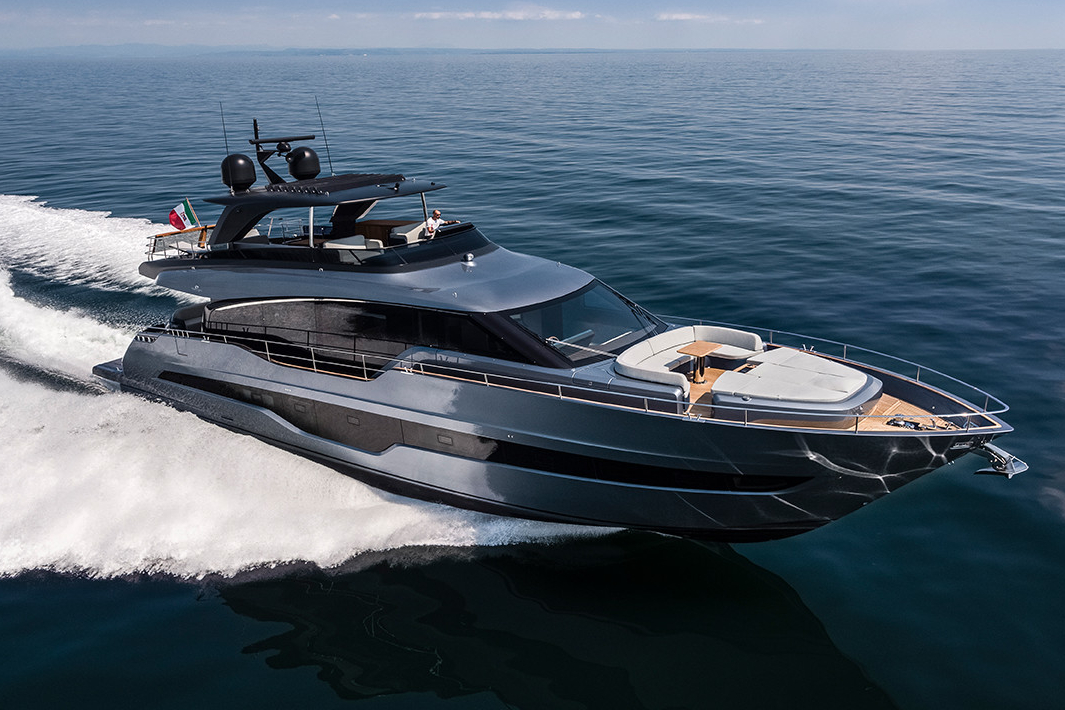 Cranchi Settantotto 25, 82′ (25 m). Image: Cranchi.
Yet another Italian yacht brand in our list, Cranchi was started in 1870 when Giovanni Cranchi opened its first workshop on Lake Como. Today, every Cranchi yacht is made in Lombardi. In 2009, the company opened the innovative Seventy Plant 4, a boatyard with the highest level of automation in the world used to build leisure yachts up to 78 ft.
Ferretti
Top Ferretti yachts for sale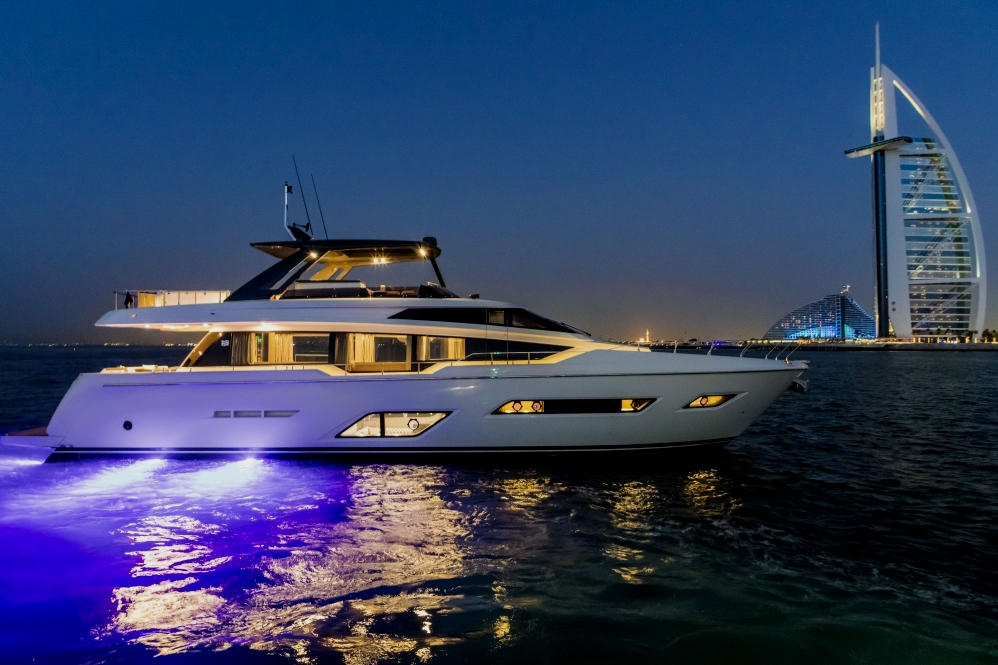 Ferretti Yachts 780, 79′ (24 m). Image: Ferretti.
An overview of Italian yacht builders would be incomplete without Ferretti. The company started in 1968, introduced the number of engineering innovations, and its latest developments are dedicated to a human-yacht interface that will make vessels even easier to use. Today, Ferretti is focused on producing luxury, flybridge yachts with nine, gorgeous boat models in its fleet.
Princess
Top Princess yachts for sale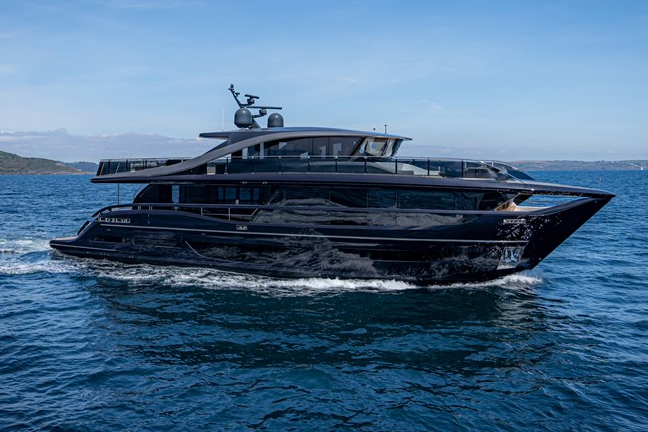 Princess X95, 95′ (29 m). Image: Princess.
Princess is a British brand that builds contemporary yachts in seven classes: from open sports boats to larger, 100 ft. megayachts. The company also makes private yacht acquisition easier with its YachtQuarters program. The program includes shared ownership of a boat available in the cruising area of the Balearic islands and moored in Port Adriano, Mallorca.
Riva
Top Riva yachts for sale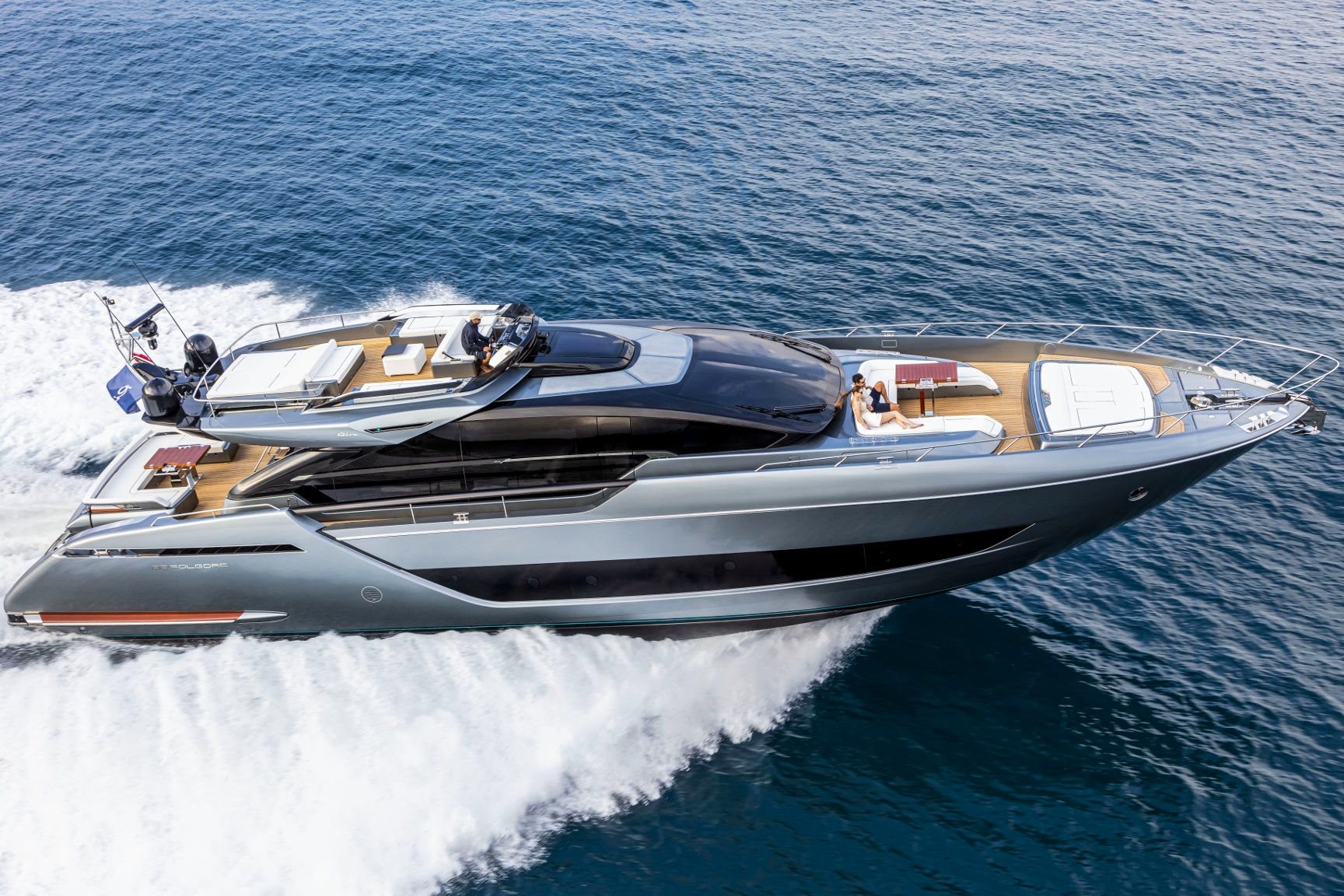 Riva Folgore 88′ (26.8 m). Image: Riva.
Riva, founded in 1842 on Italian Lake Iseo, became a racing yacht legend in the 1920s, a brand beloved by celebrities in the 1950s, and a yacht design icon in the 1960s. Drawing on its heritage, the brand's signature models are 50-80 ft. flybridge and sport yachts and smaller, open models. But the company also produces 150 ft. superyachts.
Hatteras
Top Hatteras yachts for sale
Hatteras GT 65 Carolina, 65′ (19.8 m). Image: Hatteras.
As Hatteras founder Willis Slane says, his goal was to build a fishing boat strong enough to withstand the waves off Cape Hatteras (North Carolina, USA), known for its choppy coastal waters. This American yacht brand, born more than 60 years ago, builds sportfish yachts that boast pioneering innovations such as a revolutionary convex and modified-V hull. The newest boats also signal a new design direction in the fishing yacht niche.
Viking
Top Viking yachts for sale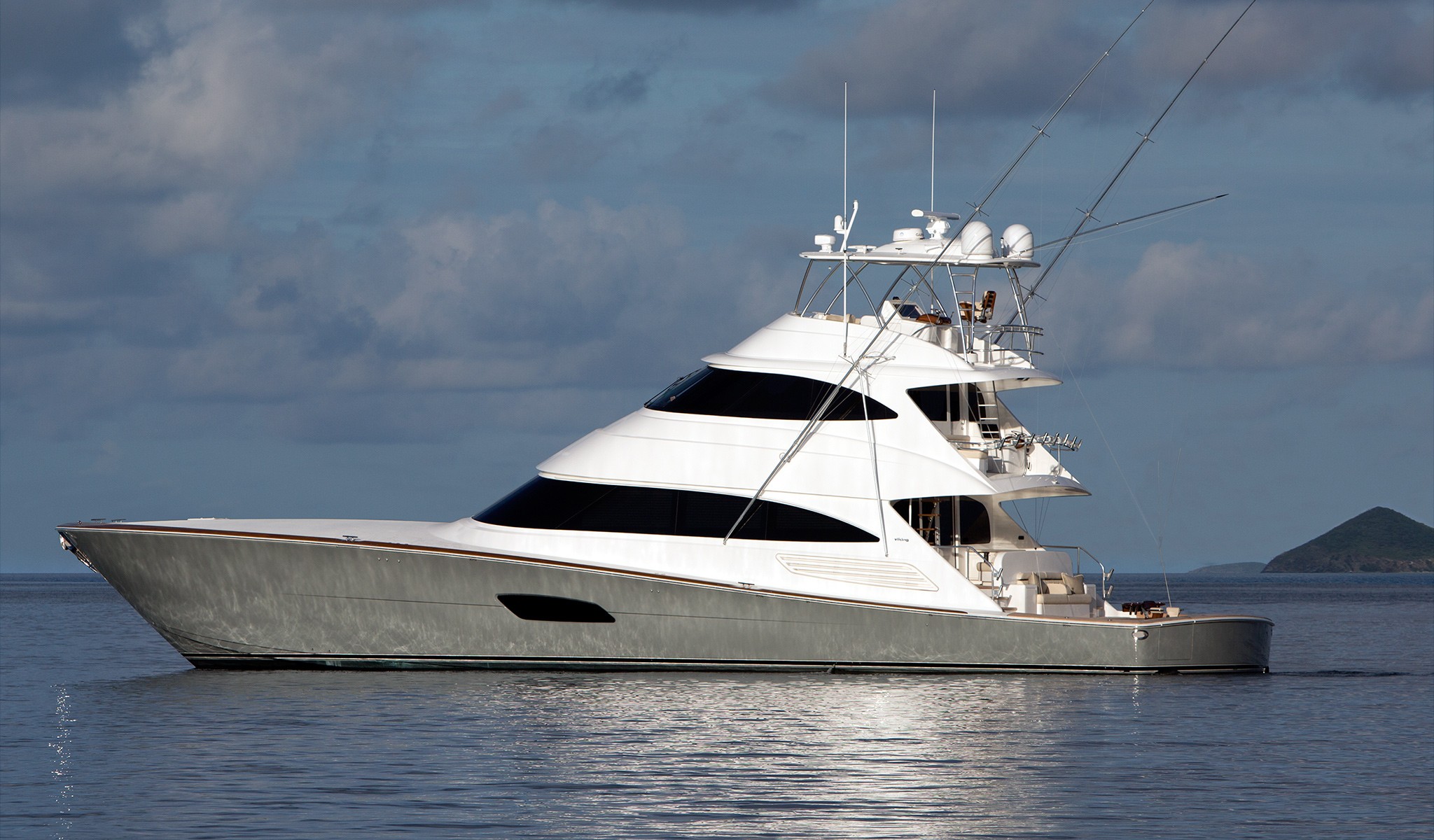 Viking 92 Sky Bridge, 93′ (28.4 m). Image: Viking.
Viking Yachts, based in New Jersey, USA, is one of the world's leading fishing yacht brands in the 37-92 ft. range. Among other things, the company is known for re-developing sky bridge design: more than aesthetically stunning, it is also functional, combining all the visibility benefits of an elevated control station with the weather protection and comfort.
The best yacht brands in the 30-50′ range
Wally
Top Wally yachts for sale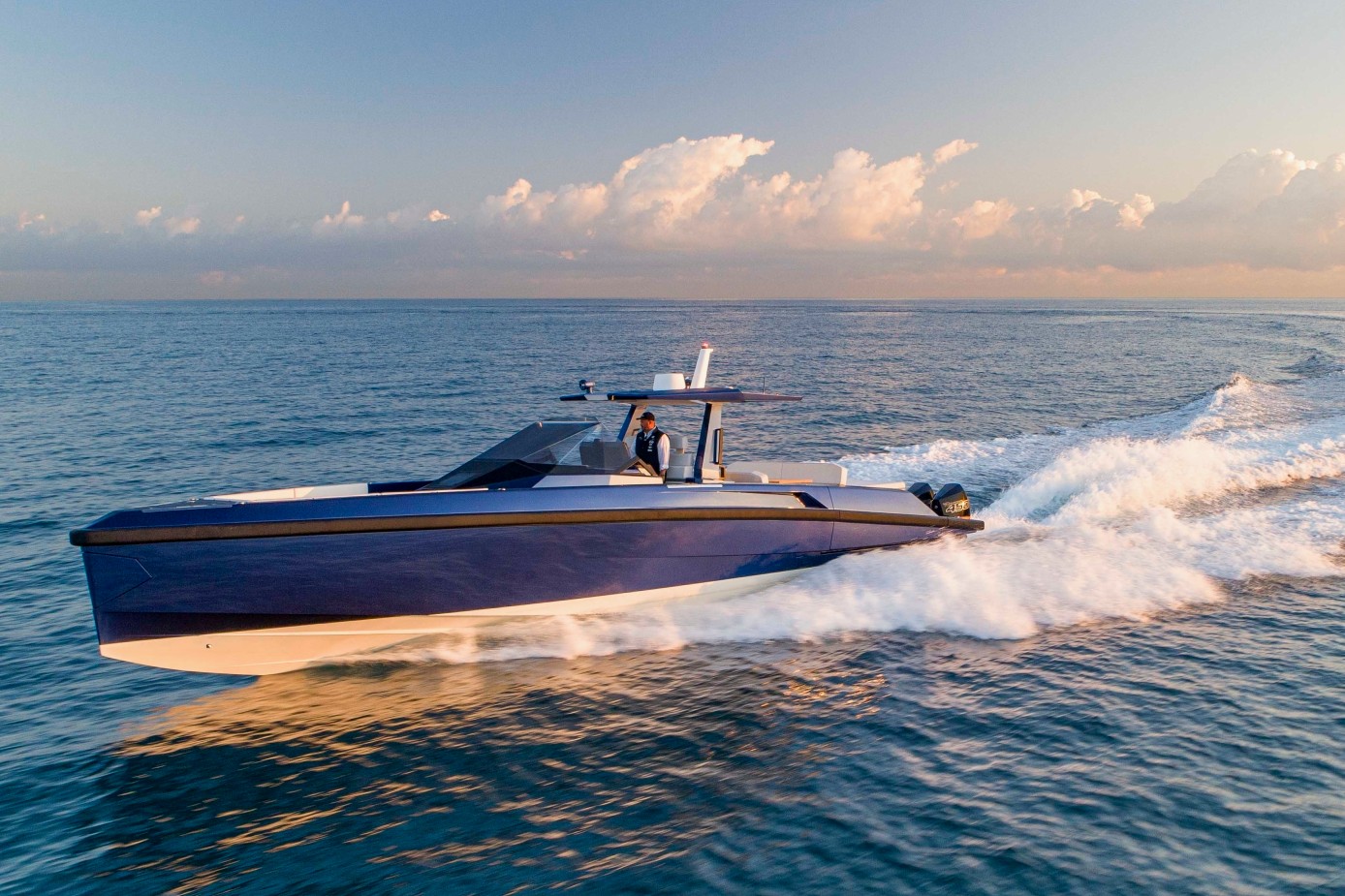 Wally 48 Wallytender X, 48′ (14,6 m). Image: Wally.
The Wally yachts' splendid interiors and exterior designs are what initially catch the eye, but their performance characteristics are no less compelling. One Wally yacht even featured on Top Gear. That said, Wally's 50 ft. motor yachts and smaller tenders are made for those who value both speed and aesthetics. The Italian yacht brand also produces fantastic 100 ft.+ sailboats.
Fiart Mare
Top Fiart Mare yachts for sale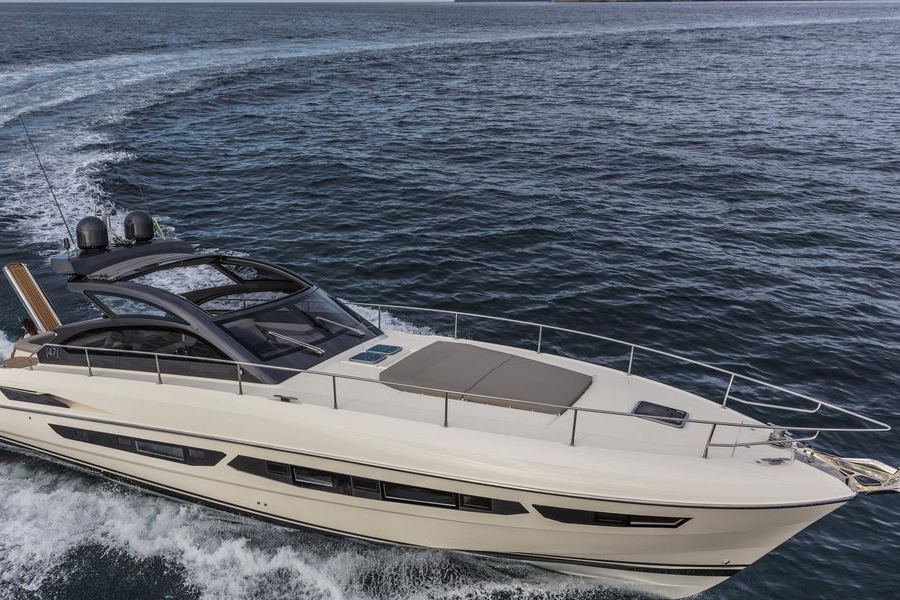 Fiart Mare 47, 47′ (14,6 m). Image: Fiart Mare.
Fiart Mare specializes in producing 30-60 ft. yachts with classic yet impressive exterior designs. Founded in 1960, the company is located in Naples and owns a dockyard in the Gulf of Pozzuoli.
Fjord
Top Fjord yachts for sale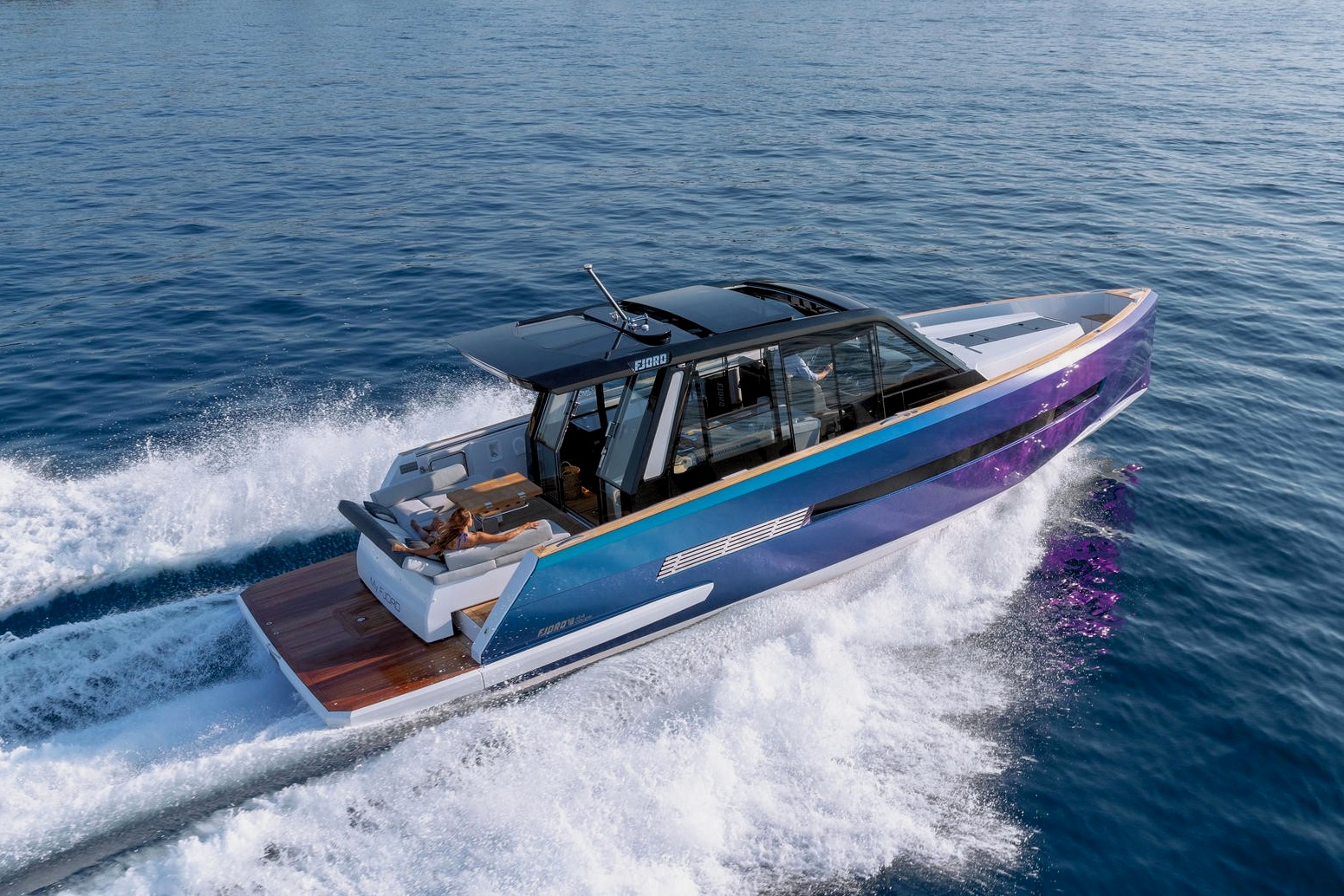 Fjord is a German yacht brand with offices in Germany and Mallorca and seven, 38-52 ft. yacht models in its inventory. The company produces open day cruisers, sporting boats, and tenders with contemporary, exterior designs that make its yachts stand out in any marina.