2

VanDutch for sale

Vanguard Dutch Marine, VanDutch for short. A symbiosis of modern design and advanced technology. The avant-garde in Dutch yacht building. Frank Mulder needs no introduction. Awarded several times by, amongst others, the prestigious International Super Yachts Society. His designs stand for high speed and excellent sea keeping abilities.

The VanDutch 40 distinguishes itself by its intelligent underwater ship, making slamming and spray a thing of the past. The spacious lounge area and sunbed are situated in the lee of the windscreen. This enables you to enjoy the excellent sailing performance in great comfort. The hull and deck are constructed in composite sandwich construction using vacuum-injection, resulting in a stiff and light boat. At strategic points the hull is reinforced with Kevlar®. A V-Drive arrangement of the engines has been chosen for the VanDutch 40. This results in optimal use of the available space and the centre of gravity of the VanDutch 40 is as much aft as possible, in order to increase speed and reduce fuel consumption.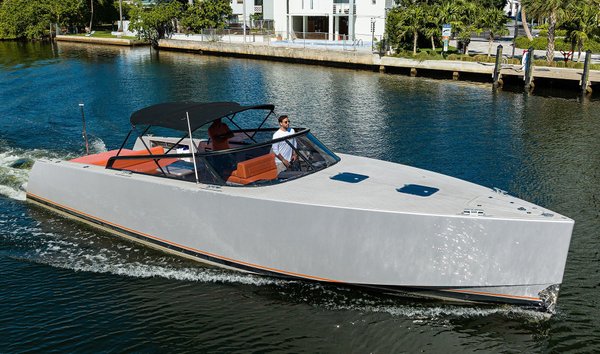 Yacht
EVERYBODY KNOWS 40' (12.19m) VanDutch 2014
Don't miss any great listings on
...and get notified of new listings within 24h!