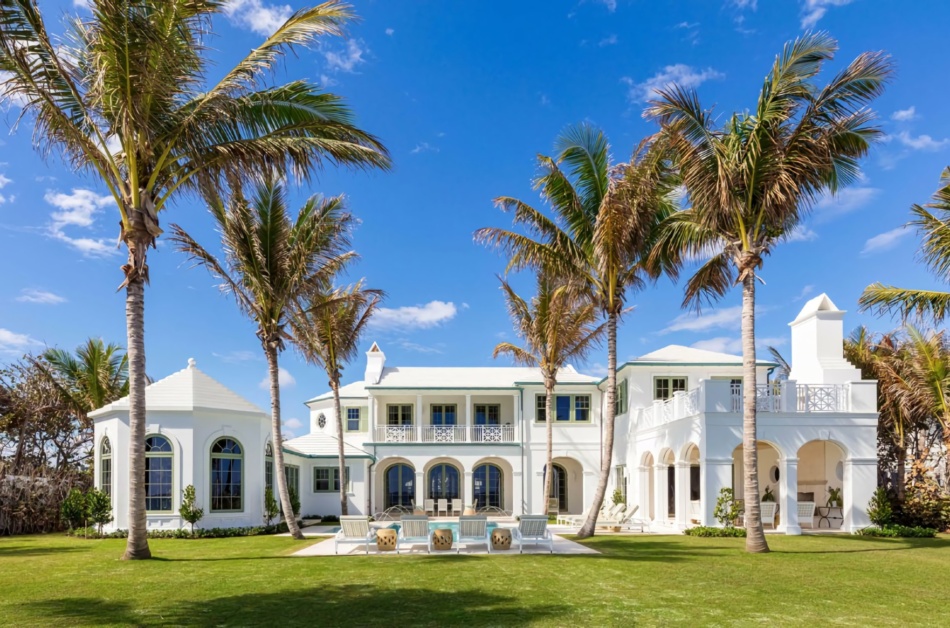 Bermuda-inspired mansion on Palm Beach island, Florida, USA,$84,000,000.
View Listing
The term 'mansion' is probably one of the most widely used in the high-end property segment: out of 200,000+ upscale homes currently for sale on JamesEdition, about 45% are defined as mansions by real estate brokers. 'Mansion' is also the second most popular search term on our website, right after 'waterfront villas' topping the list.
At the same time, looking for a 'mansion for sale', you can find a selection of elegant villas in French Riviera or coastal houses in Greece as well as classic mansions listed in the United Kingdom.
So, we decided to look closer at the typical characteristics to be aware of when it comes to defining what a mansion is truly is.    
While the square footage and number of rooms are important, it should also have a number of specific amenities for it to be classified as a mansion. Let's take a look at just some of the factors of what makes a home a mansion:
Entertainment and leisure facilities
No mansion is complete without an array of entertainment facilities including the likes of a cinema room, a spacious home bar, library, billiard rooms and large salons equipped for social gatherings.Also, mansions typically feature spaces to relax and unwind: spa zone, pool or jacuzzi, gym, orangeries and winter gardens. 
Impressive grounds
As you may expect, a mansion should be surrounded by impressive grounds with first-class facilities which set it apart from other homes on the market. Depending on the needs of the owner, mansions may include landscaped gardens and parks, tennis courts, golf courses,
and even ponds and lakes.
High-end materials
A large proportion of large modern homes are built from basic materials in order to cut costs, but these properties are not classed as mansions. Mansions must be made of materials built from the finest woods, stone and finishes; tailored to suit the individual property.
What size is considered a mansion? The biggest mansions in the world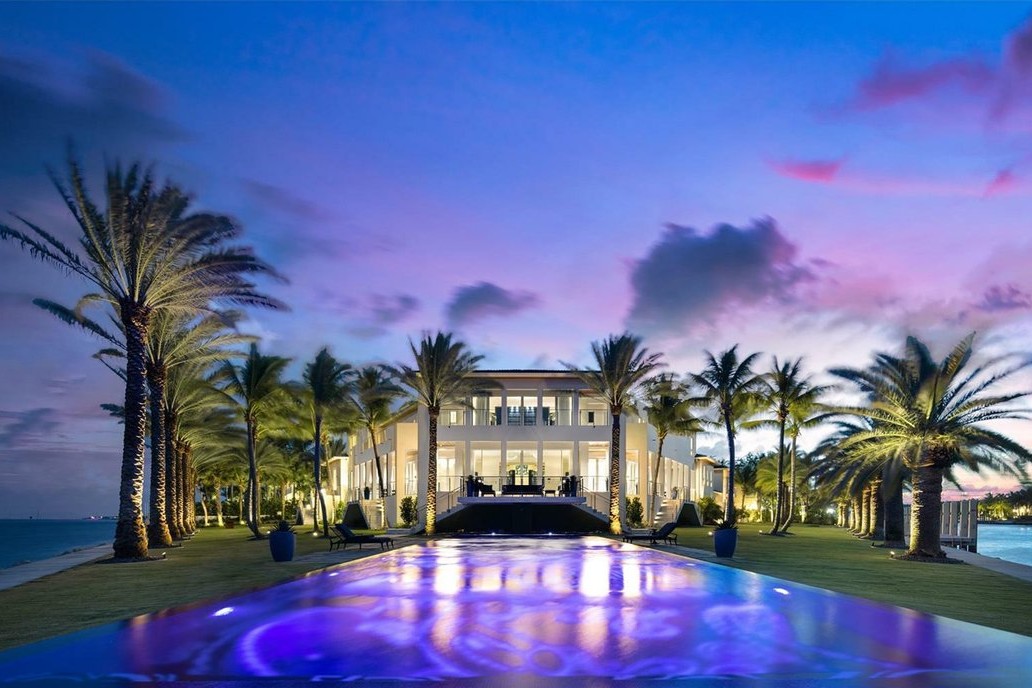 One of the largest mansions on the market: an oceanfront estate in Coral Gable, Florida, USA, $54,900,000.
View Listing
Technically, realtors term mansions as homes with at least 8,000 square feet of floor space. However, there are experts who view the definition much more simply as a large home that is owned by a wealthy individual.
It is interesting to note, however, that some real estate experts operating in the red-hot high-end markets of California, Florida or Costa del Sol, Spain do not consider a mansion to be below 20,000 square feet – so it is certainly a subjective topic, which is highly dependent on the wealth of a particular area.
Today, the largest mansion in the world up for sale is Casa Encantada, which is on the market for $225,000,000. Located in Los Angeles California, the Georgian property compromises 40,000 sq ft with 60 luxurious rooms as well as city, garden and ocean views.
Florida is another state that is home to some of the largest homes in the world; the largest mansion for sale in Florida at the current time is located in Coral Gables. It covers 23,282 sq ft; with 8 bedrooms and 11 bathrooms. It is on the market for $54,900,000.
It's no surprise that London being the capital city of England and its surrounding towns and villages holds some of the world's most prestigious properties, including Hampton Hall. This is currently the largest mansion for sale in the UK with the price available upon request. Covering 30,000 sq ft, it has 1.3 acres of land and even its own private airport.
If you're hoping to look for a more modern mansion, the largest in the Costa del Sol, village of Benahavis, is currently on the market for about $37,628,156. Benahavís mansion-style villa covers 33,476 sq ft, it features 10 bedrooms and 14 bathrooms. As opposed to traditional materials and furnishings within historic mansions, this property offers more modern elegance with cutting-edge equipment and appliances.

Typically, the world's most expensive homes are considered as mega-mansions that sell for hundreds of millions of dollars.
Mansion architecture styles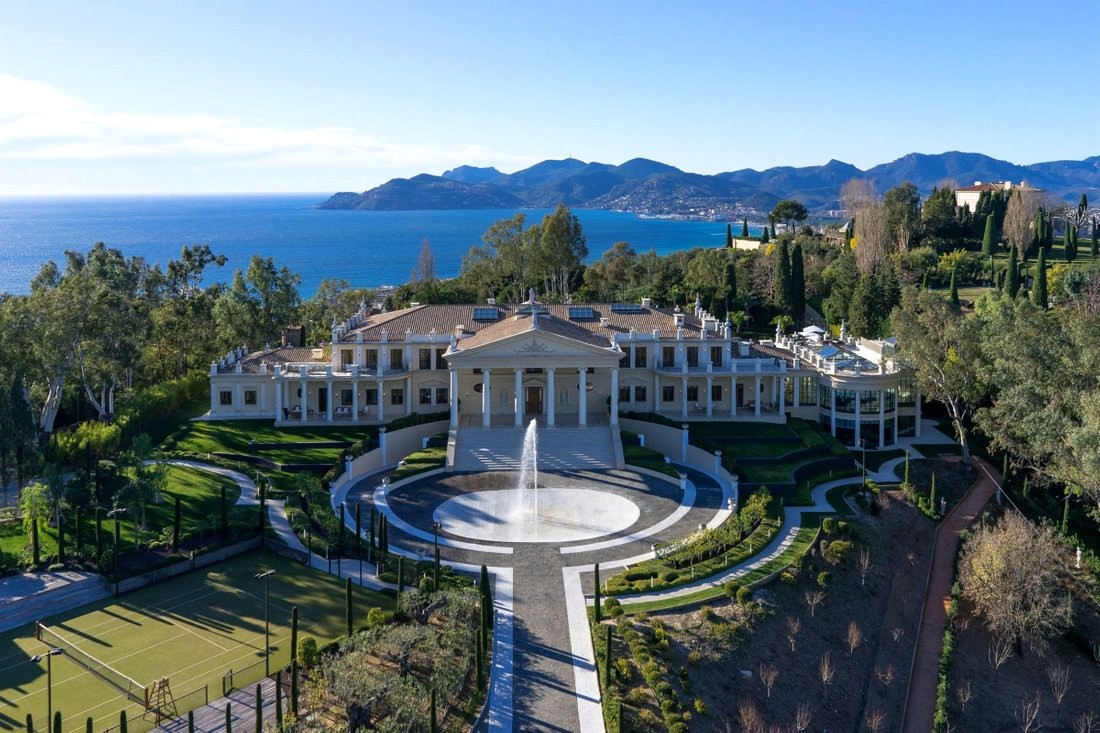 Venetian-style mansion in Cannes, France, approx. $142,674,383.
View Listing
As mentioned, there are a variety of mansion styles, which are defined by their age. Historic mansions are usually those with Georgian, baroque and Victorian architecture, however, well-built properties with similarly-sized square footage and acres can also be considered as mansions.
McMansions is the term used to describe large properties built between the 1980s – 2000s in suburban communities. They usually range between 3000-5000 sq ft, but often lack the uniqueness and authenticity of more historical builds, due to the fact that they are mass-produced.
What is the difference between a castle and a mansion?
There is also a significant difference between a castle and a mansion in terms of architecture. Most castles were built to prevent attacks from opposing forces during the medieval period. There are a variety of different castle styles, including Medieval Gothic and Romanesque, however, they all have similar features including arched windows, turrets and watchtowers as well as moats or canals as a part of landscape architecture. While mansions boast indulgence both with the interior and exterior and are often surrounded by landscaped gardens.
What is the difference between a mansion and a manor?
The difference between a mansion and a manor house sometimes can be very subtle. A manor is typically the main house of a country estate; the home's construction, floor plans and facilities are adapted for laid-back country lifestyle  On the other hand, you can find a perfect mansion-style property built on expansive private lands. 
How much is a mansion house?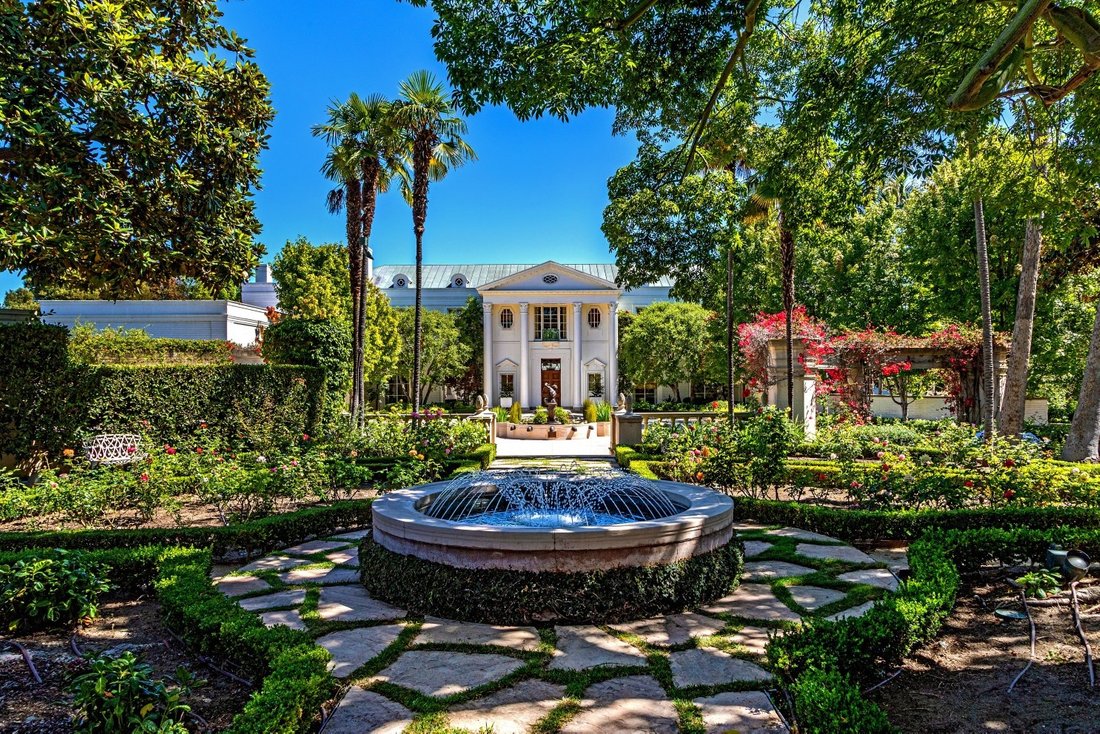 The most expensive mansion currently for sale: Casa Encantada, Los Angeles, California, $225,000,000.
View Listing
On JamesEdition, you can find some of the most expensive mansions in the world with prices up to $100+ million for estates located in Malibu, Beverly Hills and French Riviera. 
At the same time, you can find a more affordable mansion-style house below the $1 million in Portugal, Croatia, Spain (outside the highest-prices Costa del Sol) and even in non-coastal areas of France. If this strikes your interest you can find this modern mansion in Sotogrande, a historic mansion in France, or this  traditional mansion with a pool in Murcia, Spain
If you're planning on purchasing any of these homes, or another mansion for sale, you need to be aware of mansion tax. Initially in the USA, it was expected for mansion owners to pay 1% tax per year for homes valued at $1 million or more, however, this has increased to 1.25% for homes above $2 million and 3.9% over $25 million.
In 2009, the UK introduced mansion tax for residential properties exceeding £2 million at a rate of 1%.
What are the most renowned mansions in history?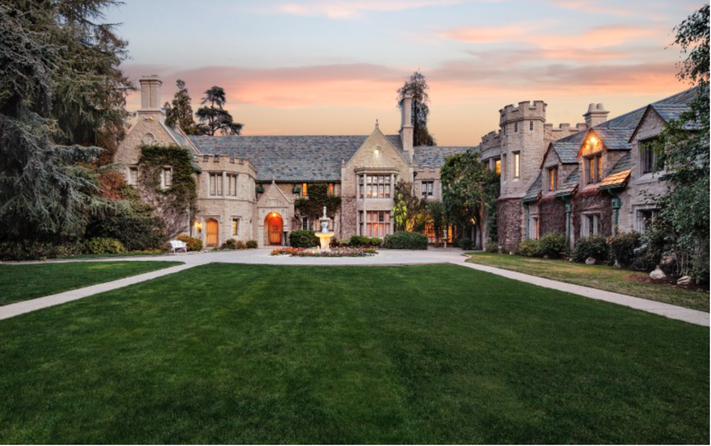 Hugh Hefner's Playboy Mansion in Los Angeles, USA, sold in 2018 for about $200,000,000.
Mansions, due to the architecture, size, and, sometimes, renowned owners, can get a great deal of media attention. You may know of some of the world's most famous mansions below:
Playboy mansion
10236 Charing Cross Road, Los Angeles, LA United States
The Playboy mansion was home to Playboy Magazine founder Hugh Hefner who lived here from 1974 until his passing in 2017. The 'gothic-style' architectural property gained world attention in the 1970s for its extravagant parties and social events.
Versace mansion
1116 Ocean Dr, Miami Beach, FL 33139, United States
The Versace mansion is the 3rd-most photographed property in the USA and has become note for its history for the spot where Andrew Cunanan murdered Gianni Versace.
Greystone mansion
905 Loma Vista Dr, Beverly Hills, CA 90210, United States
The Greystone mansion is a Tudor-inspired mansion was added to the National Register of Historic Places in 1976 and is frequently used as a backdrop for an abundance of movies and television shows including The Bodyguard, Murder She Wrote and Austin Powers; making it one of the most recognized sets in Hollywood.
Fontanel mansion
4125 Whites Creek Pike, Whites Creek, TN 37189, United States
The Fontanel mansion is famous with Country fans in particular, due to its appearance in CMT's popular show "Gone Country" and other music videos.
Pittock mansion
3229 NW Pittock Dr, Portland, OR 97210, United States
The Pittock mansion tells the story of Portland's growth from its early beginnings to the modern city it is today through the history of the Pittock family and has since opened as a museum.
Glensheen mansion
3300 London Rd, Duluth, MN 55804, United States
The most visited historic home in Minnesota, Glensheen mansion was built in 1908 by Chester and Clara Congdon who were famed for turning the region into an iron community as well as the creation of Congdon Park and the North Shore Scenic Highway. 
Strawberry mansion
2450 Strawberry Mansion Dr, Philadelphia, PA, 19132, United States
Strawberry mansion was given its iconic name during the 1800s when it was rented to farmers to sell their strawberries and cream and has since become a historic house museum. 
Biltmore mansion
1 Lodge St, Asheville, NC 28803, United States
Originally built for George Washington in the 1890s, this chateau-style mansion has become a major tourist attraction over the years and is open to the public for tours.
However, some of America's best historic homes have also gained media attention due to their cultural background and interesting residents that have lived here through the years.