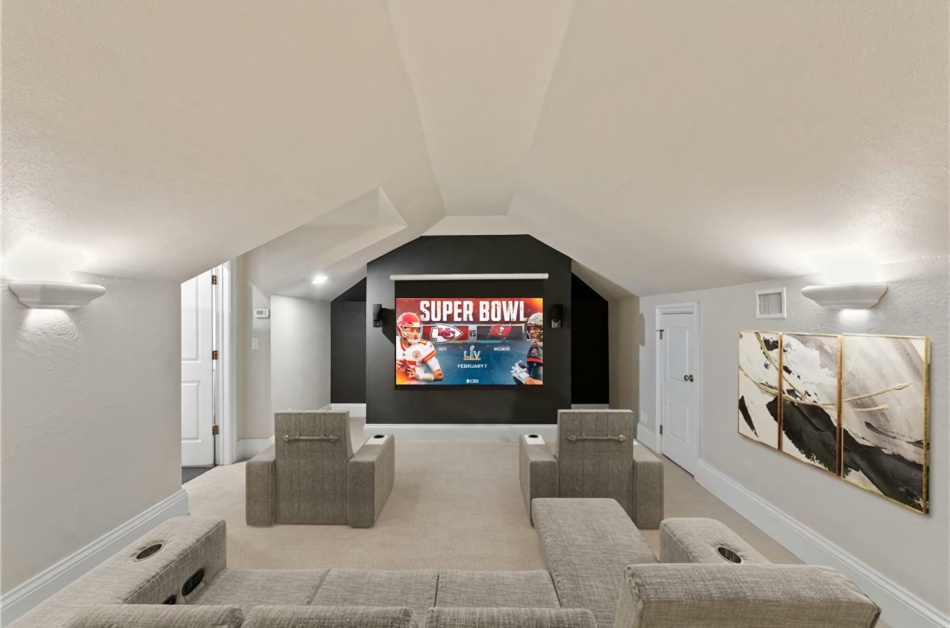 Home cinema room in the 6-bedroom mansion, Tampa, Florida, $6,950,000
View Listing
Night sky ceilings, cave-inspired designs, gold-plated wallpapers, and artificial trees. Discover the top features for a perfect cinema room, including WiFi connected devices and wet bars.
Certain events, such as Christmas or the Super Bowl, consistently unite families and friends in front of screens at home.
Advanced displays and 4K projectors allow you to view the game in full ultra-HD quality and also keep an eye on some of the strangest Super Bowl bets — for those who laid down money on whether Miley Cyrus' belly button would be visible.
Even prior to the coronavirus pandemic, more than 90% of the 100 million+ Super Bowl audience watched the game on TV, while about 65,000 fans claimed stadium seats, and several million spread out across the 95,000 sports bars in the US.
This year, some sports bars are open for Super Bowl LV, but owners say they don't expect crowds and "know that [most of the] people are going to stay home this year."
So, we studied our real estate section to find the best home cinema rooms available in every US state–where you might watch your next Super Bowl, since the homes are for sale.
Art deco, Neo-Baroque, and neoclassical designs: from $2,850,000 in Alabama to $35,000,000 in New York
Mercer Island, Washington, $17,800,000
Houston, Texas, $30,000,000
Kings Point, New York, $35,000,000
Baldwin, Louisiana, $3,850,000
Saddle River, New Jersey, $17,500,000
Madison, Alamaba, $2,850,000
The most unusual home theaters: from $1,500,000 in Nebraska to $25,000,000 in Utah
Orem, Utah, $25,000,000
Wilson, Wyoming, $15,000,000
Chattanooga,Tennessee $8,000,000
Santa Fe, New Mexico, $6,500,000
Omaha, Nebraska, $1,500,000
Ketchum, Idaho, $19,500,000
Top modern designs: from $3,950,000 in Oklahoma to $60,000,000 in Virginia
Tampa, Florida, $6,950,000
Nichols Hills, Oklahoma, $3,950,000
Alexandria, Virginia, $60,000,000
Long Lake, Minnesota, $9,997,000
Night sky inspiration: from $2,699,900 in Kansas to $25,750,000 in Nevada
Kihei, Hawaii, $19,950,000
 Glenbrook, Nevada, $25,750,000
Bloomfield Hills, Michigan, $10,550,000
Fairway, Kansas, $2,699,900
Precious woods in highlights: from $959,000 in Virginia to $29,995,000 in Colorado
Sisters, Oregon, $17,250,000
Paradise Valley, Arizona, $12,950,000
Aspen, Colorado, $29,995,000
Fairfield, Pennsylvania, $8,000,000
Brumley, Missouri, $13,500,000
Milwaukee, Wisconsin, $6,950,000
Camden, Maine, $8,500,000
Springdale, Arkansas, $3,000,000
White Sulphur Springs, West Virginia, $959,000
Classic theater vibe: from $990,000 in North Dakota to $115,000,000 in California
Portsmouth, Rhode Island, $7,975,000
Malibu, California, $115,000,000
Barrington Hills, Illinois, $17,800,000
Greenwich, Connecticut, $32,000,000
Travilah, Maryland, $3,799,000
Wilmington, Delaware, $2,495,000
Jamestown, North Dakota, $990,000
Watterson Park, Kentucky, $3,849,000
North Canton, Ohio, $4,900,000
The coziest cinema rooms: from $675,000 in South Dakota to $24,950,000 in Montana
Livingston, Montana, $24,950,000
Mooresville, North Carolina, $6,995,000
Simpsonville, South Carolina, $10,750,681
 Forsyth, Georgia, $15,250,000
Wolfeboro, New Hempshire, $10,000,000
Weston, Massachusetts, $9,995,000
Fishers, Indiana, $3,499,900
Manchester, Vermont, $4,200,000
Polk City, Iowa, $2,300,000
Oxford, Mississippi, $999,999
Dakora Dunes, South Dakota, $675,000
Anchorage, Alaska, $1,299,000
Exclusive luxury insights
for newsletter subscribers only
Delivered every week to your inbox