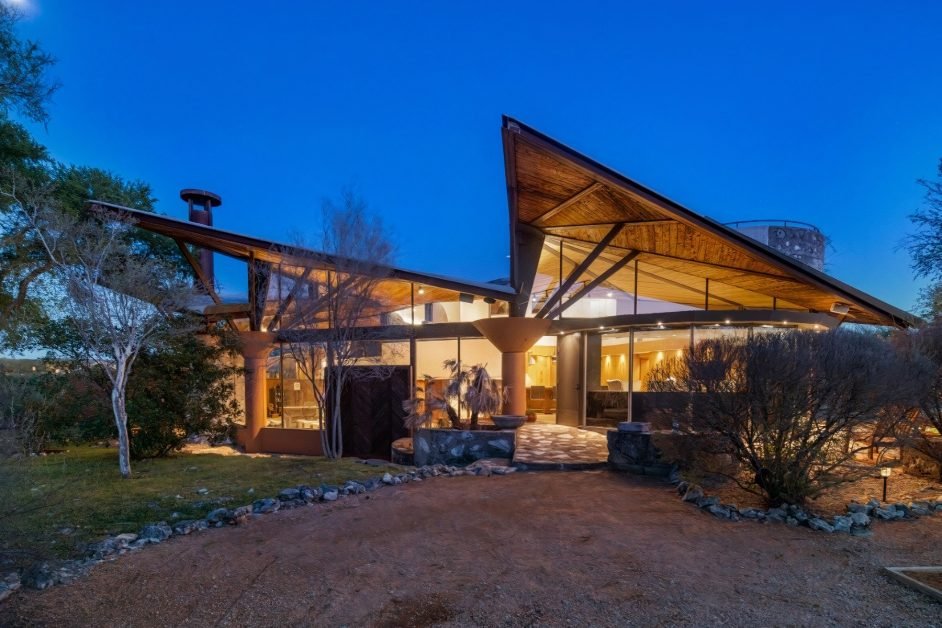 Frank Lloyd Wright-inspired home for sale in Texas, USA, $13,500,000
A master of 20th-century architecture, Frank Lloyd Wright designed in excess of 1,000 structures over a creative period of seven decades. Influencing architects across the globe, he changed the way we build and live, with the American Institute of Architects calling him the "greatest American architect of all time."
And so, it's no surprise that Frank Lloyd Wright style houses can be found all around the world, from Australia to Italy.
Prairie style house architecture
The visionary craftsman believed in what he called "organic architecture" – designing in harmony with the environment – and is best known for his Prairie style homes that emerged in the early 1900s.
With emphasis on the horizontal rather than the vertical, these properties fused elements of the Arts and Crafts movement with the work of architect Louis Sullivan.
By combining nature, craftsmanship and simplicity with geometric design and modern elements like flat planes, the end result was radically different from the Victoria homes of the era. Spreading out across their plots, the residences featured flat or shallow hipped roof lines and overhanging eaves.
Meanwhile, the interiors of Frank Lloyd Wright houses were all about open areas, natural light, and bringing the outdoors in.
Over the years, he designed buildings that have since gone on to become iconic, including Fallingwater in the Laurel Highlands of Pennsylvania (designated a National Historic Landmark in 1966), Millard House, a textile block property in California, and Prairie style South Bend and DeRhodes House.
Frank Lloyd Wright was also the brainchild of the term Usonian houses: smaller than Prairie style homes and with little ornamentation and no basement or attic. A way to create affordable middle-class housing using a simple design, they typically had three areas: a living space, small bedrooms, and a kitchen-dining area.
Frank Lloyd Wright style homes for sale
Fast forward to the present day, and Frank Lloyd Wright's ideologies are still seen in open-plan living spaces, floor-to-ceiling windows, and what we now call sustainability.
With that in mind, we've collated 10 outstanding Frank Lloyd Wright style homes that are currently on the market around the world.
Architectural masterpiece in Spicewood, Texas
Price: $13,500,000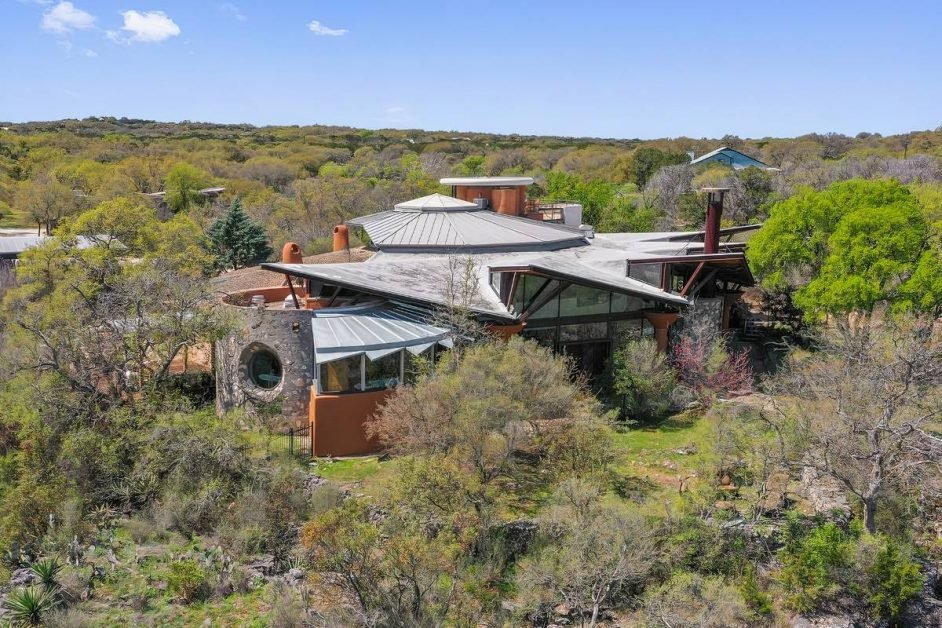 Frank Lloyd Wright-inspired home for sale in Texas, USA, $13,500,000
Located on a peninsula overlooking the Pedernales River, this six-bedroom 10-bathroom estate has 12,002 square feet of interior space and boasts unparalleled views out to the water and the lush Hill Country. Designed by acclaimed Austin architect John Covert Watson, the property features a distinctive hyperbolic paraboloid roof.
Sitting on a 30-acre lot, wander along the meticulously crafted ipe wood walkway and be wowed by the waterfall, pool, and private grotto. Back indoors, it's contemporary and spacious all the way, with light soaring through a large skylight in the foyer and media hall, and a careful balance of grand entertaining spaces and cozy rooms. Upstairs, be sure to check out the huge upper deck at sunset.
More architectural inspiration in Texas, USA
Prairie style house in Tampa, Florida
Price: $6,950,000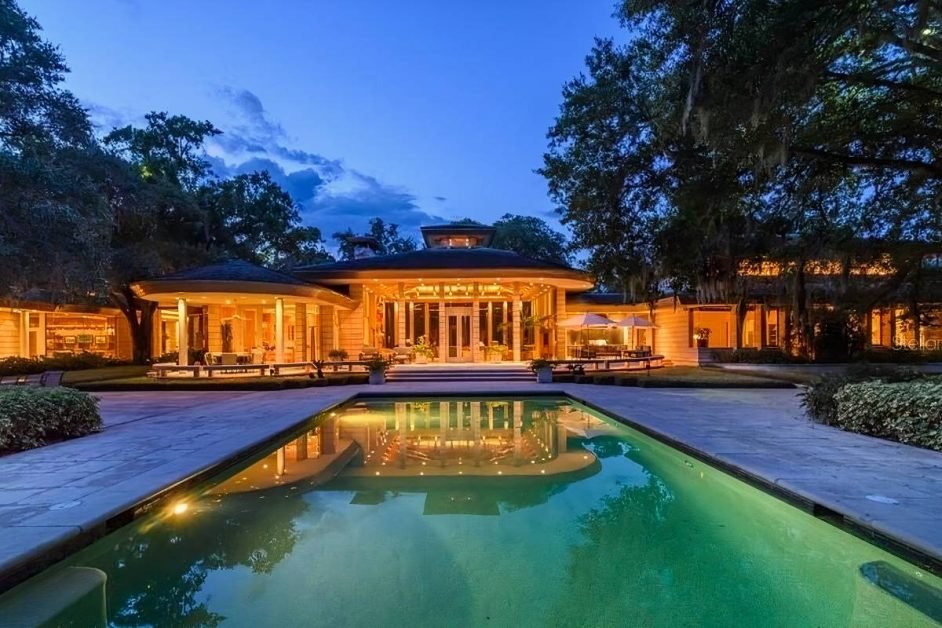 Prairie style home for sale in Florida, USA, $6,950,000
A quality example of Frank Lloyd Wright-inspired prairie style house architecture, this seven-bathroom home is in harmony with its surroundings and sits on a nine-acre plot. Esteemed architect Sol Fleischman created the 13,131 square foot space, fusing the property with nature.
With aesthetic horizontal lines, high ceilings, and floor-to-ceiling glass, there's bundles of light and glorious views out to White Trout Lake and the inviting pool. Spread over two floors, you'll find generously sized rooms, private guest quarters, and a caretaker apartment. A boundary fence, personal beach, boathouse, and boat ramp complete the picture.
More architectural inspiration in Florida, USA
Modern estate in Bosch en Duin, Netherlands
Price: approx. $18,911,000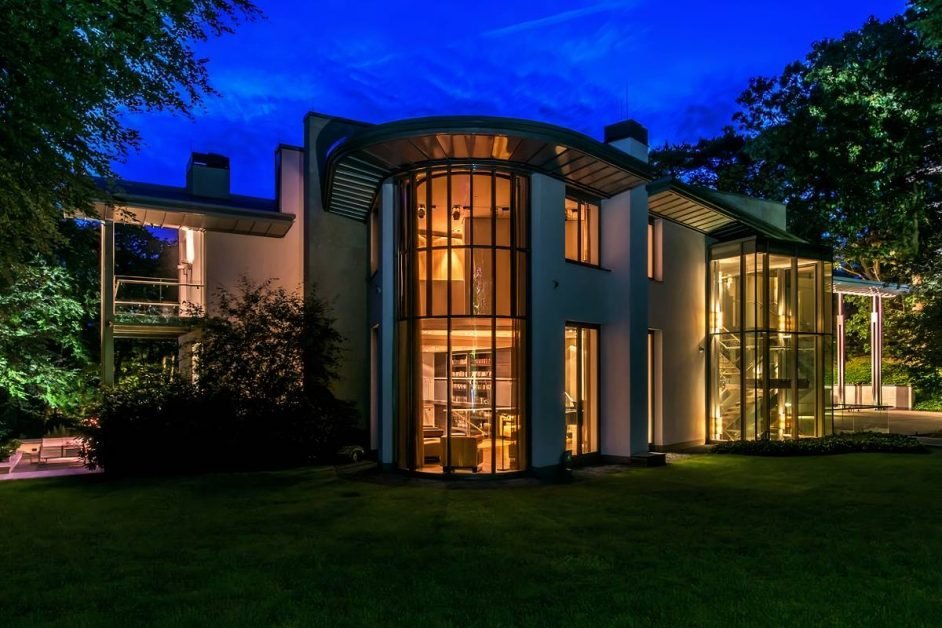 Modern home for sale in the Netherlands, approx. $18,911,000
Inspired by Fallingwater and its fusion of house and nature both in shape and material, this spectacular villa on a lot of almost eight acres fits harmoniously with the hilly and wooded landscape of the surrounding area. Situated less than an hour from Amsterdam, the property spans a whopping seven levels and boasts fabulous vistas from every angle.
Dubbed a "contemporary castle", natural stone was used wherever possible alongside white plastered walls, large windows, and balustrades made of glass and brushed aluminum. In the basement, there's a wellness center with an eight-person whirlpool, plus a sauna, steam bath, rain shower, fitness area, and swimming pool. Wander around and you'll also spot an impressive Tuschinsky-like cinema room.
More architectural inspiration in the Netherlands
Contemporary villa with a sea view in Porto Rotondo, Sardinia
Price: approx. $3,783,000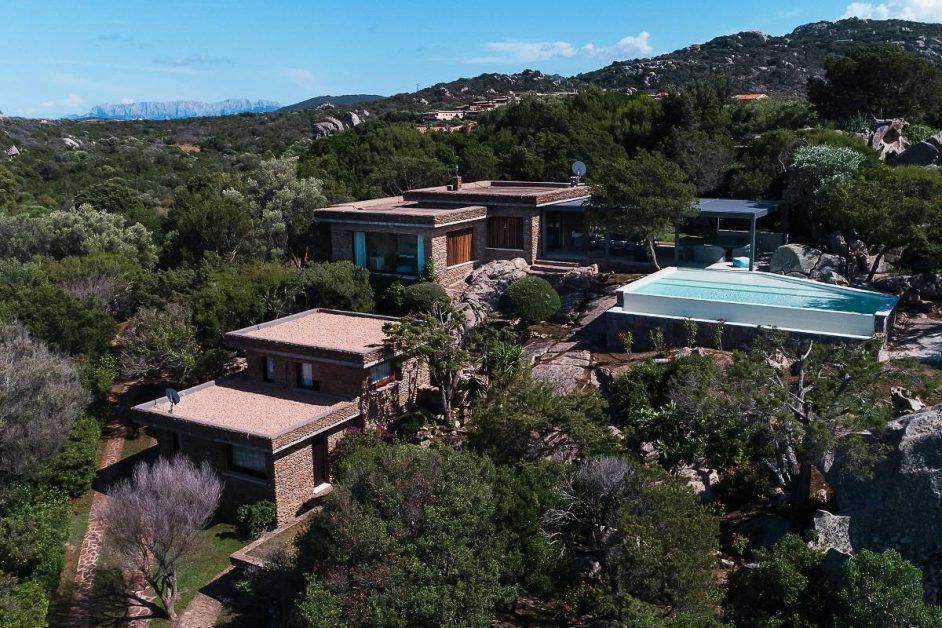 Villa for sale in Sardinia, Italy, approx. $3,783,000
You'll find exclusive Villa Smeralda sitting on a lot of two acres looking out to the Gulf of Porto Rotondo. Private and tranquil, the parkland gardens are home to a pool, while inside, the main residence spans 6,373 square feet and has five bedrooms. Oh, and there are four additional outbuildings dotted around the grounds. Built by the architect G. Gamondi, and inspired by Frank Lloyd Wright, the estate was revamped in 2016 and there's scope to renovate further.
More architectural inspiration in Sardinia, Italy
Five-bedroom riverfront residence in Victoria, Australia
Price: On request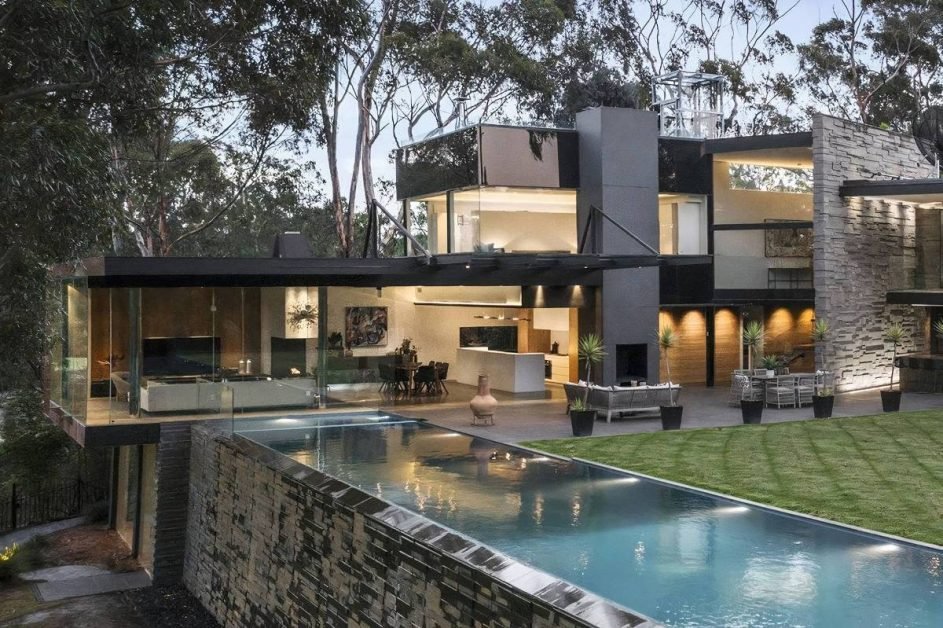 Five-bedroom home for sale in Victoria, Australia, P.O.R.
This modern interpretation of Fallingwater lies in a suburb of Melbourne on a plot of 5,832 square meters. Totally private and boasting Yarra River frontage and golf course views, out in the garden you'll find an alfresco kitchen and a glistening pool, plus a tennis court, a rivers-edge pavilion, and a private boat ramp.
Admire the predominantly floor-to-ceiling glass exterior before heading inside the four-story home complete with an elevator. Spanning over 1500 square meters (including terraces), you'll be impressed by five bathrooms, two deluxe luxurious offices, a library, high-spec chef's kitchen, multi-table games zone, cellar, and gym. Don't forget to head up to the rooftop to take in the magnificent cityscape vistas.
More architectural inspiration in Victoria, Australia
Architectural five-bedroom jewel near Treviso, Italy
Price: On request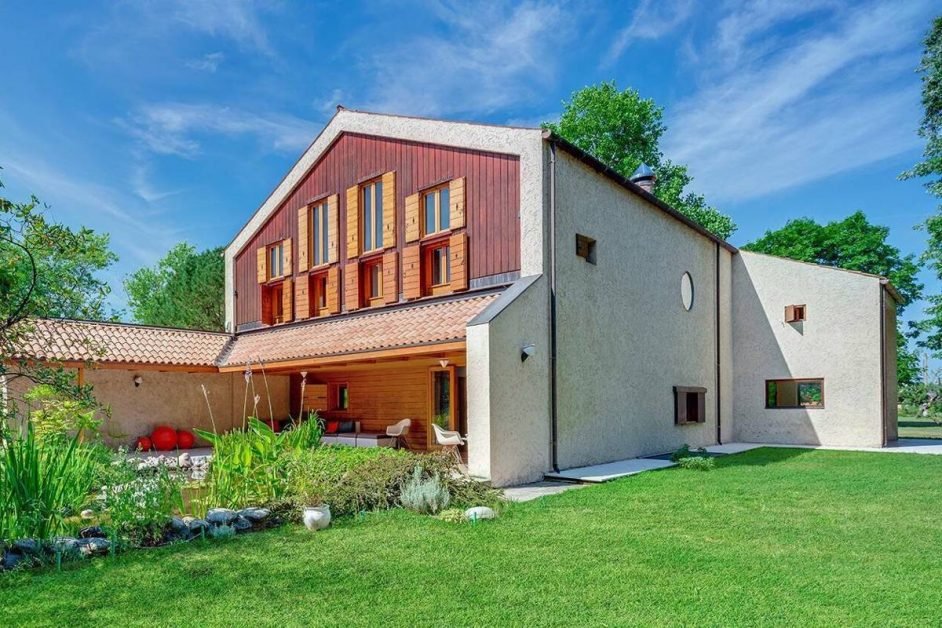 Five-bedroom villa for sale in Italy, P.O.R.
This impressive and bespoke 7,212 square foot villa sits in the peaceful Venetian countryside, two kilometers from Treviso. Balancing architecture and nature, inspired by the works of Carlo Scarpa and Frank Lloyd Wright, the striking property was highlighted by the Veneto Film Commission for its important architectural interest.
Notable features include large arcades overlooking the pond, wood-filled interiors, a double-height central hall with a grand staircase in Trani stone, and an original Murano glass skylight from the 1970s. And outside, you'll find a two-bedroom outbuilding with a terrace. This four-story residence is the ideal home, and also a first-rate space to host events.
More architectural inspiration in Veneto, Italy
Mid-century modern home in Park Ridge, Illinois
Price: $1,390,000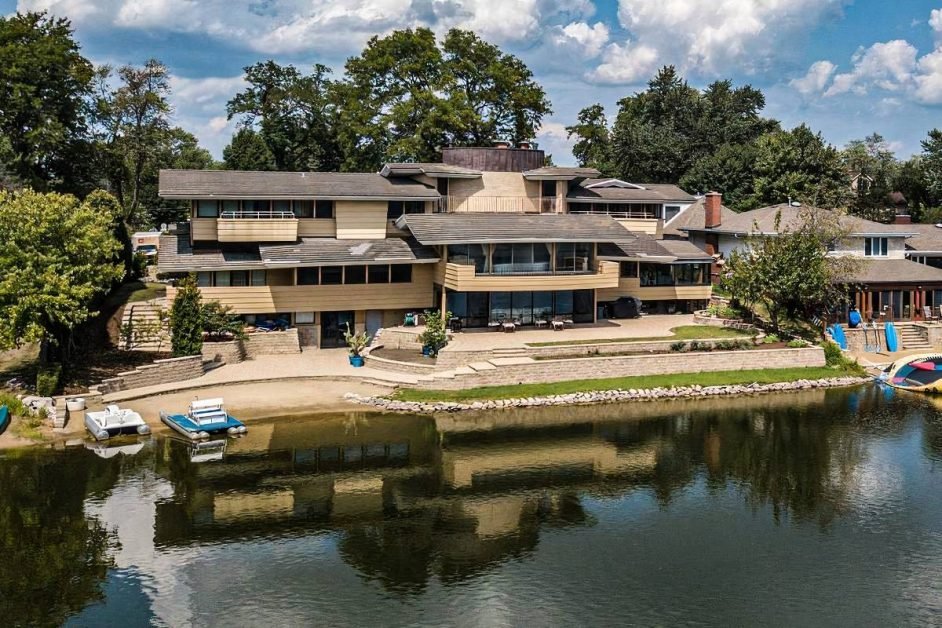 Mid-century modern home for sale in Illinois, USA, $1,390,000
This wow-factor six-bedroom family house is for fans of Frank Lloyd Wright's "mid-century modern" home. Created by architect Don Erickson in 1962, he returned in the late 90s to add a second level, meticulously crafted in keeping with the original design. Enviably located at the end of a private cul-de-sac looking out to Park Lake, the southern exposure brings in natural light galore.
Spread across 7,400 square feet, there's a two-story foyer, 6.5 bathrooms, master suites on each floor with walk-in closets, plus separate quarters tucked away on one side of the residence. Outside, you'll find a two-tiered patio and your own private beach. Across the year, enjoy swimming, boating, fishing, and ice skating. Oh, and award-winning Carpenter Elementary School is just a few blocks away.
More architectural inspiration in Illinois, USA
Custom-built home featuring a copy of a Frank Lloyd Wright fireplace, Texas
Price: $1,499,900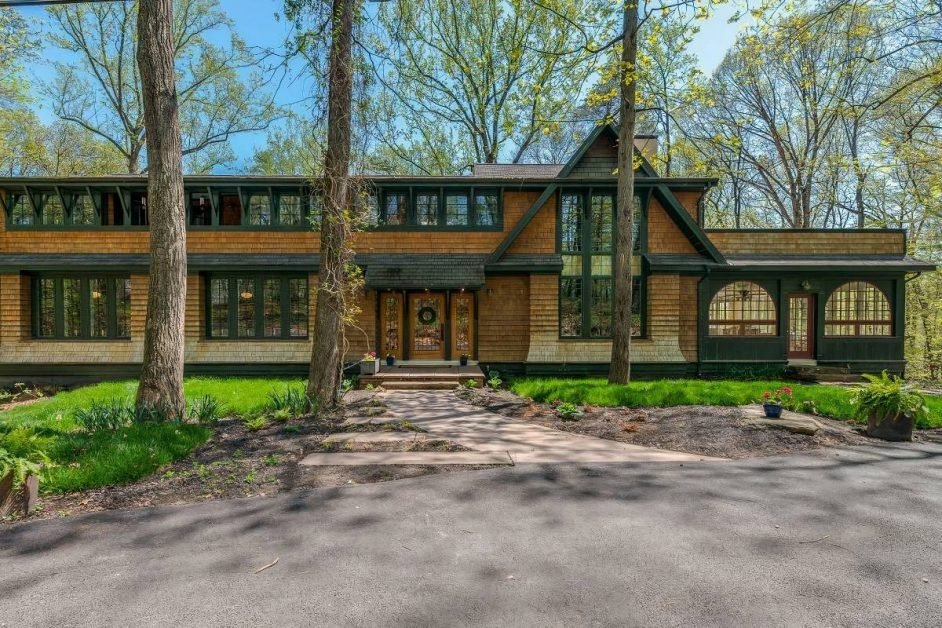 Custom-built home for sale in Texas, USA, $1,499,900
Designed by a master cabinet maker who used the Arts and Craft movement as inspiration, this private retreat sits on a five-acre lot and is nestled among mature woodlands. The geometric exterior houses windows aplenty, giving way to elegant and characterful open-plan interiors across five bedrooms, seven bathrooms, and 8,800 square feet of space.
Other notable features include a copy of a Frank Lloyd Wright fireplace, a grand chef's kitchen with a butler's pantry, extensive porches, and a large sunroom. On the lower level, you'll find soaring 10-foot ceilings offering opportunities for craftsmen and artists. Or, the area could easily be used as additional living space. Private and tranquil, there's also an additional one-acre lot available to buy next door – should you be interested.
Luxury lodge with a garden in Acacia Bay, New Zealand
Price: approx. $4,212,000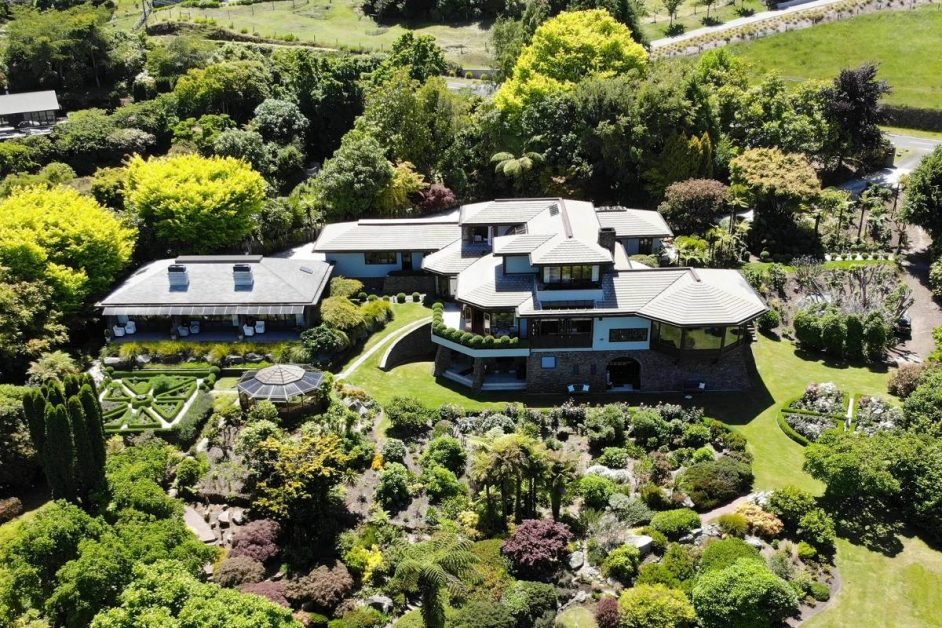 Luxury lodge for sale in New Zealand, approx. $4,212,000
With spectacular views of Lake Taupo and Mount Tauhara from the beautifully landscaped gardens, this seven-bedroom and bathroom Frank Lloyd Wright style home embraces the natural landscape, and there's attention to detail every way you turn. Set on a plot of two acres and spread over three floors, there's 7,675 square feet of inside space.
Enter through the grandiose light-filled atrium and you'll notice crafted wood interiors and Art Deco-inspired ceilings. Upstairs, alongside master suites, you'll discover a self-contained apartment. Meanwhile, adjacent to the main house are three luxurious chalets.
Out in the immaculately sculpted gardens, you'll find native and exotic plants that reflect every mood and season, plus plenty of secluded spots for relaxing with a drink or a book. Ideal for a family, the estate would also work well as an upscale lodge.
More architectural inspiration in New Zealand
Timeless yet modern four-bedroom home in Oakville, Ontario
Price: approx. $5,055,000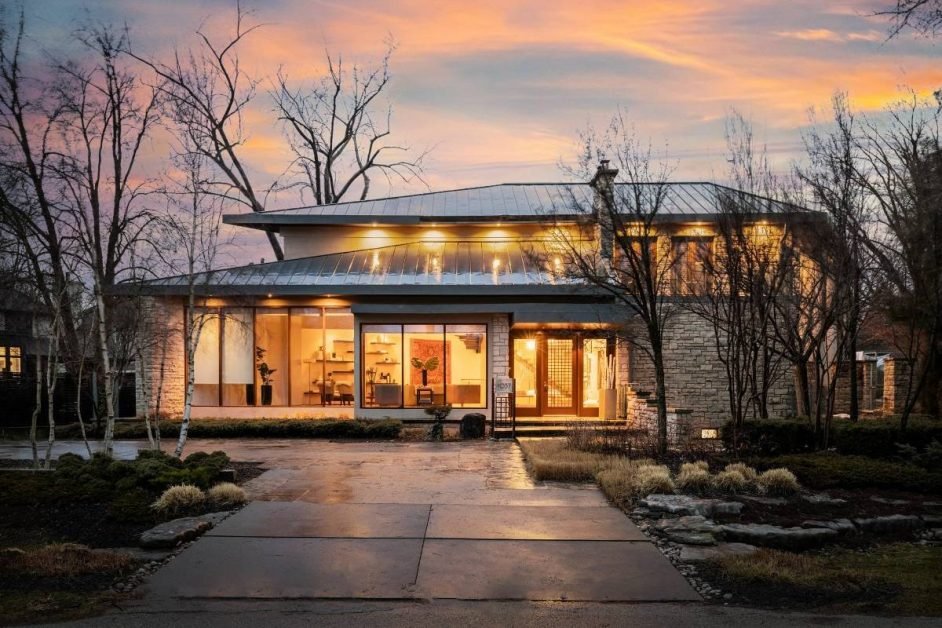 Four-bedroom home in Oakville, Ontario, $5,055,000
This Frank Lloyd Wright style house spans 5,050 square feet, sits on a prestigious street south of Lakeshore Road, and offers wonderful views out to the water. Embodying the philosophy of organic architecture and adhering to how the interior of Frank Lloyd homes typically look, the space is open-plan, with curved walls, a circular staircase, and use of wood, glass, and stone.
There's a custom-built kitchen, and the master comes complete with a double-sided fireplace and a private balcony. Meanwhile, floor-to-ceiling windows throughout connect the inside with the outdoors. In the backyard, you'll be greeted by a private oasis that's home to an outdoor kitchen area, a fireplace, a saltwater pool, and multiple entertaining areas. Moreover, the property is just a short walk from downtown, and situated within one of Oakville's most sought-after school districts.
More architectural inspiration in Ontario, Canada