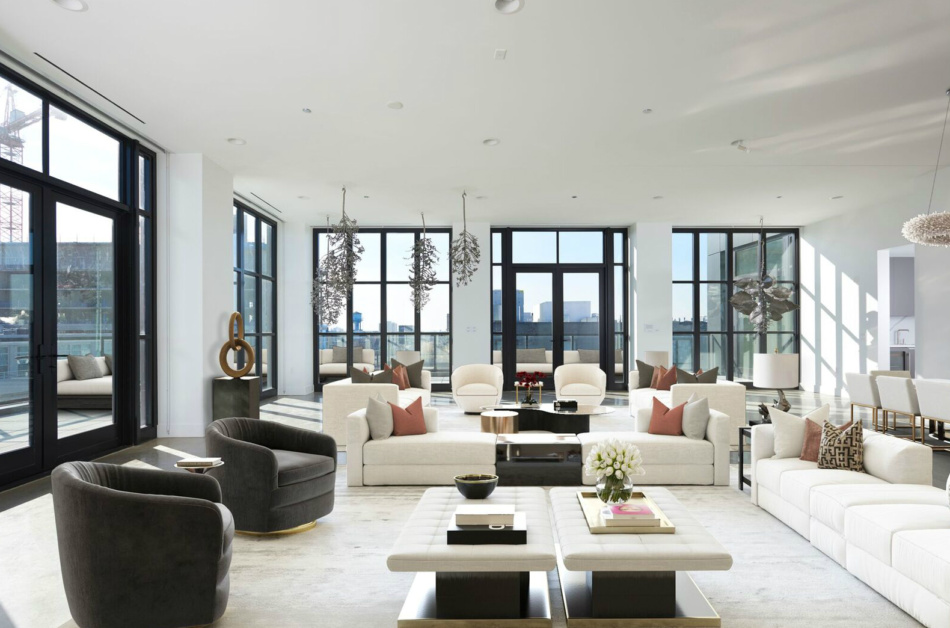 Designed for those who truly value a distinguished look and feel, the residences at 900 West offer a uniquely modern take on luxury condominiums, drawing considerable inspiration from the rich industrial history of Chicago's famed West Loop.
Exceptional interiors, unparalleled construction, and state-of-the-art technology come together in the residences at 900 West. The residences, designed for those who truly value a distinguished look and feel, offer a modern take on high-end living. Additionally, they draw inspiration from the rich industrial history of their location in Chicago's famed West Loop. Taris Real Estate's attention to detail is second to none in creating an unrivaled living space in this well-sought-after neighborhood.
Not Just Functional, but Beautiful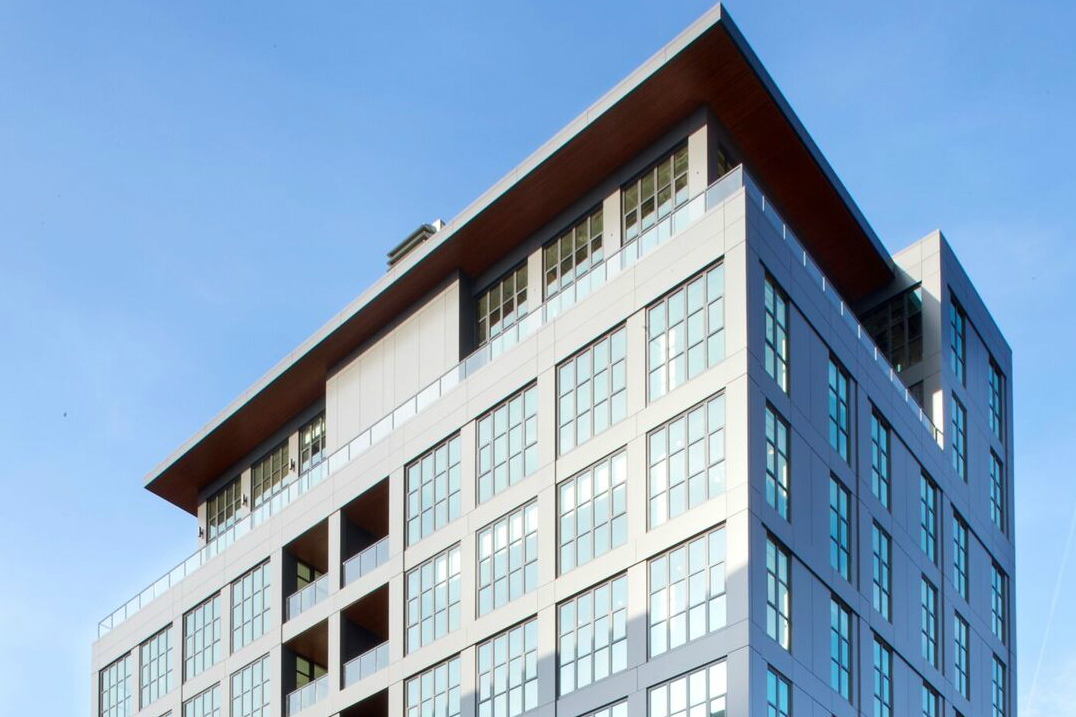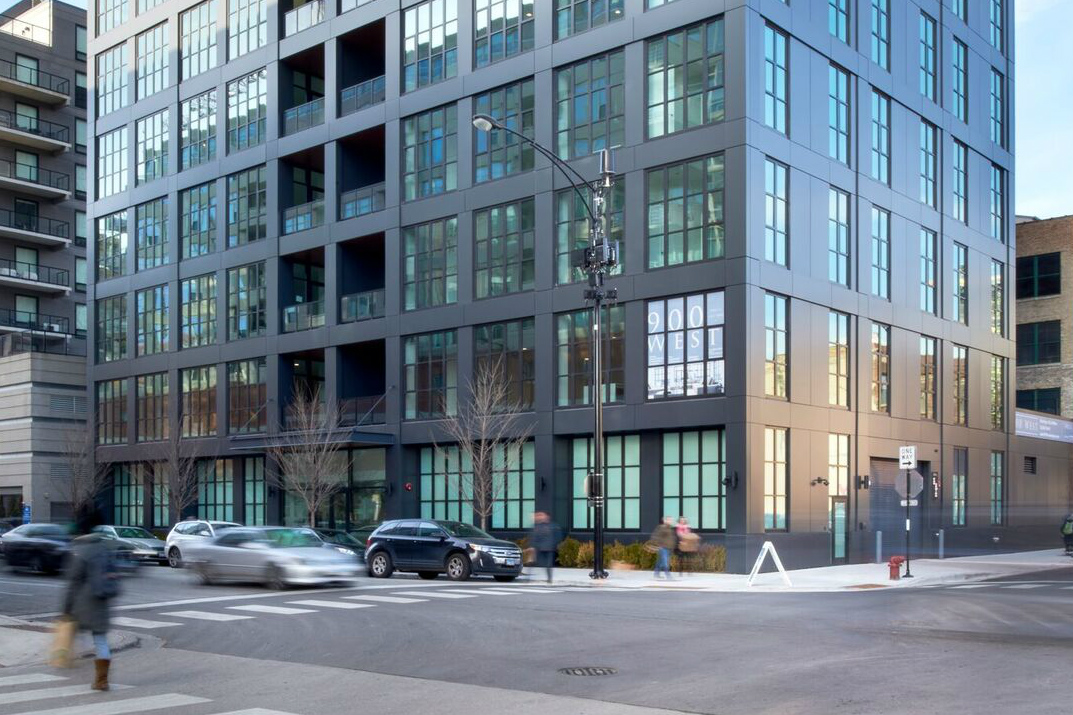 900 West is honored to feature a peerless level of artistry and design from the moment you step through the door.
Czech artist Jakub Nepraš' aesthetic compliments 900 West's urban-meets-urbane design through an intricate lobby art installation. Much like 900 West gives a sleek, modern shape to eco-friendly design, Jakub's aesthetic gives natural, organic form to contemporary society and technology.
Jakub's artistic influence provides a seamless transition from the warehouse chic aluminum-and-concrete exterior – an homage to the neighborhood's industrial past – to the understated luxury within.
Quality is Paramount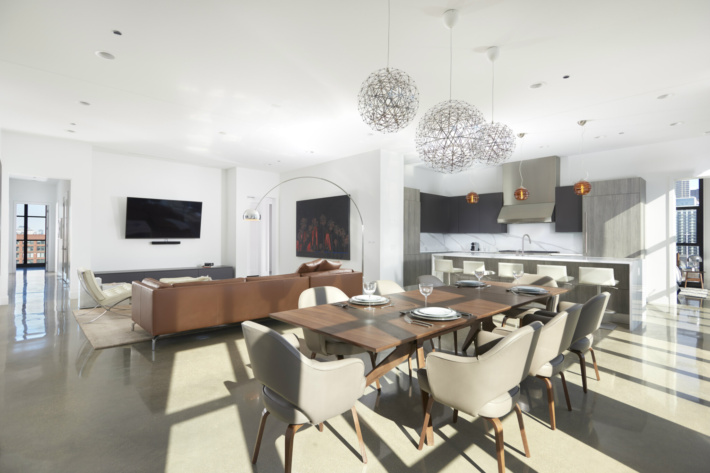 Every inch of the contemporary living space was designed with the utmost attention to detail, fully immersing residents in this decadent dream.
Every inch of 900 West's contemporary living space was designed with the utmost attention to detail. Truly, even the smallest needs are anticipated and met.
The 22 residences bring together a combination of sustainable, efficient elements without compromising design, providing a home of the highest caliber.
Each residence is encased by floor-to-ceiling, sound resistant windows, offering exceptional downtown views.
Residents have control at-a-touch via their built-in ButterflyMX systems, allowing them to monitor their homes and grant access using the interfaced iPad or, when out and about, their smartphones.
900 West also understands that its residents accept no substitutes. The bathrooms and kitchens feature Italian Scavolini cabinetry.
The appliances come from such names as Wolf, Sub-Zero, and Hansgrohe Axor. The marble is Ann Sacks. Even the mirrors – Robern – are top-of-the-line.
Setting the Standard of Guilt-Free Indulgence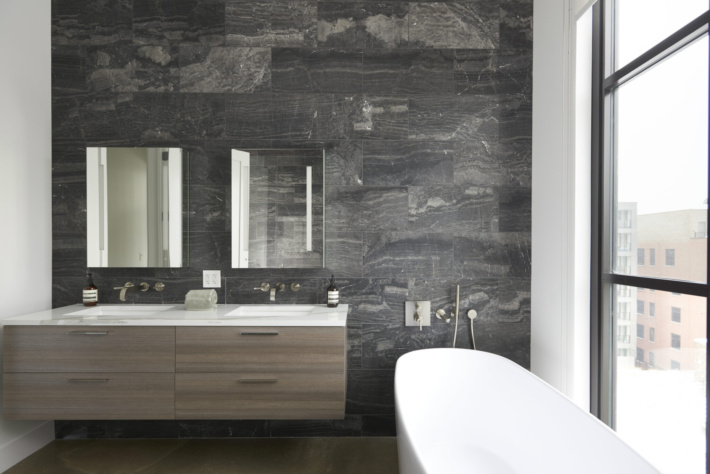 Complete with custom finishes throughout for kitchen, bathroom and flooring, 900 West ensures that even the finest needs are accommodated, providing a finished home of the highest caliber.
900 West is not only well-appointed, but green – it holds the prestigious honor of the sole LEED Gold Certification among mid-rise buildings in the Midwest.
This guarantee of energy efficiency ensures that 900 West's residences can enjoy its immersive luxury guilt-free. However, its eco-friendliness does not sacrifice comfort. In fact, radiant heating in the polished concrete floors and a Carrier cooling system render Chicago's temperature extremes a nonevent.
Welcome to the Neighborhood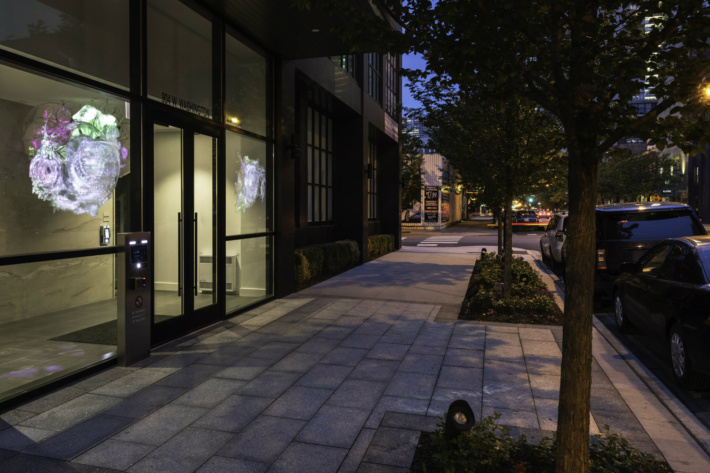 One of Chicago's most coveted neighborhoods, residents looking to settle down here will find themselves satisfied for years to come.
The West Loop is in the midst of a real estate development boom. It attracts a populace of urbanites who appreciate its new multi-unit complexes and its proximity to downtown. In addition to new construction, the neighborhood features loft buildings rehabbed into condos and commercial spaces.
Amenities include world-class restaurants, lounges, and boutique hotels. Art lovers will find their home in a burgeoning gallery scene.
The area is also home to Google Chicago Headquarters and the United Center, home of the Chicago Bulls and Blackhawks. Within the West Loop lies the Fulton River District, a residential and commercial sub-neighborhood bordering the Chicago River. It offers renovated loft buildings as well as newly built condos.
The community is the location of the Union and Northwestern railroad stations, as well as the historic Blommer Chocolate Factory.
The Pinnacle of Life in Chicago
900 West's top-of-the-line construction, foresight, and attention to detail combined with its prime location to offer the absolute height of city living. Residents can experience the sights and sounds of one of Chicago's richest neighborhoods one moment and an oasis of quietude the next.
Two- and four- bedroom residences all feature the same level of indulgence scaled between 1,500 and 5,000 square feet. Exclusively listed by Jameson Sotheby's International Realty, three of the homes have closed, with a further three under contract.
Listing prices range between just under $1 million and $5.5 million. At 900 West, the trendsetters and innovators of Chicago will find themselves immersed in a truly unparalleled way of living.
Exclusive luxury insights
for newsletter subscribers only
Delivered every week to your inbox