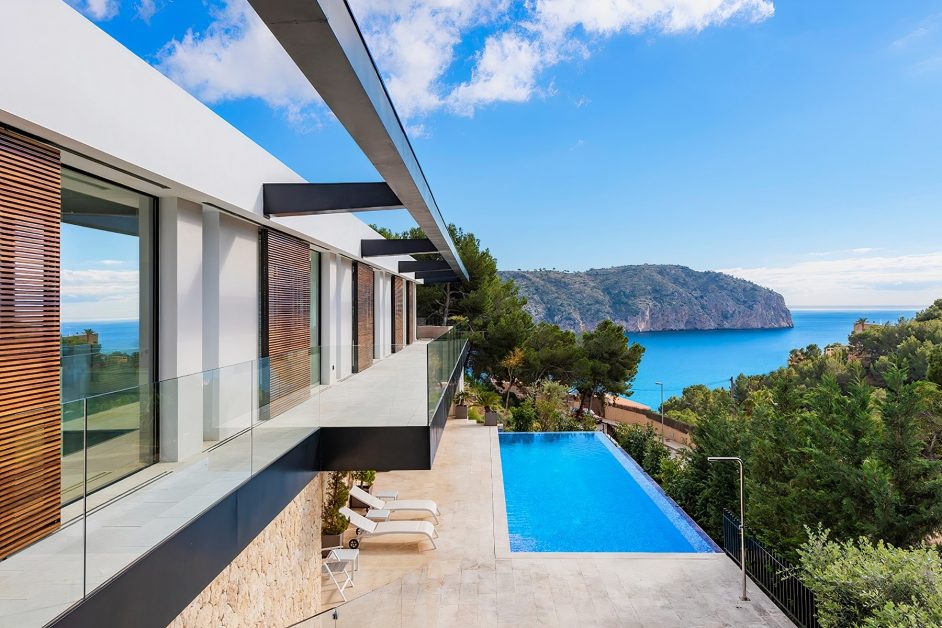 Looking for an investment property in Spain but wondering where to start? Our handy guide gives you the lowdown, offering an overview of the sector, valuable information on whether real estate investment in Spain is a good idea, the pros and cons of property investment in Spain, and a step-by-step outline of what you can expect when it comes to Spanish property investment.
Is Spain good for property investment?
The country's year-round temperate climate and high quality of life make property investment in Spain among the best in Europe. And compared to other investments like shares, real estate is a safe asset.
Moreover, after a slow period due to Covid, rental yields are rising. Indeed, house prices went up by 2.59% to €1,662 per square meter in the first three quarters of 2021 – the best result in two years, according to the Bank of Spain. Meanwhile, the nationwide "Instituto Nacional de Estadistica" INE house price index revealed a year-on-year increase of 4.21%.
The Canaries experienced the biggest growth at 6.95%, followed by Cantabria (6.88%), The Balearics (6.78%), and Melilla (6.66%). Next came Murcia (6.29%), Andalucía (6.04%), Galicia (5.79%), and La Rioja (5.12%).
Meanwhile, sales soared by 35.9% from January to October 2021 compared to the same timeframe in 2020. Out of Spain's 19 autonomous communities and provinces,18 saw skyrocketing demand:
Melilla: 59.4%
La Rioja: 44.1%
Castilla y León: 42.2%
Andalucía: 41.5%
Castilla – La Mancha: 41%
Madrid: 40.7%
Navarra: 39.1%
Cantabria: 38.2%
Cataluña: 36.8%
Valencian Community: 35.8%
Galicia: 34.9%
Aragón: 34.4%
Murcia: 29.2%
Extremadura: 28.5%
Asturias: 27.9%
Balearics: 24.8%
Canary Islands, 18.4%
País Vasco: 16.2%
Only Ceuta saw a decline in sales. Those trends occurred against the backdrop of a global pandemic and the European Commission downgrading Spain's 2021 economic growth forecast to 4.6%, from 6.5%.
Throughout 2022, Spanish real estate experienced one of its best years ever, with an average price per square meter of €1,740 at the end of September (up 4.7% from the previous year). In total, 734,058 properties were sold from September 2021 to 2022 – a 15% year-on-year increase.
Top performers were Guadalajara, Málaga, The Balearics, Pontevedra, and Madrid. However, in the last quarter of 2022, the market began to slow a little.
Advantages of investing in Spanish property
There are obvious benefits to owning a Spanish investment property such as the climate, cuisine, and lifestyle you'll benefit from. There's also the chance to gain residency if you're part of the Golden Visa program. But what else draws people to the country?
Stable and dynamic economy
Spain has a highly developed social market economy – the eurozone's fourth-largest. There's unrestricted access to the European market, around 47.6 million inhabitants, and the country welcomed over 30 million visitors in the first half of 2022.
Rental yields
These have returned to normal post-Covid, ranging from 2.99% to 8.67%, depending on location and property type. According to Global Property Guide, Spain offers moderate rental yields. However, a handful of Spanish municipalities often obtain higher than average, including (but not restricted to) Marbella, Estepona, València, and Cadiz.
Disadvantages of investing in Spanish property
From dealing with paperwork to avoiding scammers, there are several things to look out for when investing in Spanish real estate, although these are common in many other countries too. Read on for Spain-specific issues.
Strongly pro-tenant laws
According to the Global Property Guide, the rental market in Spain is pro-tenant. Rent increases are tied to inflation and they're limited to once a year. What's more, in 2022, the government proposed new legislation around rent control with the Right to Housing Law. Meanwhile, existing tenancy laws have been updated, giving renters further protection.
Multiple and high taxes
Property owners are subject to rental income tax, set at 19% for EU residents and 24% for non-EU residents. Furthermore, the latter can't take advantage of expense deductions. Additional taxes for non-natives include:
Wealth: Based on the net value of your real estate (minus mortgage, if applicable).
Capital Gains: Flat rate of 19%.
Inheritance: Varies by region.
For those who don't rent out their second home, there's still income tax to pay (albeit minimal), set at 2% of the cadastral value.
What's the property market like in Spain in 2023?
As we move into 2023, analyst predictions vary, but they're unanimous in one area: Sales and prices are expected to cool, although figures will still remain high. It's thought there will be around 550,000 transactions. There's much debate around values, with some believing they'll fall by 1% to 3% and others saying they'll rise by up to 2%.
Analysts agree that investors will continue to view property in key locations like the Costa del Sol as a safe haven.
With global political and economic uncertainty, what else can we expect from the Spanish real estate sector? The Bank of Spain predicted "a fall in momentum" into the first half of 2023, based on its forecast of financial uncertainty and interest rates showing no signs of decreasing.
These factors have a negative impact on demand, while high inflation curtails spending further and increases construction costs, slowing the pace of new developments. However, the retail price index is expected to half throughout 2023.
Is it difficult for foreigners to invest in Spanish real estate?
The short answer is no. There aren't any special requirements and foreign property investment is traditionally encouraged by the government. What do you need? A financial number (NIE) – easily obtained from a Spanish police station. There's also the Golden Visa route, gaining non-EU investors residency when they purchase Spanish real estate worth more than €500,000.
Investing in property for US citizens
There are no restrictions for Americans if they want to invest in Spanish real estate. US citizens can visit the country for up to 90 days over a period of 180 days without applying for a visa.
Investing in property for UK citizens after Brexit
Brits are still able to buy real estate in Spain; the costs and process are broadly the same. And now, UK residents can take advantage of the Golden Visa program that's open to non-EU nationals.
What's changed is the rental income tax rate: EU residents pay 19% and UK natives are subject to 24%.
How to buy an investment property in Spain
If you've decided it's a good time to buy a second home or a rental property, there are 12 core stages to investing in Spanish real estate, from online search to signing the final contract.
Step 1: Choose a location 
Explore a range of destinations across your preferred landscape, be it beachside, countryside, or city living, and narrow your search down to an area or region. Many second-home investors veer towards the Costa del Sol, but there are plenty of places to discover, from the Balearic Islands and Costa Blanca to Barcelona and Madrid.
Ask yourself:
Do I want to live in a traditional or an ex-pat community?
What kind of environment do I prefer?
Which amenities and leisure pursuits would I like close by?
What healthcare services do I need?
Do I want to rent the property out for part of the year?
Am I looking for appreciation, income, or both?
Step 2:  Decide on the property type 
Spain offers all manner of real estate, from sprawling estates and new build condos to eye-catching villas and traditional fincas. There's also the opportunity to buy off-plan, where buyers often have input into design and finishes.
Note: Freehold and leasehold land don't exist in Spain; when you buy a property you own it outright.
Step 3: Online search
Now you have a location and type, start looking online at properties within your budget. Often, Spanish real estate is represented by several agencies, so don't be surprised if listings are across multiple websites.
Step 4: Apply for an NIE number
As mentioned, there are no restrictions for non-nationals buying property in Spain, but you do need an NIE – a taxpayer identification number that's essential for financial and legal activity. Alongside a Spanish police department, it's also possible to obtain an NIE via the Spanish consulate in your home country.
Step 5: Open a Spanish bank account
This isn't strictly a necessity for non-nationals in terms of property-related transactions, but it does make things simpler. Moreover, when you own a property in Spain, it's difficult and often impossible to pay for utilities from an overseas bank account. The process of opening an account can be straightforward or time-consuming, depending on the bank.
Step 6: Plan property viewings
Professional real estate agencies can help here: Contact them to talk about your criteria and wish list, and to arrange visits. When you find a property, make an offer via the seller's agent. Negotiating is acceptable, like in other countries. When an agreement is reached, a notary will summarize the offer in writing.
Step 7: Consider home survey options
This isn't a legal requirement, but advisable, particularly if the property is older – potential issues will be flagged up.
Step 8: Carry out due diligence checks
So, you've found an investment property in Spain and had an offer accepted, what next? Retain a conveyancer for the legal side of things. They'll verify who actually owns the home, investigate debts or other charges registered against it, ensure the structure was built lawfully, and check urban planning records and licenses.
Once you've considered the risks and decided to proceed, a pre-agreement is usually signed and it's time to part with some money – a percent of the total price as a deposit (usually 10%). Completion is usually one to two months from this point.
Step 9: Mull over financing options
In general, if you're a non-resident, it's possible to borrow up to 50-70% of the property's assessed value (80% otherwise). Enlist the help of a broker to obtain the best deal and lender for you (if applicable).
Step 10: Review money transfer options
When large sums of money are transferred from a regular bank account to a Spanish one, fees may be involved. Be sure to look into these and the exchange rate you'll receive. Make sure funds are transferred well in advance of when they're required – the process can take time.
Step 11: Sign the final contract
When all checks and investigations are made and you and your conveyancer are satisfied, a completion date is set and paperwork is drawn up and signed in front of a notary.
Step 12: Post-completion taxes
Purchase tax is paid on your behalf by the seller to the tax authorities and the property is registered in your name. Estate agent fees are also paid by the seller – around 3%. More on the taxes you'll pay below.
What kind of taxes and fees will I need to pay?
Costs the buyer is responsible for include:
Property transfer tax. This is 6-10% of the purchase price, depending on location.
Notary, land registration fees, and title deed tax: These amount to 1-2.5%.
Legal fees: Here, you'll pay approximately 1%.
Buying a residence off plan? You'll pay Spanish VAT (IVA) – currently 10% of the purchase price. Be sure to factor these outgoings into your budget.
Once you own the property, there's also council tax ("Impuesto Sobre Bienes Inmuebles" or IBI) and annual non-resident's income tax to take into account. The former is similar to the UK – calculated by the local municipal authority, it accounts for 0.4-1.3% of the cadastral (rateable) value. The latter varies depending on whether you rent your second home out and where your primary residence is.
Find your property investment in Spain
Looking for an investment property for sale in Spain? Browse JamesEdition's selection of luxury real estate in Spain, covering everything from sea-facing villas and countryside hideaways to city-center boltholes and island retreats.
Read more: