2012 Aston Martin One-77. Source: RM Sotheby's
On September 17, 2021, RM Sotheby's conducted its first-ever boutique Swiss sale grossing an exceptional CHF16.5 million (approx. $18 million) with eight lots exceeding CHF1 million.
The event held at the Kempinski Hotel, St. Moritz was organized in association with the Bernina Gran Turismo and the International St. Moritz Automobile Week.
The Bernina Gran Turismo is one of those classic car events built on a legacy of a famous Swiss mountain race from the early days of motorsport. Restarted in 2014, it became one of the most exciting races for classic cars held on twisty mountain roads and spectacular scenery.
Even though the hill climb track is only 5.7 kilometers long, it is packed with over 50 curves, a true bliss for any classic car fan. It is no surprise that Bernina Gran Turismo is considered one of the best such events, and it is more popular each year.
In 2021, the race weekend (16 – 19th September) was accompanied by a car auction held in Europe's top ski resort St. Moritz located just below Bernina Pass.
It was the first RM Sotheby auction held in St. Moritz and smashing success with 24 carefully chosen and very desirable classics and supercars which drew quite a bit of attention from knowledgeable collectors. It is considered to be a "boutique" sale with a significantly smaller number of lots, but each one is precious and rare.
The auction's success showed that the approach was correct, and several cars even exceeded the pre-sale estimates. Interestingly, amongst the cars featured in this auction, RM Sotheby also offered the Pininfarina Legende eClassic, a classic car driving simulator.
Here is our take on the best auction sales from St. Moritz auction, and some interesting lots still waiting for buyers.
The most impressive sales from RM Sotheby's St. Moritz
1.  2012 Aston Martin One-77: "British Zonda" in exquisite Brown Pearl Color
Estimate: 1,000,000-1,500,000 CHF (approx. 1,084,000-1,626,000 USD)
Sold For: 1,720,625 CHF (approx. ​​1,865,000 USD)
2012 Aston Martin One-77. Source: RM Sotheby's
To a casual observer, One-77 might look like DB9 with a wider stance or long hood, but this couldn't be further from the truth. The Aston Martin One-77 is a separate model with unique features, an insane level of luxury, and extraordinary power and performance. Powered by a 7.3-liter Cosworth V12 engine with 750 hp, this supercar was envisioned as a competitor to the world's fastest and most exclusive models. With the list price of over 1 million pounds and astonishing performance, we can safely say that One-77 accomplished its goal. This gorgeous car is one of just 77 made (hence the name), and it is practically new with just over 1,000 on it. So, the selling price of over 1,7 million CHF is no surprise.
2. 2015 Porsche 918 "Weissach" Spider: the Fastest Modern Porsche in Matte Black
Estimate: 1,150,000 – 1,400,000 CHF (​​approx. 1,247,000-1,518,000 USD)
Sold For: 1,411,250 CHF (approx. 1,530,000 USD)
2015 Porsche 918 "Weissach" Spider. Source: RM Sotheby's
The Porsche 918 was introduced in 2013 and immediately became part of a trio of advanced supercars, shaping the industry and introducing hybrid technology in this segment. Arguably the best of the three, 918 with its rare Spider variant was recognized as being the most accomplished and better to drive than LaFerrari or McLaren P1. That is why RM Sotheby was delighted to have it in St. Moritz lineup in a desirable "Weissach" Package with less than 3.700 kilometers from new. This example is one of just 219 Spiders made, and it is a German-spec car maintained by Porsche Zentrum in Stuttgart.
3. 1958 BMW 507 Roadster Series II: the fabled project started as a commercial flop
Estimate: 2,000,000-2,200,000 CHF (approx. 2,169,000 – 2,386,000 USD)
Sold For: CHF2,142,500 (approx. 2,323,000 USD)
1958 BMW 507 Roadster Series II. Source: RM Sotheby's
Inspired by legendary Austrian-born, New York-based automotive importer Max Hoffman—who had introduced the likes of Jaguar, Porsche, and Mercedes-Benz to the burgeoning 1950s US car market—the 507 was intended to revive BMW's image as a manufacturer of luxury and sporting cars, whilst simultaneously offering a viable alternative to the likes of Mercedes' 300 SL Coupe and the Porsche 356 Speedster. In mid-1957, after the production of just 34 retrospectively titled Series I cars, the Series II 507 was introduced, offering a revised dashboard, greater cabin and boot space, and a more discretely stowed fabric roof. However, the car's lengthy gestation period and higher-than-anticipated production costs meant that—much to Hoffman's chagrin—BMW never came close to meeting either his suggested selling price or projected production numbers.
This magnificent Series II example—chassis number 70175—left the Milbertshofen factory on 2 September 1958, finished in the classic BMW combination of Papyros (off white) with contrasting red and white leather interior. The car was originally fitted with engine number 40193 which it retains to this day.
4. 1955 Austin Healey 100S: the original power roadster
Estimate: 650,000 – 900,000 CHF (approx. 705,000 – 976,000 USD)
Sold For: 702,000 CHF (approx. 761,000 USD)
1955 Austin Healey 100S. Source: RM Sotheby's
The Austin Healey 100S everlasting design, racing heritage, and place in automotive history make it one of the widely recognizable classic roadsters which influence dozens of car companies. It was a lightweight roadster (this example is one of 50 with an aluminum body) with a powerful engine that combined open-air excitement with thrilling performance. This particular example is not just one of the cars originally delivered to Switzerland but also an active participant in the local racing scene back in the 50s, being driven by its original owner, Giorgio June, a Swiss racing driver. After its career, it was put to storage and eventually carefully restored by marque specialist Steve Pike.
5. Pininfarina Leggenda eClassic Simulator: enjoying vintage racing events from the comfort of your home
Estimate: 120,000 – 150,000 CHF (​​approx. 130,000 – 163,000 USD)
Sold For: 192,000 CHF (approx. 208,000 USD)
Pininfarina Leggenda eClassic Simulator. Source: RM Sotheby's
One of just nine built, this unique piece of automobilia is the perfect blend of 21st-century consumer electronics with romantic lines from Pininfarina's history. Using the lines of legendary Cisitalia 212 as an inspiration, Pininfarina created a driving simulator designed to recreate the look and the feel of a classic roadster for a complete experience. It is handmade just like the original Cisitalia and features leather seats, an aluminum body, and a wooden steering wheel. Sold with membership to exclusive eClassic Club, this simulator is perfect for recreating famous races and connecting with other eClassic Club members.
… And 3 supercars still for sale
1. 2011 Ferrari SA Aperta: improving the perfection
Price upon request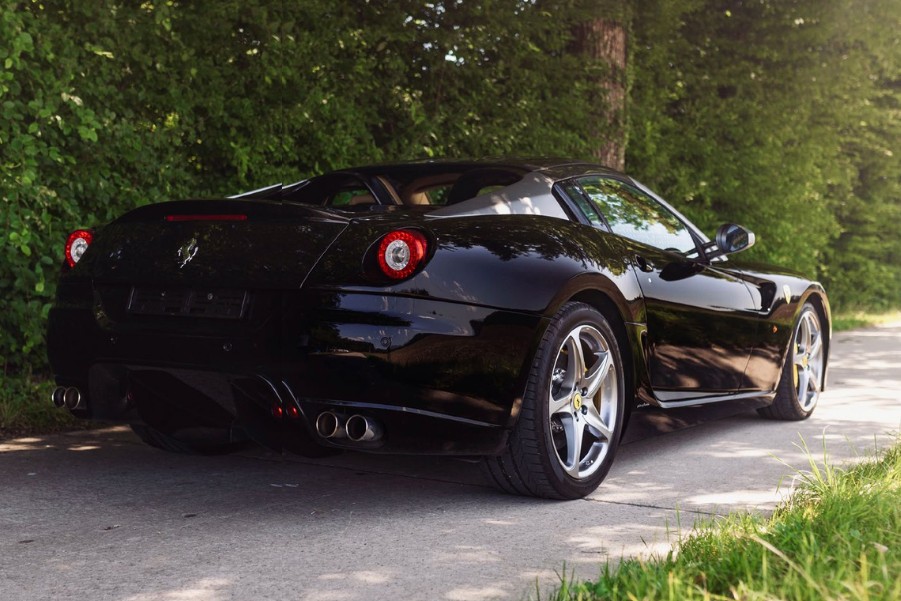 2011 Ferrari SA Aperta. Source: RM Sotheby's
Even though most enthusiasts think of mid-engine supercars when they hear the Ferrari name, for true connoisseurs, prancing horses would always be synonymous with thoroughbred GT cars. The SA Aperta was one of such models. Introduced in 2010 as an open-top version of 599 GTB Fiorano, Aperta is far more exclusive (just 599 cars were made) but equally fast and exciting. This 2011 model, in very desirable color combination and perfect condition, opened the 2021 RM Sotheby's St. Moritz auction with an estimate from 1.200.000 to 1.600.000 CHF but unfortunately failed to sell.
2.  2018 Porsche 911 Turbo S Exclusive Series: the everyday supercar with insane performance
Price upon request
2018 Porsche 911 Turbo S Exclusive Series. Source: RM Sotheby's
The 911 Turbo was always considered a supercar that could be used daily. The combination of enormous firepower coming from a twin-turbo flat-six engine, confidence-inspiring all-wheel-drive, and comfortable and luxurious interior makes this car one of the most desirable products from Stuttgart. The vehicle in question is the even more powerful Turbo S and part of the Exclusive series which only 500 were produced. It has covered just over 1000 kilometers from new, and it is rated at 580 hp, good enough for an insane 0 to 60 mph time of just 2.9 seconds.
3. 2005 Saleen S7 Twin Turbo: American exotic with muscle car roots
Price upon request
2005 Saleen S7 Twin Turbo. Source: RM Sotheby's
Rarely seen in Europe, Saleen S7 Twin Turbo is one of the most interesting American supercars. Designed and built by Steve Saleen, a famous racer-turned constructor, S7 is his first supercar, introduced in 2000. However, in 2005 the S7 Twin Turbo was presented and immediately became one of the fastest production cars in the world. With a massive 7-liter V8 accompanied with two turbochargers, S7 is producing 760 hp and can sprint to 60 mph in 2.8 seconds, which is still insanely quick, even by today's standards.