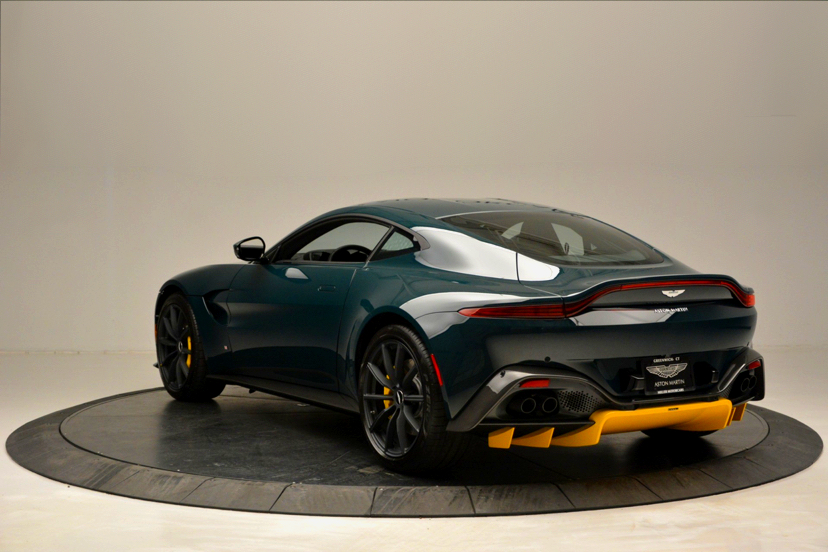 How much is an Aston Martin Vantage? To answer this question, let's take a closer look at this iconic car. "Vantage embodies all that is beautiful in our performance sports car range," say Aston Martin officials. It was first produced in the late 1970s to help the brand win new customers — successful, young businessmen — and increased prices by 25%.
Today, with around 100 new and used Vantage cars available on the resale market, V12 and V8 prices can vary greatly, depending upon the cars' production years as well as their engine and body configurations.
Currently, the highest-priced Aston Martin Zagato is the classic, collectible 1999 Vantage 600 Le Mans, No. 39 of 40 ever made. And the second-highest price (US$653,000) is asked for the modern 2016 Aston Martin GT12, sporting a dual-clutch gearbox from Dubai.
On the low end, the 2016 V8 GT from Cleveland (US) is the most affordable Aston Martin Vantage in the list with the price tag of US$71 900.
The median price that a car enthusiast searching for a new Vantage should expect ranges from US$160,000 to US$225,000 with about 70 Aston Vantage cars put up for market in this price range.
How much is a Aston Martin Vantage V12?
The coolest Vantage examples, including the Zagato, GT12, or Vantage S, come with a high-performance V12 engine. Production of V12 Vantages ceased in 2018, so cars that currently are on the market may be the last examples available for purchase.
GT12 cars are some of the most expensive Aston Martins, as of today. Currently, three examples are available for sale on the global market. The 2015 right-hand drive GT12 from the UK with a price of approx. US$435,560; the 2016 GT12 RWD from the UAE with a price of US$653,000; and another car from the UAE with a stunning racing-inspired design and a "price on request" tag.
The V12 Vantage S Red Bull Racing Edition went up for sale in Sunningdale (UK) with a price of approx. US$248,865. This model with a 7-speed, dog-leg gearbox began the "innovation partnership" which continued with the Valkyrie1.
The 2013 Aston Martin Zagato from Greenwich (US) is a rare example hand-signed by Andrea Zagato. The signature can be found in the engine bay, interior details, and the owner's manual. Like many rare, collectible cars, Zagato models often arrive on market with "price on request" tags.
Other V12 rare cars you may want to own are a bespoke 2018 V600 (the final variant of the Vantage V12), a Carbon Black version produced for the American market, or a GT3 racing version. When these unique examples appear in our stock, they quickly find new owners among car enthusiasts and collectors.
Limited-edition series excluded, you can become a V12 Vantage owner for as much as roughly US$105,000-US$130,000. This amount can buy you the V12 Vantage S convertible, Vantage roadster or a beautiful, blue coupe.
How much is an Aston Martin Vantage V8?
The Vantage V8 comes equipped with a powerful, twin-turbocharged engine that will be no less impressive on the road than its V12 peers. And it no doubt will turn heads.
The star of recent years, the Vantage AMR with 7-speed manual transmission can cost you US$192,00-US$215,000, depending upon the variety of additional perks.
Regular Vantage V8 (if you even can call this car "regular") produced in 2019-2020 years comes to market with prices ranging from  US$152,900 (base price) to US$228,752.
The highest-priced cars boast special paint colors, carbon fiber aerodynamic bodypacks, premium audio, contrast brake calipers, and other striking exterior and interior details. Vantage V8 cars produced between 2015 and 2018 can cost approximately $US54,000–US$95,000.
That said, some new examples with nice specs can be worth as much as US$198,000. And if a rare N430 version of the Vantage V8 comes to market, be prepared for a price of about US$85,000– based upon the N430 example sold a few months ago in Dubai, marketed via JamesEdition.
But the most expensive V8 Vantages are the classic models. The unique 1999 Le Mans versions lead the list with price tags of US$550,000 to US$886,506. Classic Vantage Volantes go for an impressive US$429,000 (1988) and US$214,995 (1980). And the 1966 DB6 Vantage is worth nearly US$325,000.
More inspiration from JamesEdition:
Exclusive luxury insights
for newsletter subscribers only
Delivered every week to your inbox