With all the events of the past 12 months, there has been a boom in the market for survivalist products and gadgets for all the doomsday preppers out there. That boom has apparently extended to vehicles as well. After all, to survive Armageddon you would need the right car, wouldn't you?
Well, for a price there is a company in South Florida, appropriately named So Flo Jeeps, that will sell you a Jeep fit for the end of the world but also one that's plush enough on the inside to sit out the end of days in comfort. At the moment, JamesEdition seems to be the only place to find these vehicles online. There are four currently listed, all available in Fort Lauderdale, Florida.
So Flo Jeeps sells these Jeeps under the sister company brand name "Apocalypse Manufacturing," and keeps the theme going with model names like "Hellfire," "Sinister 6," and "Doomsday."
Apocalypse starts with a standard Jeep Gladiator pickup, which starts at about $34,000 from a normal Jeep dealership, then embarks on a six-figure build that swaps the engine, lengthens the chassis, adds another rear axle for six-wheel drive, and much more.
Buyers can choose from three different engines for their Apocalypse Jeep. There is a 3.0-liter twin-turbo diesel engine, a 6.2-liter 500-hp LS3 lifted from a Corvette, or a 6.2-liter 750-hp supercharged V-8 from the Dodge Hellcat.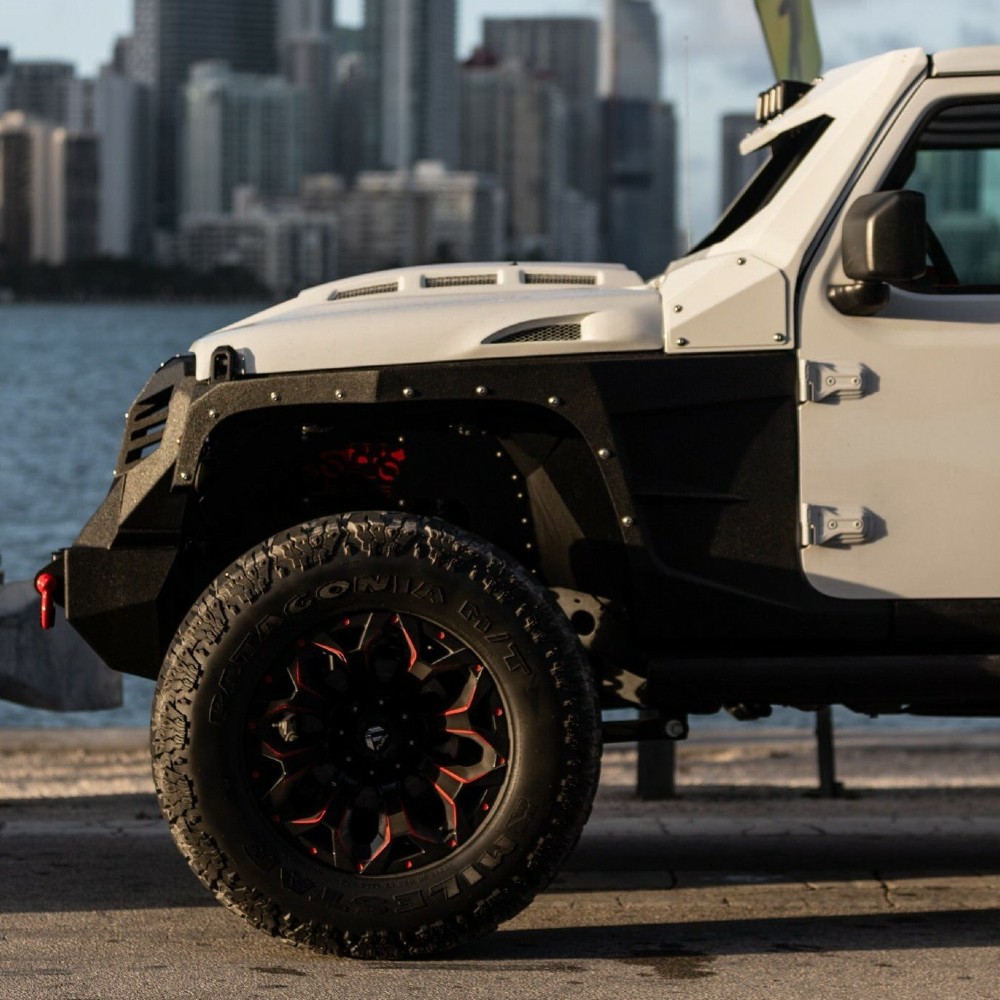 2021 Apocalypse Sinister 6.
There are a few clear differences between the Apocalypse models, but all three get a 9,500 winch, 1/4-inch full steel face, high-output LED headlights with color changing halo ring, fiber-molded hood, steel windshield armor, power funning boards, three-part Kevlar protective coating, full steel rear bumper and hitch, active suspension, and massive 40-inch tires. It's not all about roughing it, though, as all three Apocalypses come with full marine-grade hand-stitched leather upholstery that extends from top to bottom as well as modern creature comforts from any new car like Bluetooth, navigation, premium audio, and Apple CarPlay.
The Hellfire model adds features like a roll-down metal locking enclosure for safeguarding valuables, and 8-foot pickup bed, and removable roof and doors. The Sinister 6 also gets the removable roof and doors as well as the 8-foot bed, but also adds an aluminum roll cage, while the Doomsday adds removable T-top and doors and a shorter 4-foot bed.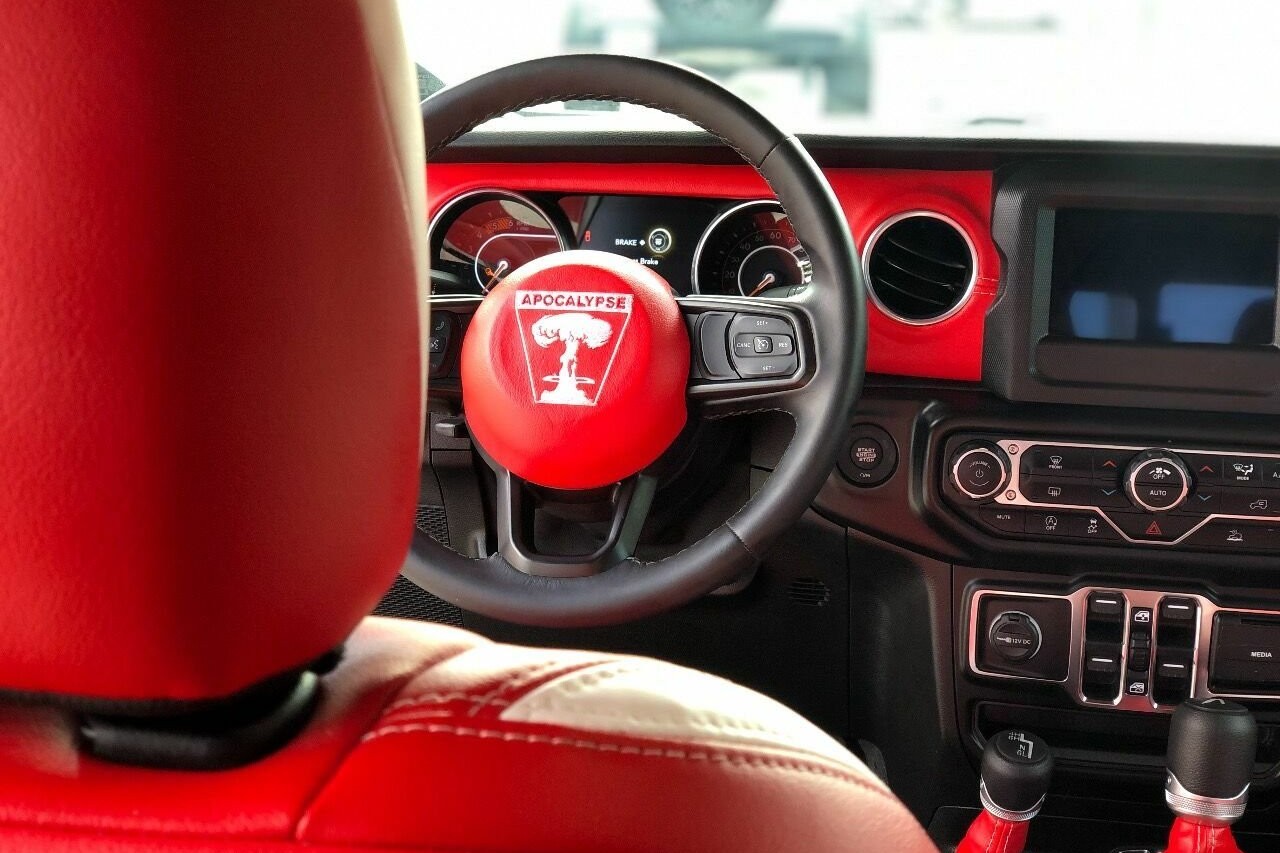 Apocalypse Sinister 6 has a number of modern "creature comfort" features and interior trimmed in red hand-stitched leather.
Surviving the end of the world doesn't come cheap.
Such survivalist vehicles aren't a totally new trend, and they have always come at a price. Canadian companies Inkas and Conquest vehicles both make armored behemoths called the Huron APV and the Knight XV, respectively. Another one, called the Marauder, hails from South Africa. Mercedes-AMG, meanwhile, makes the G63 6×6 and German tuner Brabus makes its own version called the Brabus B63S. All of these vehicles run well into the hundreds of thousands of dollars, and the Apocalypse Jeeps currently listed on JamesEdition come in at nearly $180,000.
These ready-for-anything Jeeps look like nothing else on the road. They certainly don't look easy to park given their extreme length, but once the apocalypse comes you won't exactly have to worry about that kind of thing anymore.
By Andrew Newton