LIOQA represents a new way of investing, relaxing, and living for high-net-income individuals looking for exclusivity, a VIP approach, extravagance, and safety.
The upscale boutique resort comprises 21 deluxe villas, a private beach and marina and is ideally located on the west coast of Ugljan – the first island in the Zadar Archipelago. Spread over four hectares, 14 properties are left to buy, with options ranging from four-bedroom villas with 195 square meters of inside space up to five-bed villas across 346 square meters.
Exclusive LIOQA Resort
The complex was developed by SITNO HOLDING Real Estate (SHRE), an acclaimed company that has offices in Luxembourg, Prague, Croatia, and Bratislava and boasts nearly two decades of experience.
Meanwhile, world-leading and forward-thinking Argentinian architect Carlos Lamas is overseeing design. Based in Marbella, previous clients include celebrities, and his work has featured in national and international press, publications, and magazines.
The uber-modern fully serviced resort is due to complete at the end of 2023 and will offer a hassle-free solution with absolute privacy and 24/7 security.
LIOQA Resort
Residents will be able to enjoy landscaped grounds, two community swimming pools, a terraced restaurant and bar, and an outdoor workout area – all in an unparalleled setting on one of Croatia's most desirable isles.
Also known as the Green Island of the Adriatic Sea, scenic Ugljan is famed for its natural green landscape and azure bays, but is a mere hour from bustling Zadar.
With an ideal southwest orientation, the contemporary residences look out to the water – some as close as 50 meters from the shore. Enjoy glorious sunsets from your garden, through your floor-to-ceiling windows, or grab a lounger on the sand. The private beach is for homeowners and their guests exclusively, with houses allocated sunbeds and shades to match capacity.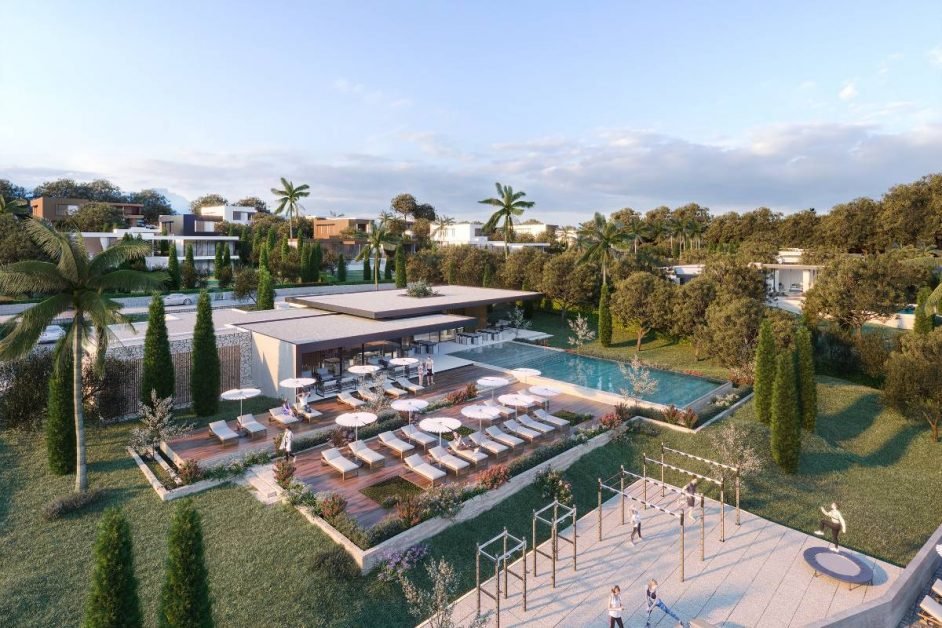 LIOQA Resort
Each property features an Equitone stone and macrofibre façade, and inside they're finished with meticulous attention to detail. High-end technology includes products from Miele and Sonos, plus a Gira KNX smart home system that controls everything from security cameras and lighting to the air quality and swimming pool temperature.
Ugljan's appealing island lifestyle
The peaceful isle is dotted with fishing ports and home to just seven villages, with the largest – Ugljan – located in the northwest.
Green and mountainous, the island is named after the Croatian word for olive (ulje) and filled with groves. Known for its beaches, bike paths, and hiking trails, popular spots include Preko, Kali, and Kukljica.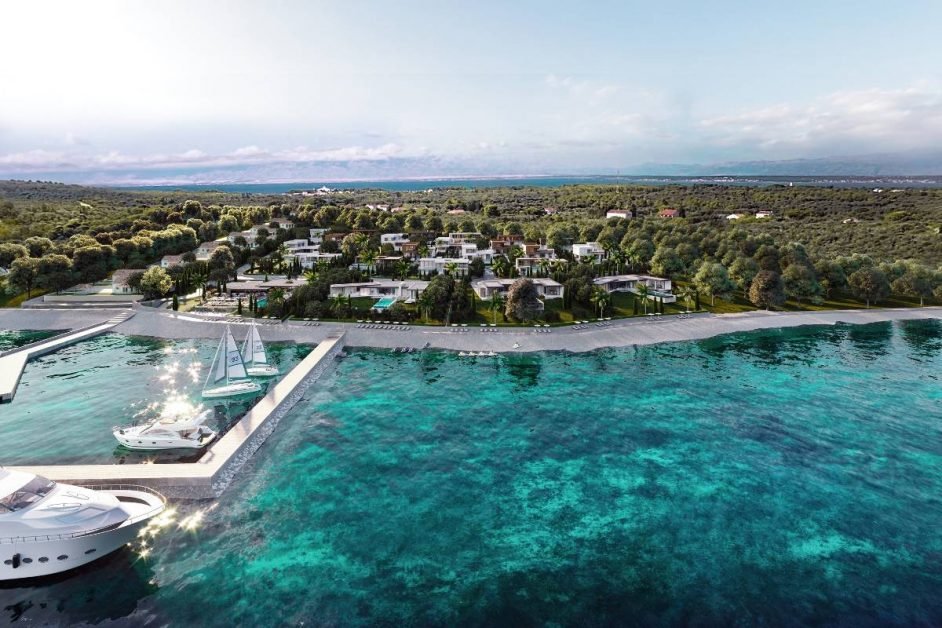 LIOQA Resort, Ugljan, Croatia
A regular ferry connects Zadar's waterfront (Gaženica) with Preko – Ugljan's main port. There are 12-18 crossings a day, and the trip takes just 25 minutes. You're also within easy reach of National Park Kornati – often referred to as a "nautical paradise".
Top villas for sale at LIOQA
Colliers – LIOQA Resort's exclusive partner – is handling sales, with properties starting at €1,576,000 ($1,700,425) and going up to €2,603,000 ($2,511,795). Each is designed with comfort and luxury in mind, spanning four and five bedrooms. Continue reading for a couple of eye-catching examples.
Mediterranean four-bedroom villa
Price: €1,848,000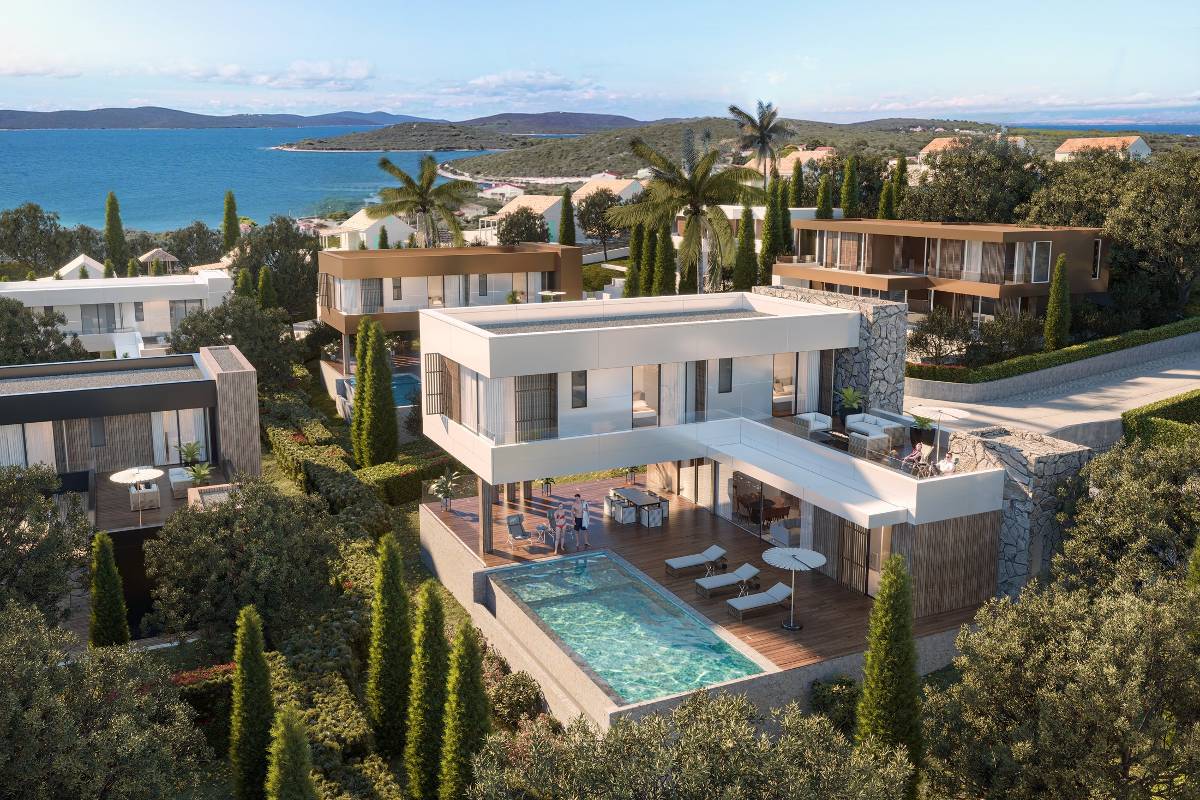 Sitting on a sea view plot of 860 square meters with 278 square meters of inside space, there's open-plan living galore and each bedroom has an en-suite. Out in the garden you'll find an inviting infinity pool at ground level; upstairs, there's a large terrace to admire the news from. Inside it's welcoming, with pale tones, oodles of light, and modern fixtures. Relax with a glass of something cold, laze by the pool, or enjoy al fresco meals in the covered outdoor dining space – take your pick. The home also comes with an underground playroom/fitness den (depending on your preference) and a two-car garage.
Deluxe five-bedroom residence
Price: €2,328,000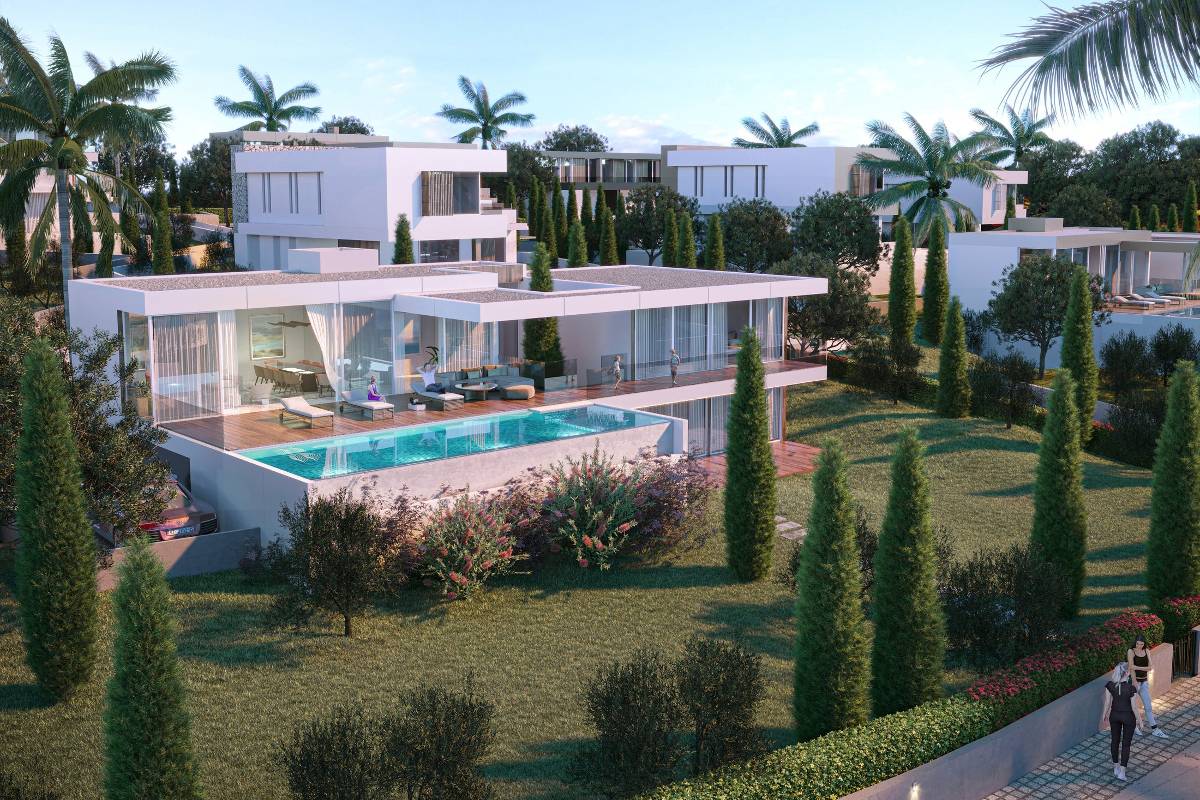 This striking villa boasts five bathrooms and 346 square meters of interior space, plus covered parking for two vehicles. On a lot of 1,140 square meters, gaze out to the manicured grounds and the sea beyond from your infinity pool and spacious decking. Spread over two floors, there are plenty of indoor/outdoor living opportunities – ideal for entertaining and making the most of the temperate climate. Back inside, shades of grey decorate the spacious rooms. If you own a boat, dock at the private marina, then make your way to your seafront property.
Croatia's thriving housing market
Over the last 10 years, foreign investors have pumped more than €33 billion ($35,605,350,000) into the country, making Croatia an incredibly sought-after destination in terms of tourism, finance, and energy. The residential sector is booming, with 72% of all real estate investments at the hands of overseas developers, making Croatia an international market.
LIOQA villas is an excellent investment opportunity, enviably located in a sea-facing position and easy to reach.
The gated community also offers total privacy and safety, plus sports and wellness facilities and first-rate dining experiences at the beach club. The reception area is available 24/7 for owners and guests, with highly trained staff on hand to assist with any and all requirements.
Half of the world-class villas were snapped up before marketing and selling activities began and just a handful of plots remain. Overall, Croatia's real estate market has much potential, with significant growth and returns expected in the coming years.
Contact Colliers, an exclusive sales partner of the LIOQA Resort development, to find out more about the available properties.