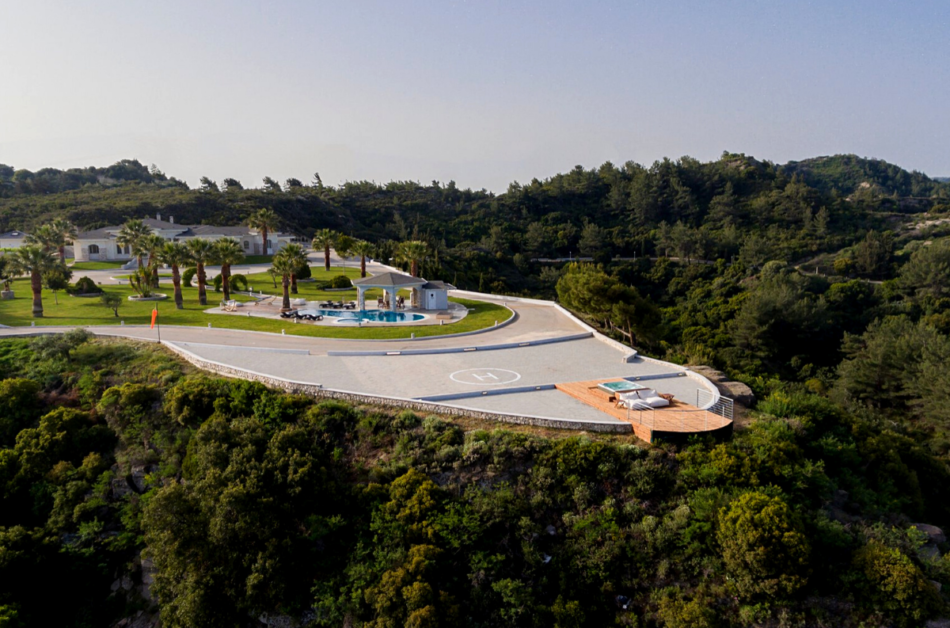 Helipads have appeared on the list of top luxury home improvements for years but only recently have become available in wider circles of affluent buyers. Today, not only multi-million dollar estates boast private landing places. You can even find a helipad home for sale for around 1.4 million euros. The price is below average for upscale real estate in Valencia, Spain where this specific property is situated.
Still, houses with helicopter pads are rare finds. We picked up 12 estates in seven countries that combine the best opportunities that owning a helicopter can give its owner: access to remote locations, panoramic views, and incredible landscapes.
1. Classy house with a helicopter pad in Rhodes, Greece
This is one of the most majestic properties in Greece that we have on the site today. With a price of less than US$3 million, the home boasts every conceivable "dream house" feature, including an infinity pool, resort-style spa facilities, and a helipad located in the most scenic area of the property.
2. Self-sustainable home with a helipad in Quebradillas, Puerto Rico
One-of-a-kind estate in the Caribbean; this home won two CEMEX awards in 2017 for its sustainable design. If you are looking for a truly off-the-grid and safety-oriented lifestyle, this home is ideal for you. Having a helicopter guarantees access to any part of the island.
3. Contemporary home with a helipad in Arizona
This built-to-suit property was created in 2019 by an award-winning architect from Scottsdale: C.P. Drewett. The 18,000 sq.ft. house is perfectly situated on a mountain-top estate lot with a helipad that forms a natural extension of its futuristic construction.
4. Villa with a helicopter pad in Grimaud, French Riviera
The villa is situated near the renowned Beauvallon golf course. This is one of the most sought-after locations in the Gulf of Saint-Tropez. The south-facing property enjoys a dominating position with a sea view — and a helipad is the highest spot of surrounded grounds.
5. Full-floor penthouse with a helicopter pad in One Thousand Museum, Miami
The Scorpion Tower/One Thousand Museum, designed by Zaha Hadid, is located in downtown Miami. It is the most recognized apartment building of recent years. And, no doubt, a timeless architectural masterpiece. One Thousand Museum's limited collection of museum-quality residences includes duplex townhomes, half-floor residences, full-floor penthouses, and a single duplex penthouse.
6. Villa with a helipad Energia in Mykonos, Greece
Built in 2016, the property overlooks the bays of Agia Anna and Kalafatis on the southeastern side of Mykonos. A private staircase leads down to the sea, and the secluded helipad makes the beaches of Paros, Naxos, and Los easily accessible by air.
7. Waterfront house with a helicopter pad on Lake Norman, US
A helicopter pad on the pier? Why not? This extraordinary luxury improvement belongs to an elegant, lakeside manor located in North Carolina. Other features include five custom fireplaces, a two-story wine cellar, a classic "men's lounge" with a humidor, and an antique bar.
8. A 19th-century palace with a helicopter pad in Sardinia
The most expensive helipad-equipped property on our list has hosted aristocrats and jetsetters since 1880. The Romanov princesses and Italian royalty were frequent guests, and the helipad reportedly was used by Antoine de Saint-Exupéry.
9. Mansion-style home with a helipad in Costa Rica
Castillo del Sol is a mansion surrounded by rainforest, located on a mountain top with a trail leading through picturesque, jungle landscape to its helipad. Owners will enjoy sunset views over the Pacific Ocean.
10. Villa with a helipad Endless Horizon in Zakynthos
Yet another helicopter home in the Greek Islands. The property is designed in a minimalist, contemporary style, with clean lines, large windows, and an eye-catching cubic structure.
11. House with a helicopter pad in Rio de Janeiro
This waterfront home is located on the beautiful coast of Ilha Do Jorge, Angra dos Reis. Its helipad makes the surrounding islands and numerous, inland natural landmarks accessible easily and at any time.
12. Country house with a helicopter pad on Lago di Pusiano, Como
This charming country house, surrounded by a park of about 6 hectares, features a pool, tennis court, pond, and a helipad in the backyard. No doubt, the helipad will be used often, since Venice and Florence are about 350 km away, and Portofino and Forte dei Marmi are only about 200 km from the property.
As you can see, helipad homes currently are available for sale all over the world. The owner of a private helicopter can buy a property situated on a private island in Brazil, a renovated farm in Aljezur, Portugal, or a majestic, 17th-century villa in Italy.
A helicopter landing space is not simply yet another trendy, prestigious design feature but a useful improvement with the power to elevate living standards and save time. It's no wonder that billionaires all over the world (from the world's richest man Jeff Bezos to Asian magnate Mukesh Ambani) choose to add helipad homes to their real estate portfolios.
More inspiration from JamesEdition:
Mansions in Los Angeles: Bel Air, Beverly Hills, Holmby Hills
Fine homes in Texas: Dallas, Austin, Houston
Modern homes in the Hamptons
Exclusive luxury insights
for newsletter subscribers only
Delivered every week to your inbox