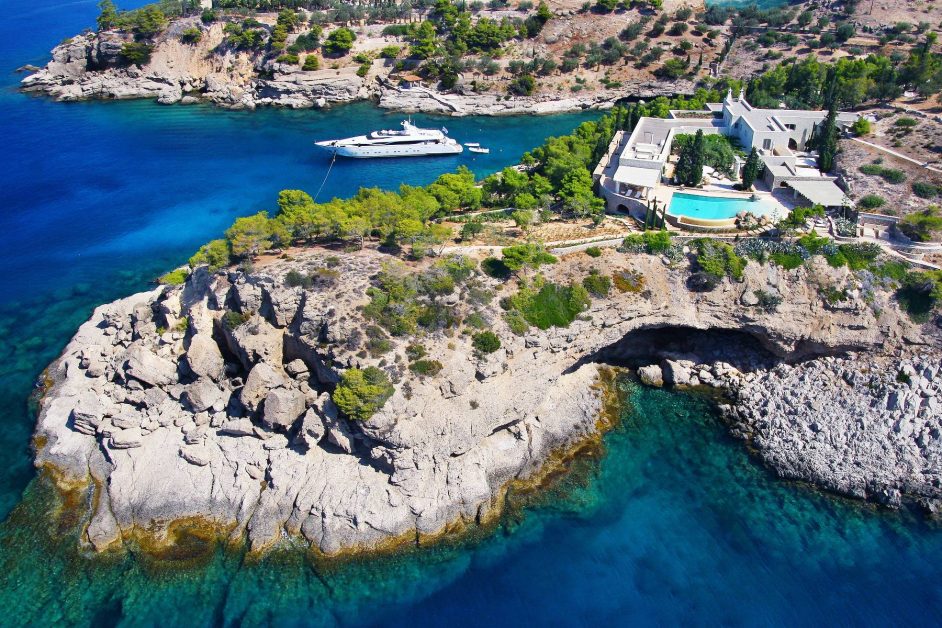 With a gorgeous climate and rich history, Greece is re-establishing itself as a prime competitor for those looking to invest in upscale real estate. Greece benefits from two luxurious Rivieras offering superior views, valuable properties, and exceptional neighborhoods that suit all needs. Both of the coastal areas have their individual charms and offerings, which can facilitate a broad range of investment requirements.
In the rise of interest to Greece's real estate, we talked to our partner, Golden Land Goutos, a leading real estate agency in the area of Porto Heli and Athens. The company's experts spoke with us regarding the benefits of buying a property in both Porto Heli and the Athenian Riviera, some of which include ambitious developments, great investment opportunities and pre-identified real estate trends.
With access to such information in the top locations and exclusive areas, we have compiled a list of some of the best properties at each site.
Top villas, upscale developments and sea views in Porto Heli and Athens
Greece's high-end real estate market is benefitting from stable growth and as a result, requests have increased two-fold in the last year. Greek real estate also has the benefit of being more affordable than other areas of Europe and the current real estate forecasts show no sign of property values depreciating in the country.
Porto Heli
Port Heli has recently been awarded the title of Greek Riviera due to its classy villas, enchanting nature, famous visitors, and mild climate. The area has been developed significantly in recent years, since Dolphin capital began investing heavily in  Porto Heli and launched two ambitious and wildly diverse hotel developments. Both have proven successful, and Dolphin Capital now has plans to add a third development to its Porto Heli portfolio.
Sitting on the eastern side of the Peloponnese Riviera, Porto Heli is a cosmopolitan seaside town, with many yachts lazing in the port during summer. Scattered, organized beaches and secluded coves help to add to the relaxed atmosphere in the area. It is close to some of the most beautiful beaches in the municipality of Ermionida, including Hinitsa Bay, Ververoanda, Kouverta, and Kounoupi.
The illustrious history of Port Heli can be traced back to ancient times, as research shows the ancient people of the area we particularly affluent and the main source of wealth was commerce, agriculture, and pottery.
Residents of Port Heli can easily visit the elegant and renowned island of Spetses, known for its impressive mansions and high-quality sophisticated restaurant scene. Being so close to this island paradise is a major draw for many.
The Athenian Riviera
The Athenian Riviera is a gorgeous stretch along the south coast of Athens and is recognized as a solid investment area by both foreign and domestic buyers. A combination of purchasing for investment and for living in has driven prices up. Another notable force driving up the desirability and value in the area is the Ellinikon development, an ambitious world-class development that has already providing properties in the surrounding area with exceptional amenities and increasing property value.Hyperlux Villa with views of the Saronic Gulf
The Athenian Riviera extends from Pireaus to Sounio and it's reputation for high-end luxury exceeds itself, with rumors suggesting it may soon overtake the French Riviera as the coastline of choice for wealthy investors. The sale of high-end properties in this area is breaking records and it's an area pinpointed regularly as one to watch.
The district of Glyfada is known for its gorgeous traditional trattorias, modern wine bars, and restaurants while Voula has recently had a luxurious upgrade, with a relaxed and cozy yet chic atmosphere. Many public beaches have been privatized which adds to the overall exclusive feel of the Athens Riviera.
The Ellinikon development is a significant driver of investment interest in the area, the €8bn project will see a huge, luxurious beachfront resort, three times the size of Monaco. The project will feature residential developments, hotels, shopping centers, family entertainment venues, museums, cultural venues, health and wellness centers, sports infrastructure recreation spaces, and a modern business park with an educational, research, and development hub. There are also plans for the wider regeneration of the existing marina and the entire coastal front.
Five villas for sale in Greece's Rivieras
Let usexplore the five most exceptional villas available in Porto Heli and the Athenian Riviera today.
The Blue Lotus Estate: Panoramic views in Petrothalassa
Location: Porto Heli
An exquisite waterfront development, the Blue Lotus Estate combines modern and contemporary architecture with precision-designed living space. There are four villas in total offering 10,500sqm and 7,500sqm of living space.
The villas features two to three bedrooms, and enjoys a range of high-end amentities, from an expansive 50sqm pool to outdoor showers, rooftop living spaces and dining areas.
The estate also benefits from communal facilities including a 150sqm pool, sunbeds and loungers, a dining area for up to eight people, a living space with sofas, and an outdoor kitchen.
The Stone Mansion: Villa Ion
Location: Porto Heli
A gorgeous and striking mansion nestled into the neighborhood and offering stunning sea views, stunning wildflowers, and perfect seclusion. The property includes a secret pathway to a secluded beach, crystal clear waters, and a private dock. It has a French rural feel to its design and gorgeous floor-to-ceiling windows open onto large verandas for even more light and air. The property has eight bedrooms and seven bathrooms and is on an 11,000sqm plot.
Villa Rustic: Championing astonishing architectural design
Location: Porto Heli
This Grecian-style 10-year-old villa benefits from opportunities to expand and develop on its plot, with space for up three more properties on the 16,000sqm plot and building permissions in place. It features classic Greek design using traditional construction materials and has interiors in the Grecian style with beautiful artwork and vintage ornamental pieces. The property comes with its own private dock and beach, locker room and showers, tennis court, and expansive outdoor terrace. The current property has five bedrooms and six bathrooms and developers could potentially build three more villas in the same style and size.
Hyperlux Villa with views of the Saronic Gulf
Location: Athenian Riviera
Offering the highest luxury finish, this exceptional beachfront villa offers views of the Saronic Gulf of the Mediterranean sea and is located in one of the most prestigious and high-end residential neighborhoods on the Athenian coast. Minutes from Kavouri Beach, this property benefits from both oceanfront living and being just 30 minutes from the center of Athens.
The property benefits from a large and spacious 1,012sqm corner plot and its floor-to-ceiling windows allow light to pour in and ensure unobstructed views of the gorgeous surroundings. An open-plan layout further emphasizes the size of the property which has nine bedrooms, nine bathrooms, and a two-car garage. Other top features include a granite fireplace, a glass-roofed formal dining area, a glass elevator, private terraces, a planted courtyard, and a granite infinity pool.
Minimalist Villa on a private beach in Agia Marina
Location: Athenian Riviera
As beautiful as you'd expect in the Agia Marina area, this quiet and private villa is just steps away from the beach and finished to the highest standards. Potential buyers will be wowed by its expressive, modern architecture and then mesmerized by the luxurious interior finish. It features four bedrooms, four bathrooms, and a 5,000sqm plot. The large living space has a feature fireplace with high ceilings, beautiful sea views, and direct access from the lounge to the outdoor swimming pool. There is also a clay tennis court, a 5-car garage, indoor and outdoor pools, and a 90sqm staff house with two bedrooms.
If you want to find out more about any of these properties contact Golden Land Goutos directly for additional details.  More than simply a real estate agency, they offer a range of all-inclusive, exclusive services; spanning legal and technical research as well as the final presentation of the properties.