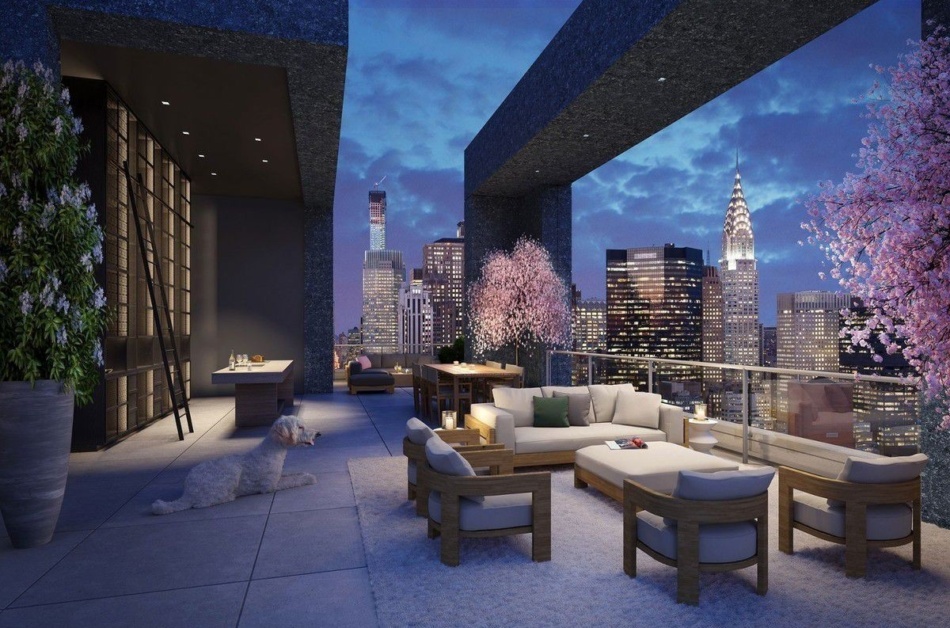 Le Penthouse residences with an outdoor pool and jacuzzi, Midtown - Nomad, New York, $75,749,374.
View 15 Images
New York penthouses lead the list of the world's most expensive and rarest properties. Barely a hundred penthouses number amongst the more than 2,300 upscale NYC apartments currently up for sale. And the prices for these properties are no less astonishing than the views from their terraces; the most expensive penthouse available in New York today is listed for $90M, and 50% of the rest lie within the $30M-75M range.
So, what does this amount of money buy in the city that never sleeps–and scarcely ever decreases prices on its top-notch real estate?
The 20 Best New York penthouses: the world's most expensive views, amenities, and interiors
If you're searching for the best options that the market has to offer (and the most sophisticated features imaginable), let's take a look at the top 1% of New York apartments: the 20 most expensive penthouses listed for sale in the world's greatest city.
20. Penthouse with an infinity pool at 240 Park Avenue South, $30,000,000
Floor: 17
Location: Flatiron – Gramercy
This penthouse occupying the entire top floor and rooftop is considered one of the most beautifully designed properties in Manhattan. Among its most impressive features are a 33 ft. pool with an infinity glass wall, a poolside pavilion decorated with custom blue Mosaic Bisazza tile, and interior details crafted from Green Verdi Alpi marble hand-selected from the best quarry in the Swiss Alps. And the panoramic northern view of the Empire State and Chrysler buildings is as spectacular during the day as it is at sunset.
19. Penthouse in a prestigious boutique condominium, $30,059,409
Floor: 33
Location: Lenox Hill – Upper East Side
This full-floor, brand-new home offers breathtaking views of Central Park, the iconic Manhattan skyline, and all other scenic points available north, south, east, and west. The residence boasts 3.35 m (11 ft.) ceilings complemented by panoramic floor to ceiling windows and dramatic vistas.
18. The highest-placed penthouse in New York, $32,190,391
Floor: 88
Location: West Chelsea
Perched nearly 275 m (900 ft.) in the sky, this duplex penthouse encloses the southwest corner of  the building with a stunning arc of floor to ceiling glass, offering panoramic views of the Hudson River, New York Harbor, Statue of Liberty, and the Manhattan skyline from the Freedom Tower to Madison Square Park. And if that's not impressive enough, the great room features 8 m (26 ft.) ceilings and a fireplace.
17. Elegant penthouse at 740 Park Avenue, $32,500,000
Floor: 19
Location: Lenox Hill
This elegant eyrie is arguably one of New York's finest residences, with its wood-burning fireplaces in at least three rooms, a classic style staircase, Parquet de Versailles floors, and French doors. A large terrace with numerous seating areas wraps around the entire second floor of the penthouse and is perfectly fit for both cocktail parties and family gatherings. The apartment was completely renovated by the architect Oscar Shamamian and world-renowned designer Michael Smith; but, luckily, has kept its "old New York" vibes.
16. Penthouse duplex in Bloomberg Tower, $34,000,000
Floor: 54
Location: Midtown East
One Beacon Court, a residential section of the iconic Bloomberg Tower, is Midtown Manhattan's most established business address and premier luxury condominium residence, reached securely off 58th Street via a private courtyard. The penthouse duplex, designed by architectural legend Charles Gwathmey, offers breathtaking helicopter views of the Manhattan skyline, Central Park, the East, and Hudson River.
15. Modern penthouse at 56 Leonard Street, $37,000,000
Floor: 58
Location: Tribeca
Penthouse 58 is a stunning glass-wrapped home with soaring 4.5 m (14 ft.) ceilings, two terraces, and unobstructed views over the Brooklyn, Manhattan, and Williamsburg Bridges. The 56 Leonard Street condominium is an architectural masterpiece, designed by Herzog & de Meuron, that has changed the skyline of Manhattan. It is a full-service building with 1,600 sq. m (17,000 sq. ft.) of unparalleled amenities, including a lap pool with sundeck, state-of-the-art gym, and a private dining room.
14. Penthouse with a pool and hot tub, $38,092,751
Floor: 19
Location: Gramercy Park
Occupying the top floor of a Georgian Revival condominium built in 1927 and respectfully reimagined, this property masterfully combines contemporary design with classic style interior details. The great room opens onto a terrace with a heated infinity pool, and one of the master suite's terraces has a hot tub. With its two additional large terraces and 63 windows, the property offers one of the city's best opportunities to enjoy cinematic views over the spellbinding Manhattan cityscape.
13. Penthouse designed by Zaha Hadid at 520 West 28th Street, $38,925,000
Floor: 11
Location: West Chelsea
Designed inside and out by Zaha Hadid, this three-level penthouse is united by a sculptured staircase alongside a private, internal elevator. The roof level includes a 1,000 sq. m (3,892 sq. ft.) terrace that wraps around an interior lounge and pavilion–a perfect venue for cocktails or for a relaxing Sunday at home. The interior detailing is remarkable on every floor of the triplex, with such features as 3.3 m (10 ft.) motorized glass walls and a distinctive curved window, sculptured kitchen islands, high ceilings with sculptural elements, and custom wall paneling suited to an art collection. Located right on the High Line in West Chelsea, the center of New York's art world, 520 West 28th is moments from the Avenues School; Hudson River Park; numerous cultural, shopping, and dining offerings; and new parks at Hudson Yards.
12. Penthouse atop the new Baccarat Hotel & Residences, $39,853,613
Floor: 49
Location: Midtown West
Baccarat Hotel & Residences is an innovative development opposite the Museum of Modern Art. Dedicated to top-notch services, it offers the in-house La Mer Spa, a swimming pool with heated marble flooring and lounging, a five-star restaurant, private meeting rooms and cabanas, and a 24-hour concierge. The penthouse is a contemporary masterpiece boasting high class materials, from wide, ebony floors and a SieMatic kitchen with ebonized walnut cabinetry to Lido white marble and Siberian polished marble walls as well as custom details made of Fantini polished chrome.
11. Penthouse with a saltwater pool and interior elevator at 565 Broome SoHo, $42,655,536
Floor: 30
Location: SoHo
565 Broome SoHo's luxury condominium residences mark a culmination within the evolution of a neighborhood that has not only continued as a nexus for arts and culture but also become a center for retail, dining, and nightlife. The building serves as a quiet retreat amidst the neighborhood bustle, and this particular full-floor penthouse duplex features the best on offer: a private roof terrace with a heated saltwater pool and breathtaking 360-degree views, 13 m (4 ft.), floor to ceiling, curved windows, sophisticated design, and a private interior elevator.
10. Penthouse in iconic residential buildings, with extraordinary sunrise and sunset views, $47,893,805
Floor: 41
Location: Central Park West
Occupying the entire northern half of the 41st floor, this residence is the crowning penthouse of legendary Fifteen Central Park West created by Robert A.M. Stern. The penthouse offers over 195 m (65 ft.) of Central Park frontage and classy interiors freshly reimagined by a world renowned design studio.
The positioning of the property is one of its greatest appeals: the east-facing, glass-walled great room, the dining room, and a terrace are the perfect places to enjoy the sunrise (and morning coffee) while the master bedroom suite offers panoramic sunset views over the Hudson River.
9. Full-floor penthouse in Ritz Carlton, $49,000,000
Floor: 33
Location: Central Park South
This full-floor, two-story penthouse in the Ritz-Carlton sits over the most exclusive, ten, private residences of the infamous Billionaires' Row of Manhattan. This heirloom property with 65 sq. m (700 sq. ft.) of Central Park South terrace, a grand ballroom, and oversized windows in four directions is a true gem for every real estate expert and connoisseur. The penthouse has it all from 24/7 Ritz amenities and service to a location minutes from the Lincoln Center, Broadway, The MET, MOMA, Carnegie Hall, and Fifth and Madison Avenues.
8. Penthouse with spectacular garden-like terraces, $55,000,000
Floor: 16
Location: Upper East Side
Perched high atop the Stanhope, this sun-drenched residence boasts tremendous garden-like terraces laid out by the brilliant landscape designer Madison Cox. Every room within the 640 m (6,891 sq. ft.) interior is graced with lovely, leafy outlooks. The overall feeling throughout the residence is pastoral and bucolic, and the views of Central Park seamlessly merge with the vistas from the two, large, west-facing terraces.
7. Penthouse in the Crown Building, $60,089,503
Floor: 26
Location: Midtown
This Fifth Avenue penthouse is located at the pinnacle of the Aman Hotel which opened its doors in 2020. One of 22 private Aman residences designed by Jean-Michel Gathy, it offers unlimited access to all of the hotel's amenities, such as a double-height, 14th floor piano bar, wraparound garden terrace with tranquil water areas, wine library, jazz club, and a three-level spa center. The penthouse's immense living and dining areas boast picturesque views of Central Park and the Upper East Side.
6. Penthouse atop the legendary NYC hotel, $60,000,000
Floor: 44
Location: Upper East Side
This spectacular, 14-room duplex apartment is situated atop the historic Pierre Hotel on Fifth Avenue. Featuring meticulous renovation and boasting extraordinary 360 degree views of Central Park and the Manhattan skyline, this elegant trophy residence is absolute perfection. The Pierre Hotel was founded in 1930 and is a truly legendary location that can be spotted in 17 movies including Meet Joe Black (the Pierre's penthouse is the home of Anthony Hopkins' character), The Sopranos, Mad Men, and Ocean's 8.
5. Corner penthouse duplex with timeless design at new Lincoln Square, $64,862,507
Floor: 18
Location: Upper West Side
The classical floor plan with exposures on three sides (east, south, and west) carries on the traditions of the great apartment houses of yesteryear, with its suite of grandly proportioned public rooms and private floor of elegant bedroom suites. The 500 sq.m (5,400 sq.ft.) property enjoys an additional 100 sq.m (1,071 sq.ft.) of outdoor living space, thanks to park-facing terraces, including one that wraps around almost the entire 18th floor.
4. Triplex penthouse on Billionaires' Row, $66,604,525
Floor: 71-73
Location: Midtown
A triplex penthouse with a full floor of covered outdoor loggia is situated in the new, 91-story skyscraper on Billionaires' Row. (The skyscraper reportedly is the second-tallest residential building in the Western Hemisphere.) Among other unique, five-star features, this penthouse boasts an extraordinary and expansive outdoor area that offers 360-degree views of Central Park to the north and Midtown and Lower Manhattan to the south.
3. Penthouse the South Tower at the Time Warner Center, for sale for the first time, $75,000,000
Floor: 55
Location: Central Park South
25 Columbus Circle is an elegant, white-glove condominium located in the prestigious Time Warner Center with a grand and beautiful entrance on 58th Street. Residents enjoy 24-hour doorman and concierge services, valet parking, a landscaped terrace with river views, a swimming pool with city views, a pet terrace, and, last but not least, Mandarin Oriental's five-star Zen spa services. The penthouse itself is a rare combination of grand space, incredible light, dramatic views, and excellence in design and execution, featuring an unmatched  level of custom finishes.
2. Dream penthouse with an outdoor pool and jacuzzi, $75,749,374
Floor: 33
Location: Midtown – Nomad
Le Penthouse is a five-story, 1,800 sq. m (20,000 sq. ft.) apartment at 172 Madison Avenue.  Each of the five floors boasts more than 325 sq. m (3,500 sq. ft.) of glass-walled living spaces with 6-8 m (18-23 ft.) ceilings and outdoor terraces boasting river-to-river views. The contemporary interior design benefits from massive amounts of air and natural light.
1. The most expensive penthouse in New York with 360-degree views over the city, $90,559,215
Floor: 80
Location: Midtown East
This one-of-a-kind residence occupies a full floor of the 96-story residential tower designed by Rafael Vinoly at 432 Park Avenue. The property has been completely reimagined by one of the most sought-after home designers and represents an unparalleled opportunity to own a globally significant property. The home features soaring, almost 4 m (12 ft.) ceilings, large windows with seating, white oak flooring, exquisite stone decor, custom wall treatments, and millwork. The penthouse also has been refitted with centrally controlled state-of-the-art media, climate regulation, and security systems.
Exclusive luxury insights
for newsletter subscribers only
Delivered every week to your inbox