For the past three decades, Aman has built a name which draws upon the memories of sanctuary and tranquility for those who desire a recharge from the hectic pace of everyday life. For the brand, residences have long since been part of its offering, since Amanpuri's conception in 1988, now it's naturally time to embark on a new chapter, with an evolved Aman Residences proposition globally, which has the vision to immerse those loyal clients into the Aman lifestyle 24/7.
The Aman Residences, a chance to claim your piece of the brand, will be available in 16 prime locations in partnership with some of the world's most respected visionary architects. These properties aim to create a synergy between the personalised services of a resort with the seclusion of a private home. So it's no question that urban destinations are the next stage of this journey and first up is the creation of this idyllic oasis amongst the urban jungle in the greatest city in the world, New York.
Aman New York will reside in the historical Crown Building on the corner of Fifth Avenue and 57th Street for which it will undergo a monumental transformation into an all-suite boutique hotel, plus home for only 22 private residences which have their own private entrance on 56th Street. The project is led by renowned architect Jean-Michel Gathy of Denniston.
This is not only in one of the most desirable locations and boroughs of the city, but the property also contains views of the city's greatest urban greenery, Central Park. Those who believe in this vision and desire to become a part of the rare owners circle can now join this unique opportunity to enjoy this distinguished way of living within the bustling heartbeat of Manhattan.
Inside The Property
The Residences
The fully serviced branded residences, which range from one to six bedrooms and which span across a full floor, will possess grand-scale functioning fireplaces in living and bedroom spaces. Providing a private oasis in the city, many residences will have sweeping outdoor terraces and heated pools, presenting a permanent piece of the Aman lifestyle.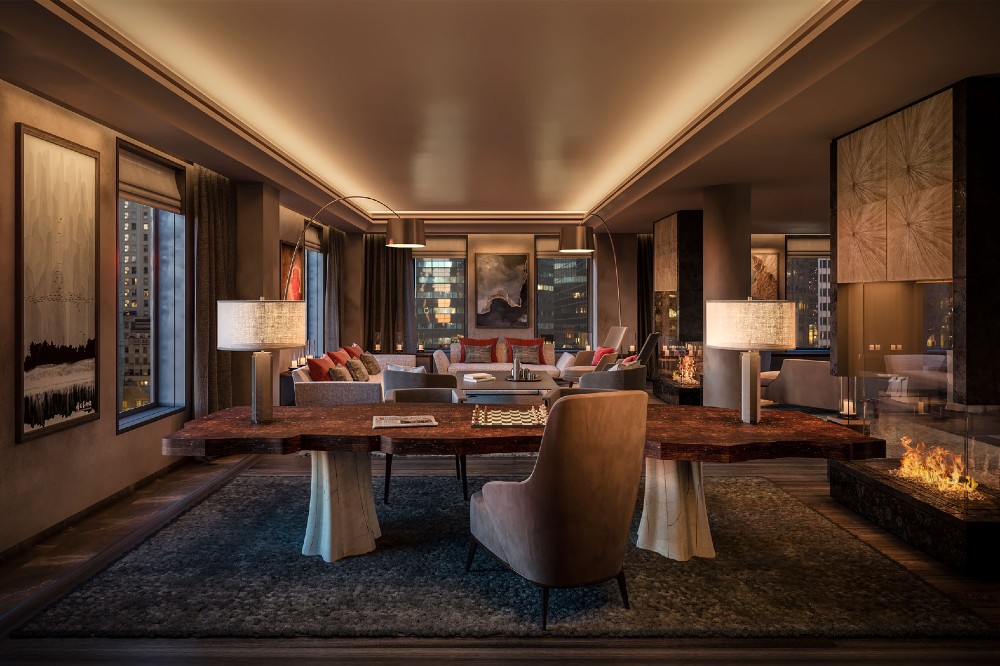 The Aman Spa 
Extending over three floors owners will have complete access to a 2,300 sq metre state of the art spa, which will be Aman's new flagship Wellness Centre.
The centrepiece of which will be a floating indoor swimming pool lined with double daybeds around cosy firepits; along with fitness centre and extensive treatment facilities, including two unique Banya and Hammam Spa Houses, each with its own private outdoor terrace with hot and cold plunge pools.
Establishing a new lifestyle, the wellbeing offering will guide residents to achieve optimal performance in their business and personal lives. Owners will benefit from comprehensive medical and wellness assessments and evaluations, integrated preventative and functional medical services, sleep and nutrition programmes, and effective wellness itineraries to improve health and longevity.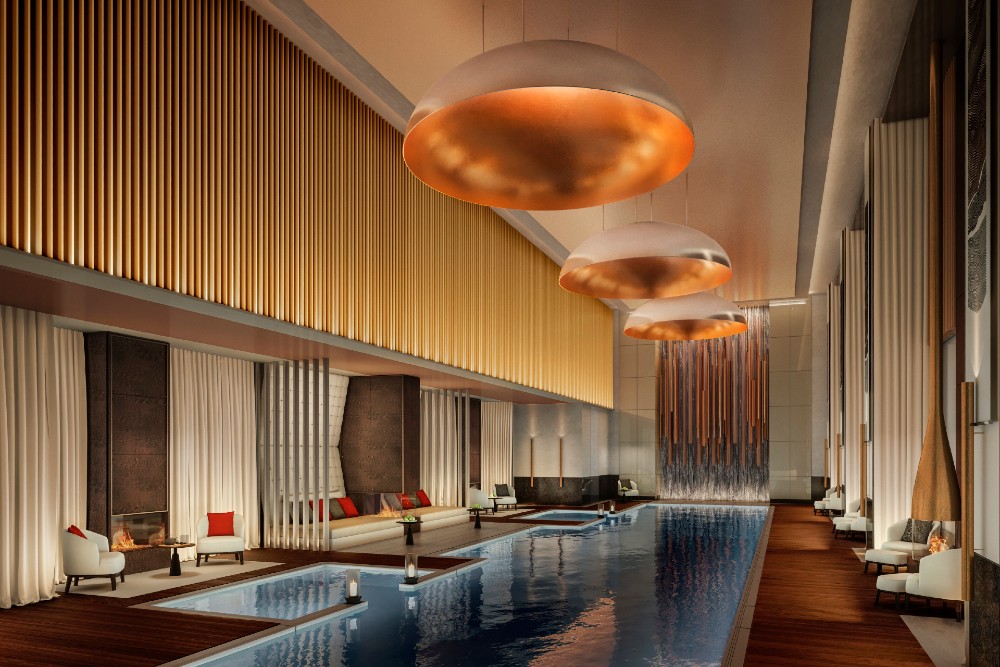 Exclusive Social & Dining Venues 
The Crown Building will become home to New York's latest dining and social venues with three new restaurants and a subterranean Jazz Club. Hotel guests and Residence owners will also be able to enjoy views of the city from the Garden Terrace during cocktail hour with their guests on the best sunset evenings.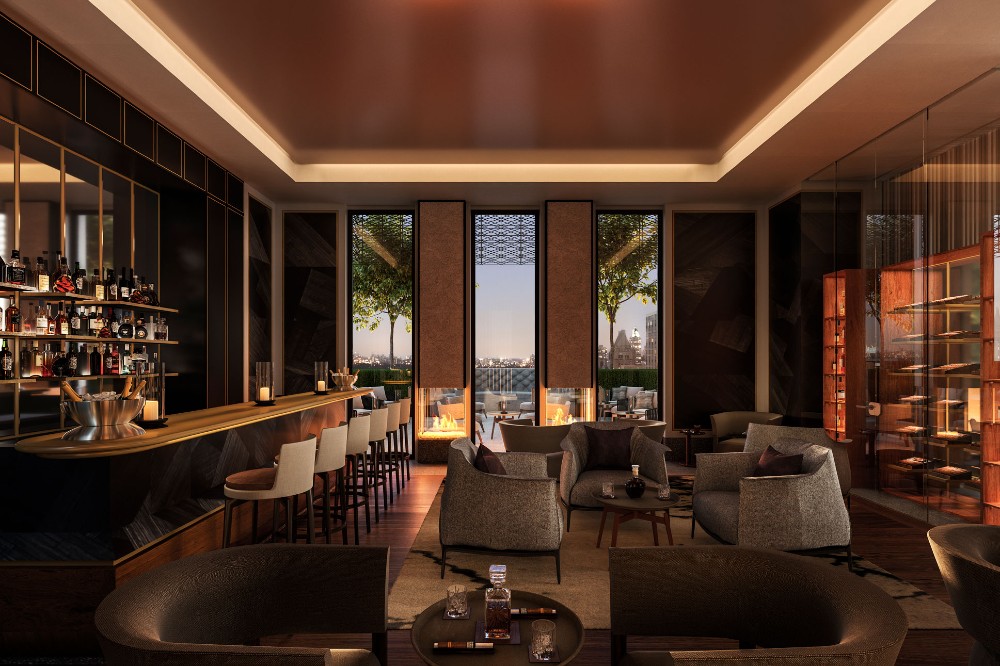 Luxury Amenities & Benefits 
Living in bliss is not only about the surroundings, but it must come with all possibilities you could desire. With homes fully staffed and serviced by the Aman team, dedicated lifestyle & concierge services, 24/7 security, and membership to the Aman Club, Residence owners have all bases covered so they can gain back what truly matters in life, their time.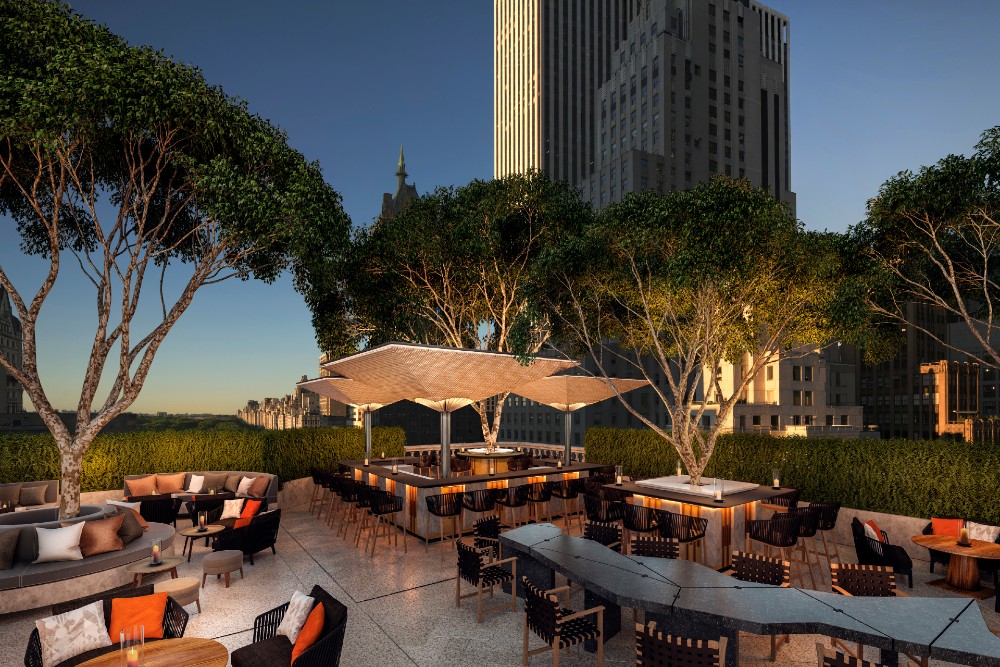 To request more information and book a viewing with a member of the Aman Residences Team: