Phuket is fast becoming the world's next leading luxury destination, offering peace, tranquility, and stunning natural scenery. Along with the island's top-class health, education and leisure facilities, an additional perk is the recently announced "Long Term Resident" (LTR) visa program for expats – a premium-level alternative to the existing Elite Residence Visa, ideal for high-net-worth individuals, wealthy retirees, digital nomads, and skilled workers.
Unsurprisingly, the island has recently been attracting a wider range of luxury developments. The upscale residential community of Cape Yamu, located on a private peninsula on the eastern coast, is one of them.
Arguably the most exclusive and tranquil location on the island, Cape Yamu offers the most luxurious properties with stunning panoramic views of Phang Nga Bay and its 600+ islands.
In total, 27 classy villas dot the scenic landscape, and residents of the gated community enjoy 24-hour security, making it a haven away from the hustle of city life.
Couple that with its fine sandy beaches, crystal clear waters, and world-class amenities, and it's no surprise the private community is attracting increased attention from discerning wealthy buyers.
Alongside these plus points, there's also the housing market to factor in. While property values in Phuket have skyrocketed in recent times, real estate on the east side remains undervalued.
However, our partner SEA Property – the listing agent for Cape Yamu – estimates that prices will increase by 15% over the next three years, making now a great time to invest in this rare combination of luxury, peace and serenity.
One of the most luxurious neighborhoods in Phuket
Cape Yamu is tucked away on the central east coast, 20 minutes away from the bustling shores of Bangtao, Layan and Patong beach. The peaceful peninsula is an exclusive residential haven, where traditional Thai architecture fuses with ergonomic design and modern interiors. The estate is just 30 kilometers from the airport and within easy reach of a wide range of amenities, activities, and entertainment hotspots.
For high-end shopping, Central Festival and Central Floresta malls are a 20-minute drive away, and if golf's a priority, Blue Canyon Country Club, Red Mountain, Mission Hills, and Laguna are reachable within half an hour. Furthermore, families looking to relocate to Cape Yamu can rest assured that a host of international schools are within a commutable distance: UWC, Montessori House, BCIS, Buds, and QSI.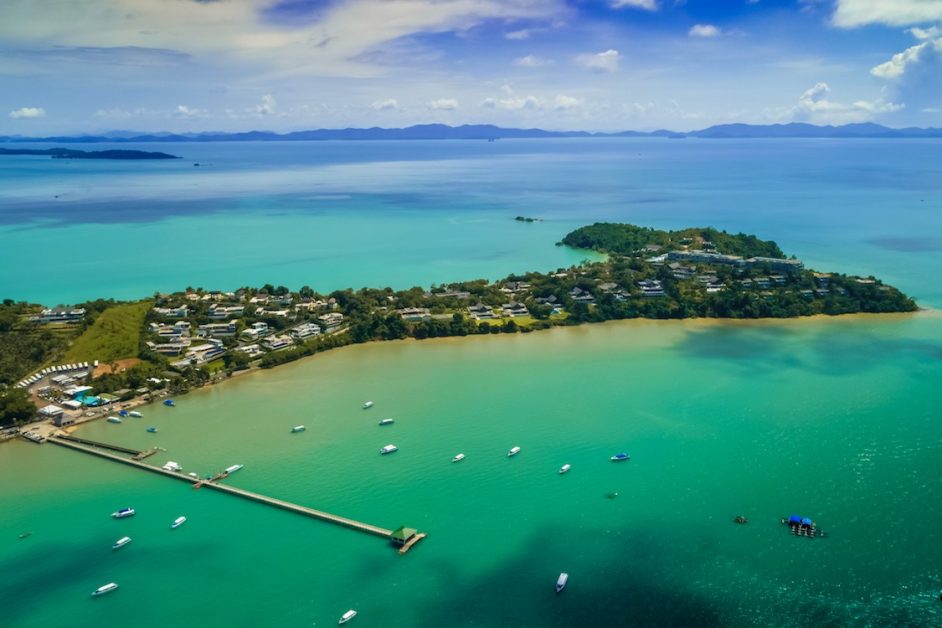 Cape Yamu, Phuket, Thailand
The complex is also just a 20-minute drive from Royal Phuket Marina, the country's only five Gold Anchor certified harbor. Phuket Boat Lagoon is equally close, where services range from moorings to restaurants.
Head across Phuket to the west coast and explore the white sands of Surin and Kamala. On that side of the island, there's also Michelin-starred Pru and trendy beach clubs like Catch and Café del Mar to discover.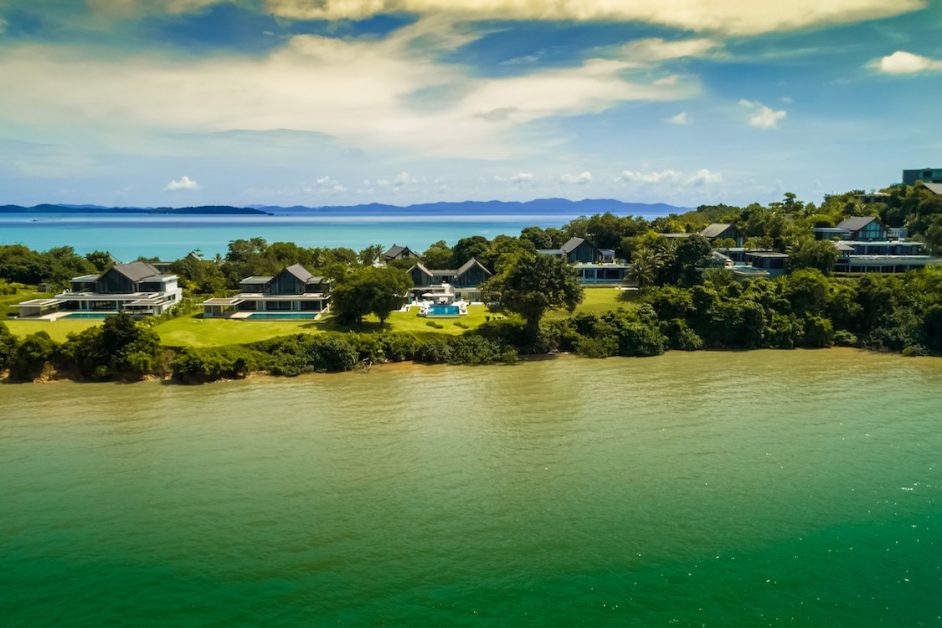 Villas for sale in Cape Yamu by SEA Property
Meanwhile, UNESCO-designated Phang Nga National Park – a geological wonder filled with islets, limestone rock formations, and sunken caverns – is on Cape Yamu's doorstep. Outings to enjoy range from island-hopping and sea kayaking to snorkeling and yachting.
And for adventures on land, visit Khao Phra Thaeo Wildlife Sanctuary, the last remaining evergreen rainforest on Phuket. There, it's all about the Gibbon Rehabilitation Center and hiking the Ton Sai – Bang Pae waterfall trail.
Luxurious Cape Yamu residences for sale
Back at Cape Yamu, each eye-catching villa represents the visions of leading architect Jean-Michel Gathy and famed designer Philippe Starck; both bring avant-garde glamour to the naturally serene landscape. All homes feature high ceilings, enormous windows, a swimming pool, and Andaman Sea views; size-wise, they range from 4 to 10 bedrooms.
The gated community has a laid-back vibe, thanks to 24-hour security and the picturesque setting. Furthermore, residents can make the most of shared amenities such as tennis courts, a top-class spa, access to beach paths that aren't open to the general public, and a pier for picking up boats to nearby islands.
There's also an on-site gourmet eatery called Breeze to check out, and the luxe Como Point Yamu resort is close by, where homeowners can enjoy Italian and Thai food with a view.
The estate offers a range of tropical properties; let's explore four deluxe options currently marketed by SEA Property and listed on JamesEdition.
Grand beachfront getaways
This stylish four-bedroom and bathroom villa is surrounded by rolling emerald hills and has 20,064 square feet of inside space. At the center is a lounge with cathedral-like dimensions; additional points to note include two fully equipped kitchens, terrazzo and teak flooring, and a cinema room. Take a virtual tour of the $8,000,000 residence here.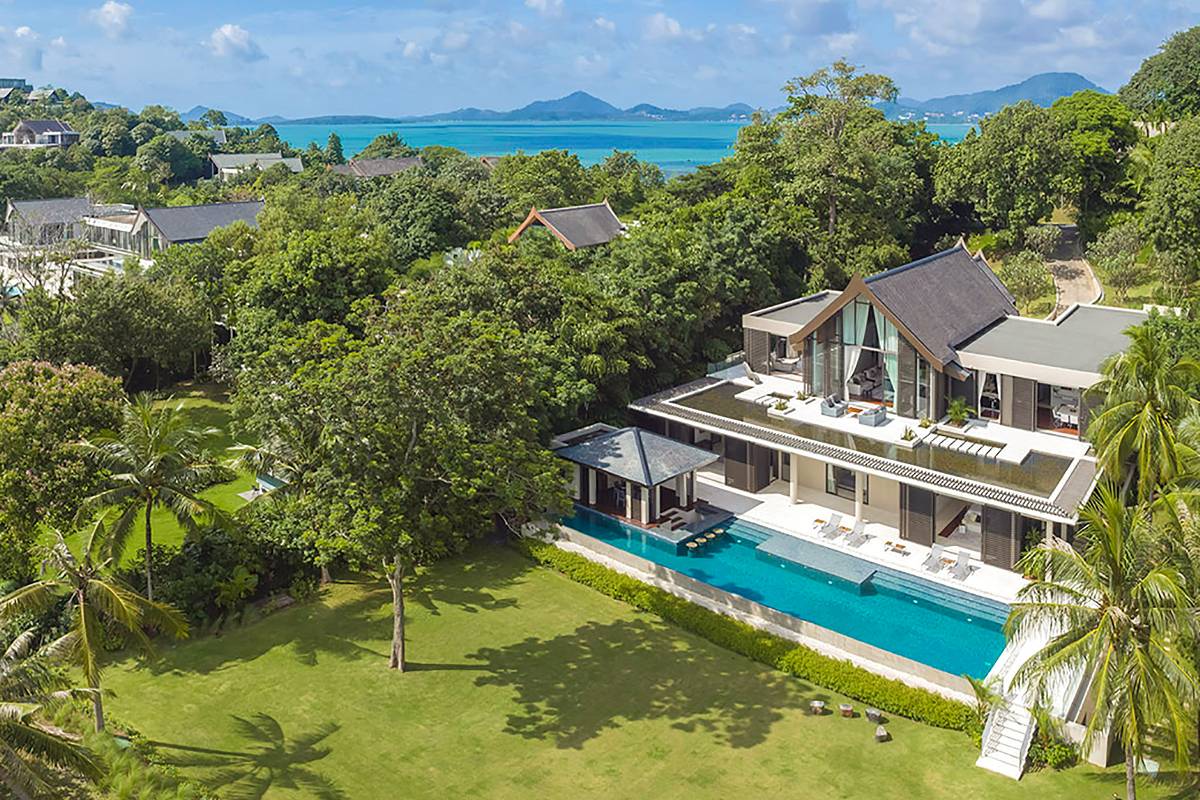 Meanwhile, this exotic five-bedroom, six-bathroom property spans 18,568 square feet and boasts a grandiose pentagonal-profile hall, an indoor entertainment area, and an outdoor Jacuzzi. Take a virtual tour of the $7,360,615 home here.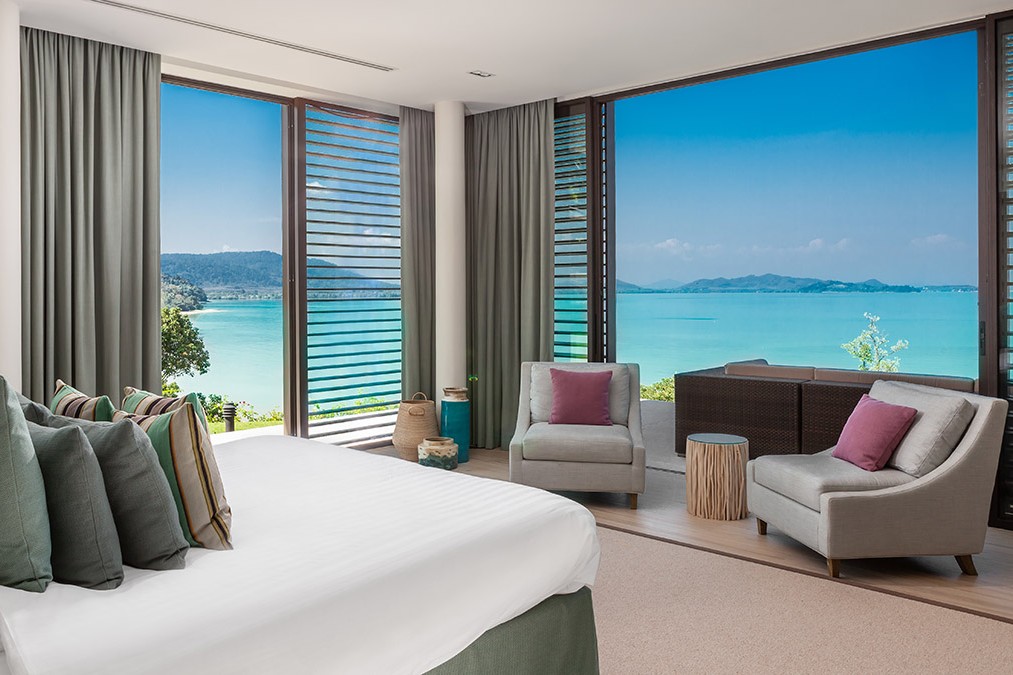 What do these contemporary houses have in common? A two-acre plot, ample indoor-outdoor living opportunities across two levels, bright and welcoming interiors, a manicured garden with a sizable infinity swimming pool, sun terraces, and spectacular views of Phang Nga Bay.
Chic sea-facing retreat
On the market for $7,082,575, this upscale sanctuary boasts air-conditioning, large windows to admire the picture-postcard views from, a spacious open-air living area, and a terrace. The ultra-luxe villa sits on a two-acre lot, and with six bedrooms and eight bathrooms, is suitable for a family or a couple who likes to entertain.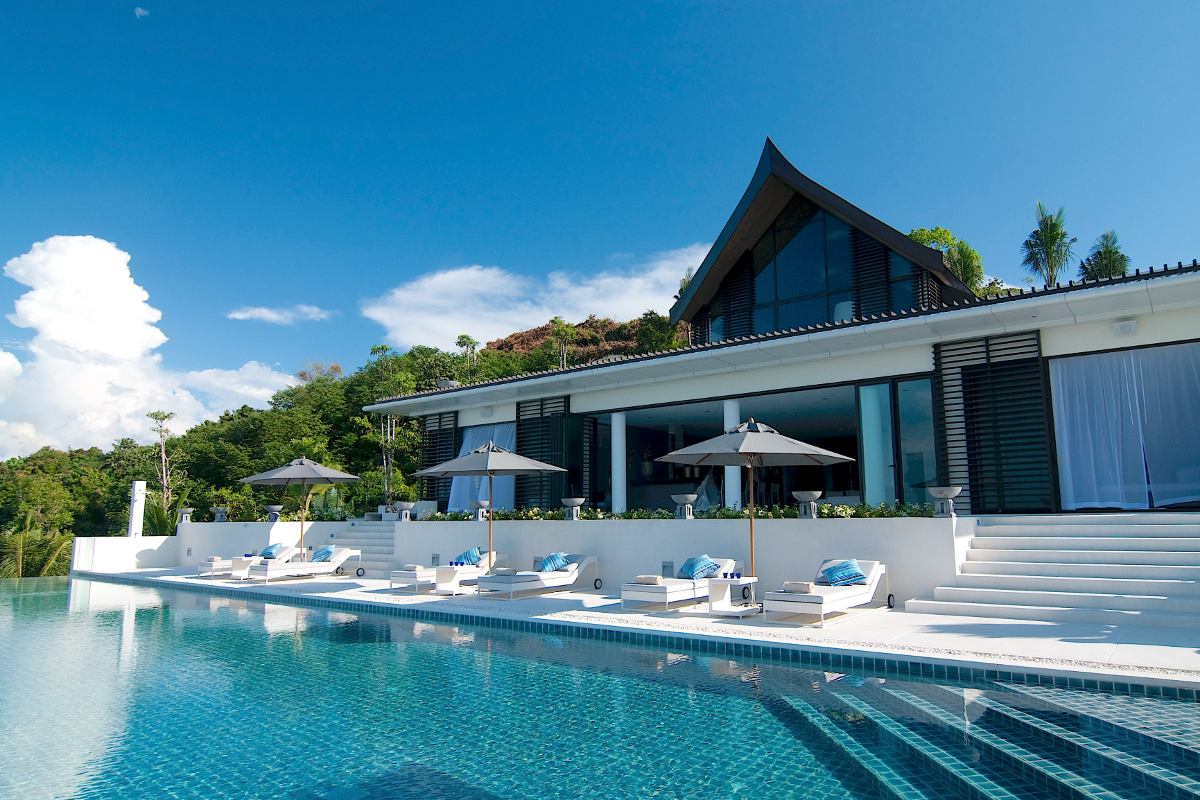 Offering 20,452 square meters of inside space, be sure to take in the minimalist décor, plus the fitness room, spa, and cinema. Meanwhile, out in the well-tended grounds, there's an expansive infinity pool overlooking the bay, and beyond that, a 100-meter private beach with unparalleled Andaman Sea panoramas.
Palatial hideaway overlooking the beach
Lastly, this swanky five-bedroom, six-bathroom villa is all about opulence: dark wood flooring, plush furnishings, statement lighting, and warm tones throughout. Listed at $4,095,375 and covering a whopping 32,292 square feet, there's plenty to take in; highlights include a grand dining area, 30-foot vaulted ceilings, and a club room with a championship billiards table. Check out the covered outdoor lounges and numerous verandas for those all-important indoor-outdoor living opportunities, before touring the state-of-the-art kitchen complete with a marble top island and a walk-in pantry.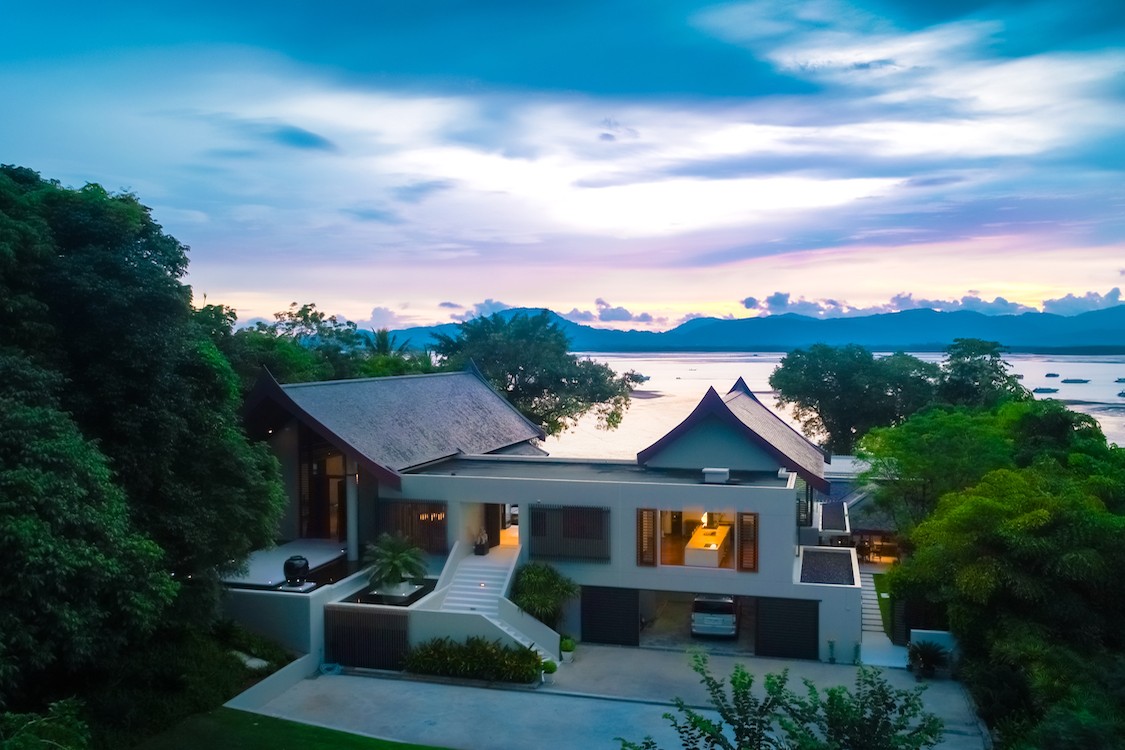 Next, head out to the well-kept garden and admire the infinity pool, the fire and water features, and the detached guest suite. Indeed, the next owner will experience resort-style living from the comfort of their home.
For more information about these exquisite villas in Phuket's most exclusive postcode, contact Norbert Witthinrich at norbert@sea-property.com, +66 81 891 6143 or via SEA Property.