Staying in a deluxe villa on a Greek Island sounds like the perfect vacation, but what if you can transform it into an experience that's tailor-made for your interests and desires? We talked to our partner – Athens-based Bespokers – about the high-end services that go alongside their upscale rental properties for the summer season of 2022.
Be it Mykonos, Santorini, Corfu, Paros, or Naxos, the aim is to ensure you have a holiday you'll never forget. From two-bedroom residences with infinity pools to 18-bedroom oceanfront estates, there's a property to suit your taste and group size. What's more, Bespokers organize tailor-made experiences, including chefs, yoga sessions, and private events like weddings.
Gastronomic vacation of a lifetime in Corfu
If you're interested in sampling local and international cuisines whipped up by acclaimed chefs, why not opt for a culinary experience? Bespokers collaborates with skilled private cooks to curate personalized menus based on guests' favorite flavors and ingredients.
At six-bedroom Villa Euphoria in Corfu's Nissaki, the setting is ideal for a gastronomic vacation of a lifetime. Choose from two areas to eat your meals: the large dining room with doors leading out to the grounds, or al fresco overlooking the Ionian Sea.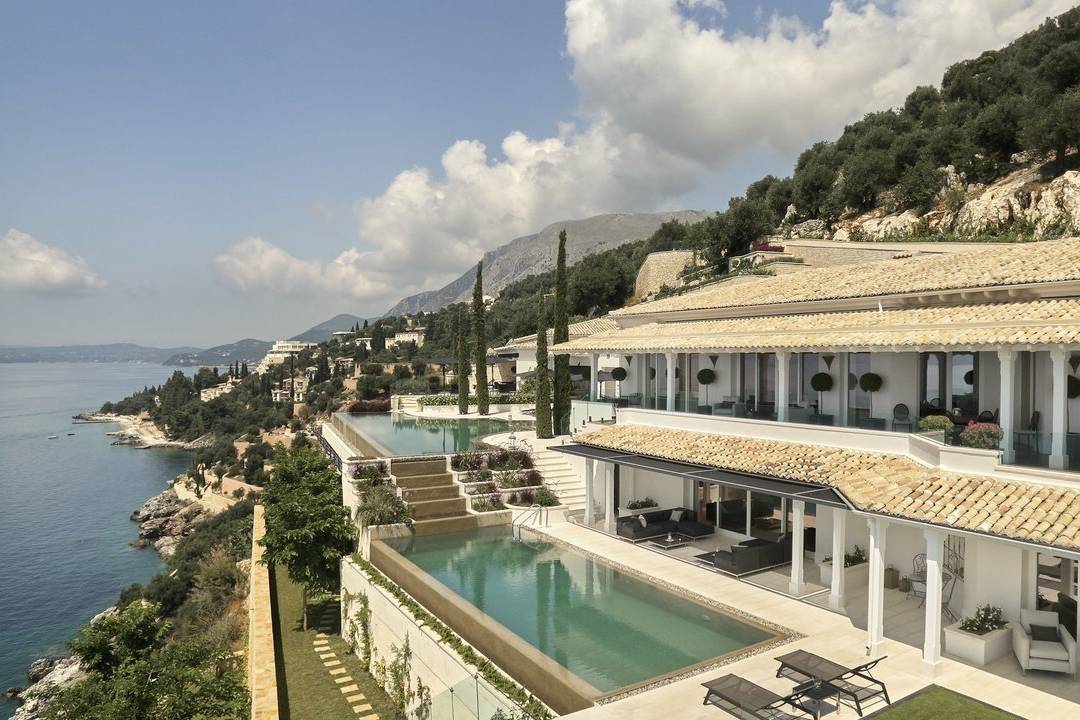 Each day, a full breakfast is prepared, plus an afternoon snack. Staff are on hand to buy groceries, with lunch and dinners cooked by a professional chef as and when you choose. Fancy a themed evening? Not a problem. Keen to get out and about for a food or wine tour? Bespokers will happily arrange that.
The fully-serviced villa is a sight to behold, with contemporary décor throughout and features such as a hammam, gym, and cinema room. Spread over the main building and a guest house, each en-suite bedroom boasts a private balcony or terrace with fabulous views out to the water.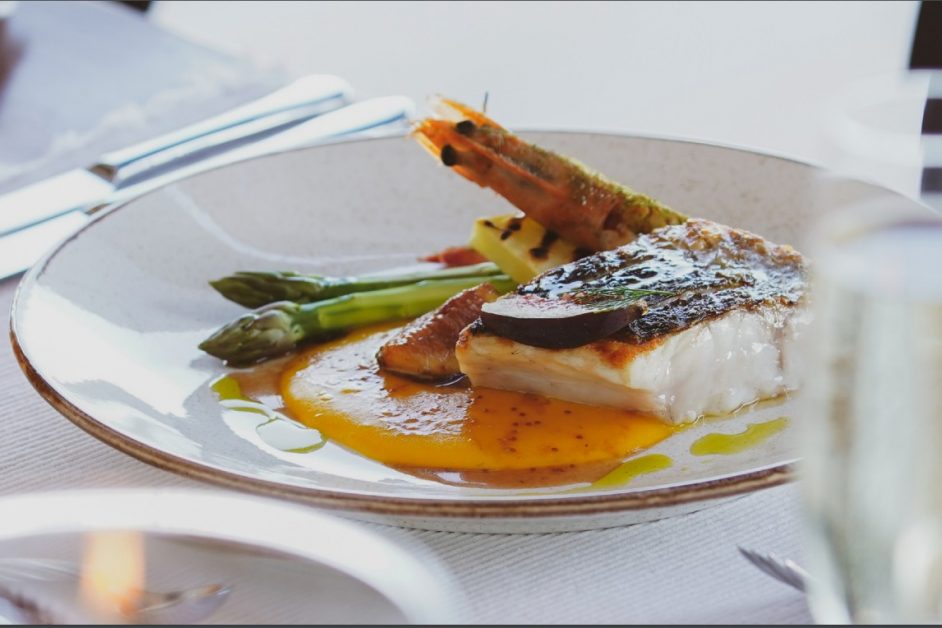 Image: Bespokers
Head outside and you'll find a two-tiered sea-facing infinity swimming pool and a Jacuzzi – primes places to admire the glorious scenery from. You'll also enjoy separate areas carved out of the rocks providing scenic spots for lounging in the sun, as well as direct access to the water.
Located on the east coast of the island, you're half an hour from Kérkyra and the airport, and the small bay of Nisaki is on your doorstep.
Wellness experience in Santorini
If you're all about relaxing and mindfulness, Bespokers' wellness experiences are for you. Their skilled dieticians, trainers, and chefs will organize healthy meals, yoga retreats, personal trainers, and self-care treatments to balance your mind and body.
If that sounds exactly what you're looking for, Villa Eternity in Santorini is the place for you.
Sleeping 10 across five en-suite bedrooms, there's a spacious water-facing outdoor area for all your exercise needs with unobstructed Caldera views, plus air-conditioned rooms inside, should you prefer to workout in a cooler environment.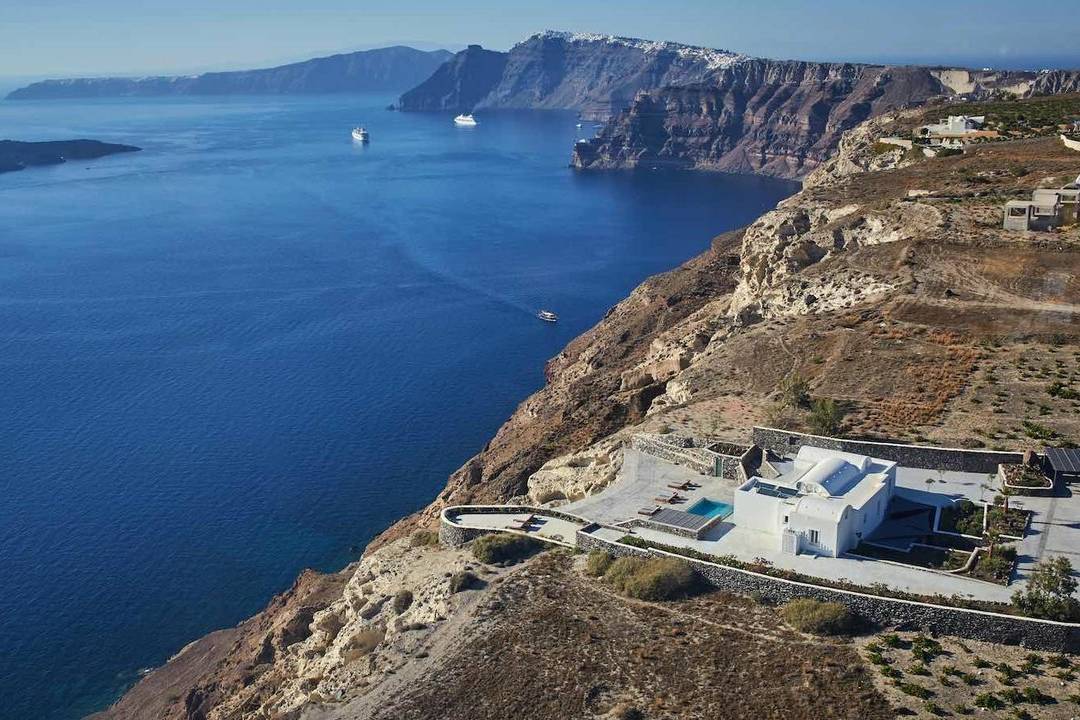 There's also a large swimming pool, executive chef and butler services, and a private helipad. Modern all the way with a light color palette, the interiors are calming and stylish. It's unlikely you'll want to leave, but should you feel the urge to get out and out, the property is enviably located in Megalochori on the southwest coast, a 10-minute drive from Thera and half an hour from Oia.
Yachting adventure in Mykonos and Corfu
Greece is a top-class destination for island hopping, so why not head to the sea via yacht and explore? With varied landscapes, hidden beaches, and exceptional sunsets to discover, boating offers the ideal mode of transport. From superyachts to bareboat rentals, Bepokers has unbiased recommendations and can plan your whole itinerary if you'd like, including activities such as scuba diving and watersports.
Villa Pandora in Mykonos is the perfect base for your yachting extravaganza – dock your vessel by the property's private beach, ready for when you wish to set sail. With six bedrooms, the waterfront residence features sleek and modern décor, while outside is a large infinity pool and a Jacuzzi. Located southwest in Aleomandra, the wind-protected spot has unobstructed sea views and is spread across three levels.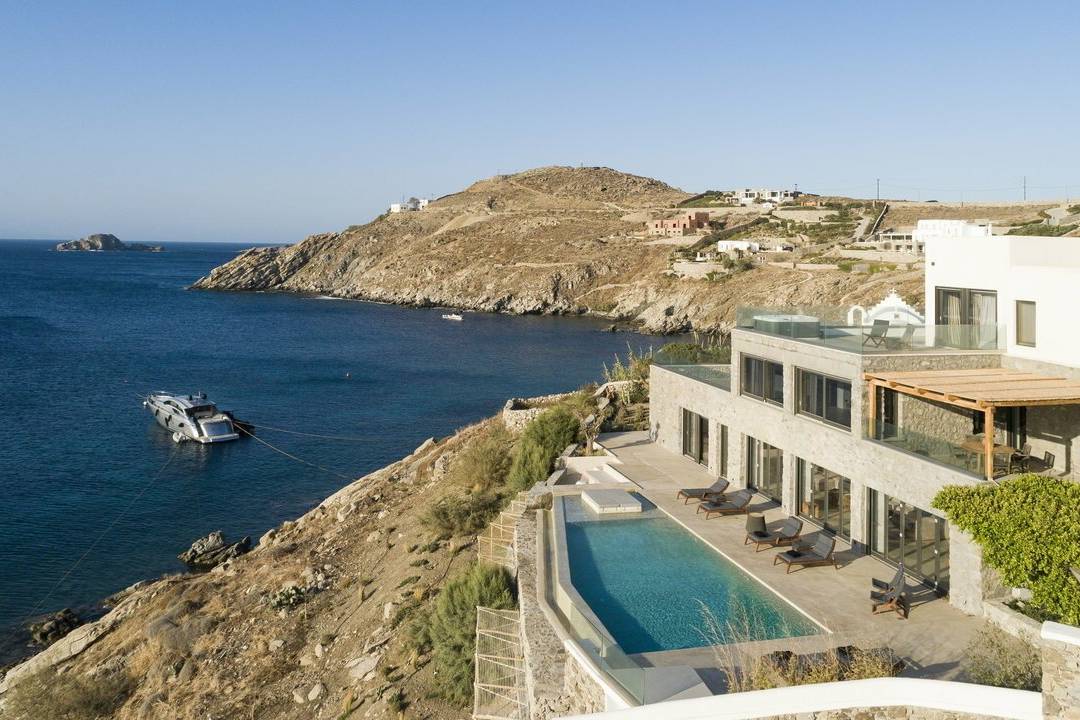 If you're looking for something slightly bigger, Villa Gisele in Corfu's Benitses could be for you. Sleeping 14 across seven en-suite bedrooms, the house has a secluded beach to drop anchor at and is surrounded by greenery.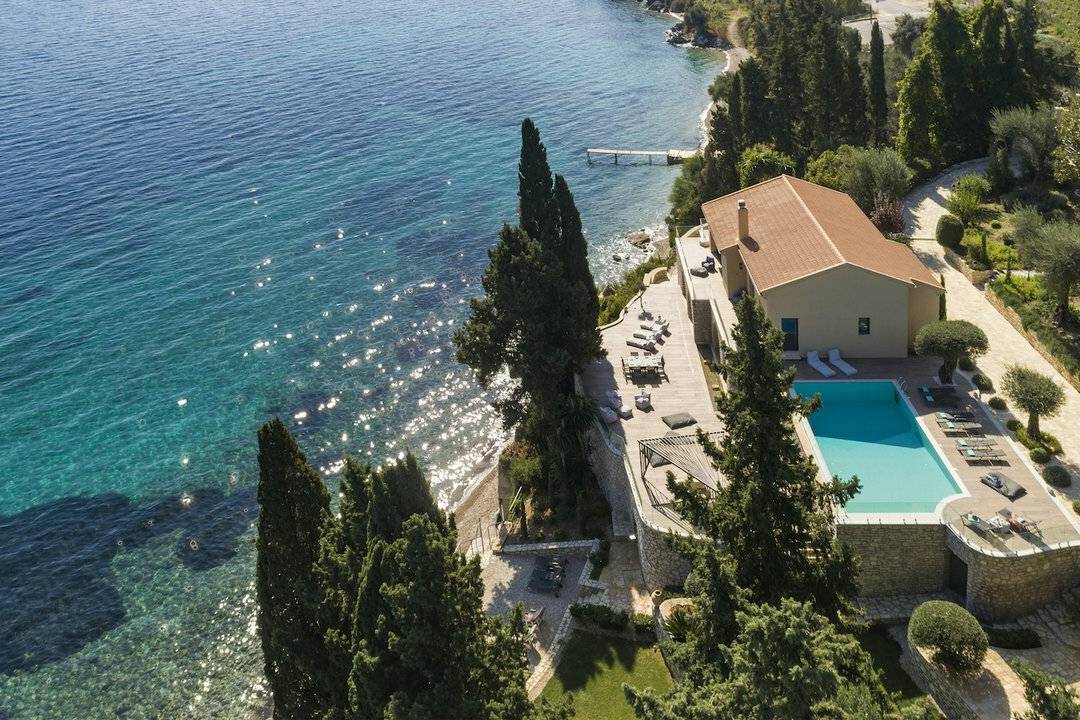 There's also a sizeable swimming pool, an enormous flower-filled garden, and spectacular panoramas out to the crystal clear waters of the east coast. With elegant yet minimal interior design, daily maid service, and air-conditioning, every detail is thought of.
Classy event in Mykonos
For birthdays, weddings, parties, anniversaries, corporate trips, and reunions, look no further than Bespokers. Guaranteeing to make your event special, the team plans ahead, recruiting professionals to make sure everything goes without a hitch. All your needs are catered for, be it music, food, photography, DJ services, fireworks, civil ceremonies, or activities.
Where better to host a party or a wedding than 13-bedroom Villa Antoinette in Mykonos, with its deluxe amenities, substantial pool, indoor-outdoor living, and unparalleled sea views? Ideal for big groups, the residence is situated on the east coast between Kalo Livadi and Kalafatis beaches on a plot of 7,000 square meters. Consisting of two adjacent buildings, the décor is boho chic and facilities include a chef's kitchen, wine cellar, and gym.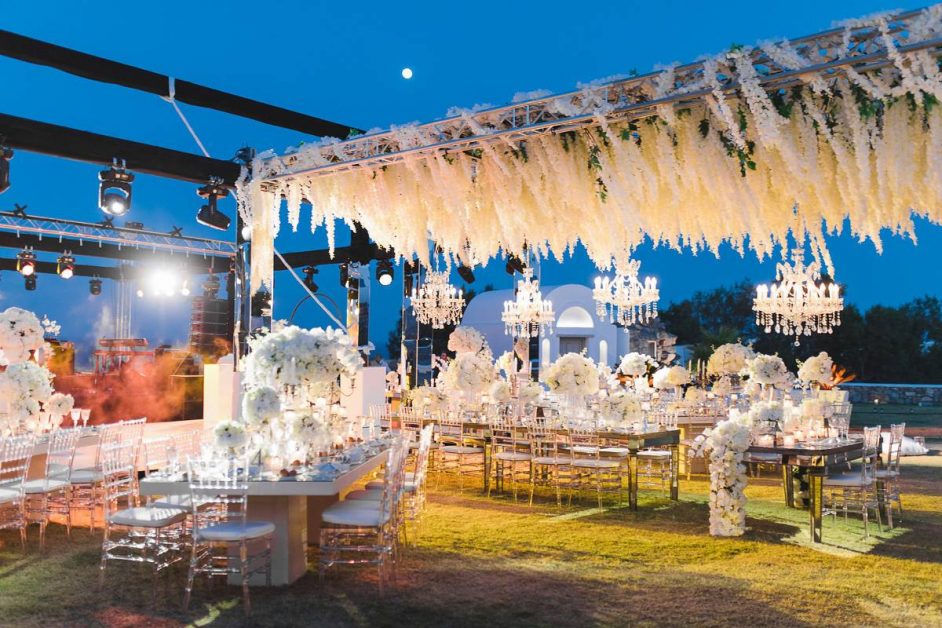 DePlanV events photo by Anna Rousso
Close by is Villa Zeus, an even bigger proposition, sleeping 40. The ultimate in luxury, you'll be wowed by the scenic vistas, two vast private swimming pools (and two mini versions), and a spacious outdoor lounge and dining area. Spread across three properties and a guest house, it's a top-tier spot to tie the knot or celebrate an occasion.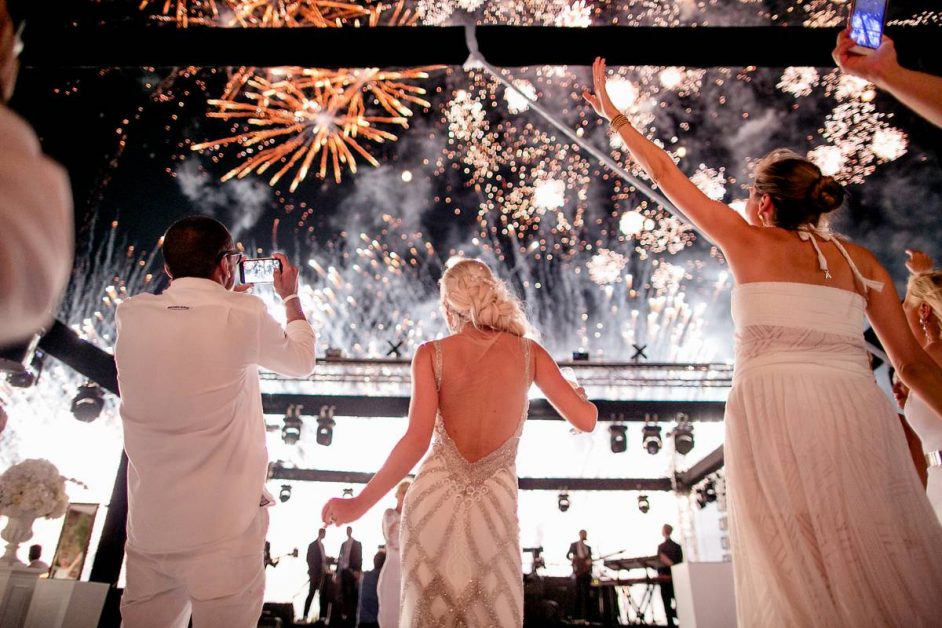 DePlanV events photo by Anna Rousso
If you'd like to find out more about Bespokers, contact them via email, phone (+30 6977970013), or send a message.