The range of real estate marketing tools out there can make it difficult to know where to begin. It would help if you had the perfect marketing mix to promote and market your properties, and getting this mix right takes planning and time.
We selected industry-specific solutions designed to make your marketing strategies more efficient, from CRM to direct marketing, messaging, and comprehensive tools like marketplaces, which work with real estate professionals to connect them with potential buyers.
Understanding the value of each type of tool and those most relevant to your business at its current stage is vital for success.
Read more: How to increase a commission pipeline multiple times in a few months?
What do you need in your real estate marketing tool kit?
Today, automation is driving marketing. There is so much specialised software, and top real estate marketing tools can do for your business with only a little input needed from you. However, the sheer range of SaaS on the market can be overwhelming. For ease of use and to select your tools effectively, it is possible to split all digital marketing tools, from SaaS solutions to online marketplaces, into seven distinct groups:
CRM marketing tools for real estate: to help understand your customers better, through industry-specific tools
Direct marketing tools: to generate more leads from your customer base
Social media tools: to boost your audience and potential customer base with minimal content creation efforts required.
Website built on the industry-specific platform: to attract new visitors to your website and create a hub for listings and property content using industry specific tools.
Chatbots: to convert users on your website
Online marketplaces: a quick solution to start marketing to the right audience of potential buyers
Let's look more closely at these different types of tools and consider some of the various options available.

CRM marketing tools for real estate
CRM is one of the most vital real estate marketing tools in your arsenal. CRM stands for customer relationship management, and the right platform can help manage all your customer information effectively. It streamlines and effectively manages communication between customers and potential customers with ease.
There is a range of industry-specific CRM tools designed with real estate in mind, most of them also country-specific, focusing on certain regions of operation. They help with managing listings and syndication to relevant portals.
Some of the leading tools to consider include:
Countries: France, Italy, North America
Price on request
Country: France
Price on request
Country: Spain
Free / up to $45/month
Country: Spain
€29 – 99/month
Country: Spain
Price on request
Country: Italy
From €540/year
Country: Italy
Price on request
Country: Portugal
Price on request
Country: Portugal
From €49/month
Country: Greece
Read more: Which tools do top agencies use to accelerate their revenue?
Direct marketing tools for real estate
Direct marketing tools are often closely tied to your CRM platform of choice. It is usually easy to combine your email marketing tool with your CRM to seamlessly automate marketing emails, SMS messages or other direct communication. Top tools to consider here include:
Free / up to $299/month for large contact databases
MailChimp is a feature and template-rich email marketing platform. It's extremely powerful and makes it easy to focus your marketing efforts on potential leads who have shared their email address with your business. MailChimp integrates easily with many other software packages too.
Free with Pro Packages starting at $89.95/month
Twilio's SendGrid keeps things simple and makes email marketing very easy for beginners. There is a choice of four payment plan options suitable for enterprises of different sizes. The lowest-priced paid plan includes up to 40,000 emails per month and API access for customisation and the SMTP relay service.
From $150/month
Customer.io is a slick platform for email marketing and messaging workflows. You can manage emails, push notifications and SMS in real-time to suit your marketing strategies.
From $139/month
SlickText makes it easy to bulk send text messages for new listings or schedule open house appointments. SlickText also features text and picture message scheduling, and you can build opt-in text messaging lists to improve engagement rates.
From $67/month
Intercom is a market-leading customer communication platform. It features easy customisation and operation across different platforms, including live chat, email and SMS.
Direct marketing is one of the most efficient tools in your kit for generating leads. This is because you are communicating directly with an audience you already know, so higher conversion rates. However, building up this initial contact base can be challenging and often difficult for even the most experienced marketers to achieve. If you want to try all the benefits of direct marketing immediately, try to connect with an online real estate marketplace that already has a large base of subscribers.\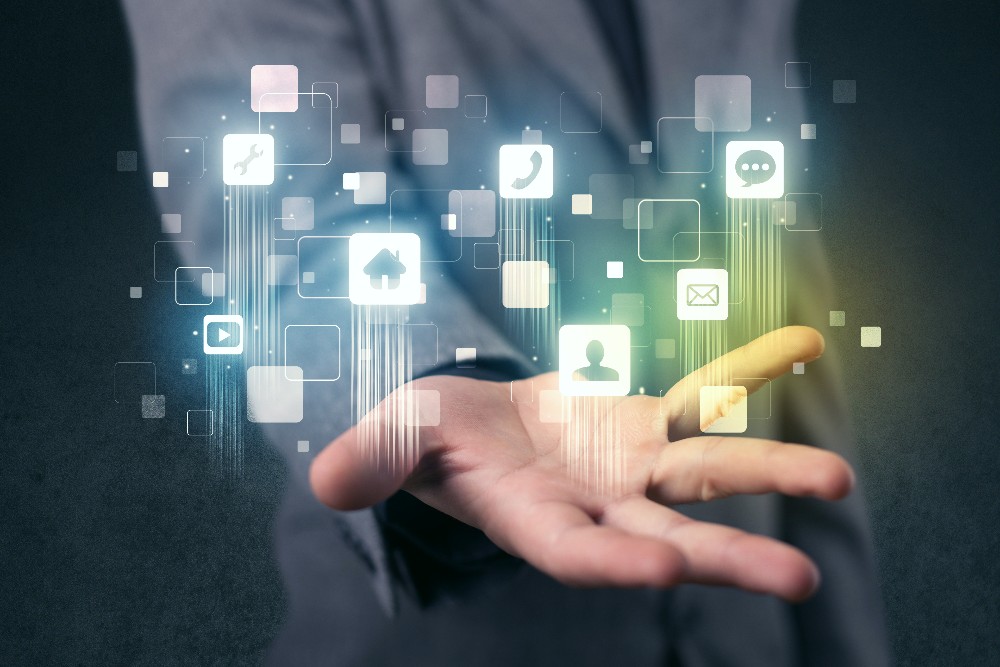 Social Media Tools
Social media tools fall into two distinct categories: those that help you with publishing and scheduling and those that help you create content. It can be one of the most effective real estate marketing tools because it is so visual. You've got a beautiful property (or several) to market, so social media is a fantastic way to show it off. The most visual-based platforms include Instagram, Pinterest and Facebook, with video platforms like YouTube and TikTok also bringing value to your business.
Publishing and Scheduling Tools 
Publishing and scheduling tools allow you to plan out your social media strategy and schedule posts in advance. You can set them to post across different networks or schedule each network individually to ensure that your content is optimised for each channel. The top tools to consider include:
Free to $599 for five users
Hootsuite makes it easy to schedule across a range of social media, usually used by larger companies. It supports scheduling across Facebook, Twitter, Instagram, LinkedIn, Pinterest, and YouTube. It is one of the pricier tools, but the free version still has plenty of functionality.
Free to $100 for ten profiles
Buffer is another tool for quick and efficient social media scheduling. It works well with leading social media platforms, including Facebook, Twitter, LinkedIn, Pinterest, and Instagram. It also has the bonus of WordPress and Chrome integrations which make posting out content even easier.
$40 for 6 users
Later is a feature-rich scheduling tool which is one of the few which allows you to schedule posts to your TikTok channel as well as Instagram, Pinterest, Facebook, and LinkedIn. It also features a handy library for storing evergreen content, ideal if you have regular posts you like to share periodically.
Content Creation and Optimisation Tools
Creating beautiful imagery and social media optimised posts can be time-consuming. With the right tools, it is much easier. These tools will help your social media postings stand out and grab attention:
Free to $12.99 for up to five people and higher prices as your team numbers increase
Canva makes it straightforward to create social media ready imagery, posts and graphic content. With a wide range of templates, fonts and designs, you can insert your images and use their simple tools to create beautiful social media assets.
Free to $311/month for the Enterprise Package
Hastagify.me is a handy tool that lets you explore hashtags and find the most popular ones in your niche. You can also set alerts for specific hashtags and engage with potential customers on social media by commenting and replying to their relevant posts.
Free
Unsplash offers an abundance of high-quality free stock imagery. In addition, their royalty-free professional photography and imagery library is easy to search. When you use their images, you simply need to credit the creator, and they provide handy ready-to-paste codes making this extremely straightforward.

Your Website
Your website is your virtual shop window and a powerful tool for marketing your business and listing your properties. Optimised in the right way, your website can be your most effective tool for sharing valuable content, improving your SEO and advertising your property listings.
Even though there are a lot of widely known platforms, such as WordPress, Wix or Squarespace, foк real estate businesses it is best to use industry-specific builders that have integrated СRM and marketing suite features. The options available include:.
From $295/month
Ylopo is full and comprehensive real estate website and marketing suite that provides nurturing tools, listing marketing, and sophisticated dynamic Facebook ad management. There are a range of templates to choose from to personalise the look of your site.
Individual Quoted Price
Property Webmasters specialise in estate agency web design and property marketing. Their industry experience ensures each of their templates delivers the perfect backdrop for your property listings and generating more leads.
From $129/month
Offering an easy drag-and-drop website builder, Agent Fire allows you to have a fully optimised and beautifully designed real estate website without any difficulty. Agent Fire makes it easy to quickly build your website and start attracting new customers. The designs look fantastic on any device and Agent Fire also offers additional services including copywriting and logo design.

Chatbots
Chatbots are great for capturing new leads as they visit your website. Any visitor with questions can simply tap their query into the chatbot and get instant answers. You can also capture their information, which may lead to further enquiries. Popular chatbot software options include:
Free to $55.99/month
Highly customisable, if a customer contacts you via Formilla, you will receive a real-time text notification. It features some smart messaging but is not reliant on artificial intelligence like some other software options. This allows you to control messaging authentically and give a fully personalised service.
From $19/month
LiveChat is a popular AI-powered chatbot software. It is used by many large businesses and incorporates a range of backend tools for analytics and reporting. If web chat is a key driver of leads for your business, LiveChat is a great choice.
From $199/month
A premium product, ReadyChat, is like an inside sales agent service built for the chat environment. They provide 24/7 live chat agents who answer your queries and work to nurture any potential leads.

Online Marketplaces
You can promote your listings online even if you don't have your own website yet on an online marketplace. Crucially, a marketplace can deliver a combination of all the other tools we've mentioned, as well as access to millions of strong leads who have already shown an interest in purchasing real estate.
In many cases, marketplaces can be a wise solution to quickly multiply your digital marketing results with lower efforts from your side.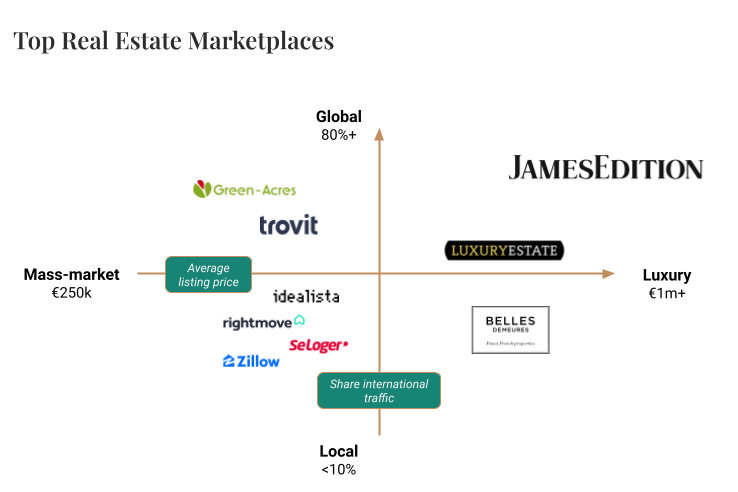 Top real estate marketplaces, sorted by average listing price (Horizontal axis) and share of international traffic (Vertical axis).
You can visit JamesEdition professional seller page to find out more about our approach to marketing your high-end properties on a global scale. We help you increase your commission pipeline and take your digital marketing to a new level.
Conclusion: The perfect balance of online marketing tools for real estate agents
The best real estate marketing tools for your business will depend on various factors. You need to consider your budget and your plans for business growth, as well as your preferred social media platforms and marketing channels. Your marketing stack can be changed and adapted over time, but you want to ensure your core tools are in place to succeed.
Choosing the right tools will depend on a wide range of factors. It is important to always think in terms of return on investment when selecting the right tool for your business. With this mind, online marketplaces standout for their cost effectiveness and the competitive advantage they give your business.
While your own website is a great storefront for your business, it usually takes considerable time and effort to drive sales this way. With an online marketplace you can be setup quickly and you'll instantly have access to hot leads, with a captive audience actively looking for luxury properties for sale.
Find out more about the opportunities a marketplace can provide to a real estate agent