A house on the coast of… Norway – why not? Let's take a look inside a very special house on the southern Norwegian coast.
Global property market is being redefined by digital nomads who are free to live anywhere they choose. While exotic destinations like Bali, Thailand or Ibiza have long attracted travelling freelancers, Norway offers a safe heaven for families looking for a more ecological way of living, in style.
And Norway is ranked as one of the world's safest countries with a population that values and respect the need for privacy.
This property, overlooking the magnificent Oslofjord, is ideal either as a family home or a holiday house for someone looking for luxury by the sea.
Enter the house: Nordic architecture, simple chic designs and a yacht pier
Located on the Norwegian sunshine coast in southern Norway, the property is equally close to the business districts of Oslo, beautiful islands, the ocean as well as cozy seaside towns and national parks.
This 5 bedroom, 5 bathroom gated property with a private marina is only 10 minutes from the city of Tønsberg that punches above its weight with restaurants, exclusive shopping and cultural offerings.
Built to the highest standards in 2000, the property features a 679 sqm main building with 3 bedrooms, library, private bodega, indoor swimming pool, kitchen and living room, and a sauna.
There is also space for an 80-foot yacht. Guests can be comfortably accommodated in a 137 sqm, 3 bedroom, 2 bathroom guesthouse.
The location: Oslo – Geilo – Bergen
London, Amsterdam and Copenhagen are less than 2 hours away by plane. The skiing resorts of Geilo are 250 km (150 ml) away by car, and Bergen, where fjord tours start, is 470 km (290 ml) away.
In 20 minutes you could be jetting off from the Sandefjord Torp international airport. London and Amsterdam are less than 2 hours away by plane.
But why would anyone want to leave this small seaside community where your neighbors are business people who appreciate the good things in life such as privacy and being close to nature.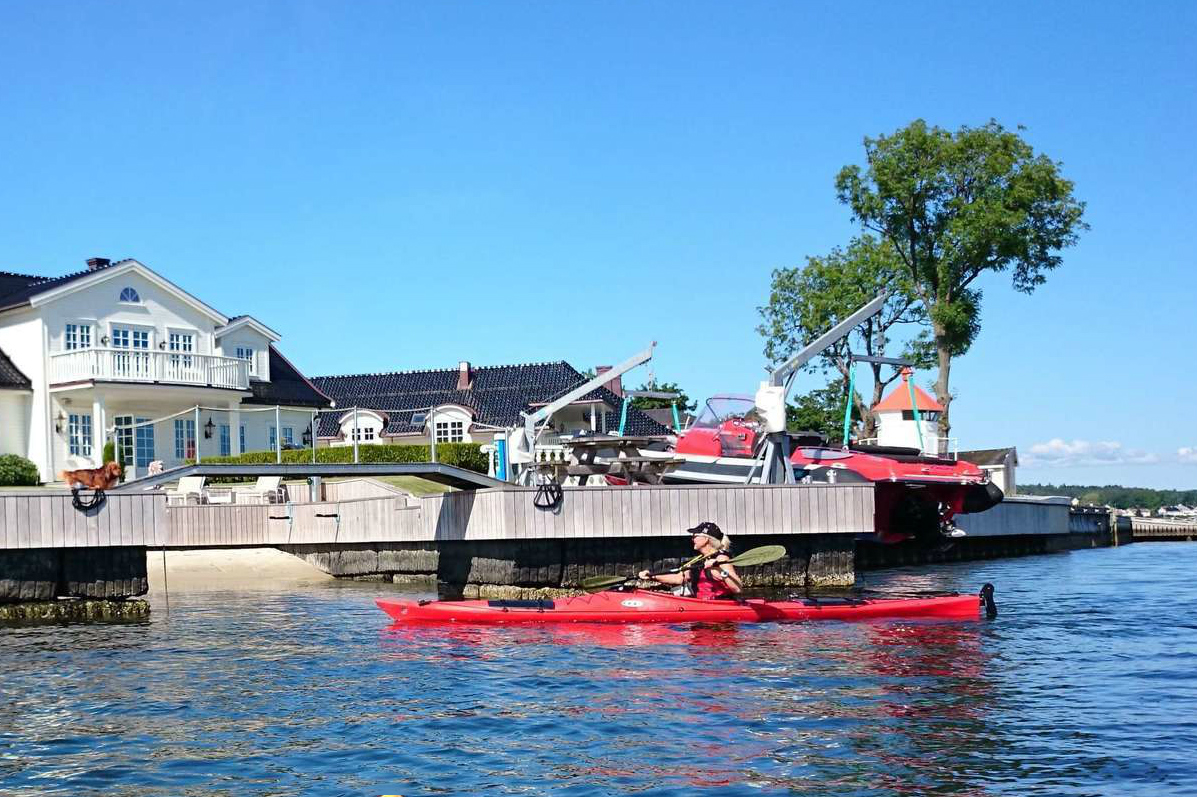 The highest summer temperatures reach 25-30°C in July so the house makes a perfect starting point for outdoor adventures.
This is the Norwegian sunshine coast with the most sunny days in the year.
Here, the highest summer temperatures reach 25-30°C in July (but can drop to as low as -13,6°C in January) so the villa makes a perfect starting point for outdoor adventures such as boating, hiking, fishing, swimming in the summer and skiing, skating, and indoor swimming in the winter months.
Where to go: Tønsberg, the world's end and the local dining scene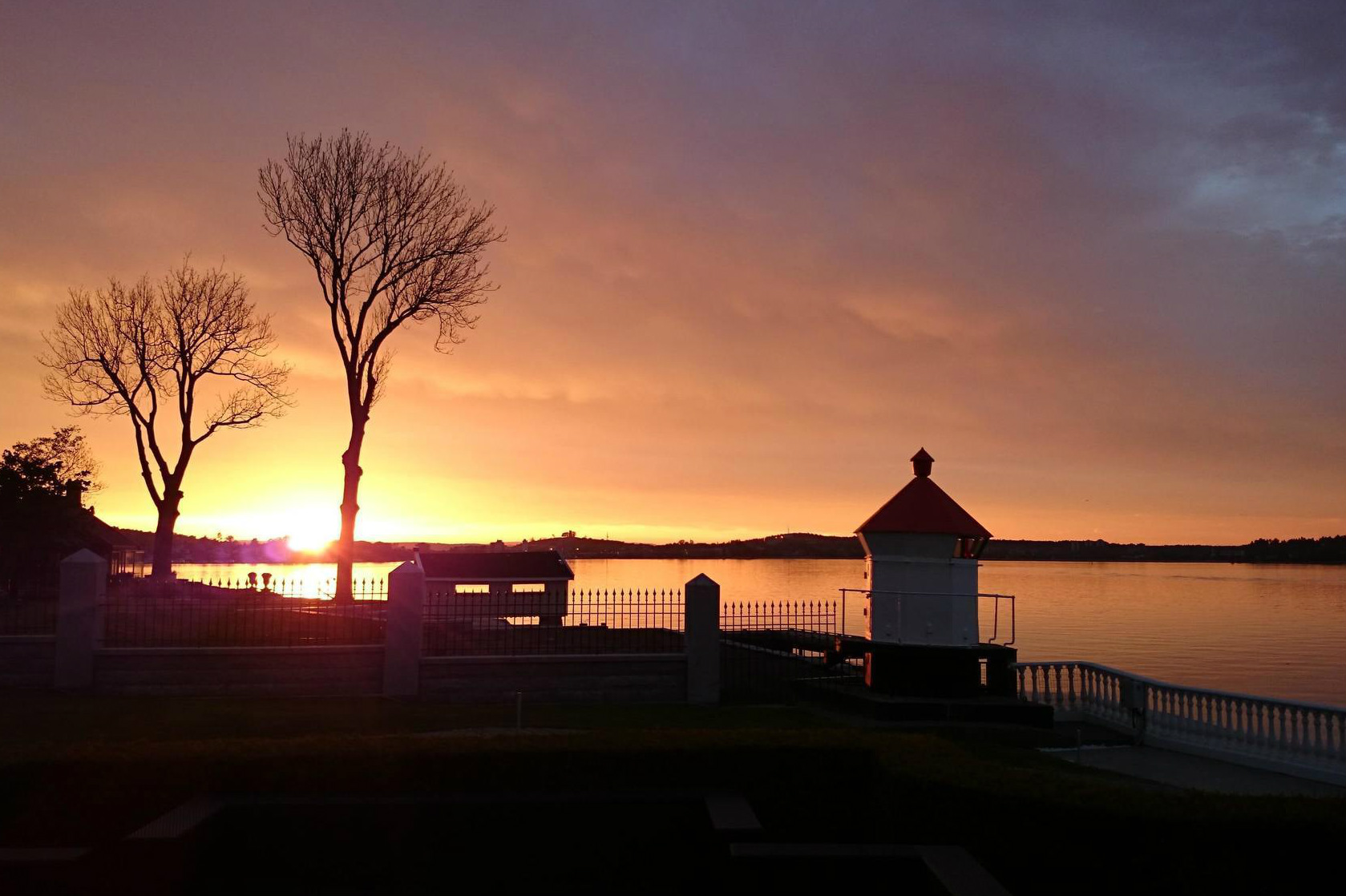 The property is close to "the world's end" on the southern tip of Tjøme.
As a bonus, the property has several attractions nearby.
Stasjonen is a newly opened restaurant, café and bar in the old Tønsberg town hall. With two local star chefs, Tom Victor Gausdal and Stian Floer, at the helm, this exciting edition to the local dining scene, is not to be missed.
Verdens Ende – "The world's end" – on the southern tip of Tjøme is a fantastic recreational area for an outdoor adventure. Is it fishing or swimming that you want? Or hiking by a stunning fjord? Or perhaps you'd like to snap a photo by the lighthouse made from stones from local beaches? Head to Verdes Ende.
Tønsberg is a beautiful coastal town with a proud heritage. It claims to be the oldest city in Norway, founded by the Vikings. Located 102 kilometers from Oslo, it attracts many visitors not just for its famed historic sites including Viking burial mounds and a full-scale replica of a 9th-century Viking ship uncovered near Tønsberg but a vibrant wharf with its its many bars and restaurants. Coastal walking paths and birdwatching spots are also not to be missed.
The sea. Here, you are always close to the water. Learn to relax like a local – jump in the ocean for a swim, or take the boat and enjoy the beautiful coastline.
Norway's real estate market view: stable growth
After almost eight years of uninterrupted growth, Norway's housing market is now stabilizing.
Some of the factors contributing to a slowdown include flat demand, weak construction activity, stricter mortgage rules and gradually rising mortgage rates. But the market forecast remains positive: property values are rising increasing and Norwegian economy is booming.
The nationwide house price index rose by 2.27% during 2018, after year-on-year rises of 0.73% in 2017, 10.09% in 2016, 4.54% in 2015, and 5.8% in 2014, according to Statistics Norway. When adjusted for inflation, Norwegian house prices increased by a meagre 0.16% in 2018. During the last quarter, nationwide house prices fell by 2.35% (-3.27% inflation-adjusted).
There are no specific restrictions on nationalities owning, occupying and investing in real estate in Norway.