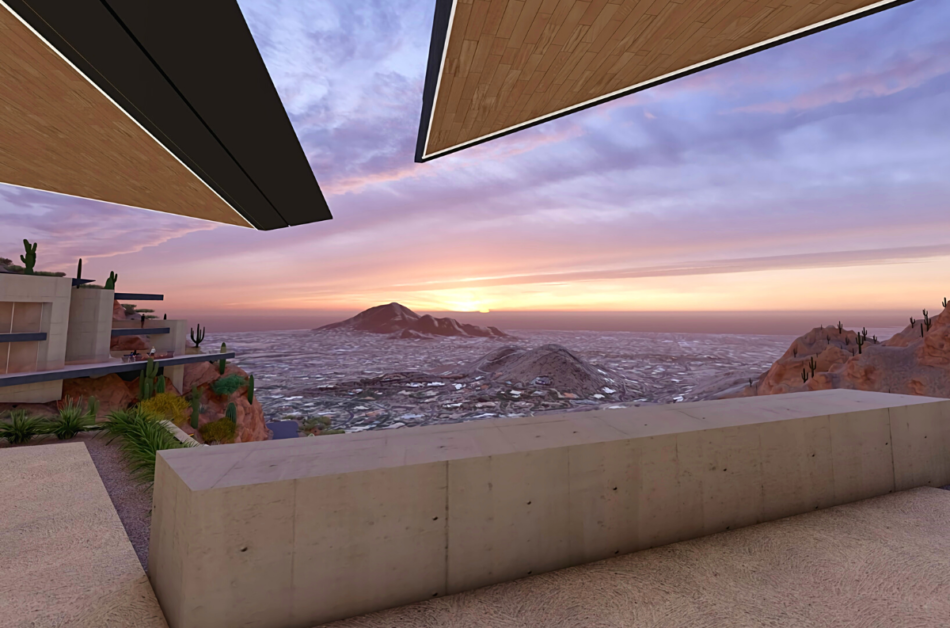 Modern home in Paradise Valley, Arizona, $20,000,000
View Listing
Desert homes of Arizona are among the most desirable properties on the market. Its cutting edge architecture and breathtaking terrace views along with relatively low inventory made the real estate located south of the Grand Canyon a new Arizona dream.
Arizona is historically one of the strongest US housing markets: it offers extremely low mortgage rates and gorgeous deserted landscapes which make it a peaceful and tranquil location to get away from the hustle and bustle of life. However, with the combination of the low inventory it means the real estate market cannot keep up with the ever-growing interest from wealthy buyers: the demand is higher than ever.
In 2020, Arizona's capital city Phoenix saw the greatest increase in home prices in the US market at 14.4%. According to Arizona Association of REALTORS, in 2021 the state will continue to set itself up as one of the hottest property markets in the country, including the upscale areas of Paradise Valley, Northern and Southern Arizona.
There are currently 833 luxury homes for sale in Arizona, with the average price at $2,271,643. The current minimum price is a three-bedroom mansion at $495,000 in the Tucson region surrounding by mountain views and features a private outdoor pool. On the other hand, the highest-price mansion is a nine-bedroom mansion in Paradise Valley which is priced at $20,000,000. With over 12 acres of land, this secluded gated property will give you all the privacy you desire thanks to its mountain-top location.
There are many more on the market that you may be interested in and we have listed just some of the most expensive houses in Arizona below:
1. Contemporary mountain-top estate, Paradise Valley, Arizona
$20,000,000
If you're on the lookout for total seclusion and privacy, this nine-bedroom property in the sought-after Paradise Valley region will certainly be right up your street. It is the most expensive property currently on the market and it's easy to see why. Spanning 18,000 sq. ft with 12 acres of land, this mansion certainly has the wow factor. Located behind a private gate, it features a private pool and a large balcony area to enjoy the mountain views below.
2. 17th century inspired architectural estate, Paradise Valley, Arizona
$18,000,000
An exclusive palatial Mediterranean style estate, this five-bedroom property is designed by Juan Sandoval in the style of traditional 17th Century Colonial architecture both within the interior and exterior, making it the perfect abode for the history lover. With three acres of land, it features two central courtyards for relaxing or entertaining and a 60×60 ft pool when you wish to take a dip after a hectic day.
3. An award-winning ranch-style mansion, Sedona, Arizona
$15,500,000
El Rojo Grande Ranch is an award-winning estate featured in the Wall Street Journal. It is the second largest in the Sedona region, with 173-acres of land; featuring an equestrian center, barn and stables and veterinary clinic. This estate includes three homes – a 6,581 sq. ft residence featuring a lap pool; heated spa, fitness room as well as a fully appointed two-bedroom guest house and finally, a caretaker's residence which could be converted into an additional guest house if required.
4. Unique equestrian estate, Scottsdale, Arizona
$14,950,000
Located in the heart of the pinnacle peak, this 10-acre residential estate offers the most unique equestrian facilities in the whole of Scottsdale and could be described as none other than 'Equestrian Disneyland'. The estate consists of the main house which features an 8-seater theater, a 5000 SF pavilion and two separate guest quarters. In addition, this estate features first-class equestrian amenities, making it the ideal property for horse owners; including 3 dry lots, full competition roping or showing arena with cattle holding area and chutes, a small practice arena with a viewing stand and 12 large stalls at the barn with padded walls and rubber floor mats. Every horse owner's dream.
5. Newly-built Mediterranean-inspired mansion, Paradise Valley, Arizona
$13,000,000
New for 2021, this eight-bedroom property gives you the privacy and security you require in one of Arizona's most desired neighbourhoods. With the option to customize to your exact needs, this home can accommodate up to 20 cars if desired, or the space could be used as a ballroom or events room if you are a fan of hosting. In your spare time, you may find yourself lounging by either the indoor or outdoor pool or in the on-site spa when you wish to unwind. There is also a gaming room where you may enjoy a spot of bowling, battling or shooting games; while other entertainment amenities include a home theater, gym, hair salon and steam, and sauna rooms.
6. Astounding piece of livable art in Scottsdale, Arizona, USA
$10,000,000
Described as "the desert courtyard house" and "the house of doors" in the Phoenix edition of  Homes and Gardens, this property is on the market for the first time. An architectural masterpiece shaped from rammed earth, steel, glass, and stone, the home seems to have naturally emerged from the landscape. A commanding storefront door opens onto a central courtyard, situated on a peninsula between two arroyos; Sonoran plant specimens and landscape become living art. And floor-to-ceiling glass walls surround the intimate courtyard to blend the indoors and outdoors seamlessly without compromising privacy or security.
7. Modern Mediterranean luxury mountain-view property, Scottsdale, Arizona
$9,995,000
Situated in one of the highest elevated sites in the Desert Mountain, this five-bedroom property will certainly make you feel like the 'King of the Castle'. With jaw-dropping views of the entire valley and tremendous sunsets, this elegant property is light, airy and contemporary and provides all of the luxury amenities you could dream of – including a Cantera fireplace, dry sauna, spa bath, heated flooring, designer closets and fitness center. Venturing outdoors, you'll find a tennis court, pool and five-car garage.
8. Mountain-Top Luxury Ranch, Scottsdale, Arizona
$10,000,000
This new-build four-bedroom home designed by Kilbane Architecture offers all of the qualities that a modern homeowner may seek, including an open plan layout for family living or entertaining and a large patio area for outdoor gatherings. In the south-facing yard which guarantees maximum sun throughout the day, you will find a pool with a Baja shelf, lounging areas and an alfresco kitchen/dining area. The property is also complete with a spacious three-car garage offering plenty of storage space.
9. Exclusive 'Oak Creek' architectural masterpiece, Sedona, Arizona
$9,670,000
Taking over a decade to build, this ten-bedroom property is situated on 4.77 acres, with a spacious atrium built in the center of the house. In a quiet, rural location giving you peace and privacy, this home is ideal for getting away from it all and enjoying the much slower pace of life. Its riverside location makes it the perfect setting for an array of sports and activities, including the likes of yoga, meditation, hiking, biking and swimming.
10. Campbell Cliffs Safe Harbor In The High Desert Of Tucson, Tucson, Arizona
$8,995,000
Have you ever dreamt of escaping the hustle and bustle of human life and being at one with nature? This property may just be for you, thanks to being positioned in 10 acres of the Coronado National Forest, which ultimately becomes your very own backyard. This property is all about living well due to featuring a two-storey gym, rock climbing wall and sauna and steam room. Despite being a calm and restful retreat, it is just a stone's-throw from a whole host of restaurants and shops in the downtown area.