If you're a high-net-worth individual looking to invest in 2022, it could be the year to set your sights on Italy. Already one of the most popular countries in the world for second home buyers – especially North Americans and Brits – the pandemic has supercharged demand.
According to our partner Luxury Villa Italy – one of the leading real estate agencies in the country – there are several key benefits to owning a second home within the Apennine Peninsula, from tax incentives to relatively low prices.
Specializing in helping foreign customers select the most suitable real estate in Italy, and with offices in Milan, Liguria, and Sardinia, they have a wealth of experience and expertise to share. Discussing local trends with Elena Manzhos, she filled us in on why now is the best time to buy since pre-pandemic days.
1. Price incentive following the pandemic
It's an opportune time to buy in Italy, with experts from Luxury Villa Italy reporting lower prices than pre-Covid.
In 2020, the value of new properties was up 2.1%, and those of pre-owned homes had risen by 1.9%. But in 2021, prices fell: In Q3, the decrease was 2.5%, showing the largest drop since 2017 and stabilizing bloated "pandemic" prices.
The pandemic dragged Italy into recession, with GDP falling by almost 9% in 2020 (the steepest decline since World War II according to ISTAT). However, the eurozone's third-largest economy is projected to grow by 3.5% in 2022, as estimated by the European Commission.
A combination of factors makes for perfect timing for buyers considering purchasing a second home in the Apennines.
According to JamesEdition's data, the average property price in Italy is $1,200,000 (as of February 2022). The country's most expensive city is Milan, located close to the Italian Lakes and within a two- to three-hour drive of the Ligurian Riviera, the Alps, and Tuscany. At the lower end of the scale is ideally positioned Bologna – just 200 kilometers from Milan, yet the average house price is 42% lower.
Unsurprisingly, the highest-priced region is Sardinia, while charming Tuscany with its country estates is relatively affordable compared to other sought-after areas.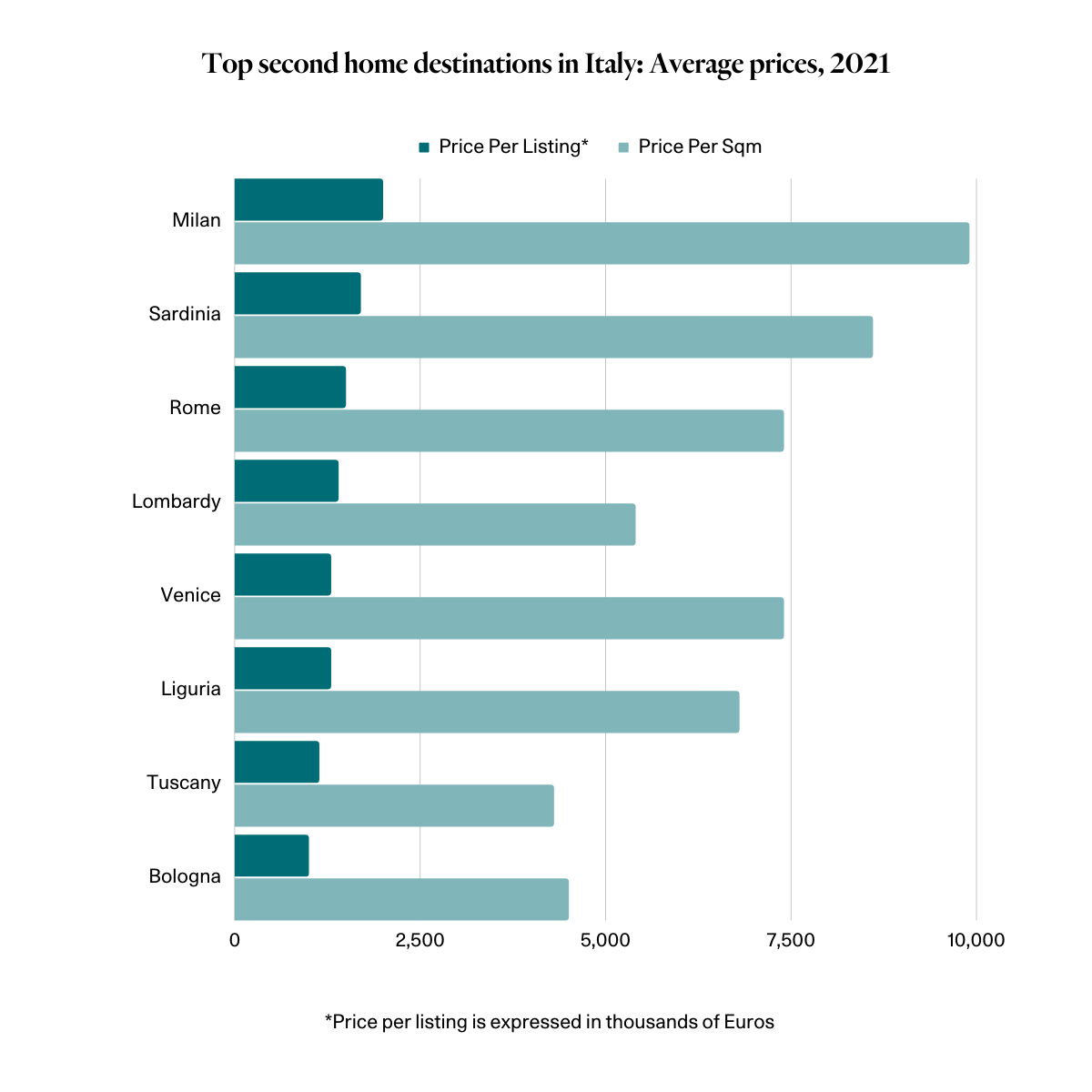 2. Top fiscal advantage thanks to the flat tax
Regardless of current market trends, the Italian flat tax remains one of the key benefits for buyers with annual income outside of Italy exceeding €250,000. But what exactly is the flat tax?
Since 2017, Italy has benefited from a non-domiciled tax regime offering Italian fiscal residents the right to pay an annual flat tax of €100,000 – a single levy on income earned abroad.
In the realm of tax residences and attracting investments, it makes Italy a worthy competitor to Spain, Portugal, and Switzerland, acting as an incentive for high-net-worth individuals to transfer their tax residences. In order to qualify, they can't have been a tax resident of Italy in the last 10 years.
Flat Tax: key features
The widely discussed innovations of the tax code were designed to make life easier for wealthy foreign citizens wanting to settle in the Apennines. Italy isn't a pioneer, but it does offer undisputed advantages compared to other countries with similar programs.
Not only do flat tax participants combine the transfer of tax residency with moving to a new country and obtaining a residence permit, but regular personal income tax (IRPEF) payments are replaced by a flat tax of €100,000, regardless of income. Furthermore, they're not subject to foreign property (IVIE) or foreign investment (IVAFE) taxes.
The tax only applies to income received outside the country; on income from business in Italy, the payment is calculated at the regular rate using a progressive scale, while gift and inheritance taxes apply only to Italian assets – not to property located elsewhere.
Who can take advantage of these benefits? Both entrepreneurs and their family members (who may have separate incomes), including children, spouses, parents, and siblings – there's a fixed payment of €25,000 for each additional person. The flat tax regime can be applied for 15 years, with participation automatically renewed annually. For each tax period, the amount owed is paid in full in one go.
Flat tax and investor visa advantages
Successfully gaining an Italian investor visa gives affluent business people the opportunity to change their place of residence and settle in a well-developed European country with a high standard of living. Ordinarily, to obtain an investor visa, people are required to live in Italy for at least 183 days a year, but for tax residents under the flat tax program, the period is reduced to three months. After that, the residence permit can be extended for three years, followed by permanent residence, and after a decade it's possible to officially apply for citizenship.
How to apply
If you're fluent in Italian, you can apply directly on agenziaentrate.gov.it, but the help of an accountant may make life easier. To avoid misunderstandings, it's better to request the approval of the tax authority in advance: Electronically through the portal, by registered mail, or in person.
The application requires documents confirming the absence of Italian resident status over the past decade – the main condition – personal data, and if you already live in Italy, your address, social insurance number, and information about previous tax jurisdictions.
3. First-rate international schools & universities
Italy's acclaimed international schools open the doors to top universities and jobs in world-class companies.
It's no wonder high-net-worth individuals with families are drawn to the country. Located in cities across the Apennine Peninsula – Rome, Milan, Genoa, Bologna, Florence – the schools follow British, American, and Canadian educational systems. Teaching takes place primarily in English, and as children get older, particular attention is paid to preparing them to apply for prestigious universities around the world.
In Lombardy's Milan you'll find the International School of Europe (ISE), whose motto is "For a world without frontiers". The first facility was founded in 1958 by Francesco and Wanda Formiga, who were followers of the English education system.
Today, ISE is the largest and most prestigious network of international schools in Italy, with educational institutions not only in Milan, but also Monza, Bergamo, and Como (all Lombardy), Siena (Tuscany), and Modena (Emilia-Romagna).
Elsewhere in Lombardy is The American School of Milan (ASM), which opened in 1962, 10 kilometers from the center of Milan. For half a century, thousands of students of more than 30 nationalities and religions have graduated. The school is famous for its small classes – a maximum of eight pupils per teacher – and takes children from three years old.
The Sir James Henderson British School of Milan is another top-class option. Founded in 1969, it's named after the British businessman who established the Chamber of Commerce and Italy's first Rotary club. The main credo of the school is providing a high-level British education in a truly international environment, and their Department of Music and Art is considered one of the best in Europe.
The International School of Como (ISC) offers children a modern, high-quality education that complies with the standards of the International Baccalaureate (IB). And over in Montagnola – an Italian-speaking part of Switzerland – is The American School in Switzerland (TASIS), situated close to Lugano and half an hour's drive from the western side of Lake Como. Since 1956, TASIS has flourished as a leader in international education, evidenced by additional schools and summer programs launching in England, Greece, Cyprus, Italy, France, Spain, and Puerto Rico. As well as teaching according to the American education system, the IB is also included.
These schools are by no means the only ones on offer; there are also excellent facilities in places like Rome, Venice, and Bologna.
4. Easy access to real estate auctions
In Italy, more than 40,000 auctions are held per year, although not all lots find a buyer. Mostly used to buy inexpensive luxury properties for renovation, the sale of real estate in Italy by auction is legally advertised – for example, on the Court of Milan's website.
Auctions take place in two ways: privately and publicly.
Is it profitable to purchase real estate under the hammer? The short answer is yes. Auctions have become an attractive form of buying property in Italy at a bargain price. For example, in Milan, the average price reduction for apartments sold at auction is 38%. What's more, they're the safest way to buy, because the court itself is the guarantor that the property was built in accordance with regulations and is free from mortgages and encumbrances.
Additionally, it's possible to secure an even lower price between the second and third bidding rounds by making an offer outside of the auction. Each round, the property's price decreases by 25%.
The only disadvantage? Selecting a suitable residence takes time and patience, as does the process itself. Therefore, investors need a clear idea of budget and geographical location before they forge ahead.
5. Lifestyle reasons
Italy is a safe haven with low crime levels, particularly in Northern Italy. At times, it feels like many disadvantages of the modern global world don't exist. Couple that with a unique combination of diverse terrains and you'll be wondering why you haven't considered buying a property in Italy sooner.
For example, there are picturesque coastal resorts aplenty, from the Italian Riviera and Amalfi Coast to Cinque Terre and islands such as Sicily, Sardinia, Elba, and Procida. Mountain landscapes and vast skiing areas include Alta Badia, Bormio, and Cervinia, while lush countryside and wine regions span Tuscany, Umbria, Chianti, and Piedmont. There's no shortage of cultural attractions either, from the Colosseum and Duomo Santa Maria del Fiore to Pompeii and Mount Vesuvius.
On top of these top lifestyle benefits, there are also tons of sports and activities to enjoy, including some of the best golf courses in Europe such as Verdura, Circolo Villa D'Este, Poggio Dei Medici, Acquasanta, and Circolo Venezia. And don't forget thrill-seeking race car tracks, strong biking, triathlon and running communities, and quality tennis clubs.
It's all about "la dolce vita", where life is relaxed and pleasant and people make the most of Italy's rich cultural heritage, as well as its outstanding regional cuisines. You may even choose to buy in one of Italy's slow cities, where laid-back living is the order of the day.
The time is now for Italy
If you're considering purchasing a property in Italy, seize this golden moment. But it's also advisable to seek professional help to ensure the process goes smoothly. Our partner – Luxury Villa Italy – supports buyers at all stages and offers due diligence, one of the most complicated steps.
Luxury Villa Italy's main office is located in the center of Milan at Via Verdi 5, next to the famous La Scala Theatre. Contact the agency here, by emailing or calling +39 388 7526855.