Offering residents an eco-conscious way of living, Villas Horizon, the waterfront Villa Euforbia in Portobello di Gallura Private Residential Park, along with the seafront homes of Borgo Harenae in Cannigione, located in Sardinia's upscale Gallura – Costa Smeralda region, represent a top selection of new innovative properties that adhere to the principles of bio-architecture.
Moreover, since they are still under construction, investors and home seekers have valuable opportunities for tailored customization in terms of spaces, finishing, and furniture.
The innovative residences are ideal for people who are passionate about green architecture and looking to buy in a prime and incredibly scenic area in the heart of the Mediterranean, safeguarded and protected since '60 years. Brought to the market by Immobilsarda – Christie's Real Estate, experts in the eco-wellness property arena in Sardinia, their approach is ethical, sustainable, and forward-thinking.
"The project is inspired by the concept of high-quality living experience, strongly linked to the tradition, territory, and its nature," says Julia Bracco, Head of Sales  Immobilsarda – Christie's International Real Estate. "Nature, beauty, competence, and an environmentally respectful architectural style form the basis for a new contemporary luxury."
Bringing Bioarchitecture to Sardinia
Focusing on the relationship between homes and the landscape, Immobilsarda fuses real estate, neuroarchitecture, and bioarchitecture, ensuring properties respect and enhance the territory, whether it's the way they're shaped or how they blend into the environment.
The tailor-made projects Immobilsarda promotes stem from more than five decades of experience in the well-being real estate market. During that time, they've observed a change in buyers' values, with priorities re-evaluated accordingly, and they understand that living spaces are paramount for psychological and physical well-being.
With that in mind, the residences Immobilsarda markets are all about sustainable construction, integration into nature and into landscape, the use of eco materials, a blend of innovation and tradition in respect and enhancement of the territory.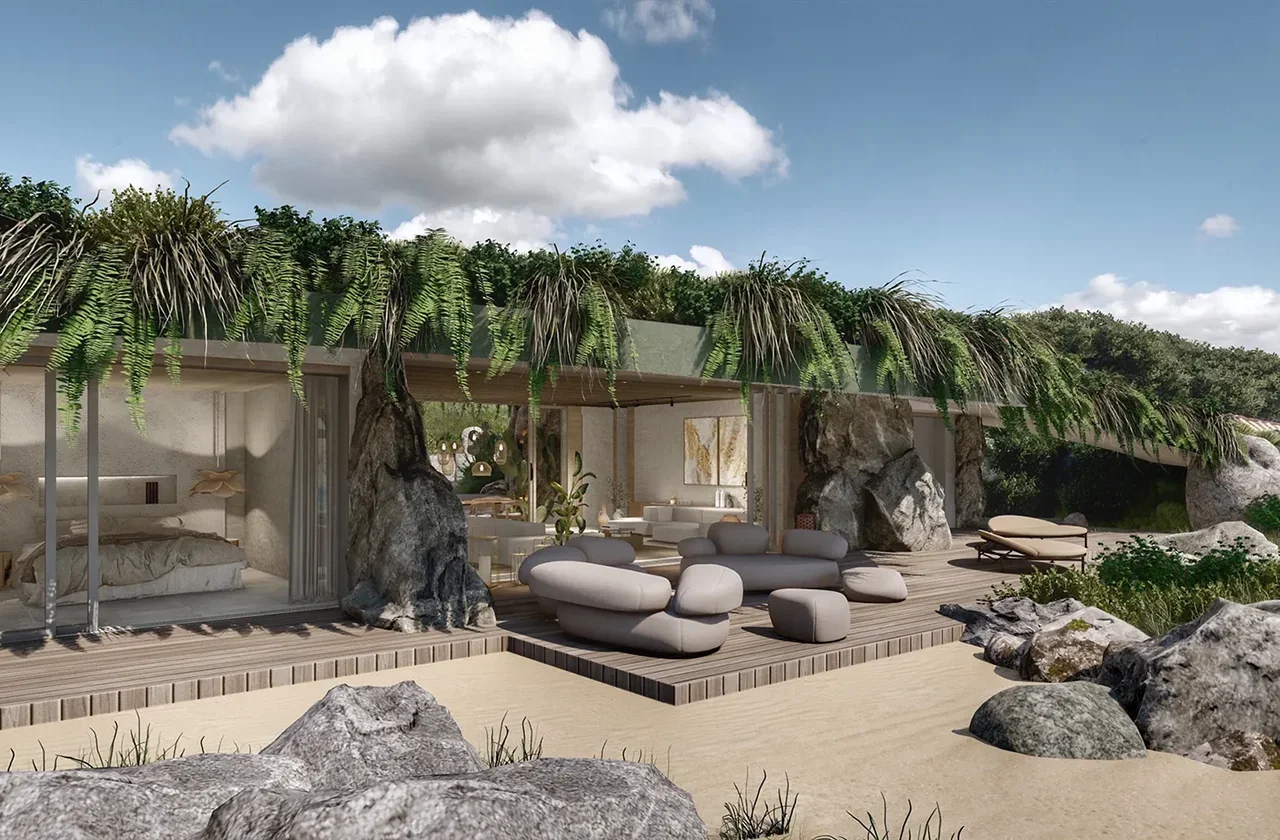 Designed to be tranquil and intimate sanctuaries, the dwellings conjure the feeling of living on a private island. What's more, the surrounding nature protects each house, be it natural dunes or verdant gardens, and there's no clear boundary between the interior and the outside.
Floor plans emphasize openness and freedom, including a central living and dining area facing the outdoors and the sea, while textured finishes work in harmony with the external environment. Immobilsarda thinks of villas as organisms – naturally micro-climatized, each is created to be lived in all year round, should you wish.
Other sustainable features range from using renewable energy sources to advanced home automation systems.
Often coming complete with verandas at the front and back, an outdoor kitchen, and a natural pool overlooking the sea, owners can enjoy unparalleled panoramas from all angles.
Julia Bracco

The luxury real estate market strives to satisfy discerning buyers who prioritize quality of life, natural settings, exceptional living spaces, culinary excellence, well-being, and aesthetics. ImmobilSarda – Christie's International Real Estate has long been an ambassador for these core values, recognizing the evolving emphasis on primary values in the real estate sector. Today, nature, beauty, expertise, and an environmentally conscious architectural approach are the cornerstones of a new, contemporary luxury.
For Sale: Three New Bespoke Villas Integrated with Nature
Ideally positioned in Gallura-Costa Smeralda in the northeastern part of the island, the new seafront Villa Horizon, Villa Euforbia, in Portobello di Gallura and the residences of Borgo Harenae gated community in Cannigione, are exceptional examples of the environmentally friendly approach encouraged by Immobilsarda.
Villa Horizon
Price: On request
With up to seven bedrooms and six bathrooms, this contemporary, two-story, 250-square-meter house integrates seamlessly with Portobello di Gallura Residential Park, a private and peaceful, seaside guarded community. Constructed using top-quality local materials, innovative architecture standards, and fully customizable, it boasts scenic views of the Tyrrhenian Sea and the Portobellonatural amphitheater: a striking 30-kilometer wild coastline peppered with lush Mediterranean maquis and secluded beaches.
Boasting a dual-aspect living area, additional noteworthy features include an internal courtyard, indoor/outdoor opportunities galore, a spa, a gym, and a concealed underground garage. Outside in the about 1.800-square-meter lot, there's a split-level, water-facing swimming pool to relax in and enjoy the glorious vistas of the sea from.
Villa Euforbia
Price: On request
Also situated in Portobello di Gallura Private Residential Park, this waterfront eye-catching, customizable 350-square-meter residence has up to six bedrooms and four bathrooms, stands on a plot of over 1.600 square meters, and benefits from a front-row view of the Tyrrhenian. The innovative design blends biophilic and neuro-architecture and is in harmony with nature.
Notable features range from a contoured grass roof that provides shelter from the wind and full-height sliding glass walls to the use of local materials. Check out the water-facing terrace, interior courtyard with a 60-meter plus pool, and outdoor cooking area before heading down the beach. Back inside, the lower double-height floor houses staff quarters, and there's an underground garage, too.
Seafront Villa in Borgo Harenae Private Gated Community
Price: On request
Nestled in a new charming residential complex of Borgo Harenae, this aesthetically pleasing, customizable five-bedroom and bathroom property is one among the several units of the complex, located close to the characterful village of Cannigione and just a few minutes from vibrant Porto Cervo in Costa Smeralda. Embracing the fabulous natural environment and offering continuity between internal and external areas, the villa is surrounded by a six-hectare park and has breathtaking panoramas of the La Maddalena Archipelago and the glistening sea.
With generous outdoor space across terraces, patios, and flower-laden gardens, plus a Jacuzzi to dip in, the atmosphere is serene and relaxing. The Residential complex of Borgo Harenae houses 24 units in total, guaranteeing residents direct and exclusive access to a private beach and pier and bespoke hotel services.
Costa Smeralda's Biophilic Masterpieces
With a desire to unite innovative projects, architecture, and wellness, Immobilsarda – Christie's International Real Estate strives for cultural enhancement and territorial promotion. Their concept is born out of in-depth market analysis, focusing on customer needs, habits, and attitudes. With that in mind, the owners of the new biophilic projects of Villas Horizon, Villa Euforbia, and Borgo Harenae's seafront Villas, will benefit from high-quality lifestyles linked to well-being, authenticity, freedom, privacy, and space.
For more information on these and further unique and eco-aware biophilic homes in Sardinia, Gallura – Costa Smeralda, contact Julia Bracco at Immobilsarda – Christie's Real Estate via email or phone.