How does owning five fabulous vacation homes in sought-after areas of Europe sound? Italy, Spain, the UK, France: Close your eyes and picture vacationing in these countries, in a single year. Through August, that dream becomes a reality.
Who is August? August is the better way to buy and own vacation homes in Europe by making it more accessible and hassle-free. An ideal option for people considering purchasing a second home but who are reluctant to choose one destination and be solely responsible for upkeep.
Their co-ownership model offers you direct ownership of not one but five luxury homes in the most desirable locations without the hassle of maintenance or mortgage worries. All at a fraction of the cost of buying outright.
"With people using their vacation  homes just a few weeks a year, the cost/usage ratio is hard to justify. This is why we believe it makes a lot more sense to share when it comes to vacation  homes. We've designed our collections so that the amount our co-owners pay is aligned with their usage. Most importantly they get access to more locations, and much more higher end properties. Why pay for 100% of an asset when only using it 10% of the time?" says August founders Melie and Nico. With a rounded and expert background in law, interior design, and finance, they also have extensive real estate experience to oversee renovation projects.
Upscale properties featured in August collections are on the market via JamesEdition through shared ownership. Collections include a grand Tuscan stone house, a country cottage in the picture-postcard Cotswolds, a cozy chalet in the French Alps, a chic villa along the Côte d'Azur, and a characterful Mallorcan getaway.
The best bit? Everything is taken care of, from purchasing the homes to renovating, fully interior designing and managing them. You'll finally be able to focus on what you do best on vacations. Interested? Let's delve into August's ethos and methodology a bit more.
Antibes, French Riviera. Source: August
Shared ownership: The best lifestyle investment
Sole vacation home ownership brings with it time-consuming irritations such as running and maintaining the property, not to mention a large financial outlay in the first instance.
By co-owning properties, things are simple and headache-free. For a start, you pay significantly less than buying 100% of a comparable property. There's also no mortgage involved as properties are purchased outright.
For example, by investing €320,000 ($378,000) in the collection of homes, you become co-owner of five top-notch residences scattered across sought-after destinations, worth a total of around €7,000,000 ($8,266,000).
By becoming an August collection co-owner you're not limiting yourself to one location and are increasing your vacation experience. We know vacations can be varied, so with five European destinations to choose from, depending on what you fancy, when you want to go and who you take with you, your vacations are endless.
How is August involved? As well as overseeing the whole co-ownership process, August takes care of buying and renovating each of the homes, therefore reducing risks and unknowns of buying in destinations you're unfamiliar with.
Their transparent monthly fee (€590/$700) goes towards managing everything behind the scenes so that you never have to worry about maintenance and can arrive at hotel standard homes, with manicured gardens, glistening pools, and immaculate presentation.
Dream homes in dream locations
Every co-owner has different needs. Perhaps you're a couple embarking on a romantic break? Food lovers looking for a gastronomic trip? Family of seven who love sports? Or a lover for outdoor hikes? August has carefully curated locations that offer all activities for all needs: from golfing to cycling, to local villages and markets, restaurants and beaches. So no matter the season there are activities available all year round so that there is always something to do. Their "August Recommends" guides and strong community also helps each co-owner plan their trips in advance and feel more like locals and less like tourists.
Via their extensive network of contacts, August often gets first dibs on houses in prime spots, before they hit the market.
The detail: Getting the weeks that you want with a smart booking system
Okay, so you like the sound of things so far but are worried about availability. With an average of 3 months usage across your properties. There's plenty of time to spend at every property and this ensures everyone gets the time they want!
You have certain weeks of the year you want to vacation, but how do you know if your co-owned properties will be free?
That's where the smart booking system comes in. Developed with families in mind, it's a straightforward, streamlined, and hassle-free process with full transparency. Block out the time you want in advance, whenever you choose.
With a points-based allocation of time, the system designates the same amount of annual usage points to each member of the collection. Depending on the month you want to holiday, a different number of points are incurred.
For instance, high season utilizes more points than low, with seven super peak weeks equating to 20 low season weeks. In reality, members book a mixture, depending on preferences and plans.
Points are released in batches during the year, ensuring everyone's given a fair chance to book their periods of choice, serving both long- and short-term planners.
August also makes sure to mix co-owners from different locations (UK, US, EU), different age groups and occupations, so that every family has different needs. Some intend to use the homes during high season for just 4 weeks, while others prefer less crowded periods and longer trips. This ensures everyone will be able to maximize their usage and get their favorite weeks.
Co-owners reap all the benefits of sole ownership, and even own a set of keys to each property.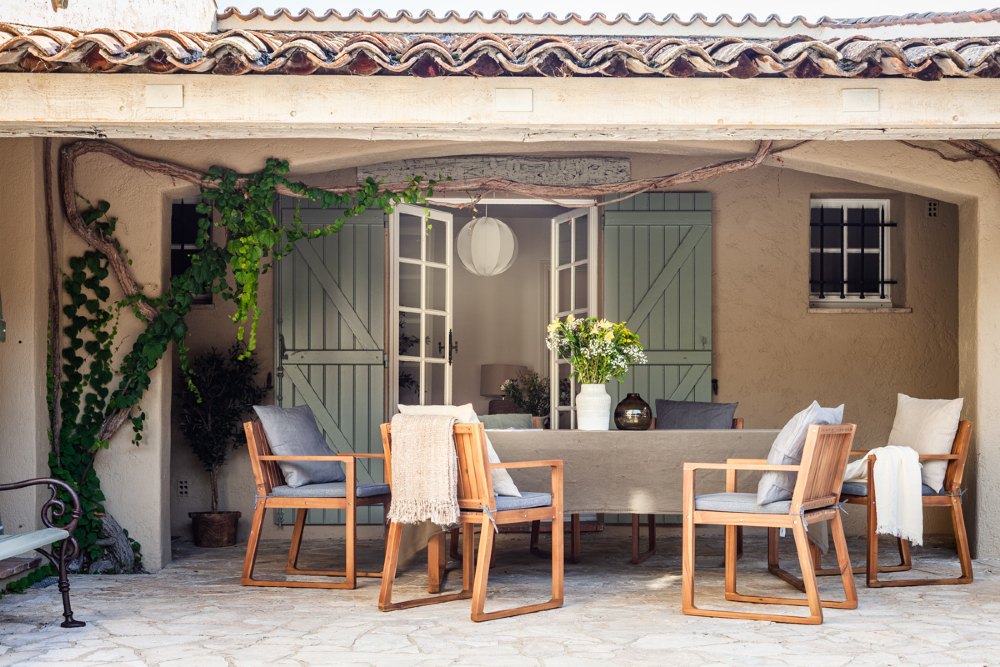 With a background not only in law and finance but also in interior design, August founders have extensive real estate experience to oversee renovation projects.
The properties: Beautifully designed and finished
We've dug into the nitty-gritty, but what about the houses themselves? Offering a consistently high standard with meticulous attention to detail, each individually chosen home is welcoming, family-friendly, and stylishly decorated.
The team also considers flight connections and times when choosing properties as well as thinking about original home features and material choices.
Via their extensive network of contacts, August often gets first dibs on houses in prime spots, before they hit the market. They're not afraid to renovate and redesign, either. In fact, Melie and Nico relish a challenge, making the most of their background and utilizing their varied partners.
One of the co-founders started British interiors platform Homewings, bringing further expertise and flair to the design process. Each residence is different, with the interior design reflecting the look and feel for the region.
"We only select properties full of charm and character with the potential to be transformed into August homes. Never new builds as this ensures each home within the collection a unique flair that is inline with the region, giving you that authentic vacation feel," states August founder Melie.
Take this newly renovated hideaway in Provence-Alpes-Côte d'Azur, part of August's Signature Collection. Close to Valbonne, one of the prettiest French Riviera villages, the charming stone villa is just a 20-minute drive from coastal Antibes and the glitz of Cannes. Featuring four bedrooms, there's also a trio of bathrooms (two en-suites and one family), and three glorious outdoor terraces with panoramas to the rolling South of France hills.
Oh, there's also a heated pool set in manicured grounds, an alfresco kitchen, and entertainment spaces – indoor/outdoor living galore. The epitome of tranquility, all you hear as you kick back on a waterside lounger is the sound of birdsong. Back inside, think soothing neutral tones and a chic yet relaxing vibe.
All August collection homes are different, with the interior design reflecting that of each region the homes are in
August: Why settle for a single vacation location?
August's collections are broad and bespoke. All you need to do is peruse their European destinations, or alternatively, August can help you find the ideal fit depending on your requirements. Perfect for families and couples who would like to own a second home but are keen travelers, August takes on the admin while you enjoy five impressive properties.
Fancy owning a second house – or five? Explore August's modern way to own vacation homes by heading to Augustcollection.co.uk or contact them at info@augustcollection.co.uk for more information.