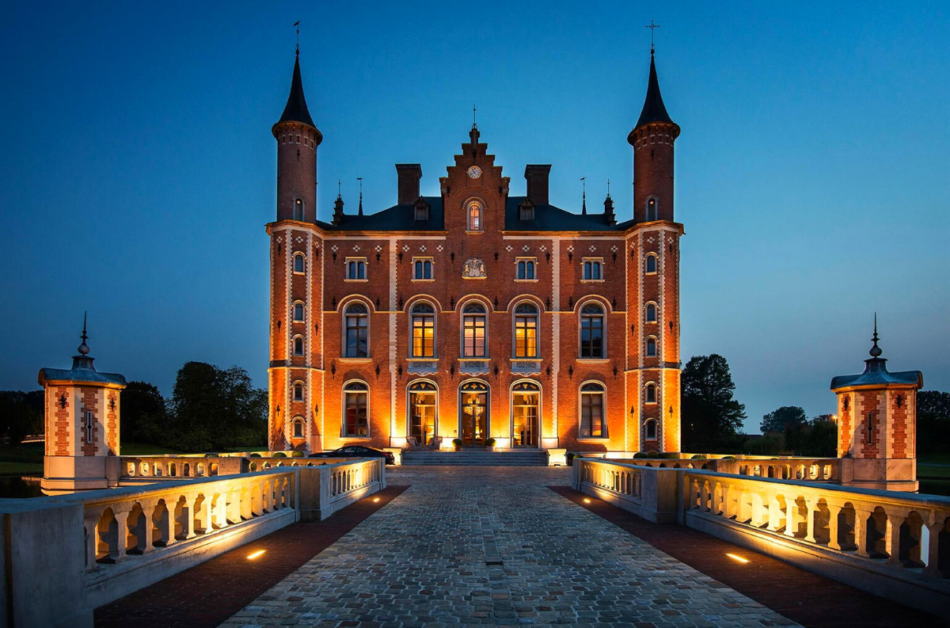 19th-century castle in Ghent, Belgium
With Valentine's Day 2021 just around the corner, many media outlets have created lists of the best stay-at-home date night ideas for Valentine's Day.
Since couples will need to craft their own "romantic getaways" at home this year, perhaps we can spark your plans for romance with a list of the top 14 romantic homes that our Instagram followers liked the most.
1. Exceptional apartment in Paris with an outstanding view
Price: US$8,396,346
We simply couldn't start our story about the best romantic getaways with anything less than Paris.
Any romantic would enjoy waking up to this Eiffel Tower view every morning.
Ideally situated, this duplex apartment on the top two floors (6th and 7th) of a fine 1920s freestone building offers about 229 sq. m of living space.
The spacious entrance hall leads to a reception room, a combination kitchen and dining area which opens onto a wide terrace, two bedrooms overlooking a courtyard, and two full bathrooms. And imagine this: the upper floor consists of a master suite with a bathroom and a dressing room which opens onto a second ample terrace, commanding an outstanding view of the Eiffel Tower.
No wonder all lovers long for Paris.
2. Sea of Dreams on the Cayman Islands
Price: US$29,000,000
For the ones who dream of white sand beaches and private luxury villas, we found this gem.
Sea of Dreams offers the best of Caribbean living for a savvy home buyer.
The perfect balance of simplicity and first-class living, privacy, and connection, all within the world-class, tax-neutral jurisdiction of the Cayman Islands.
The main house comprises three separate yet conjoined buildings, maximizing the use and flexibility of the home while maintaining distinct areas of separation and privacy. The east wing adjoining the main house presents two matching master suites, complete with spa-like bathroom facilities and grand walk-in closets. While to the west is a self-contained property ideal for additional guest accommodation.
So, you can even double date on the beach with a couple of friends!
3. Extraordinary 165 Forest Road in Colorado
Price: US$45,000,000
For those seeking a more northern type of romantic getaway, we offer this gorgeous Colorado winter retreat with the most picturesque pool ever.
165 Forest Road, located on Vail Mountain, is an exquisite, modern, contemporary estate encompassing the finest in materials, technology, and, of course, views.
A 75-foot, suspended, glass-bottom pool with exceptional Gore Range views probably is the main highlight.
With glass corridors and sliding walls, the design seamlessly flows from the living area into the exterior decks, patios, and gardens. Over 6,500 square feet of outdoor heated decks, biometric recognition entry, and an entertaining roof deck complete this one-of-a-kind residence in Vail Village, providing your private retreat.
4. Hackwood Park Estate in Southwest England
Price on request.
After watching the Netflix series The Crown, do you fancy spending Valentine's Day like a royal? We won't judge!
We've found something really special and related to royalty that is available exclusively from JamesEdition– and it's only 52 miles from London–the main place of action in The Crown. In Southwest England, nestles a palatial country estate called Hackwood Park. And, we can assure you, it is worthy of filming as well.
This estate breathes English history, from its royal deer park to its grand aristocratic residence. Hackwood Estate dates from the 13th century; the Restoration mansion is steeped in history and graced with Palladian order and symmetry fit for the 21st century.
5. Contemporary villa in Malibu
Price: US$ 7,500,000
Returning to the USA, we turn our gaze further west this time. This villa could definitely be the most sought-after California option for Valentine's Day.
Situated on approximately 5 acres, this gorgeous, contemporary home features incredible Malibu coastline views.
A bit of a highlight from us: the house provides an open floor plan with floor to ceiling windows and generous terraces throughout with exceptional views.
A perfect solution for those who want to enjoy their romantic evening in one of the most exclusive locations in California.
6. Sophisticated estate in Italy
Price on request.
Italy is considered one of the most romantic countries in the world, isn't it? And our followers certainly know how to choose the best spot for a romantic getaway in this beautiful country.
An outstanding, historical estate with breathtaking views of Lake Como and the captivating mountain ranges of Laglio, Italy. Sophistication and luxury, combined with the villa's strategic location in the mesmerizing province of Como, contribute to the estate's distinctive appeal.
7. Awe-inspiring castle in Belgium
Price on request.
Let's be honest. Most people would love to own a castle! Just imagine your romantic getaway in this breathtaking, 19th-century castle with its moat and pond…
Renovated in 2013, the property is ideal for modern living. It features an indoor wellness area with a pool, a sauna and jacuzzi, a terrace and an outdoor pool, and a wine cellar.
You'll find this aristocratic home and its many amenities within a large, private, landscaped park (± 15 ha) with diverse, beautiful trees and plants–perfect for long, romantic walks.
8. Breathtaking estate in Napa Valley
Price: US$7,900,000
Genuine European charm can be found even in California. If you know where to look.
For instance, this unique and sophisticated European-style estate is located in Napa Valley. It is cradled at the crest of the Mayacamas ridge line and features expansive vistas of dramatic, natural geography and iconic, rolling vineyards.
The property offers the utmost privacy in a serene setting, yet is a short drive from world-class Napa Valley restaurants and wineries–ideal for Valentine's evening.
French doors opening onto the outdoor entertaining areas probably are the main highlight. These exterior zones include patios, dining areas, a large pool with a spa overlooking iconic Wine County, and a mature olive grove.
9. Exquisite villa near Lake Como
Price on request
Coming back to Italian romantic spots, we would like to call attention to this authentic villa as one of the most beautiful romantic getaways among our Instagram posts.
This gorgeous villa can be found in one of the most secluded areas of Lake Como. As a matter of fact, it is completely isolated–thanks to the natural covering given by the configuration of the land–and currently is situated in a private park. So, it literally is a getaway from everyone–except for your loved one. Located precisely in front of the famous Villa d'Este hotel, the villa naturally provides a breathtaking view.
10. Picturesque villa, Impression Sunrise, in Corfu
Price: US$4,605,312
No one ever tires of the Mediterranean, do they? Well, here we have a fantastic Greek villa as a romantic getaway.
Villa Impression Sunrise pays homage to modern architecture, rightly claiming a place among the finest homes in Corfu.
An island hideaway located in an elevated natural setting, a place to enjoy the beauty of the Ionian Sea, this minimalistic gem offers the longed-for privacy we all seek along with timeless charm.
Literally green, environmentally friendly, and with unique high-end design and architecture, Villa Impression Sunrise offers exclusive benefits to all who want to experience an extraordinary Greek lifestyle.
11. Astonishing estate in Cannes
Price: $72,369,373
In searching for the best romantic getaways on our Instagram, we could not bypass this phenomenal French estate. More than property, this home is a true luxury experience on the French Riviera.
In the heart of the famous sector of Californie, this estate benefits from an extraordinary location, providing breathtaking sea views from the Bay of Cannes to the reliefs of the Estérel Massif.
Outdoors, an ambience of ultimate relaxation pervades. A swimming pool surrounded by a home bar, terraces, dining room, and summer kitchen completes the picture. Have you already envisioned your Valentine's Day there? We have.
12. Stunning villa in Porto Rotondo
Price: $30,845,230
If the two previous Italian properties didn't impress you, we have more!
This elegant villa is located in prestigious Punta Volpe: the high-end residential area of Porto Rotondo.
Surrounded by gorgeous, Italian trees and greenery, the home sits on a plot that extends about 5000 sq. m. In this location near the beach, you can fully enjoy the Mediterranean lifestyle.
The supreme "perfect date" destination, isn't it?
13. Contemporary home in Miami
Price: US$22,500,000
Palms, views, perfect colorful sunsets and sunrises. Sounds idyllic, right? Miami is the ultimate place to experience it all.
With 7 bedrooms, an open floor plan, and rear floor to ceiling sliding glass doors with views across Miami to Biscayne Bay, this fully automated smart home offers a highly contemporary and trendy interior. Amenities include a wine cellar, a home theatre, and an infinity-edge pool & spa.
14. Magnificent villa in Mykonos
Price: US$8,578,870
We've reached the 14th and final most beautiful getaway perfect for February 14th, and it proudly sits atop a cliff in Greece.
Built in 2016, this outstanding property overlooks the bays of Agia Anna and Kalafatis on the southeastern side of Mykonos. We can only imagine the beauty of these views when experienced on site.
A private staircase leads down to the sea, and the secluded helipad makes the beaches of Paros, Naxos, and Los easily accessible by air.
What could be more romantic than flying together in the sky?
Exclusive luxury insights
for newsletter subscribers only
Delivered every week to your inbox