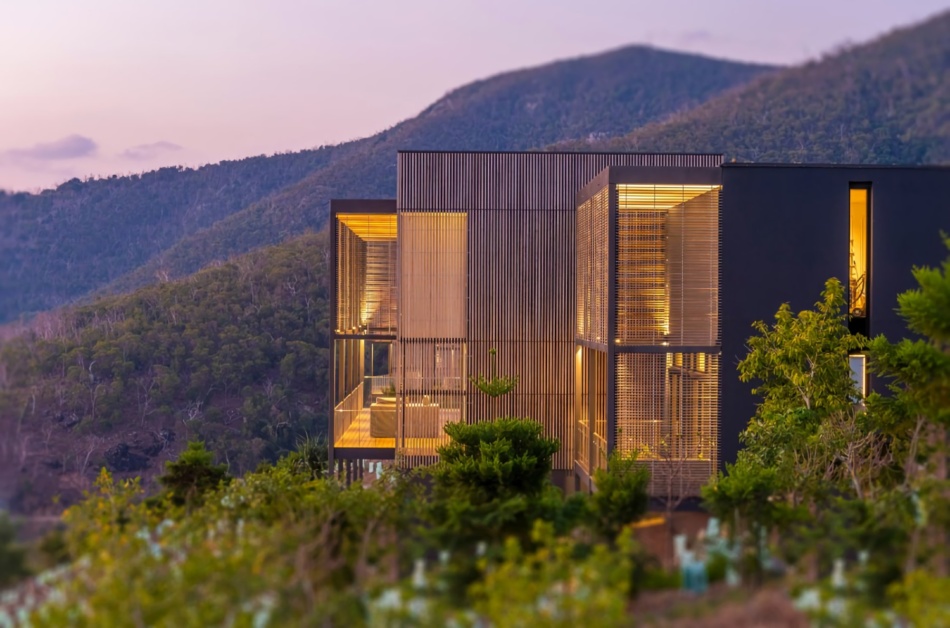 Hayman Estate, the jewel of the Great Barrier Reef, Queensland, Australia, $7,700,000.
View Listing
From a futuristic log cabin style villa in Croatia to an award-winning adobe in Canada, nature-blended luxury log homes are increasingly popular among wealthy house hunters.
Frank Lloyd Wright first introduced the organic architecture style in 1935 characterizing it as "the modern ideal" and since then the trend has grown dramatically over the decades. One of its latest incarnations, luxury log homes, takes the best of the nature-blended architecture.
Modern log cabins provide not only a perfect indoor-outdoor living space combined with biophilic interior design, but also pay greater attention to materials. Material awareness is another emerging organic trend that resonates with the entire conception of a deluxe log cabin house created using high-quality woods.
Needless to say, the pandemic boosted the popularity of organic architecture and, in the high-end real estate segment, the demand for modern and contemporary nature-blended architecture in particular.
In this guide, we're going to look at just a few that are up for sale right now:
1. Award-winning sustainable log-built property, British Columbia, Canada
$14,100,000
This iconic Canadian property is sprawled across 67 acres at the southern end of Vancouver Island. Award-winning designer, Marko Simcic claimed the structure is "sustainably entwined" due to its location in one of Canada's most endangered natural ecosystems—the Garry Oak savannah. Panoramic views of 1,400 linear feet of shoreline and private beach are amplified by spectacular ocean views backed by the rugged Olympic Mountain range. Adding to the luxury appeal, it features an abundance of amenities including a pool, tennis court, boathouse, library and vineyard.
2. Contemporary log cabin made of vintage barnwood siding, Colorado, USA
$11,950,000
This 5-bedroom modern treehouse-style property will allow you to be in the heart of nature while being just a stones-throw from a bustling downtown region. Surrounded by the National Forest, it is constructed from reclaimed vintage barnwood siding which blends seamlessly into the alpine landscape. It features a convenient and family-friendly open-plan living and kitchen area, with cozy alcoves for relaxing and broad open spaces for entertaining. It also has its very own indoor pool where you can take a dip and gaze out at the jaw-dropping scenery.
3. Modern home surrounded by National Forest land, Colorado, USA
 $14,495,000
Newly constructed and completed in 2020, this 5-bedroom property is the definition of modern living, complete with its very own custom elevator. This stunning architect-designed estate is constructed with natural woods and stone surfaces throughout in a warm, soft contemporary interior. Outside, you'll discover a stream cascading through small ponds, naturally flowing into the adjacent National Forest Land. Ensuring you get a full 360 view of its stunning surroundings, the property is fitted with a rooftop observation area, in which you can pull up a chair or whip out your binoculars to witness wildlife in their natural habitat.
4. Lakefront log cabin style home featured in Architectural Digest, Montana, USA
$17,500,000
Recently featured in Architectural Digest, this impressive 9-bedroom property encompasses over 15,000 sq ft with various living quarters for lounging or entertaining. What's most interesting about this property is that the architectural design by Andersson-Wise and Nick Fullerton allows you to move walls and windows to enjoy the scenery however you desire. There is also an original 1940 day cabin on-site in which you can refurnish as a guest house or additional workspace.
5. Mid-century masterpiece made of pecky cypress and native stone, New Hampshire,  USA
$3,650,000
This property located in Dublin, New Hampshire offers spectacular westerly views to the mountains of New Hampshire and Vermont. Spanning 94 acres and surrounding by forestry, it is perfect for the avid hiker, with its abundance of trails that can be accessed directly from the property. It was constructed in the 1960s from pecky cypress and native stone and designed by Architect James Hillary M.A.I. and built by Dartmouth Egyptologist, Ray Winfield Smith. This property also features an indoor pool and a tennis court to enjoy during some downtime.
6. Oceanfront log home with world-class views, Oregon, USA
$4,850,000
This modern 4-bedroom lodge is located at the oceanfront at Chapman Point, with astounding views of Haystack Rock, Ecola State Park, and the ocean from various rooms of the home. It is the ideal property if you're hoping for a more relaxed way of life. While residing here, you can sit back, relax and enjoy the beachfront views from the family room or take a dip in your own private hot tub.
7. Luxury log home with patio in Southampton, New York, USA
 $5,995,000
Perfect for wealthy buyers who are looking to construct their own home to meet their exact needs, this pre-construction opportunity is a 2.7-acre plot located on Seven Ponds Towd Rd in Southampton. It will feature two master bedrooms and five additional bedrooms (4 of which will be en-suite). The first floor will be open-plan which will allow an abundance of natural light to flood through and a lower level featuring a home theater, gym and an additional bedroom. This property will also have a generous pool and the exterior land will allow for a tennis court to be constructed if desired.
8. Quintessential Hamptons estate, New York,  USA
$29,975,000
Constructed in 2016  by Ed Bulgin, this 5-bedroom property presents a light, airy and spacious interior with breathtaking views of the ocean. Perfect for entertaining your guests, it features an oversized waterside gunite pool with a hot tub, 2 grills, gas pizza oven and fridge all overlooking the Atlantic Ocean.
9. Modern seaside lodge on a beautiful island, Sweden
 $2,757,929
Whether you're looking for a holiday home in Europe or a relaxing permanent residence, this 4-bedroom lodge is located on a quiet and private island right on the seafront. With over 3,500 sq foot, the main property is built with 360-degree glass windows and a generously sized wooden deck which blurs the line between the inside and outside to make you feel at one with nature. The outdoor terrace is an ideal entertaining space and features a kitchen, a pool as well as a jacuzzi. Also included on the estate is a second guest house property constructed in the same high-quality materials which will be perfect for accommodating family and friends during visits.
10. Futuristic log cabin style villa in Croatia
Approx. $5,943,125
This property in the region of Split-Dalmatia, Croatia is a one-off futuristic waterfront villa in a peaceful and laid-back location; with 13,000 m2 of land to give the illusion of living on your own private island. One of the major benefits of purchasing is that you have the freedom to change the plans to your requirements.
11. Mountainside open-plan log home, Geneve, Switzerland
Price on request
Just a stone's-throw from the city center of Geneva, this 5-bedroom property is surrounded by towering mountains and rolling countryside, as well as a landscaped park of 8,350 m², with the river Arve flowing just below. Light, airy and open plan with over 1,200 m2 of interior space, it is complete with a decked balcony to lounge and take in the stunning nature views.
12. A perfect example of 1970s architecture, Utah, USA
 $1,700,000
If you're looking to start a business from home or relocate your company, this property may just be for you. With over 2 acres of meticulously landscaped terrain which overlook the trout pond, waterfall and mountain views, it's certainly a property that allows you to feel closer to nature. It has an open plan feel throughout the main living spaces and is complete with 4 bedrooms and a convenient heated workshop. The second structure on the estate is a "barn" located adjacent to the pond and provides ample space for large motor toys, cars, or tractors.
13. Modern timber log home, New Zealand,
Price on request
This property is one of the most prestigious homes for sale in the Wanaka region, which is located in the Mt Gold area with mountain and lake views. It is constructed from shou sugi ban timber (larch) and bluestones with an extensive indoor-outdoor flow covering 32,324 sq ft. It features a spacious open-plan, living room/kitchen diner and a separate lounge for relaxing, while the alfresco area offers a large BBQ area, outdoor fire,  kitchen and heated swimming pool.
14. Custom-built riverside log home, Quebec, Canada
$3,799,995
Built from the highest-quality materials and positioned adjacent to the estate of the Seigneurie de Saint-Ours, this custom-built property ensures comfort and functionality. Surrounded by lush forestry and the Richelieu River. there is an abundance of outdoor decking areas to sit and enjoy all that the neighborhood has to offer.
15. Surfer's paradise in British Columbia, Canada
$14,000,000
The name of this property pretty much sums up the individual that it will appeal to. Situated on the beachfront and superbly equipped to enjoy Tofino's outdoors, this main residence boasts an outdoor surf shower and a secure outdoor storage locker for bikes and boards. There is also a guest house on the premises equipped with all of the key living facilities, alongside a gym and garage for family and friends coming to stay.
16. Hayman Estate, the jewel of the Great Barrier Reef, Queensland, Australia
$7,700,000
The prestigious Hayman Island Resort has long been regarded as one of Australia's most famous resorts. Today, it offers the opportunity to buy your own Zen-like, beachfront Hayman estate.
This modern yet understated 4-bedroom property gives you a taste of the indoor-outdoor experience in one of Australia's most exclusive resorts. Designed in a tropical resort-style by world-renowned Architect, Kerry Hill, this luxury home been constructed from the highest-quality natural materials, with solid timber floors and stone finishes and features spacious open plan living with a heated infinity pool and fitness center.
17. Contemporary log cabin in the forest, New Hampshire, USA
$10,000,000
This contemporary Lake Winnipesaukee custom-built property was designed with the intention to blend in with its surroundings and give you the privacy you desire. Boasting 7-en-suite bedrooms and a sound-proof media room and sauna, it is perfect for the outdoorsy individual, thanks to its lakeside decks for fishing or lounging, a hot tub, as well as a 2-slip boathouse and dock.
18. Y House, a modern adobe in nature, Alberta, Canada
$3,360,000
Y House by Saunders Architecture is the newest retreat in the Canadian region of Carraig Ridge. This innovative community of 650 acres of natural landscape is just a stone's-throw from Anna Lake and is surrounded by lush forestry with expansive views of the Devil's Head Mountain from the master bedroom. Covering a modest 4150 sq, this 3-bedroom property will ensure all the privacy you need for a more laid-back way of life.
19. Modern sanctuary, Colorado, USA
$35,000,000
The property is situated on a 20-acre parcel in one of Aspen's most dramatic valleys, known for privacy and extraordinary views of the surrounding peaks. Here, you will be guaranteed unrivalled scenery and privacy, as well as all-day sun which allows you to make the most of the surrounding landscaped gardens. The main house is 8,000 sq ft and features an exercise room, family den and rooftop complete with pool and hot tub facilities. The 1,000 sq ft guest house is a work of art  with the exterior siding of dark charred cedar topped by an anthracite-zinc metal roof. It offers a dramatic juxtaposition to the surrounding Aspen grove.
20. Lakefront log-style villa in PGA Catalunya Resort, Spain
Price on request
The lakefront log-style villa L'Olivera located within one of Europe's top golf resorts oozes modern elegance and minimalism and is situated within a peaceful, natural setting. Architects aimed to deliver a building that blended with the natural environment with the use of materials and sunlight flooding through the large glass windows. It is designed to bring the indoors and outdoors together through its use of structure and features a spacious pool.