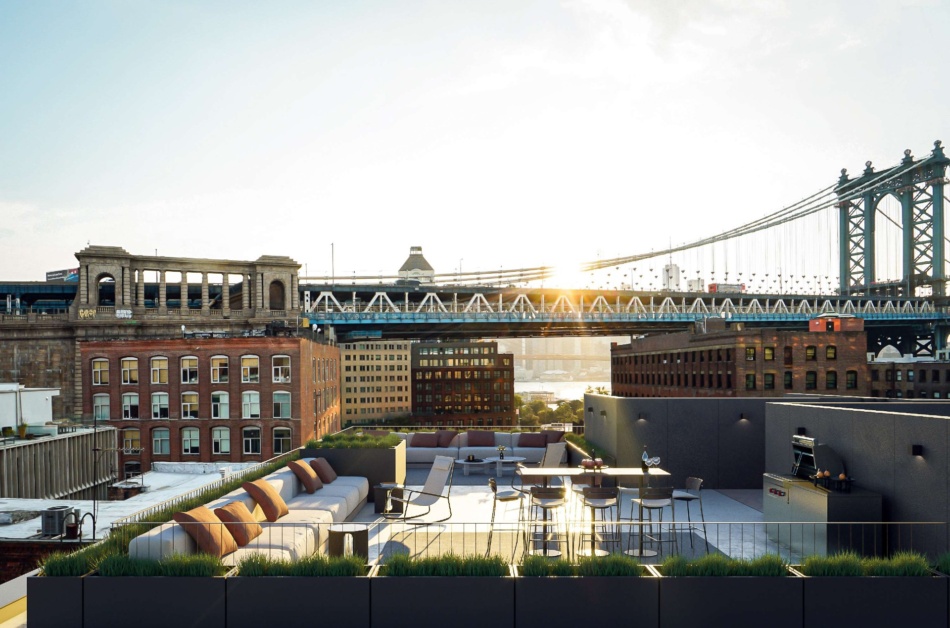 168 Plymouth Street, NYC, USA: a new residential complex in the historic daylight factory building.
View Listing
A sea fort transformed into a private island, penthouses built inside water towers and in geodesic laboratories, family homes in converted firehouses and former factories: industrial spaces are perfect bases for idiosyncratic yet upscale real estate.
In the 1970s, Spanish architect Ricardo Bofill became one of the first to build a home in an old cement factory on the outskirts of Barcelona. Since then, the trend of industrial building redevelopment has increased significantly. Revitalization of these spaces increases home inventory in sought-after downtown areas and lends new life to abandoned structures, while retaining their historic heritage. Industrial constructions, with their unconventional floor plans and epic proportions, can be converted into truly unique residential properties
Homes built within former industrial spaces are rare finds on the real estate market in general, including the high end segment. No more than a few dozen (i.e., about 0.05% of all homes) currently are for sale via JamesEdition. Most of these homes are located in top European cities and especially interesting examples can be found listed in London, Amsterdam, Rotterdam, and –on the North American continent — New York City (Brooklyn in particular); it's also possible to spot some attention-worthy deluxe homes within former lighthouses, mills, and warehouses in Italy and Portugal.
After meticulously reviewing our real estate section, we selected the 10 most striking industrial-turned-residential properties on the market.
1. Private retreat in a former fort, Portsmouth, UK
Approx. $5,550,737
Spitbank Fort, located just off the coast of Portsmouth, is a boutique retreat that could easily be converted into an ultra-private residence. Spitbank is one of the three Solent Forts with a 150-year heritage and three wars in its history. One of the neighboring forts, No Man's Fort, is also available for sale.
Spitbank Fort features panoramic sea views through convex glass walls and exceptional outdoor spaces built upon former observation decks.
The property is within commuting distance of Central London: 20 minutes by helicopter, 90 minutes by train, and 120 minutes by car.
2. Penthouse in a former geodesic laboratory, Wageningen, Netherlands
Approx. $2,705,230
This beautiful living and working property served as a laboratory for surveying (geodesy) and was built between 1950-1953 (by Rijksarchitect F.E. Rontgen in collaboration with A. Kruithof) in an aesthetic-functionalist style. The lab became defunct in the 1960s; in 2002, the property was converted into offices and residential spaces.
A spacious penthouse designed by interior architect Chong Kok Sing is situated in a former practicum room. The residence includes a tower room with an accompanying roof terrace. This part of the house offers the best views of the surrounding area as well as the Rhine and Betuwe Rivers. The penthouse has its own private elevator, and the tower also has a separate entrance on the ground floor.
3. Apartment in a former water tower, Vaxholm, Sweden
Approx. $2,338,019
Beautifully rebuilt with four bathrooms, four bedrooms, generously sized social areas, and a sauna on the top floor, the Vaxholm combines an old tower's charm with modern amenities and an exceptional archipelago environment.
4. Townhouse in a historic daylight factory building, NYC, USA
$3,280,000
The townhouse is located in a historic daylight factory building with a private entry through a classic, arched entrance which once served as a horse and buggy loading dock for the building. The unique 3,068 sq. ft. space is laid out as a duplex, with an upper level and the lower garden level. The perfect mix of historic character and contemporary interiors is reflected in the preserved brick archways in the main living, dining, and kitchen areas; wide, plank, white oak flooring; restored, painted, white brick; long-leaf, pine-timber beams and columns; and high ceilings.
5. Coastal villa in a former lighthouse, Argentario, Italy
Price on request
The property boasts a panoramic position on the Argentario promontory, not far from Porto Santo Stefano. The lighthouse was built in the second half of the 19th century by the Regia Marina, the Italian Royal Navy, as a control point along the coast of Tuscany. During World War II, the complex was converted into a coastal artillery position, then was written off by the navy and abandoned.
The property was fully rebuilt recently (in 2011) by a private owner, using reinforced concrete and following modern anti-seismic criteria. The outer walls have been filled in with stone, which provides excellent thermal insulation; the facades have been renovated to the original plans. Even the old road leading to the lighthouse has been enlarged and improved.
The building, 300 sq. m in total, now houses 5 bedrooms and is surrounded by 2.2 hectares of land: fully landscaped as a garden with enough space to build a helipad.
6. Penthouse in a former gymnasium, NYC, USA
$18,000,000
Before commencing its residential history, the Solarium Penthouse was not precisely an industrial building–but it was a commercial property. Formerly a school gymnasium, this fact is reflected in the property's dramatic architecture. The great room has a 19-foot arched ceiling with a full glass wall, opening onto a terrace spacious enough for an outdoor dinner party.
No detail has been overlooked in the restoration of the building and the construction and materials of the interior. The apartment is easy to live in, but, at the same time, features some of the most exclusive furnishing and materials, including fumed white oak, Arabescato slab marble, and Calacatta gold marble.
7. Villa with a private dock at a former hunting lodge for migratory birds, Naples, Italy
Price on request
Villa La Pagoda lies on the seaside, in one of the most exclusive areas of Naples, in the heart of Posillipo. This historic house, built between the late 18th and early 19th century, was a hunting lodge for migratory birds. Today, this ancient function is recalled by its particular structure: its unique rounded shape is wrapped by spectacular terraces, and its former lighthouse space serves as a perfect viewpoint.
The property also enjoys  private access to the sea through ancient Roman caves; the staircase leads to a natural pool and a private dock, allowing one to reach the house by boat from the port of Naples, without crossing the city.
8. Loft in a former warehouse, London, UK
Approx. $3,045,967
Designed and delivered by developers CLPD, this bespoke New York style loft by Battersea Park is located on the first floor of an architecturally impressive former industrial warehouse in Ransome's Dock, dating back to the 1880s. The open floor plan of the former warehouse allowed for considerable flexibility in creating this space. Extending to nearly 1,900 sq. ft. and renovated to the highest specification with premium materials, the apartment features an exquisite combination of the industrial and organic with a sumptuous yet elegant finish.
9. Townhouse in a former firehouse, NYC, USA
$4,600,000
411 Kent Avenue is one of the last remaining gems located on the Williamsburg Waterfront, Brooklyn. Built circa 1920, this former firehouse is the definition of a creative Williamsburg Loft: much sought after but rarely found.
The two-story home features massive open spaces, high ceilings, huge windows, original paneled woodwork and exposed brick, original floors, and completely exposed wood ceiling joists. Additional features include a roof terrace with skyline and river views–and the unusual bonus of a full-height polished basement and a picturesque bamboo backyard garden, reached through a Donald Judd-inspired pivoting door.
10. Home in a former factory, London, UK
Approx. $9,644,405
A staggering conversion of a former Bacon Factory and a post-industrial masterpiece, this property is a combination of world class luxury and factory chic, coupled with 5000 sq. ft. of internal space. The house has received a renovation without budget limitations.
The result is glorious and centers around a dramatic, loft-style main living space that stretches to over 58 ft. in length. The design is both imaginative and pragmatic, created with great care to preserve historical amenities; even the old service elevator now houses a larder for the kitchen. Among other things, the property features huge loft-style bedrooms, roof terraces, a home bar, and a spa zone.