Aston Martin cars in "NoTime To Die". Source: 007.com
With the perfect blend of classic and new Aston Martins featured in the film, "No Time To Die" is not just the latest James Bond movie, but also a specific "love letter" between a cultural and automotive icon.
In the long awaited 007 sequel, Aston Martin played a significant role with four rare models. However, we were able to spot each of these distinctive cars in the real world of automotive showrooms.
DB5
Aston Martin DB5 in "No Time To Die". Source: 007.com
The Aston Martin DB5 has a special place in Bond's mythology, along with the dry Martini and Walter PPK pistol. It is the gorgeous piece of 007's kit and venerable partner since 1964. In fact, DB5 has appeared in nine Bond movies so far, starting with "Goldfinger" and having a major role in the latest one. It has been driven by three of the six actors who played Bond and has created an unmatched-car community legacy.
In fact, the DB5 is undoubtedly the automotive star of the movies, being featured in the main chase scene filled with amazing stunts, cool, Q-derived gadgets and driven in picturesque streets of Matera. The epic DB5 is powered by a 4.0-litre, straight-six engine delivering 285hp with respectable performances even by today's standards. With a very limited production of just 1,059 examples, the DB5 is one of the most sought-after classic cars in the world.
DB5 for sale
Even though Aston Martin DB5 rarely comes for sale, there is one car located in France. Finished in fantastic burgundy colour, it is offered at $1,446,000. Interestingly, this is the 1964 Paris Car Show car with just three careful owners from new. It is restored and kept to its original specifications.
DBS Superleggera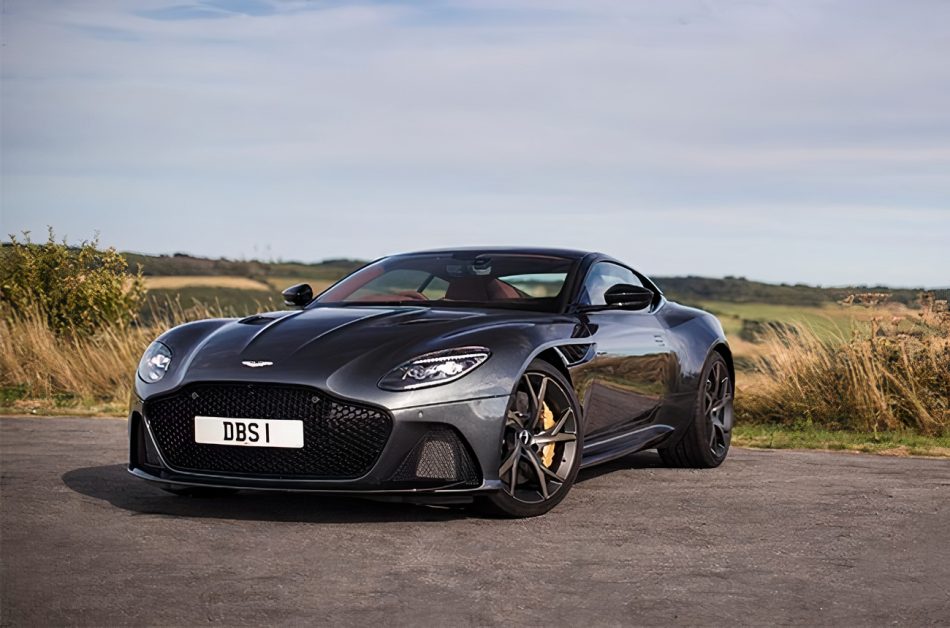 Aston Martin DBS in "No Time To Die". Source: 007.com
The current Aston Martin DBS featured in "No Time To Die" isn't driven by Bond himself but by a new 00 agent under the name Nomi. Interestingly, the appearance of a new agent in brand new Aston symbolizes changing times and suggests a different future for 007. The film "No Time To Die" is the last Bond to feature Daniel Craig, so that the next release will be a new chapter in the saga.
The DBS Superleggera is one of the finest GT models the company ever produced. With a twin-turbo V12 engine that delivers 715hp, this gorgeous coupe (or convertible) is capable of reaching 211mph and sprinting to 60mph in just 3.4 seconds. The Superleggera name is tasteful, a nod to classic Astons bodied by famous Italian coachbuilder Carrosseria Touring and their "Superleggera" (super light) construction method.
DBS Superleggera for sale
At the moment, we've spotted 11 DBS Astons for sale worldwide, ranging from previous generation models (2008 to 2012) to current examples of Aston's respected series. In terms of pricing, the older cars start at around $120,000, while modern examples retail for approximately $400,000.
The most interesting one is DBS Superleggera OHMSS, a special edition model, one of just fifty made and inspired by 007 movies with several unique details and trim options. This car is priced at $415,000, and it is practically new, having covered just 80 miles.
V8 Vantage
Aston Martin V8 Saloon in "No Time To Die". Source: 007.com
The world of high-class automobiles was facing recession in the late '70s and early '80s, but Aston Martin had a V8-powered Vantage model, which astounded clients with refinement and power. With a muscular design, powerful V8 engine and comfort for four passengers, the 1977 to 1989 V8 Vantage was an extraordinarily fast and capable luxury machine. In fact, with up to 420hp, it was one of the most powerful production cars of the period. Of course, such a fantastic machine caught the eye of James Bond, and it played a memorable role in "The Living Daylights" and helped 007 save Mariyam d'Abo and her cello from Bratislava.
In the latest "No Time To Die", the elegant Aston V8 appears as Bond's personal car wearing the same license plates as Timothy Dalton's one in the 1987 film. Coincidence? We don't think so.
V8 Vantage for sale
Today, four classic V8 Vantage models are listed in Dubai and Moscow. The prices can be provided by requirement; however, we can assure you that they will be somewhat more affordable than the ones for DB5. The 1986 Aston V8 Vantage offered on the site is especially interesting. It is finished in a unique shade of red and features a highly desirable "X-Pack", which includes improved breaks, suspension and an even more powerful 432hp engine.
Valhalla
Aston Martin Valhalla in "No Time To Die". Source: 007.com
If the future of Aston Martin as a brand can be summarized in one word, it would be Valhalla. Even though Aston Martin was not a supercar manufacturer, Valhalla shows the new direction in which the company is headed and remarkable engineering achievement covered by a seductive and streamlined body, painted in elegant silver colour. This hybrid machine makes a notable but short cameo appearance in the movie (Q-Branch, wind tunnel) as a sign of things to come. Even though the deliveries are yet to commence, we know that the heart of Valhalla is a twin-turbo V8 engine paired with electric motors for the overall output of 937hp. The development was led by the Aston Martin F1 team, which ensures sublime performance.
Valhalla for sale
The first deliveries of this supercar should start in 2023 but today you can purchase a slot and be amongst the first to enjoy this mechanical marvel. At the moment, there are two Valhalla slots put up for sale in Spain and France, and since the company announced that it would be producing only 500 examples, the smart move would be securing one right now.