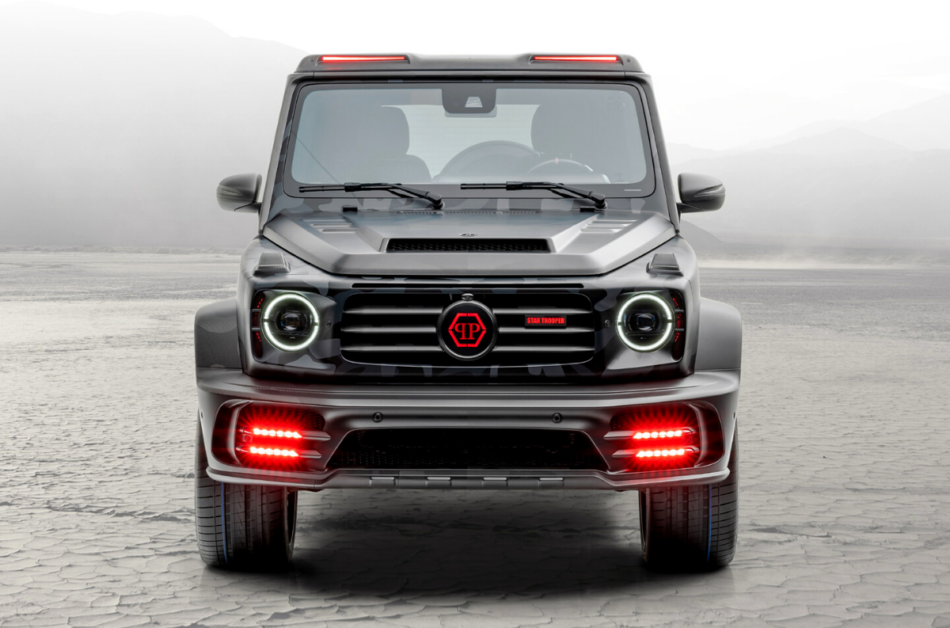 Mercedes-Benz G63 AMG Star Trooper by Mansory x Philipp Plein.
Buyers looking for a luxury SUV have never been more spoiled for choice than they are today. Nearly all of the major high-end carmakers have introduced an SUV into their lineup over the past several years. Even Ferrari is planning one. Meanwhile, tuners and customizers are turning their attention to SUVs like never before, and many of the most expensive SUVs in the world in 2021 are customs.
Here are the 12 most expensive SUVs, be they factory or modified, that are listed on JamesEdition right now.
12. 2018 Jeep Wrangler: one of the oldest names in off-roading
Price: approx. $96,801
The Jeep Wrangler is one of the oldest names in off-roading and also one of the most affordable off-road-capable vehicles out there. But this isn't an ordinary Jeep Wrangler. Built by the Chelsea Truck Company in London, this "Black Hawk Expedition" Wrangler is brimming with custom touches from top to bottom.
A right-hand drive 2018 model showing 4300 miles (6920 km), it features textured military green paint over a red quilted and perforated leather interior as well as a special mesh grille, wide wings front and rear, Iron Man vented bonnet, custom spare wheel cover, quad tip exhaust, special lighting (including an LED light bar on the roof), black 9×20-inch alloy wheels, stainless steel sill plates, machined aluminum pedals, and heated front seats. The bespoke Jeep also has a lift kit and comes with factory options like the split level targa roof and the "Freedom" top.
11. Beand-new 2021 Cadillac Escalade ESV
Price: $115,900
This year marks the introduction of the fifth generation Cadillac Escalade, and this is a brand new one with just 502 miles (808 km) showing and a 4-year/50,000-mile warranty. Located in Jackson, Mississippi, it is finished in Crystal White Tricoat over Jet Black leather and comes with air ride adaptive suspension, soft close front and rear doors, custom tinted market lenses, head-up display, power panoramic sunroof, heated steering wheel, heated and ventilated front seats, and hands-free power liftgate. Like most 2021 Escalades, it has a 6.2-liter V-8 under the hood mated to a 10-speed automatic.
10. 2021 Land Rover Range Rover with the Westminster package
Price: $123,615
One of the most famous and enduring badges in the SUV market, the Range Rover is currently in its fourth generation. Located in Ohio, this 2021 model shows 15 miles (24 km) and is equipped with the optional 5.0-liter V-8 as well as the Westminster package.
Among the extra features that come on Westminster models are gloss silver alloy wheels, auto-dimming heated mirrors, front and rear fog lights, power gesture tailgate, rain sensing windshield wipers, sliding panoramic sunroof, four-zone climate control, perforated Windor leather seats, Meridian surround sound stereo, and shadow walnut veneer trim.
9. 2019 Lexus LX 570 MBS Autobiography
Price: $127,960
The LX is Lexus's full-size luxury SUV offering and has been since the mid-1990s. The LX 570 gets a 5.7-liter V-8, hence the name. This one, located in Dubai, is represented as an "MBS Autobiography" model, and comes with German Nappa leather, extra rear passenger legroom, a Mark Levinson stereo, and 21-inch alloy wheels.
8. 2021 Maserati Levante, the brand's very first SUV
Price: $139,199
Introduced for the 2017 model year, the Levante is a mid-size luxury crossover introduced for the 2017 model year. Maserati's very first SUV, it complements the Italian company's range of sporty two-doors as well as its Ghibli and Quattroporte sedans. This 2021 model, located in Chicago, is the 550-hp GTS version and still shows just 40 miles (64 km).
7. 2019 Bentley Bentayga in Kingfisher Blue Metallic
Price: $169,999
Production of the Bentley Bentayga, the storied British carmaker's first SUV, started in 2016. The platform underneath is similar to the Audi Q-series, Lamborghini Urus and Porsche Cayenne but from the massive grille to the rear haunches the Bentayga is unmistakably a Bentley. This 2019 model, which is located in Miami, Florida, shows 5000 miles (8047 km) and has the available 4.0-liter twin-turbo V-8 engine under its sculpted hood. It is finished in Kingfisher Blue Metallic with black painted wheels over Beluga Black leather with blue contrast stitching and piano black wood trim.
6. 2007 Porsche Cayenne Transsyberia that could go to Mongolia
Price: $193,361
After a team of privateers successfully drove a Porsche Cayenne in the 2006 Transsyberia Rally from Moscow to Ulaanbaatar, Mongolia, Porsche decided to build its own special version of the Cayenne to tackle the event. Enhancements included Porsche Traction Management (PTM), Porsche Active Suspension Management (PASM), a roof-mounted snorkel, special 385-hp 4.8-liter V-8 and 6-speed Tiptronic transmission, reinforced A- and B-pillars, roll cage, underbody protection, stripped down interior with passenger-operated navigation computer, lightweight sports exhaust, off-road tires, roof lights, and a winch. Located in Holland, this is the first of the 26 special Cayennes built by Porsche, and served as a service vehicle during the 2008 running of the Transsyberia Rally.
5. 2019 Techart: the Cayenne-based SUV with a full new body kit
Price: $313,200
Techart is a German tuning company founded in 1987 that specializes in Porsches. Techart doesn't just customize 911s, though. They have also had a go at SUVs like the Cayenne. This one, sold directly from Techart in Leonberg, Germany, is a completely reimagined Cayenne with a full body kit, special exhaust, and special wheels.
A 2019 model showing 5100 km (3169 miles), it also has a special interior. Rolf Benz is a company known mostly for its high-end furniture, but Rolf Benz recently partnered with Techart to design special interior for vehicles like this Cayenne.
4. 2021 Lamborghini Urus with the Mansory body kit
Price: $585,352
The Lamborghini Urus is already one of the most expensive SUVs in the world in 2021, but this one also has a special body kit by German customizing company Mansory. A brand-new model located in Dubai with 0 km on the clock, it is black on black with a full carbon fiber trimmed interior, Band & Olufsen stereo, head-up display, panoramic roof, carbon ceramic brakes, lift kit, heated/cooled/ventilated seats, and a 360-degree camera.
3. 2020 Rolls-Royce Cullinan with premium upgrades
Price: $667,029
Rolls-Royce finally entered the increasingly competitive luxury SUV market in 2018 with the Cullinan, named after the famous Cullinan Diamond. A Rolls-Royce Cullinan makes enough of a visual statement on its own, but this one is even more distinctive thanks to its Mansory body kit. Finished in blue and white with white coach lines over a white interior with ample wood trim, it is located in Dubai and shows 1500 km (932 miles). Other features include heated/cooled/ventilated/massaging seats, rear seat tables with entertainment display screens, and a 360-degree camera.
2. Mercedes-Benz G63 AMG Star Trooper by Philipp Plein
Price: $675,922
Mansory, the German tuning and customizing firm well-known for making high-end vehicles even more distinctive, produces a version of the Mercedes-Benz G-Class, specifically the G63 AMG called the "Star Trooper." This Star Trooper, located in Germany, is also the even more exclusive Mansory x Philipp Plein model, produced as a partnership between Mansory and the famous fashion designer. Finished in Night Black Magno over red leather, it is decked out with special wheels, extra lighting, red accents, 10×24-inch forged wheels, performance exhaust with CNC milled exhaust tips, and a restyled interior with LED illuminated side steps, aluminum pedals, and carbon door handles. On the performance front, the twin-turbo V-8 gets larger turbochargers and new downpipes for a total of 850 horsepower instead of the 585 in the standard Mercedes version.
1. 2018 Mercedes-Benz G650 Maybach Landaulet, the most expensive SUV on the market
Approx. $1,151,117
The first off-roader from the Mercedes-Benz-owned Maybach brand, this G650 Landaulet is extremely rare, as production was limited to just 99 units. The landaulet body style is mainly associated with high-end chauffeur-driven coachbuilt cars of the 1930s, and features and enclosed area for the driver and front passenger but a convertible open-air space for the rear passengers.
That theme extends to this Maybach, as the rear passengers get the enjoyment of open-air motoring as well as a glass division window between the front and rear that can change from transparent to opaque. The rear seats also get a massage function and inflatable air chambers, while the rear console gets thermal cup holders. It's all high luxury, but it's still a G-Class Mercedes underneath and no slouch when it comes to performance with 450-mm of ground clearance, portal axles, and a 630-hp AMG V-12 engine.
By Andrew Newton