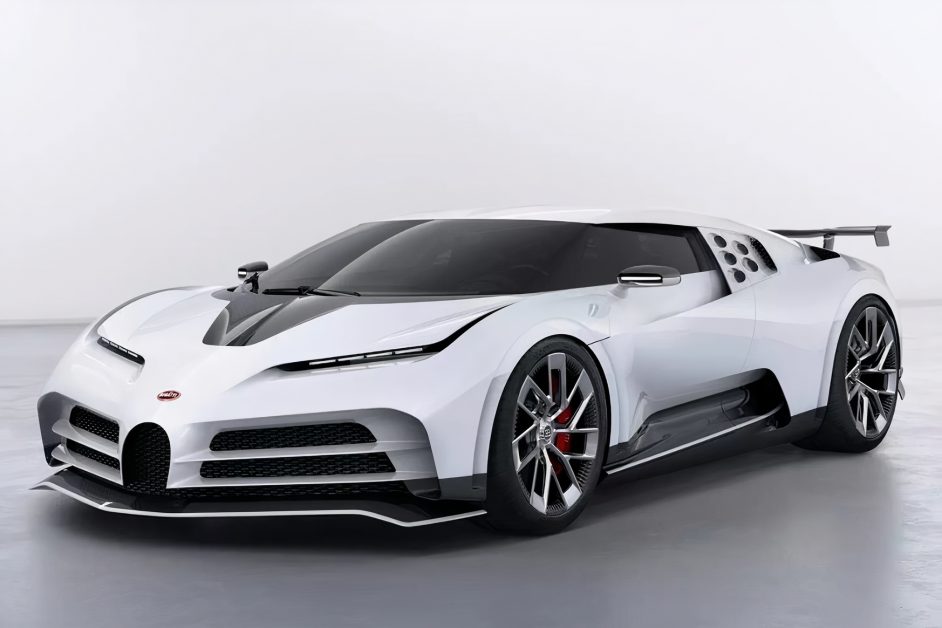 2023 Bugatti Centodieci
After two pretty odd years for car manufacturers, 2022 looks promising with a host of interesting new car releases and new trends in technology. To see what the industry has to offer at the top-tier level, we looked at some of the world's most expensive cars currently on the market.
The supply chain problems, semiconductor chip shortage, and other issues still affect the production processes. However, in luxury car field seems uninterrupted and ready to provide wealthy customers with the latest prestigious models and sports cars.
As expected, the average price for a new vehicle has risen over the last few years, which is especially noticeable amongst the premium offerings.
The most expensive cars in the world, the class of 2022, is a very eclectic selection of vehicles. With almost 1000 luxury car cars listed for sale, we have to consider several different types of vehicles, from those already produced to pre-orders expected to be delivered in 2023 or 2024.
The most expensive cars on the market in 2022
20. 2021 Rolls Royce Cullinan By Novitec
Price: approx. $925,000
The uber-luxury SUV from Rolls Royce is already a costly vehicle, but this isn't enough for some buyers. German company Novitec introduced its own version with upgraded styling, interior, wheels, and performance for most discriminating enthusiasts. You might notice the subtle differences in design, including new bumpers and larger, 24-inch wheels.
The Cullinan by Novitec delivers 685 hp and gives this enormous SUV sub 5 seconds from 0 to 60 mph times, which makes it highly exclusive and incredibly fast. At $760,800, it is pricey but nearly as expensive as the following models on our list.
Most expensive Rolls Royce Cullinan for sale
19. 2022 Ferrari SF90 Assetto Fiorano
Price: $1,019,900
The car world was stunned when Ferrari introduced the SF90. It was a glorious combination of a twin-turbo V8 with hybrid technology, an all-wheel-drive train, and all the things that make Ferrari the greatest sports car company globally. This aggressive yet elegant model delivered unmatched driving dynamics, precise steering, and handling nothing short of amazing. But then Ferrari introduced the Assetto Fiorano – a lighter, more track-focused version. The combined power is 968 hp (V8 + three electric motors), and this car can be yours for $999,000.
Most expensive Ferrari SF90 for sale
18. 2021 Aston Martin Valhalla
Estimated price: $1,042,000
The Valhalla represents the new period in Aston Martin's history. It symbolizes the unique vision and relentless quest for speed and performance and an attempt to claim the throne in the supercar segment. The Valhalla is nothing short of remarkable with its fantastic design, advanced technology, and jaw-dropping performance. The 4.0-liter twin-turbo paired with a hybrid drive train delivers 1000 hp, and this tremendous model is guaranteed to re-set already lofty standards of the segment even higher. If you are looking for the next big thing in hypercar class, then Valhalla can be yours for $1,047,000.
Most expensive Aston Martin for sale
17. 2021 Mercedes AMG GT C Roadster
Price: $1,130,000
This gorgeous China blue example of one of the finest Mercedes drop-top models can be yours for $1,130,000, and for this sum, you will get a twin-turbo V8, matted to performance-tuned 7-speed automatic. The combo will result in 3.6 seconds 0 to 60 mph time and 200 mph top speed. Of course, do not forget the incredible and well-appointed interior, signature Mercedes design cues, and unmatched quality feel. And, of course, the thundering soundtrack from those quad tailpipes.
Most expensive Mercedes-Benz AMG GT for sale
16. 2021 Ferrari 812 GTS
Price: $1,200,000
The 812 GTS is one of those sublimely good Ferraris which combine the tradition of classic GT cars of the 50s and 60s with modern technology and power. The GTS version is made for cruising the twisty coastal roads at high speed and with the top down. Upfront, there is a magnificent 6.5-liter V12 with 789 hp mated to a 7-speed dual-clutch transmission, resulting in 211 mph top speed and 0 to 60 sprint of just 2.8 seconds. However, the best part is a roof that slides open in 14 seconds, providing you with a whole new world of enjoyment. Yours for $1,200,000 now.
Most expensive Ferrari 812 for sale
15. 2022 McLaren Senna
Price: $1,600,000
If you are a motorsport enthusiast, then the name Senna is much more than the last name of a tragically killed F1 driver. Senna stands for perfection, dedication, and art of driving as well as sportsmanship and character. This was precisely the idea behind the McLaren Senna. It is not just a fantastic homage to the legendary Ayrton Senna; it is the incredibly well-designed and engineered supercar. With 768 hp behind the driver, track-ready suspension, lightweight construction, and equally impressive performance, the $1.6 million McLaren Senna is the pinnacle of driving sensation available at the moment.
Most expensive McLaren for sale
14. 2022 Hispano-Suiza Carmen
Estimated price: $1,600,000
One of the most exclusive European brands in the 30s was sublime Hispano Suiza, which produced luxurious cars often used by royalty. However, the brand was revived by a team of investors from Spain, and the name was awarded to the Carmen – a brand new and impressive 1,100 hp electric supercar. This exclusive sports car can be yours for $1.6 million with innovative technology and unique design.
13. 2023 Koenigsegg Gemera
Estimated price: $1,700,000
The Koenigsegg has become one of the leading names in the automotive industry, raising the bar of design, technology, and performance. The Gemara is the latest model, which features a hybrid drive train along with a 2.0-liter gasoline engine with just three cylinders. Even though the layout doesn't sound impressive, the results are astonishing. The Gemara delivers 1,700 hp, can sprint to 60 mph in just over 2 seconds, and costs $1.7 million. We can expect to see them on the roads next year.
Most expensive Koenigsegg for sale
12. 2022 Hennessey Venom F5
Price: $2,100,000
Even though European models are most common among the most expensive cars in 2022, we also have a solid contender from the States. It is also the most expensive American car in production. The Hennessey Venom F5 is well-known for its incredible firepower as well as for its high price. Powered by a twin-turbo V8, the Venom F5 delivers an amazing 1,800 hp and claims a top speed of 249 mph! The production run is set on 24 cars, and if you want you to want to be a proud owner of this American beast, the asking price is $2,1 million.
11. 2022 Porsche 935
Price: $2,105,000
One of the most sought-after modern Porsches is the cool-looking and retro-inspired 935. Imagined as the recreation of the legendary race cars, the modern-day 935 is based on the 911 GT but with unique bodywork, details, and overall design. With 700 hp, race-spec technology, and blisteringly fast performance, the $2.08 million Porsche is limited to only 77 examples, so getting one now would be a smart move if you are a serious 911 collector.
10. 2023 Ferrari Daytona SP3
Estimated price: $2,260,000
What is more delicious than a Ferrari? A special edition and limited-run Ferrari with bodywork inspired by the legendary models from the past. It is precisely what the Daytona SP3 is. It will debut in 2023, powered by a 6.5-liter V12 engine with 840 hp and, quite certainly, incredible performance levels. This gorgeous model will be amongst the rare currently in production with a naturally-aspirated engine accompanied by a thundering engine roar. The production run will be limited to 599 units, and books are already opened if you have $2.260 million ready.
Most expensive Ferrari for sale
9. 2022 Rimac Nevera
Price: $2,375,000
The Croatian supercar wonder, Rimac, had exploded on the scene with an exotic name, futuristic technology, and performance that blew everybody's mind. Its latest contender, the Nevera, follows that recipe and delivers almost 2,000 hp to all four wheels from its all-electric drive train. It can accelerate to 60 mph in 1.84 seconds and top 256 mph. Those ballistic numbers justify the price, and Nevera is rightfully amongst the most expensive electric cars on the market at $2.38 million.
8. 2022 Lamborghini Countach LPI 800-4
Estimated price: $2,500,000
If you want to be amongst 112 lucky owners who are listed to take delivery of a fantastic new Lamborghini, $2.5 million will get you only the base model before any options. The LPI 800-4 is the latest model from Bologna, which is inspired by the legendary Countach, everybody's favorite supercar from the 70s and 80s. It might have classic lines, but it will be equipped with modern technology hybrid-assisted V12 engine borrowed from the Sian hypercar. The "800" from its name suggests the horsepower output, and "4" means it is a four-wheel-drive.
Most expensive Lamborghini for sale
7. 2022 Bugatti Chiron
Price: $3,105,000
No list of the most expensive cars would be complete without a Bugatti. The Chiron is often amongst the top contenders for the title with its $3.1 million price tag. However, for this sum, you will get one of the most accomplished vehicles ever constructed with a quad W16 engine, 1,479 hp delivered to all four wheels, and record-setting performance. Also, Bugatti Chiron is not just fast as a low-flying fighter jet; it is also painstakingly beautiful.
Most expensive Bugatti for sale
6. 2021 Aspark Owl
Price: $3,684,000
Not a lot of information has been revealed about this obscure Japanese supercar. We know it is a full electric, has four electric motors, and delivers over 2,000 hp. But the most impressive is the performance with 0 to 60 mph time of 1.9 seconds and a top speed of 250 mph. It makes the Owl among the most potent and fastest machines in the world. Also, the price tag of $3.85 million makes it one of the most expensive cars in 2022.
5. 2021 Lamborghini Sian FKP37
Estimated price: $3,780,000
Behind this strange name is the next-generation Lamborghini hypercar. Powered by hybrid technology, which includes a V12 engine and electric motor to the combined output of 819 hp, Sian is the successor of the Aventador line, but with a twist. The design with characteristic Lamborghini features makes it instantly recognizable and aggressive yet elegant. The production is limited to only 63 units, and you can get one now for $3,78 million.
Most expensive Lamborghini for sale
4. 2022 Ferrari LaFerrari
Estimated price: $4,000,000
Even though the LaFerrari is not the latest from Maranello magicians, it still captures the imagination of the enthusiasts with its design, technology, and performance. It is crazy that a car that has been out of production costs $4 million, but the LaFerrari is no ordinary car. With a hybrid drive train, 950 hp on tap, and the feel of a Formula One car driven on the street, we believe that LaFerrrari is worth the asking price.
3. 2021 Koenigsegg Regera
Estimated price: $5,000,000
The Koenigsegg made its name in building extremely fast and exclusive land rockets, but Ragera is a bit different. It is insanely powerful and futuristic with 1,500 hp, hybrid drive train, and 251 mph top speed, but it has GT characteristics which make it in a class of its own. The Ragera is designed to be a bit more luxurious and comfortable and made for long-distance driving with maximum pleasure and driver's enjoyment. That is why the price is around $5 million.
Most expensive Koenigsegg for sale
2. 2021 Bugatti Divo
Estimated price: $5,700,000
Again, the Bugatti is topping the world's most expensive production car list. Based on the Chiron, the Divo is a step up in terms of driving dynamics and on-track use. It has the same powertrain and engine output, but it has a more advanced aerodynamics package, suspension setup, and bodywork. The production is limited to only 40 cars, and it is rumored that prices for these incredible machines start at $5.7 million.
Most expensive Bugatti for sale
1. 2023 Bugatti Centodieci
Price: $13,152,000
If you know Italian, then you know that Centodieci stands for "110." If you know Bugatti's history, then you will recognize that designation as the model name of the legendary Bugatti EB110 from the early '90s. The EB110 was the definitive supercar of its generation, and this is what Bugatti wants to do with this new version. We feel that they perfectly accomplished just that with 1,600 hp behind the driver, retro-futuristic design, and exceptional performance levels. Also, Bugatti also managed to build the most expensive car in 2022, with Centodieci's prices north of $13,1 million.
Most expensive Bugatti for sale
More to know about this year's most expensive cars: classic machines
For years, the top-notch classic cars in perfect shape and impeccable histories have been multi-million dollar items. They represent a specific niche of the world's most expensive machines. Although they don't have the performance to match something like Bugatti or Rimac, they still have an immense amount of style and attraction, which is more important to some buyers. It looks like every year, the records are broken, but just a few days ago, one car reportedly managed to achieve the price which will surely stand for years to come: the 1955 Mercedes 300SL Uhlenhaut Coupe (one of just two built) was recently sold by Mercedes Museum to an undisclosed private buyer for $142 million.