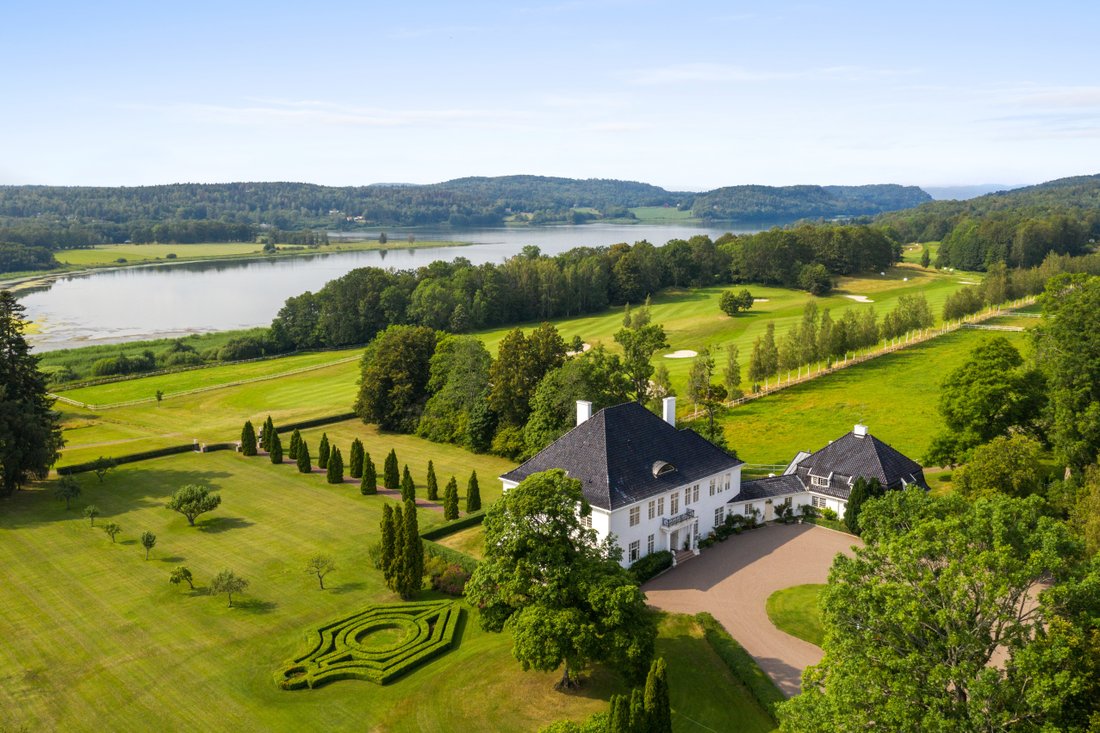 One Of The Greatest And Most Historic Mansions In Norway. Horse Facility, Golfcourse, Tennis & Hunt.
$11,980,754
11 Beds
6 Baths
13,025 sqft
414 ac lot
$919/sqft
WELCOME TO THE IDYLLIC, SEMB MANSION

One of the greatest and most historic mansions in Norway. Magnificent property with large horse facility, 18- hole golf course, 4 tennis courts and forest
WELCOME TO THE IDYLLIC, SEMB MANSION

One of the greatest and most historic mansions in Norway. Magnificent property with large horse facility, 18- hole golf course, 4 tennis courts and forest for deer hunting etc

Semb Hovedgård is considered by far one of Norways most beautiful properties. Located scenic and idyllic by the lake Borrevannet, 3 km. from Horten center towards Åsgårdstrand. From the property is approx. 30. min. by car to Torp international airport and approx. 60 min. by car to central Oslo.
Semb Hovedgård is an extremely rich in content. With a total area of approx. 413 acers it houses the yard with the main building and the beautiful private park, horse facilities with about 50 stable boxes, riding hall etc., 18- hole golf course, 4 tennis courts, two of which are indoor, and both agricultural land and forest. Today the annual rental income is about £250.000.
The elegant main house at Semb is superb for social gatherings and became rebuilt in the early 1900s around the time when the Norwegian industrial developer Sam Eyde bought it. The main building is about. 1,010 sqm., in addition comes the side wing. There is no residency requirement for the owner. Central location, short distance to most things, and meaningful property with historical significance is now for sale.

HISTORICAL PROPERTY:

Semb Hovedgård's history is diverse and special by Norwegian standards. It is believed that it was settlement at Borrevannet as far back as 5000 years ago according to finds on the property.
The property probably also served as headquarters for the Vestfold kings from ancient times. The name Semb comes from the Norse word «Sæeimr» that means the farm (heimr) by the sea. Already in the 15th century there are the first registrations of the farm, then the mighty Torstein of Sæme lived here. During a major fire in 1908 the old main building was lost, and today´s magnificent, white main building with eight bedrooms was built according to drawings by architect Herman Backer, who after the 1890s became known for his great new renaissance facilities for the rich and powerful of the time.

Semb Hovedgård was also Norway's first agricultural school. Jacob Sverdrup bought the property in 1825 and then established the agricultural school. Semb became a welldrifted farm, and a gathering place both for farmers from Borre and other districts. As early as 1835, his son Peter Sverdrup took over the property, when his father became manager of Fritzøe Ironworks. In memory of the founder of Norway's first agricultural school, it also has been built a bauta over Jacob Sverdrup.

However, the property's recent history begins in 1916 when industrial builder Sam Eyde retired as CEO of Norsk Hydro and bought the farm and adjacent areas and developed it further. Eyde bought approx. 1.600 acres and chose Semb to establish industrial agriculture in Norway. Today's property was transformed into a magnificent facility consisting of a unique golfcourse that are considered one of the best in the country, park facilities of the highest quality, hiking areas / nature reserves and one of the Nordic region's most modern and complete horse facilities. Everything is arranged for breeding and training of high-quality horses

CONTENT AND STANDARD:

Elegant main house with associated park. The main house has a gross area of approx. 1,010 sqm. + side wing. Areas are distributed over 4 levels. Build in approx. 1910 and completely renovated in 1998 by current owner.

The farm has probably been one of the royal seats that is mentioned in Snorre's royal sagas, since then it has been noble seat and properly operated. When entering the main entrance, you see one perfect line right through the building, further through the park alley, across Borrevannet to the pavilion located on the other side. It has been a comprehensive plan for the reconstruction of the building and the establishment of the park.

Today's main house was rebuilt in 1910 after the old wooden building burned. Right after the farm was bought by Sam Eyde. When the current owner took over in the late 1990s, there was launched extensive restoration. This was done separately painstakingly to take care of the building's original distinctive, but at the same time bring in more contemporary installations. The building contains several living rooms spread over several floors and are well suited for both representation and as private housing. Of the more modernized features in the main building, as well for connection to geothermal heating systems, it is integrated the surround system with speakers both outside and inside, ventilation system, central vacuum cleaner etc. In two of the bathrooms there are steam baths in the built-in shower rooms.

Ground floor: Hall with cloakroom and toilet, office and library with fireplace and TV-room, living room with Swedish oven, living room with fireplace and access to 1st. floor, dining room, kitchen with fireplace and dining area, corridor with stairs, coarse entrance, corridor, several cloakrooms, small dormitory with kitchen fittings, laundry room/ bathroom and toilet room.

1st. floor: Family room with main staircase and Swedish oven, hallway, technical room, hallway with stairs to ground floor, 4.5 bathrooms and 5 bedrooms.

2nd. floor: Living room with stairs, bathroom and 3 bedrooms.
Basement: Access hall with fireplace and exit, technical room, room with vaults and fireplace, as well as a small storage room and three basement sheds. The basement floor contains some really exciting rooms. The middle room with the Romanesque vaults and the fireplace is unique in itself. Combined with wine cellar it becomes a cozy place in special surroundings. The long table and benches are in solid oak from own forest. The basement at Semb teases curiosity; who built the several meter-thick Romanesque cellar vaults are unknown. Was there a former church here, monastery or something else? The opinions are different, and the discussions around the long table in the basement can be many.

GOLF PARK AND TENNIS FACILITIES:

The golf course at Semb Hovedgård is magnificent. It is one of Norway's most beautiful and highest ranked 18-hole golf courses. The golf course arranged Norway's first professional golf tournament, and has, among other things, hosted international tournaments and several Norwegian Championships, e.g. in 2022 and in 2023 the European Championships in Senior Golf will be held on the Borre golf course.
The golf park contains a golf-in with kitchen, living rooms, shop, meeting rooms and changing rooms. In addition, the facility has an office building of about 60 sqm. The training facility is among Norway's best, and includes a studio for analysis and adaptation of equipment and golf swings, owned by the golfs own limited company, Borre Golfbane AS. The tennis facility has 4 plexipave courts, two of which are indoors in the heated "bubble hall", clubhouse with toilet and mini kitchen and two plexipave courts outdoors. Furniture and movables are owned by Borre Golfbane AS.

HORSE FACILITIES:

The property has one of the Nordic region's most modern and complete horse facilities. Everything is arranged for breeding and training of high-quality horses. The main horse building was built in 1998.

Full-fledged and modern stud farm with a capacity of approx. 50 horses. Ground floor with 25 stable boxes "Windsor" and 3 outdoor boxes, harness/drying room, technical room, toilets, laundry room, feedand manure room, and double garage in a side wing. 1st. floor with 15 stable boxes, veterinary rooms, social rooms with showers and toilets, dining room, office for employees, exclusive VIP room with adjoining terrace, toilet and bathroom. 2nd. Floor with storage room, feed silo, chip silo, technical facilities and rooms m.m. The exterior of the building was painted in 2020. It's also a riding house with grandstand, a training room for hourses, and also a walker an exercise machine for 6-8 horses.

The property has 1100 meters of training track for horses with a two-sided plastic fence, and three kilometers of forest riding trail.

HUNTING:

The property has the right to hunt deer. A felling permit has been granted for 14 deer in 2021. Furthermore, there is goose-, pigeon- and duck hunting, as well as fishing for perch, pike etc. in the lake Borrevannet.

BUYING COSTS:

It's the owner company "Semb Hovedgård AS" that's being sold. No concession/licence, registration fee or compulsory residence for the buyer. A joint stock company can provide the optimal opportunity for share ownership in an overall consortium.

Features
Features
Lot
Indoor
High Ceiling

Laundry Room

Washer Dryer

Basement

Gas Stovetop

Walk In Closet
Outdoor
Parking

Outdoor Living Space

Playground
Ask a Question

Håvard Nilsen
Explore the Area
Eskebekkveien 98, 3186 Horten, Norway, Horten, Vestfold og Telemark, Norway.
See on Google Maps
About the Building
Year built

1910

Floors

4

Property type

Country House

Contact agent
Håvard Nilsen
You have inquired about this property
The agent will contact you soon by
Listed by
Registered on JamesEdition
2022
Address
Eternitveien 4, 3470, Asker, Norway
Phone number