Jumping on the trend for NFTs (non-fungible tokens), award-winning superyacht designer ​​Gregory C Marshall has unveiled a new 207 ft vessel that can be purchased both as an NFT and a new build. 
The yacht's NFT will serve as its unique digital identifier and part of its appeal is that it cannot be replicated. It will be trackable by using Ethereum's blockchain as a public ledger
As part of the first-of-its-kind project, the buyer will use the 3D NFT and augmented reality technology to build the yacht in the metaverse with the guidance of the famed designer.
The superyacht, which has a list price of £74,608,535 and is currently in the concept stage, will be built by 2024 by Seattle-based Delta Marine Shipyard. 
A collaborative design process in the metaverse
The NFT superyacht project was brought to life with the help of digital yacht broker Cloud Yachts, which was founded in Silicon Valley by tech veteran Zach Mandelstein.
He told Forbes: 'We're aware of the short-term NFT craze so we've set our sights on the long-term utility that this blockchain technology offers.
'Whether it's by facilitating transactions, revolutionizing the new-build experience or something we haven't yet imagined, we're enthusiastic to participate in this virtual economy."
During the build process, augmented reality technology will be used by the owner, the designer and broker and augmented reality glasses will be used to bring things to life.
Thanks to the use of cutting-edge technology, Mandelstein says all parties will be able to 'meet on the foredeck of the yacht to discuss the design' and make 'fundamental changes to the design in real time'.
The buyer will also have the option to purchase additional headsets to send to their family and friends so they can also be part of the journey, something Mandelstein describes as a 'bonding process'. 
Master-minded by an award-winning designer 
When it comes to the real world superyacht, concept images show the slick exterior of the yacht, with an attractive silver finish and a razor-sharp bow. 
Chief designer Marshall has also ensured that the superyacht, dubbed Project Metaverse, is decked out with a range of amenities catering to high net worth clients. 
Some of the standout features include a large open beach club with multiple sunbathing platforms, a crows nest viewing deck, a glass-bottom pool, and a sprawling private owner's suite complete with balconies and an open-air spa pool.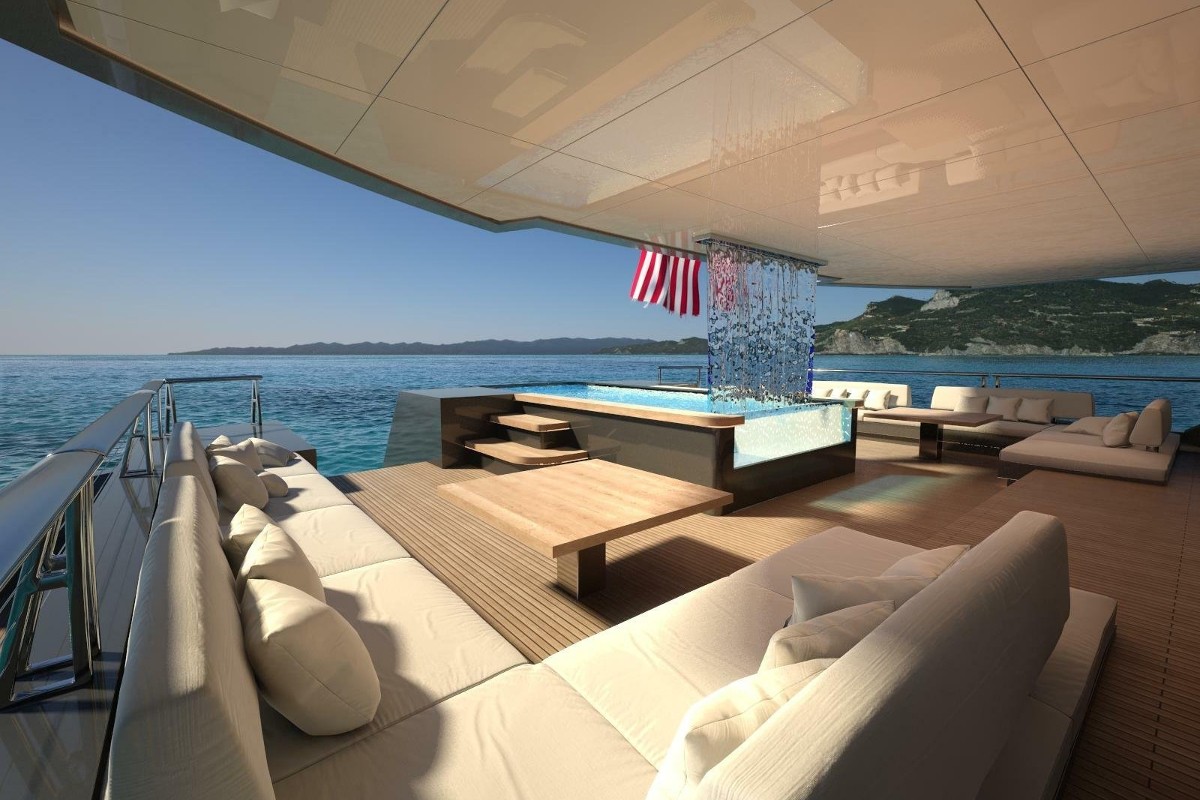 To top it off, there is a sizable tender garage to store equipment and toys, from kitesurfing equipment to jetskis.  
When it comes to the yacht's layout, the listing notes that 'every detail on this design has been well thought out and assures that each deck flows smoothly from bow to stern'.
This means the crew can access each deck 'efficiently with minimal interruption to the owner and guest parties', and tender operations can be managed 'seamlessly'.
In total, there will be 7 cabins to accommodate 14 passengers and space to accommodate 15 crew members. 
On the tech side of things, the yacht is set to have a cruising speed of 12 knots and a max speed of 16.5 knots.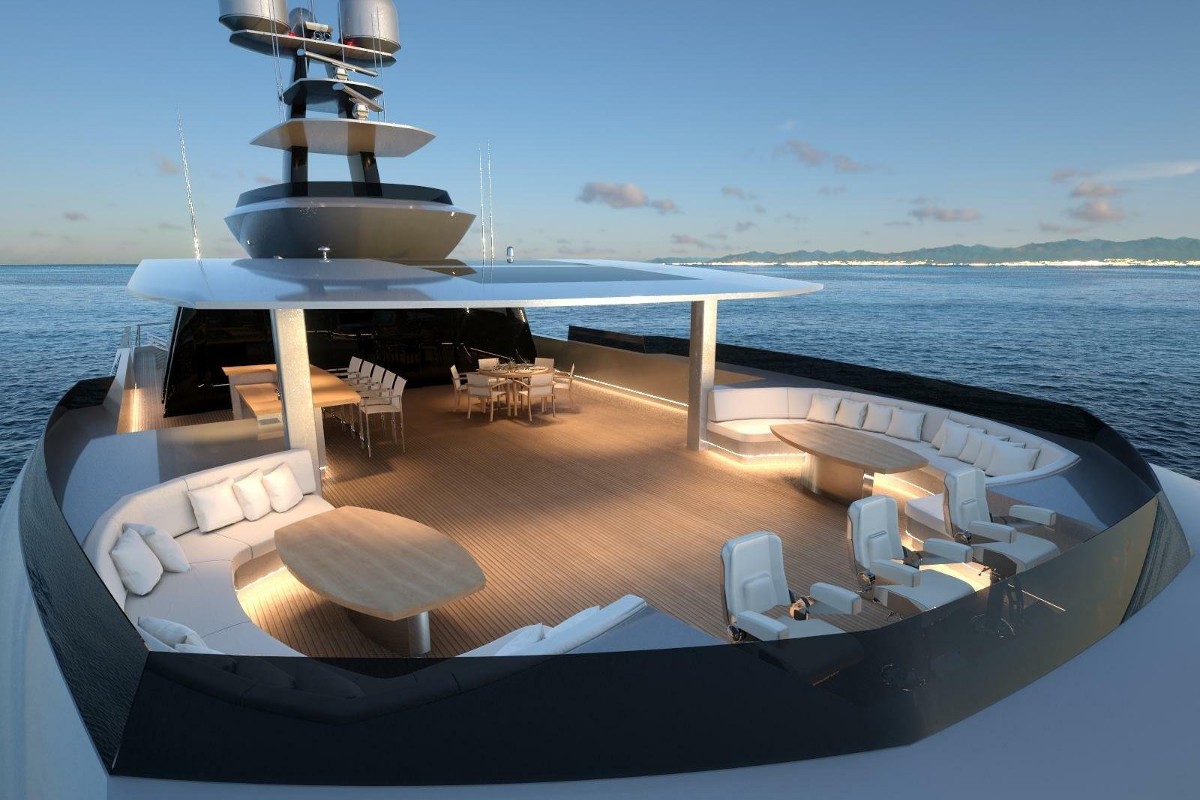 An opportunity to help design a first-of-its-kind yacht
While the layout and exterior of the yacht have been imagined by Marshall, who is known for marrying cutting-edge engineering and striking architectural design, the final details have been left for the owner to decide on. 
The designers note that the buyer will be able to customize the final details, decide on the interior decor package, and 'request any modifications to the build they feel are necessary for their requirements, lifestyle, and intended usage'.
The yacht's sale is being managed by Florida-based Denison Yacht Sales. 
Currently, the firm is only accepting Ethereum and Bitcoin for payment on Project Metaverse but it does say that it is 'open to a more traditional sales process' for buyers who are less well acquainted with cryptocurrency.