Singapore-based Royal Falcon Fleet brokered an exclusive agreement with Studio F.A. Porsche to design their boats, and the first model in the series is Royal Falcon One – also known as RFF 135, "the crown jewel of the sea".
The team at Porsche was given free rein to use their imagination, with one exception: the boat had to be a catamaran configuration. The megayacht they brought to life delivers that and more, boasting two hulls that resemble the track of a sports car.
Manufactured in Sweden in conjunction with Kockums shipyard and Incat Crowther, spaceship-inspired Royal Falcon One is 135-foot long and has a beam of 41 feet. On the market for €22.95 million ($23.12 million), the listing is being handled by Alex G. Clarke at Denison Yacht.
The five-cabin vessel took a decade to design and build, and joined the market in 2019. "It's about finding that specific buyer," says Clarke. "The power cat is the way of the future," he adds. "We have so much activity on these bigger cats. And there's not much over 30 meters out there right now – that's what makes this a special boat."
Four-deck power catamaran with a futuristic feel
Accommodating 10 passengers and the same number of crew, the motor yacht was fully designed by Porsche and boasts a zippy top speed of 37 knots and an impressive GRT of 499 – a volume generally found on monohull yachts with a longer overall length.
Style-wise, it's all about functional luxury and best-in-class craftsmanship, with the use of high-end materials such as leather and stainless steel. Flashes of color here and there  – electric blue, red, and mustard – add points of interest. In short, the look is modern yet timeless.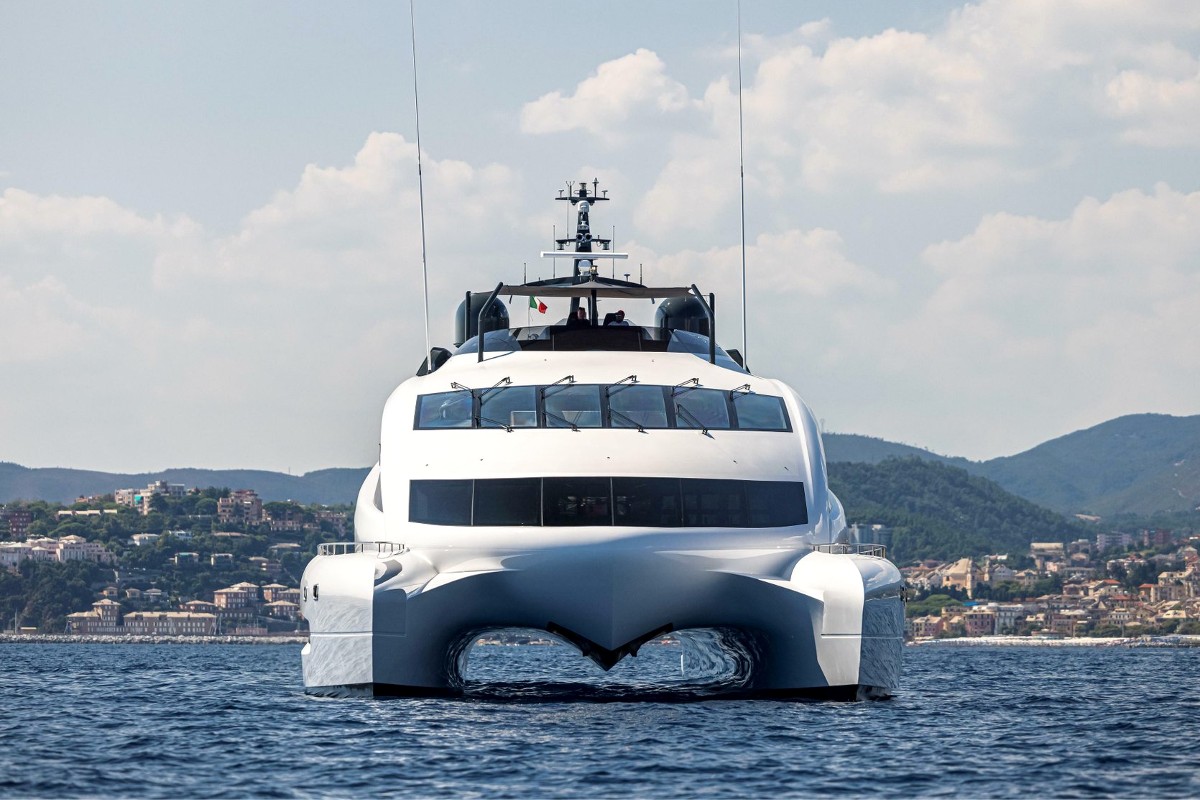 The main deck is home to an outside area, while inside, there's a spacious saloon offering a variety of places to relax plus a dining table. Head through the illuminated walkway and discover three deluxe VIP cabins, before reaching the front of the boat and the Panoramic Lounge; complete with a bar and more seating, guests can admire the sea views while sipping on a drink of their choice. That level also houses a well-equipped galley and the crew mess.
Up on the mid deck is another outdoor zone – perfect for entertaining. And indoors, explore the fourth VIP cabin as well as the master presidential suite; the latter faces the aft and has a private deck, lounge, and dining area. Each luxurious guest room was designed with the utmost comfort in mind, with a king-size bed that's raised from the floor as if floating in space, plus an ensuite and plush carpet.
Meanwhile, the upper sundeck boasts unobstructed 360-degree vistas, along with sun beds and a Jacuzzi to admire them from. And down on the lower hull deck, there are sleeping quarters for the crew.
From a technical standpoint, the custom-built megayacht has been built to Lloyd's Register classifications and has a range of 1,200 nautical miles at a cruising speed of 15 knots. Powering the vessel are two 16V 4000 MTU diesel engines with MTP waterjets.
For more information about this bold and eye-catching megayacht, contact Denison Yacht.