The saying goes, don't judge a book by its cover. And that sentiment should definitely be applied to one of the latest superyachts to hit the market.
Dubawi was originally built in 1989 as a cruise ship, but following a major two-year refit by Platinum Yachts in 2009, this vessel has a labyrinth of dazzling interiors that promise to impress the most seasoned of yacht-goers.
The superyacht's interiors and layout (created by Italian Cantieri Navale Ferrari) have remained highly secretive for many years, as it was reportedly owned by the Crown Prince of Dubai Sheikh Hamdan bin Mohammed Al Maktoum and used as a private pleasure craft.
However, now Dubawi's splendor has now been showcased for all to see with it sailing onto the market for an impressive $35 million.
Spanning 295ft long and 49ft wide, this colossal steel-hull yacht has 22 generously-proportioned staterooms that can comfortably accommodate 44 passengers.
The owner's cabin serves as the ultimate hideout at sea, with it serving up panoramic views from its own private deck, a Jacuzzi, and a dazzling ensuite bathroom which the broker says is larger than a master cabin on some standard yachts.
For special guests, the accommodation offering also includes eight VIP cabins, with that extra 'wow factor'.
Below deck, there are staff cabins to house 71 crew members.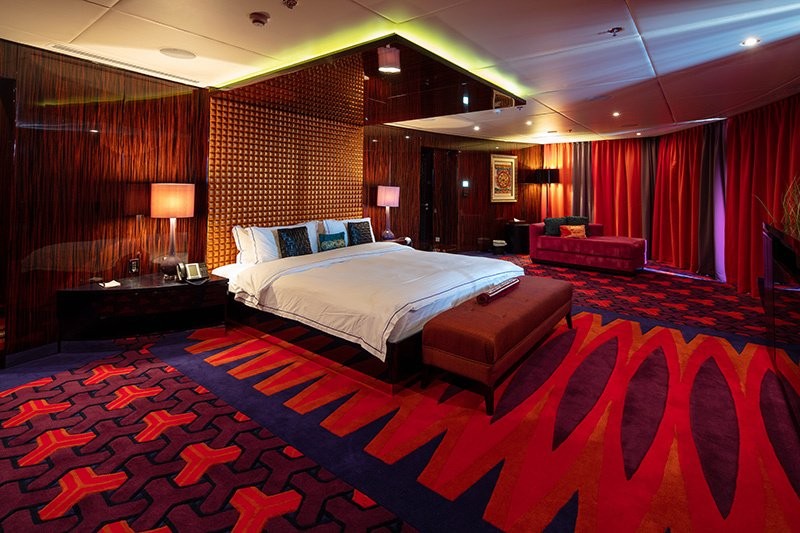 When it comes to the interiors, they are a world away from the typical cruise ship, with everything from refined wood paneling and mosaic tiling to vibrant custom-made carpets creating a luxurious hotel-like feel.
In terms of color scheme, pops of royal blue, lipstick red, emerald, gold, and Fuschia run throughout.
Catering to clients who want to have a good time at sea, one of Dubawi's highlights is a spacious nightclub on the lower deck complete with a light-up floor and state-of-the-art sound system.
Currently, there are numerous salons dotted around the yacht that have the potential to be turned into a games room, children's club, cinema, spa, gym and much more.
There are already hospital features onboard and to help yacht-goers navigate the various decks with ease, there is an elevator accompanying the stairs.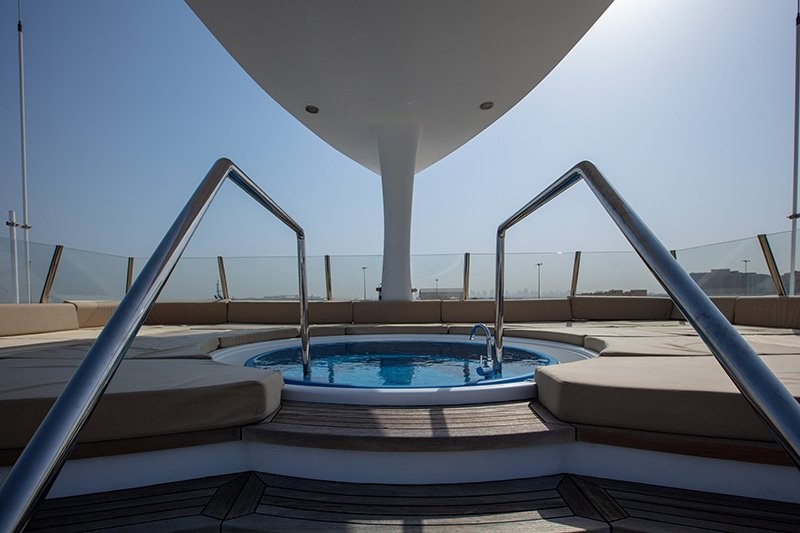 When it comes to outside space, on deck six there is a salubrious sundeck and plunge pool that was rearranged during the ship's refit with a fountain added to create a more 'peaceful environment' in which to relax.
The yacht went up for sale this May following vigorous maintenance checks and she is currently listed on JamesEdition.
The sale is being by broker Mathieu Bardon on behalf of Palm Beach-based Worth Avenue Yachts.
According to the yacht's brochure, some of the selling points include the amount of privacy she offers for a vessel of her size, the fact she has only had one owner since being converted into a superyacht, and the huge volume she offers, 'similar to a 110m superyacht'.
On the more technical side of things, Dubawi is powered by two engines made by German manufacturer MAN, which give her a cruising speed of 13.5 knots and a top speed of 15 knots.