Crossover between the car world and the boat world isn't all that common, but it does happen, and collaboration between car and boat builders goes back to the early twentieth century. A recent example is the "Tecnomar for Lamborghini" yacht, unveiled last year, and back in 1990 Ferrari collaborated with boat maker Riva on a limited run of Ferrari speedboats. This wasn't the first Ferrari boat, however.
Back in Ferrari's early days as a carmaker, company boss Enzo Ferrari gave his blessing and company support to a speed record boat for racer Achille Castoldi. This Ferrari "Arno XI" hydroplane reached 241.708 km/h, a class world record. Now the fully restored boat is listed for sale on JamesEdition and is located in Bons-en-Chablais, France. It is one of the most expensive listings in the "Cars" section and costs far more than most modern speedboats, but the main appeal here is style and history.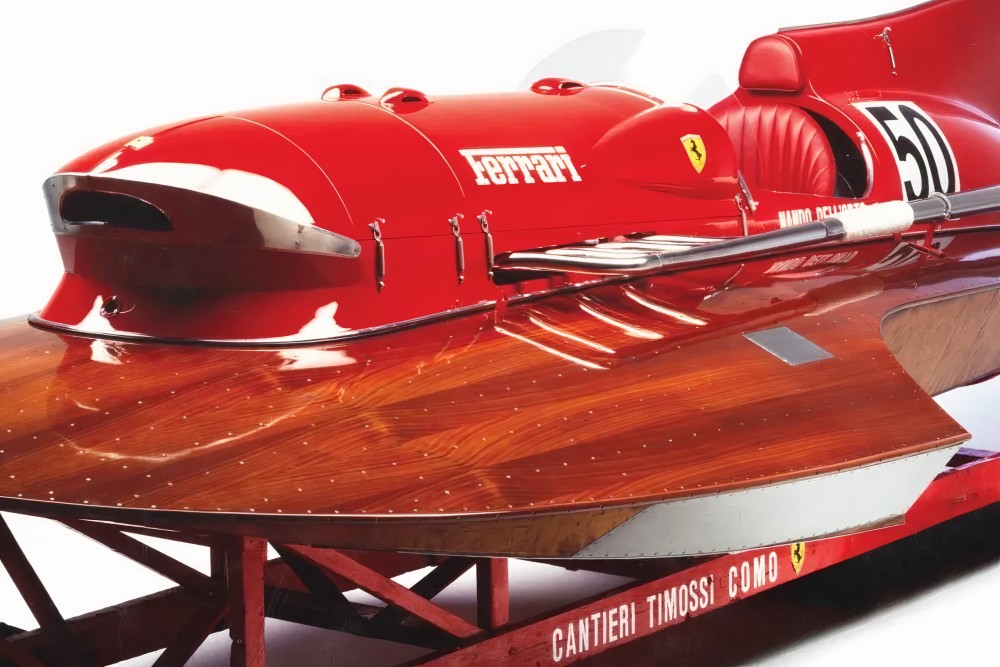 Cantieri Timossi used a three-point hydroplane design made with a hardwood frame, metal subframe, and mahogany veneer for the outer skin. Enzo Ferrari gave a Grand Prix-spec, 385-bhp, 4.5-liter Aurelio Lampredi-designed Tipo 375 V-12 engine.
Achille Castoldi: the name behind the one and only record-setting Ferrari boat
Achille Castoldi was one of Italy's premier boat racers, having started out in 1940 using an Alfa Romeo-powered boat called "Arno" to compete in circuit-type hydroplane racing. After the Second World War, he ended his relationship with Alfa Romeo and switched his focus from circuits to speed record attempts.
He hired Cantieri Timossi to create a new boat, measuring 6200-mm long and using a three-point hydroplane or "seaplane" (a lightweight speedboat designed to skim over the top of the water as much as possible) design made with a hardwood frame, metal subframe, and mahogany veneer for the outer skin.
He eyed the 800-kg class world speed record but he needed an engine. Two of Castoldi's friends were Ferrari Grand Prix drivers Alberto Ascari and Luigi Villoresi, with whom he traveled to Maranello in 1952.
The engine that won Ferrari the World Championship in 1952
Ferrari had only started to build its own sports cars in 1947, but Enzo threw his support behind the record attempt and gave Castoldi a Grand Prix-spec, 385-bhp, 4.5-liter Aurelio Lampredi-designed Tipo 375 V-12 engine. This engine won Ferrari the World Championship in 1952.
The boat now complete with Ferrari power, Rosso Corsa paint and dubbed the "Arno XI" made its first record attempt at Lake Como in 1953, but was beaten out by an Alfa Romeo-powered competitor. Seeking more power, Castoldi brought the engine back to Ferrari, where the V-12 was tuned to run on methanol for higher compression, switched out the distributors and coils for twin magnetos, added twin spark plugs per cylinder, and fitted two crank-driven superchargers with dual four-barrel Weber carburetors.
The treatment resulted in a massive jump in power – up to 550-600hp, which was far more than any of Ferrari's racing sports or Grand Prix cars were making at that time. In 1953, the new and improved Arno XI went to Italy's Lake Iseo and hit a two-way average speed of 241.708 km/h in the flying kilometer and an average speed of 164.70 km/h in a 24 nautical mile event, both records.
Castoldi retired from the competition not long after, but Arno XI's competitive career wasn't over yet.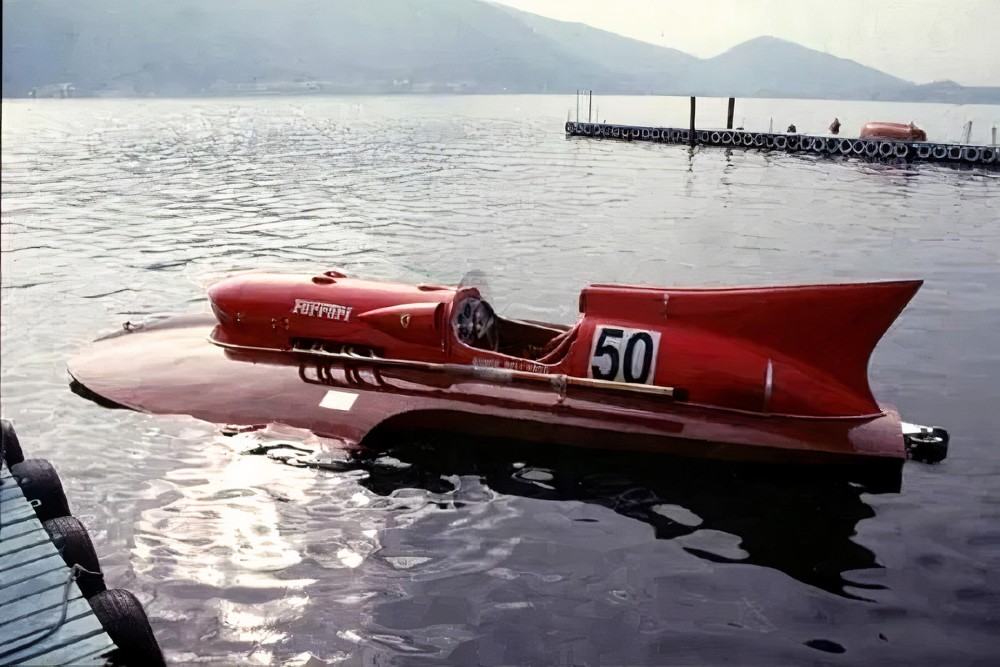 From the 1950s' boat racings  to the present-day car auctions
The boat was later bought by engineer Nando Dell'Orto, who revised the bodywork to be more aerodynamic and used it in circuit racing, where it won three titles and set several fastest-laps. Arno XI retired from competition for good in 1968.
After a long period in storage the famous Ferrari boat was reportedly completely restored and certified by Ferrari Classiche, and it has made limited appearances at events and shows since. It last sold for €868,000 (about $1.1M at the time) at RM's Monaco auction in 2012. There are certainly faster boats for the money, but this boat offers something modern speedboats don't have – provenance.
A famous machine among both car and boat enthusiasts, it is a race winner, a record-holder, and it played an important part in the very early history of Ferrari, one of the world's most famous carmakers. There is also only one record-setting Ferrari race boat, and this is it.