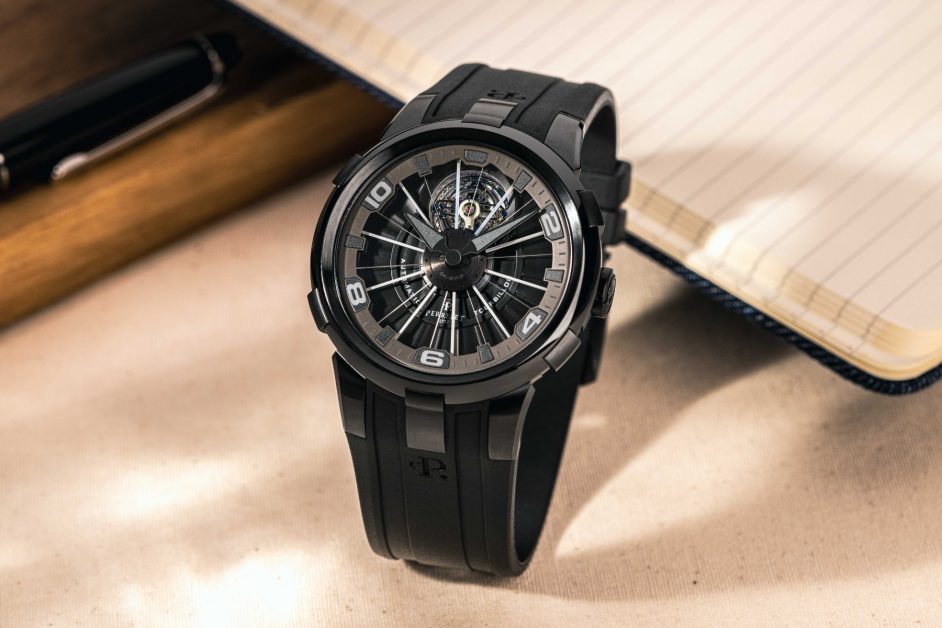 Perrelet Turbine Turbillon , A1080/1
Almost 250 years ago, Abraham-Louis Perrelet, a Swiss-born watchmaker, was at the origin of  the world's first self-winding automatic mechanism. Since then, the House of Perrelet has gone from strength to strength, consistently innovating the field of horology.
Fast forward to the present day, their ingenious team has released a Turbine watch in black carbon fiber and an exclusive collection of Turbine with the complication of the tourbillon, called Turbine Turbillon  – more on these below.
The History of Innovation
Today, Perrelet is a rare breed, effortlessly combining efficiency with artisan-style craftsmanship .
In the 18th-19th century, the House of Perrelet introduced several emblematic breakthroughs that changed the history of watchmaking, including the first pedometer featuring a cylinder, duplex, calendar, and equation escapements to a chronograph counter for physics and astronomy with flyback hand.
The "intelligent" astronomical clock created in 1815 and presented at the Universal Exhibition in Paris in 1823 resulted in Louis-Frédéric Perrelet (a grandson of Abraham-Louis Perrelet) becoming a watchmaker-mechanic to three French kings.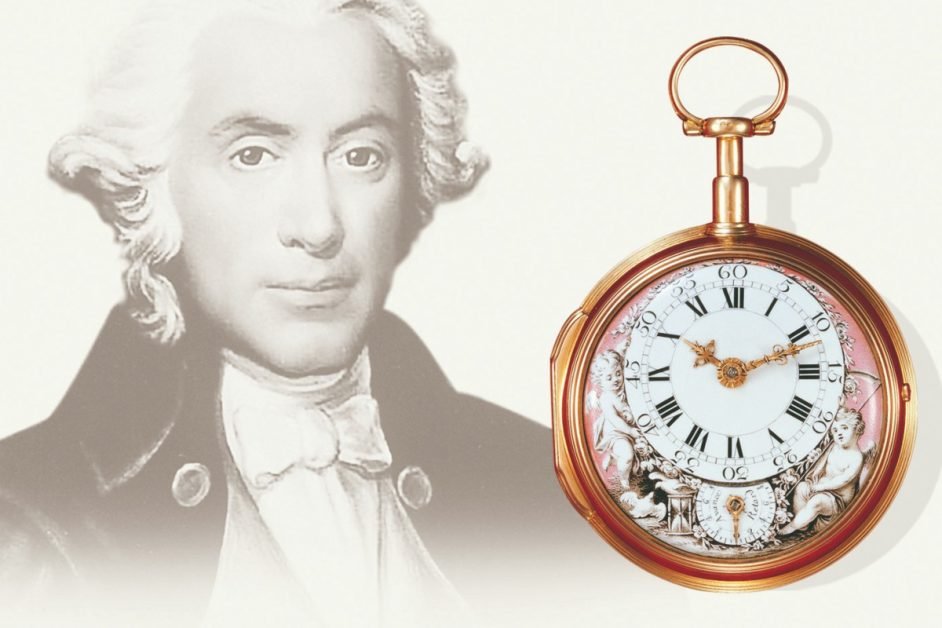 Abraham-Louis Perrelet and the first pedometer he created in 1780
In 1995, the brand designed and produced the first so-called "double-rotor" caliber, and in 2009, they presented their emblematic Turbine collection inspired by the double-rotor movement.
The brand developed its own aesthetical codes which reflect Perrelet's history of innovation. The distinctive details include an instantly recognizable winding crown integrated within the case to create a unique visual effect, a double rotor with its Turbine variation or a fluted pattern with a contemporary twist.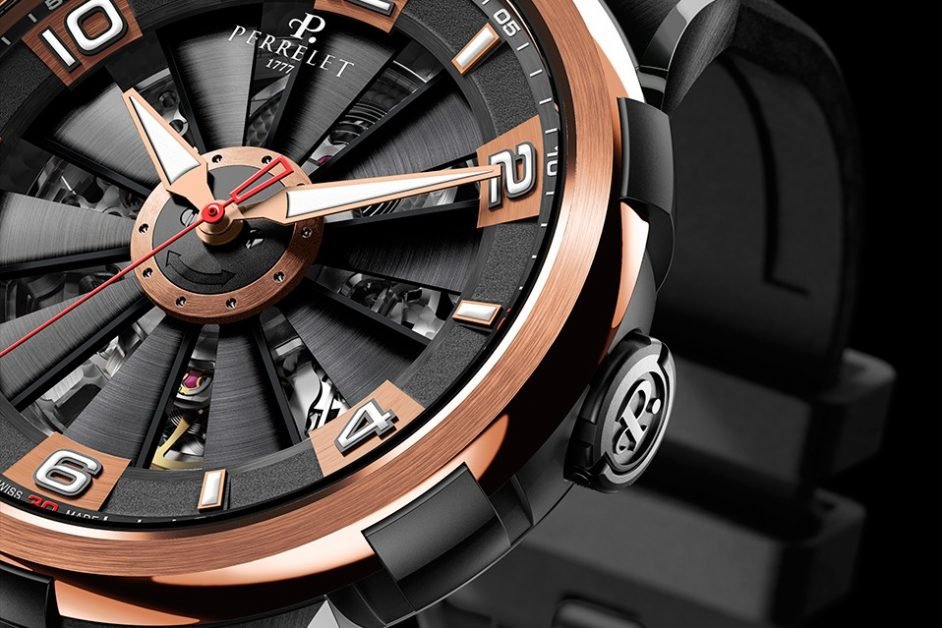 A recognizable winding crown integrated within the case, the Turbine collection by Perrelet
Following the revolutionary invention of  Abraham-Louis Perrelet, all Perrelet watches are equipped with automatic movements. Today, the lineup includes 14 various calibers, entirely crafted, decorated, adjusted and assembled in-house.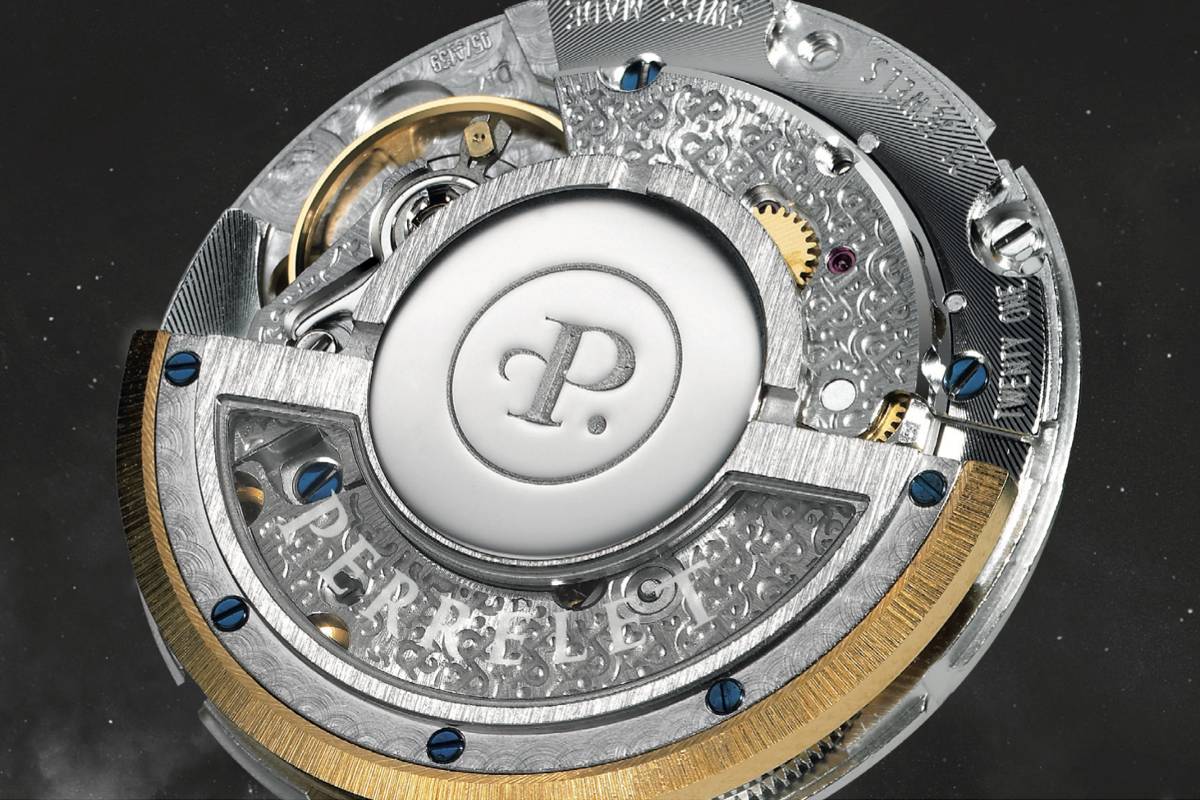 Customize with Perrelet's Bespoke LAB
Perrelet proposes a large selection of the most innovative timepieces in terms of technical excellence and cutting-edge design.
Alongside their well-established lineup, Perrelet focuses on satisfying requests for unique pieces via their Bespoke LAB. By doing that, they meet the needs of watch aficionados seeking exclusive tailored-made timepieces. With that in mind, customers can personalize materials, colors, finishes, and decorations.
Iconic Turbine collection
The Turbine is among Perrelet's most sophisticated models in terms of horological content, intended for watch enthusiasts with an eye for detail. The oscillating weight on the dial side of a Turbine, which has only an aesthetic value and is not functional to the movement, is transformed into a propeller, making an eye-catching impression with its extreme rotating speed.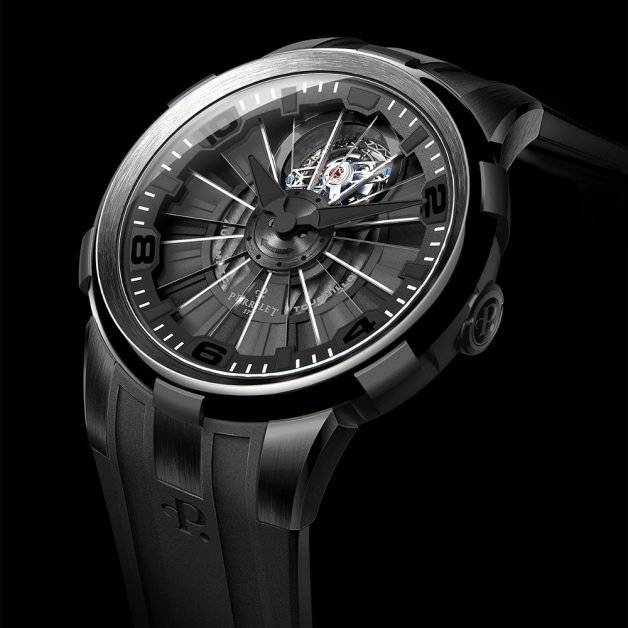 Iconic Perrelet Turbine Turbillon in black
Turbines also feature unique optical and visual effects, resulting from free-spinning propeller-shaped upper wheels and customizable under-dials. The versatile collection is regularly reimagined via new looks using innovative materials and a range of colors.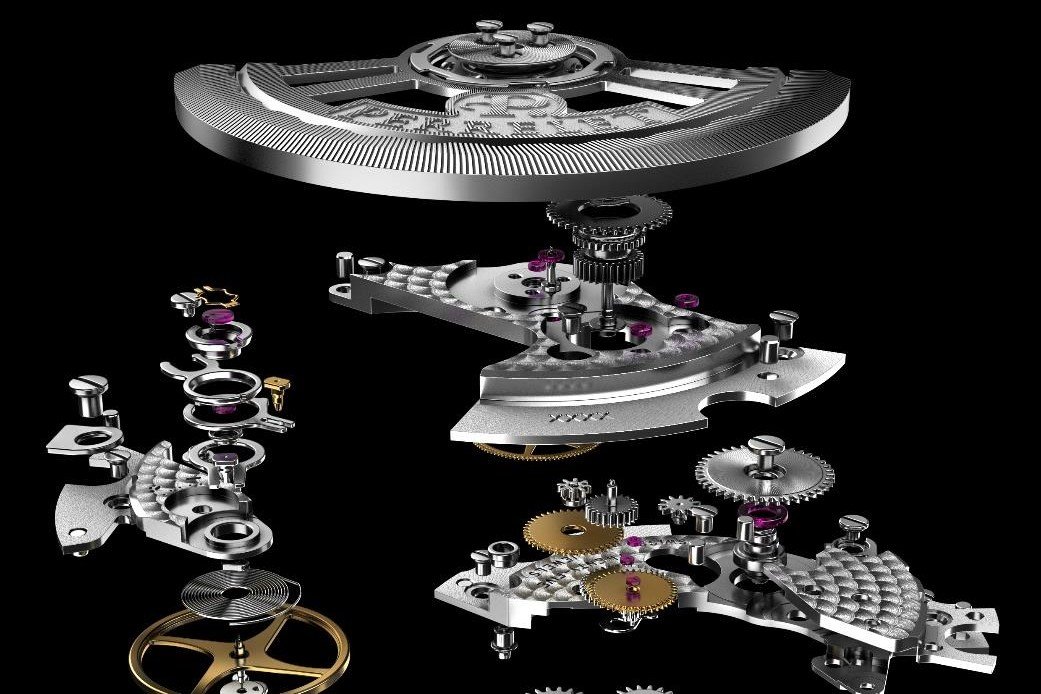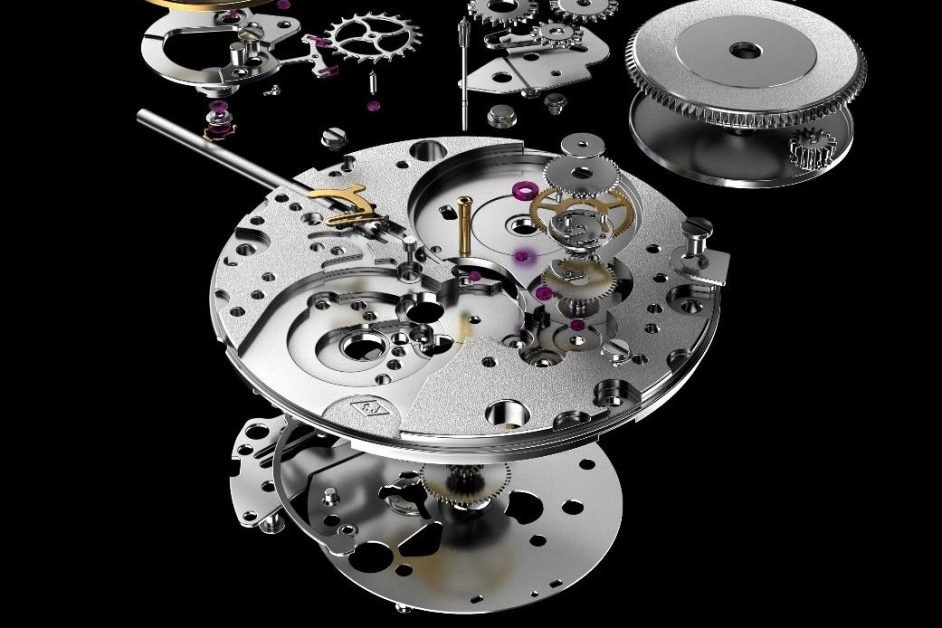 The new-generation automatic movement which powers the new Turbine Carbon Black Edition: caliber P-331-MH, COSC and Chronofiable certified
Variations include Turbine Pilot, Evo, Rainbow and Carbon Racing – and now, there's a new Carbon Black Edition.
What's more, the Turbine is a crucial part of the brand's aesthetical and iconic codes.
Top Perrelet Turbine watches you can buy right now
Turbine Tourbillons 
Price: €86,880-89,880
Models: A3037/1, A1080/1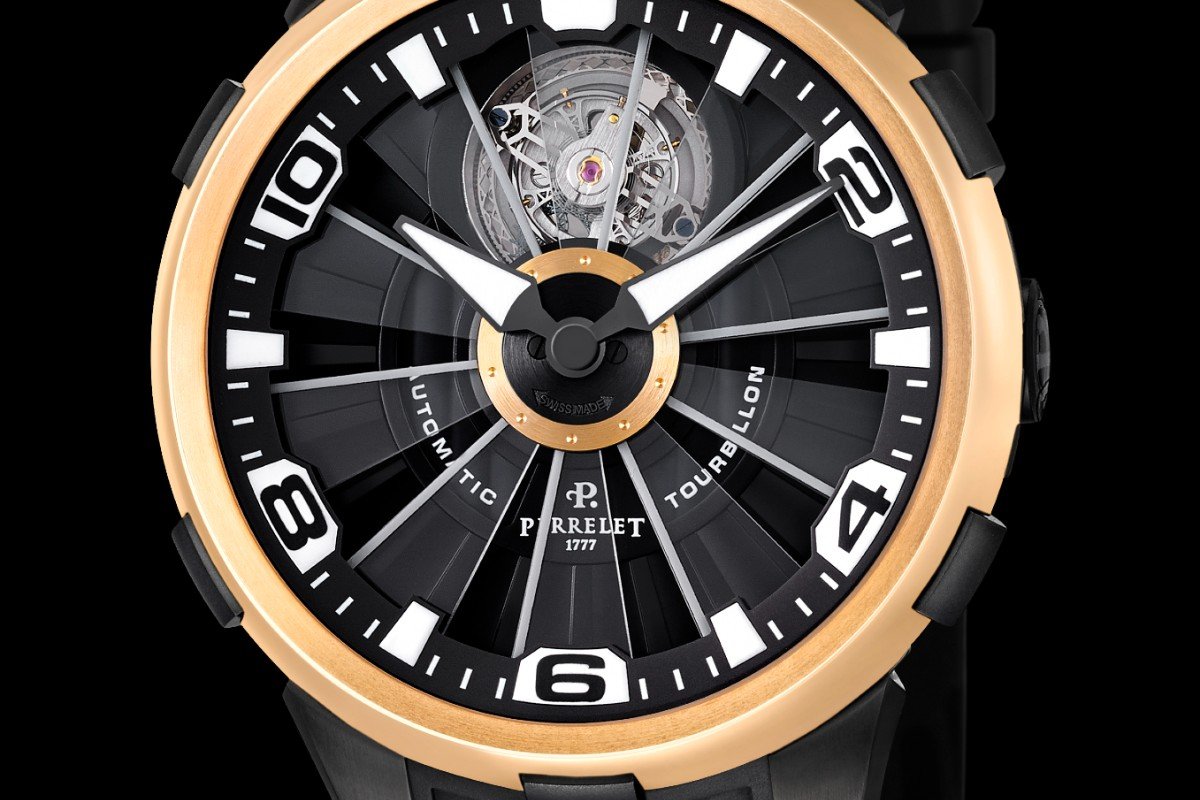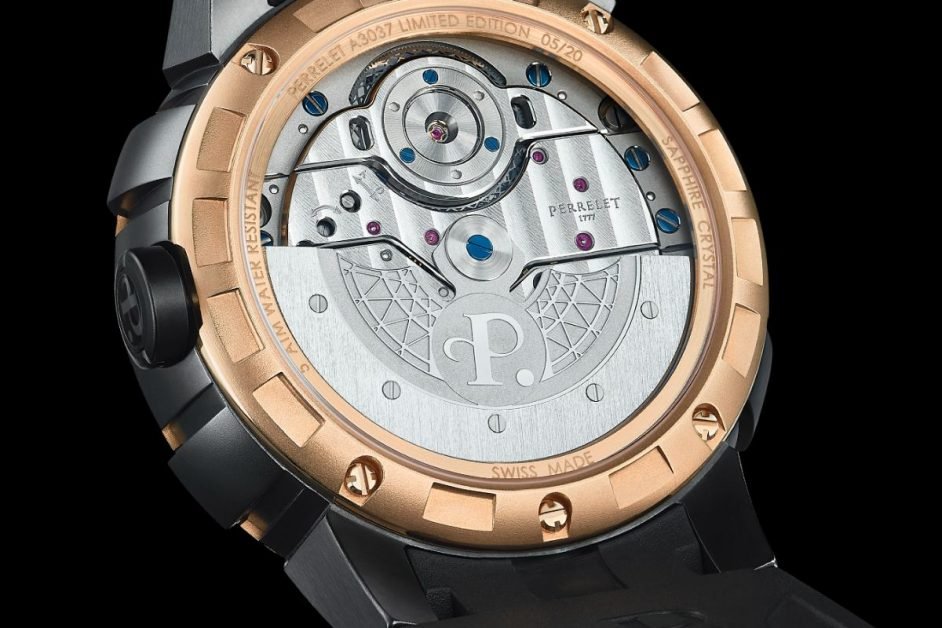 Turbine Turbillon , model A3037/1
Let's start with Turbine Turbillon, fusing a Tur(bine) watch with a (tour)billon – the mechanism increasing the accuracy of a watch. The clever combination of the Turbine model with a tourbillon caliber is a prime example of the high-end brand's expertise and ability to reinvent.
For their limited edition Turbine Turbillon collections, just 20 of each version are made, making each piece an exciting and potentially lucrative investment.
This collection features a black rubber strap, a pin buckle, and a sapphire crystal. They have the in-house caliber P-371 automatic movement, 65 hours of power reserve, and are water-resistant to 5ATM (50 meters – 164 feet)
What makes this stylish Tourbillon stand out? A stainless steel case with a black PVD coating and a striking rose gold bezel and back. The dial boasts a transparent sapphire turbine with 10 blades which unveils a black under-dial, while the Arabic numerals and hour markers are luminescent.
Meanwhile, this prestigious Tourbillon has a stainless steel case with a black PVD coating, plus a transparent sapphire turbine and a black under-dial, black Arabic numerals and hour markers.
Turbine Carbon Black Edition 
Price: €4,750
Model: A4065/1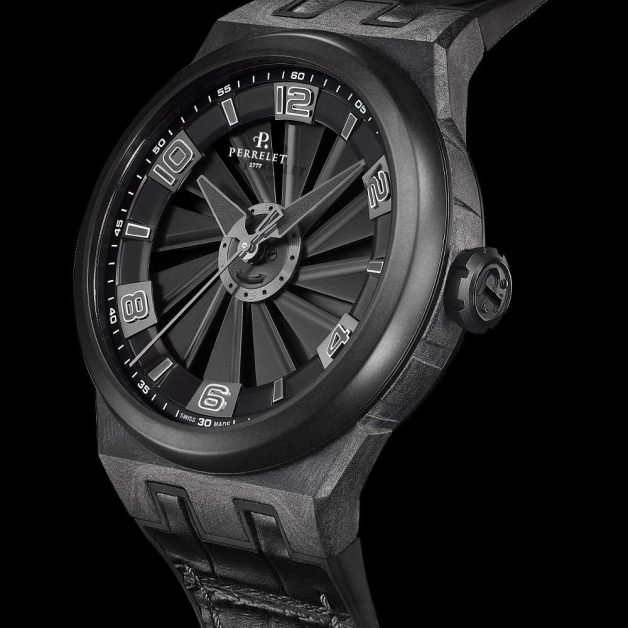 New Turbine Carbon Black Edition
This sleek watch piece is bold yet classic, featuring a dyed black case, dial, and strap, plus a display protected by a highly resistant anti-reflective sapphire crystal. Synonymous with power and authority and associated with mystery, elegance, and sophistication, this color never goes out of fashion.
It's equipped with the in-house self-winding caliber P-331-MH t, offering 42 hours of power reserve, and is water-resistant to 100 meters. Light yet robust, the piece has a central body composed of polycarbonate and carbon fiber and boasts a sporty-chic look.
To find your closest Perrelet retailer, check out the deluxe watchmaker's distribution map.