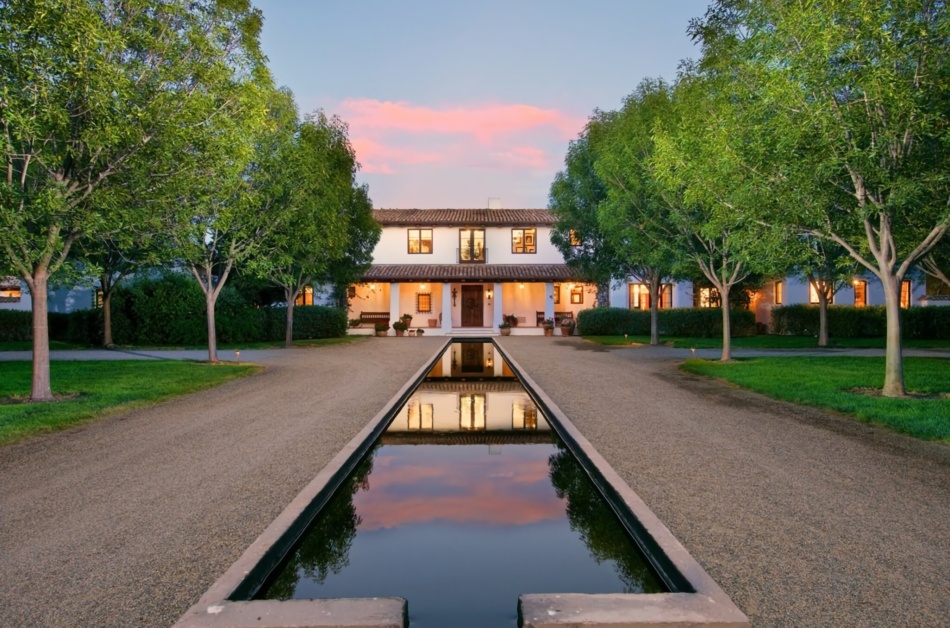 Willow Creek Estancia, 16401 Calle Feliz, Rancho Santa Fe, Ca, 92067 $98,500,000.
View Listing
Uniquely designed for the professional rider or those who prefer to enjoy a leisurely trail, Willow Creek Estancia is a one-of-a-kind equestrian estate, in the affluent Californian coastal community of Rancho Santa Fe Covenant.
Spread over 77.06 acres, the secluded estate inspired by the ranches of Argentina features a variety of facilities for both horses and equestrians including two state-of-the-art barns, three sand riding arenas, private riding trails and several pastures.
At the center of things is a 15,000 square-foot main residence, which was designed by renowned architect Marc Appleton as a spacious place to reside, relax and entertain.
Step inside one of the best equestrian estates in California
The characterful property flaunts classic Santa Barbara style with earthy tones, natural wood detailing, and crisp white walls. Open fireplaces,  wrought-iron antique chandeliers and beamed ceilings complete the stately, yet homely look.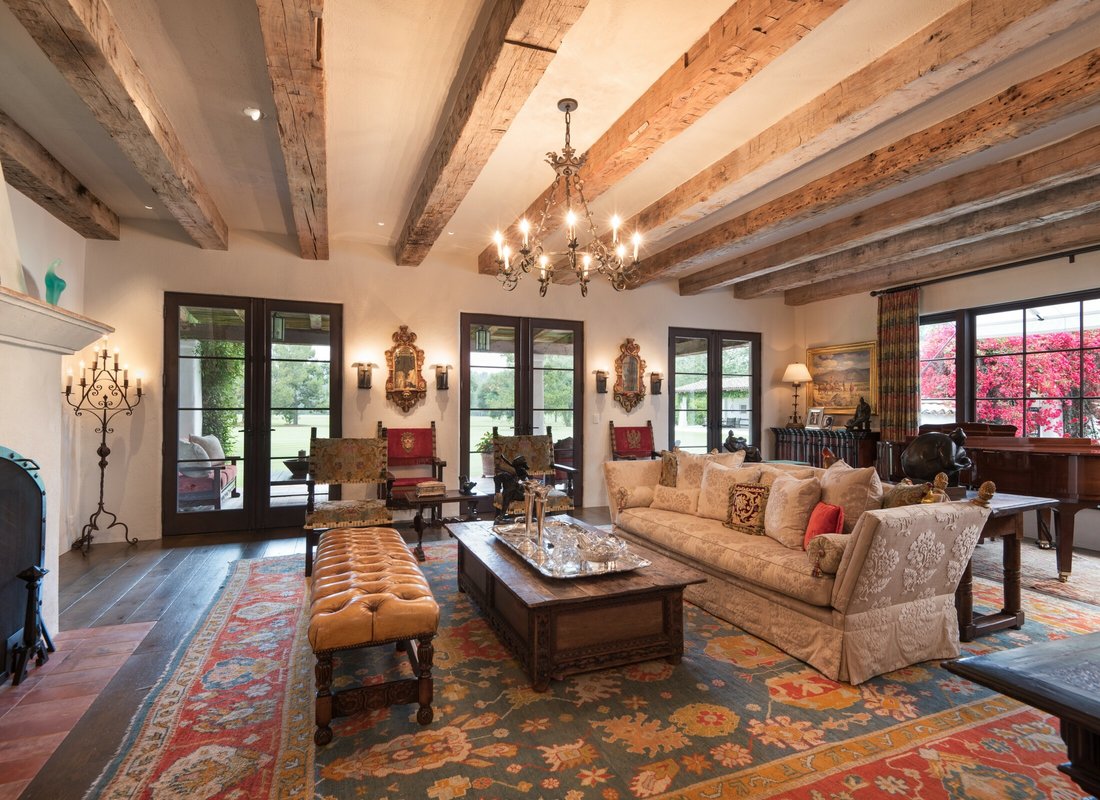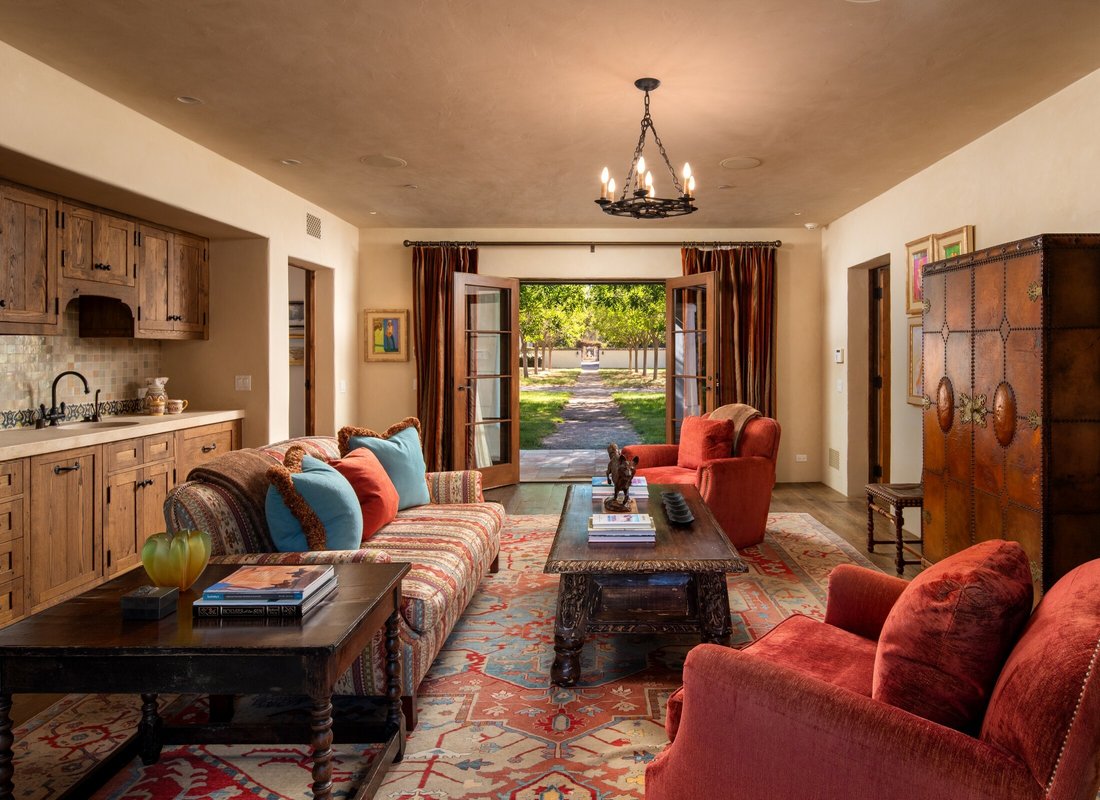 Willow Greek Estancia interiors combine classic Santa Barbara style with the decoration inspired by the ranches of Argentina
In total, there are four bedrooms and seven bathrooms in the main house.
The living areas lead to family spaces that include an office, sitting rooms, and dining rooms. Three of the bedrooms are at one end of the home, with these sharing a lounge area. This space opens out on to private garden patios, overlooking the estate's swimming pool and grassy acreage.
The fourth bedroom, a master suite, dominates the property's entire second floor, with perks including a private office, exercise room, bathroom, walk-in closet, and soaking tub with garden views.
Moving below decks, the residence's lower level has a wine cellar and tasting room, a cowboy-style billiards room with a library, and a multipurpose craft and project room.
Continuing on the entertainment theme, there is a 'Recreation Pavilion' adjoining the property where guests of all ages will find plenty of activities to enjoy.
Highlights include a games arcade, card tables, a two-lane bowling alley, and workout room.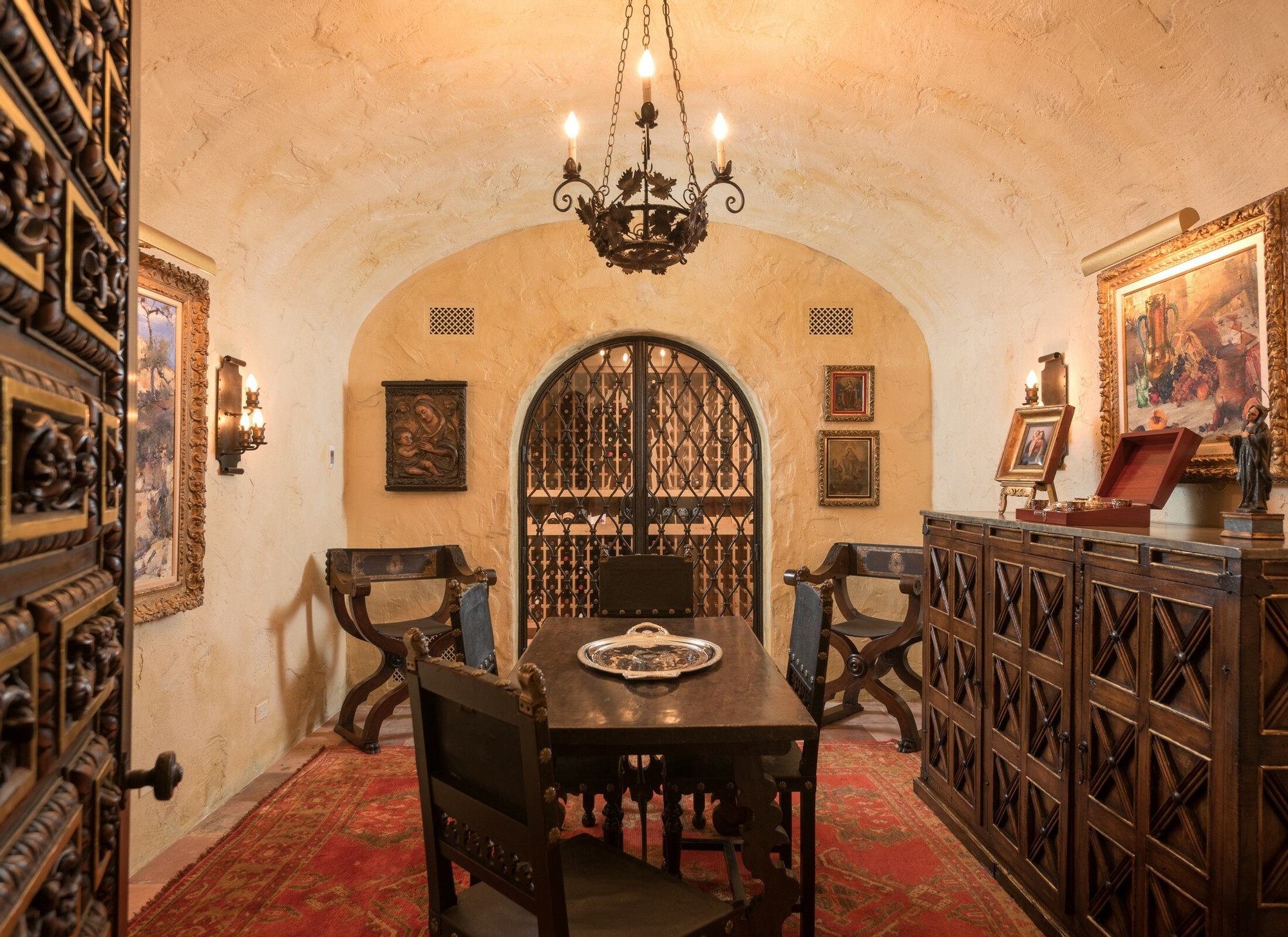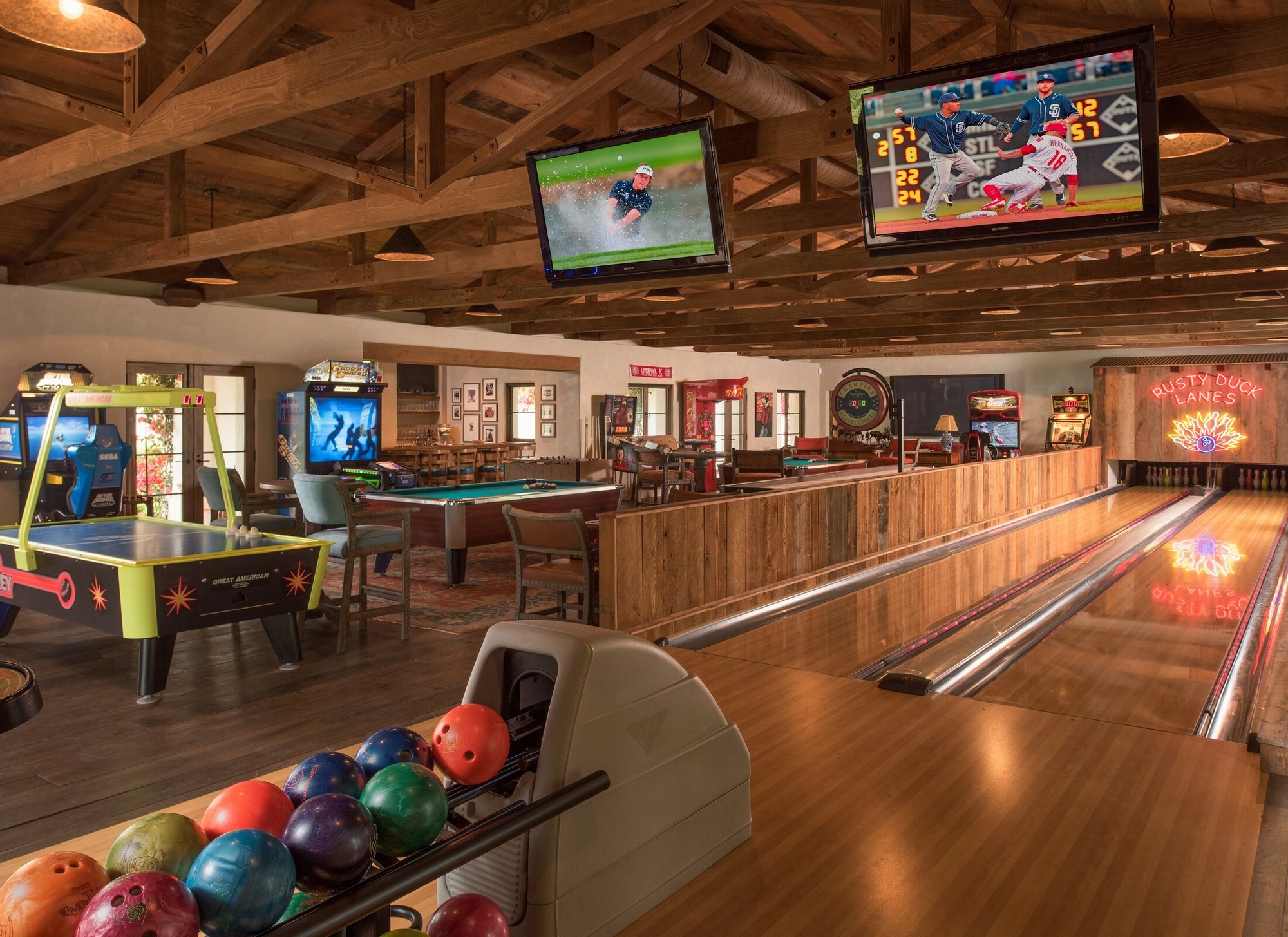 The entertainment areas are decorated in the same classic ranch style as the entire property, with the hints of a cowboy movie theme
The adjacent covered patio with fireplace and a private lawn offers plenty of room for large gatherings, while the catering kitchen and full-service bar are convenient for hosting events.
The veranda of the main residence opens to a backyard oasis complete with a rose garden, conservatory, raised herb beds, and a meditation loggia.
Thanks to the sunny, blue-skied Rancho Santa Fe weather, you can use the sparkling main lap pool almost all year round.
Elsewhere on the immaculate estate, there are other accommodation blocks for guests or staff, a tennis court and a 15-acre bass-filled lake.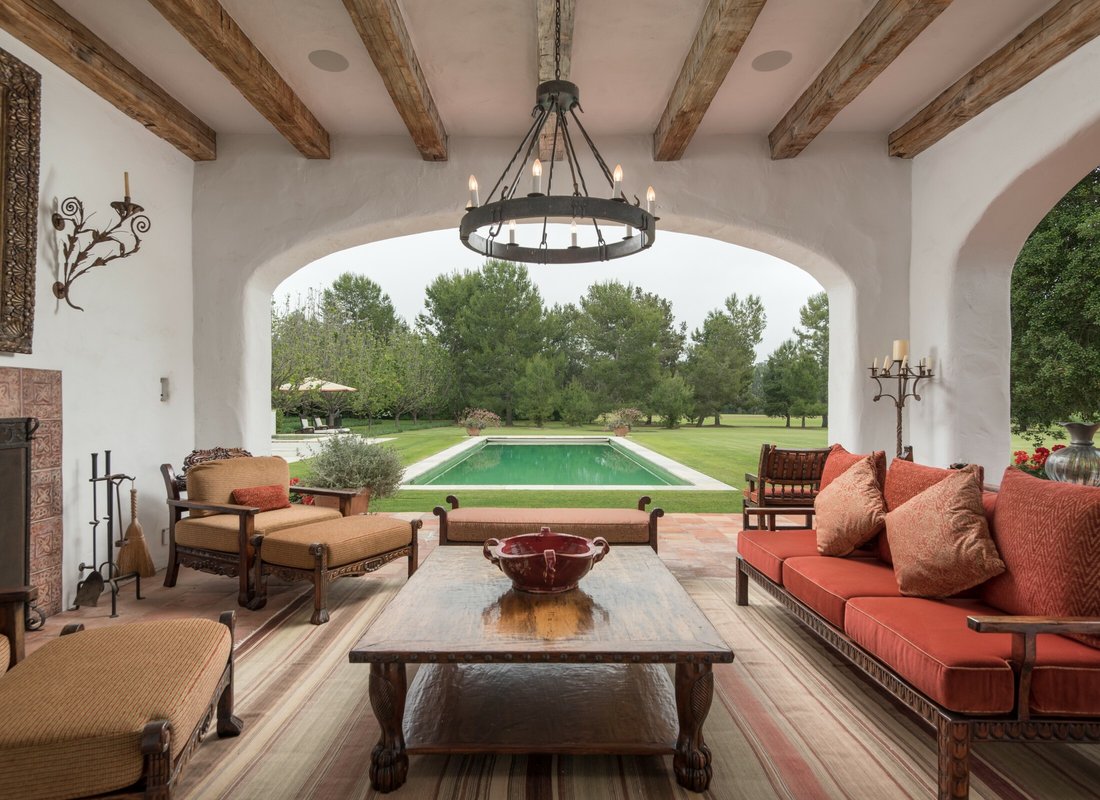 All you need to know about equestrian real estate in California, Rancho Santa Fe Covenant: zip code, hoa fees, covenant rules, dog permit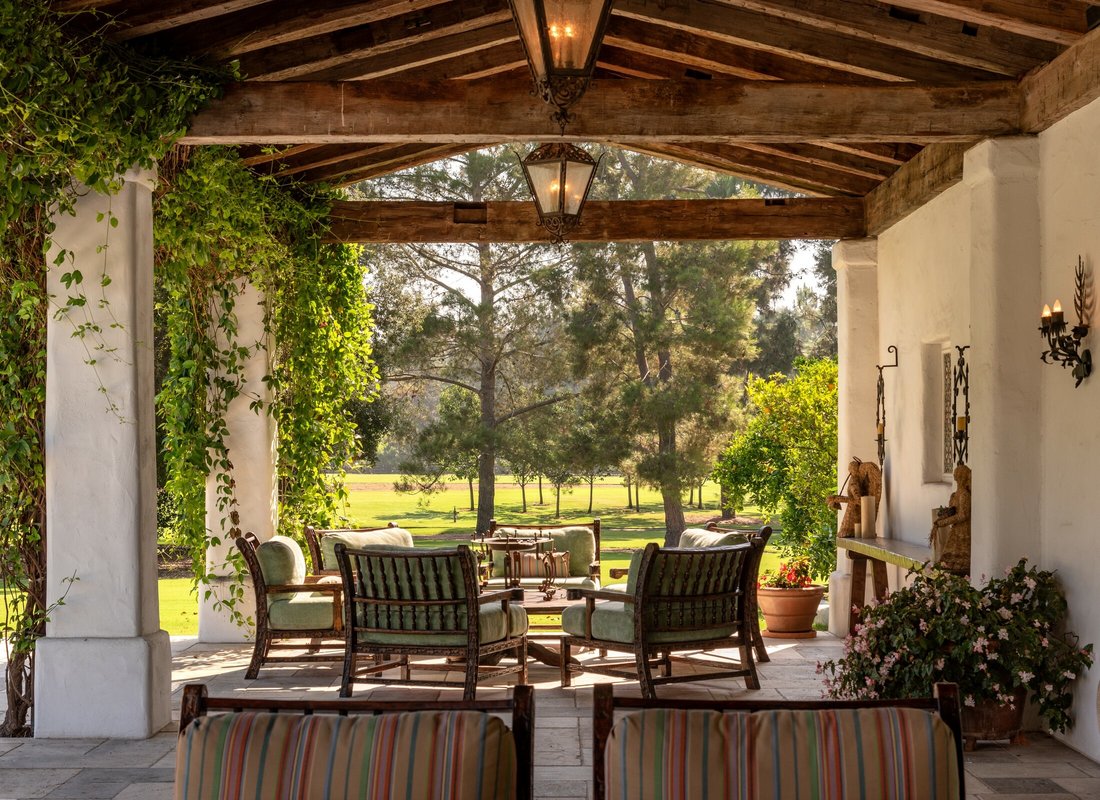 The veranda of the main residence opens to a backyard oasis complete with a rose garden, conservatory, raised herb beds, and a meditation loggia.
For those looking to host corporate events, there are multiple conference rooms and business offices.
And stepping outside of the gated estate, the area of the Rancho Santa Fe Covenant in San Diego's North County is one of California's most sought-after neighborhoods.
Rancho Santa Fe Covenant: beautiful rolling topography and 50 miles of groomed equestrian trails
The prestigious seaside community, which was designated as a State Historical Landmark in 1989, covers some 6,200 acres and is home to around 4,300 residents.
It has a rich equestrian history, with the world-class Del Mar Racetrack welcoming the industry's top athletes and California's most spirited partygoers during its summer and fall seasons.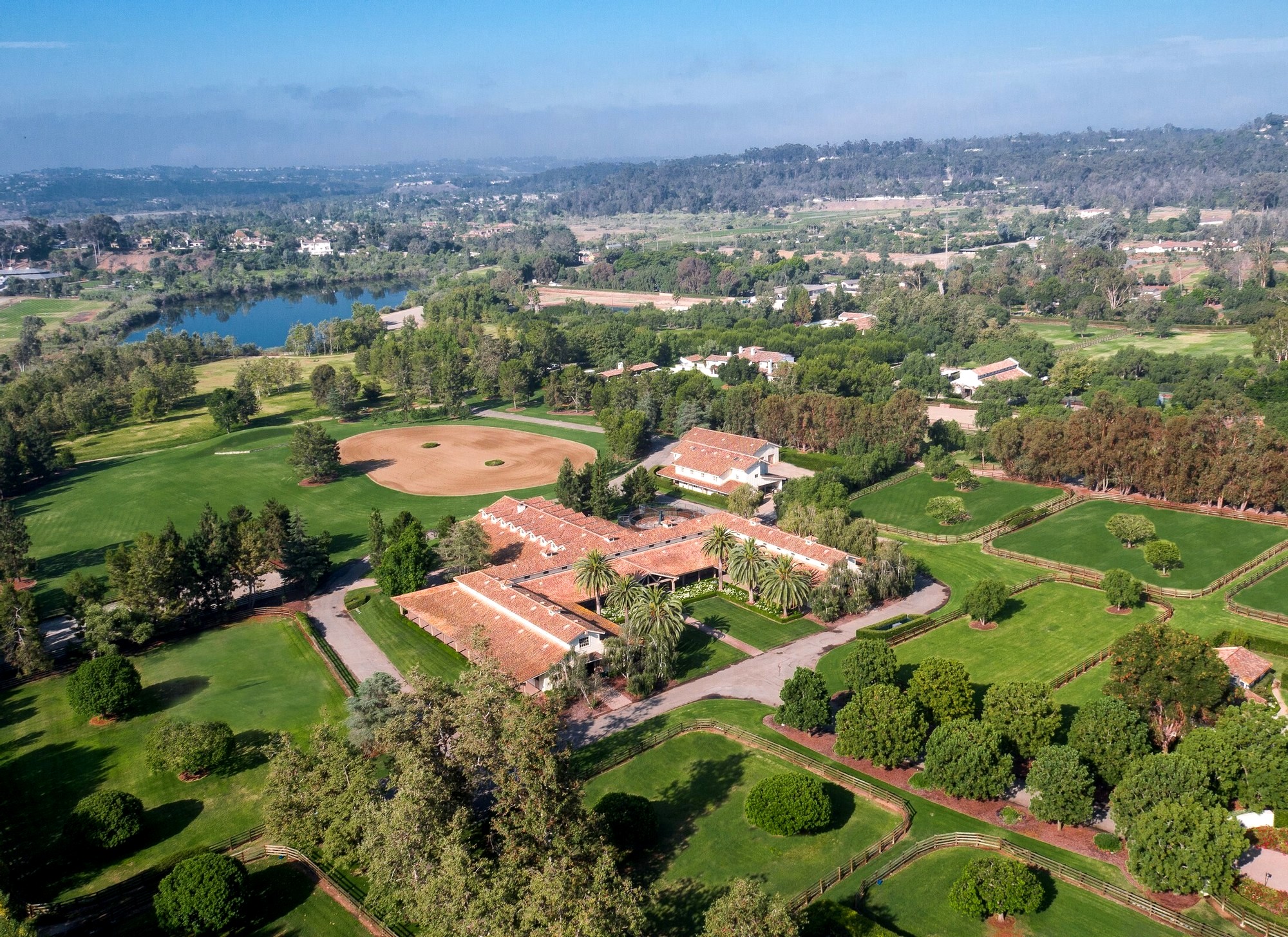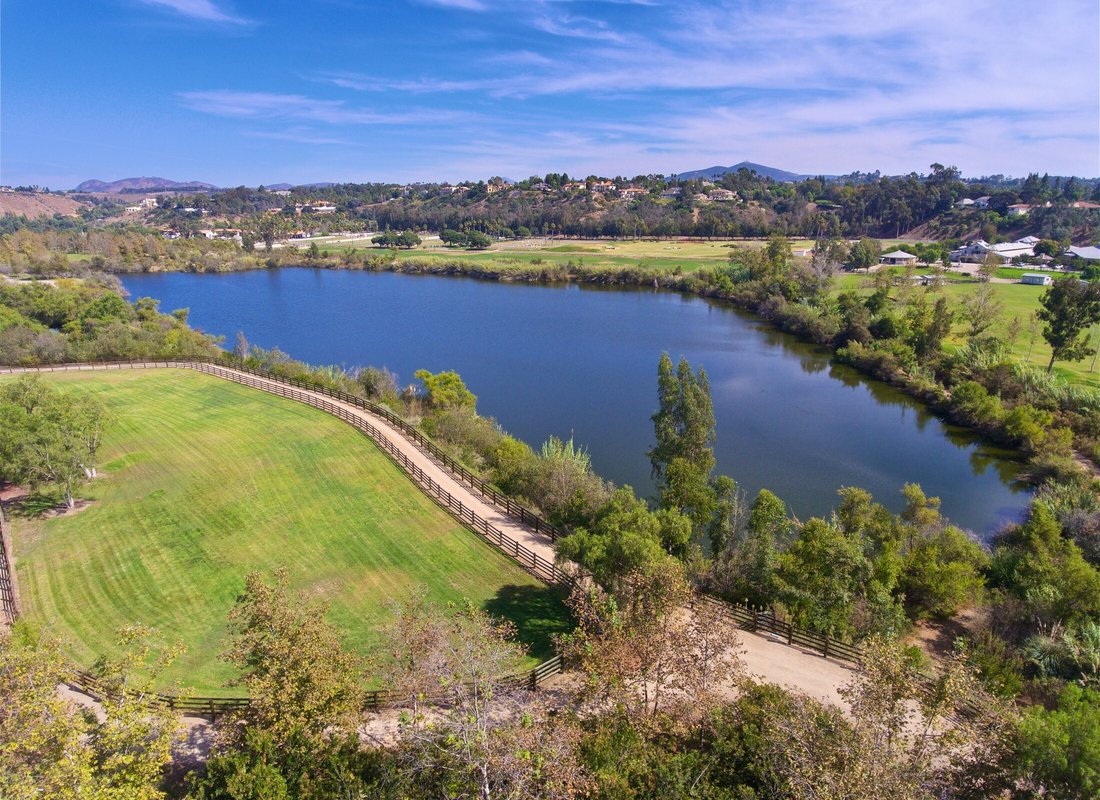 An aerial view of Willow Creek Estancia and Rancho Santa Fe Covenant: the lake and state-of-the-art barns, sand riding arenas, private riding trails and pastures.
Opened in 1937 by Bing Crosby, the seaside track has played host to celebrities for decades, from Lucille Ball and Desi Arnaz to the stars of Entourage.
Running on the equestrian theme, the Covenant was also the site for the equestrian events during the 1984 Olympics and polo is a popular pastime among residents.
Other popular activities in the area include hiking, with a myriad of private trails and there is the distinguished Rancho Santa Fe golf and tennis clubs. These first-class sports facilities only offer memberships to residents of the Covenant. The golf club is regarded as one of the top venues of its kind in the western U.S.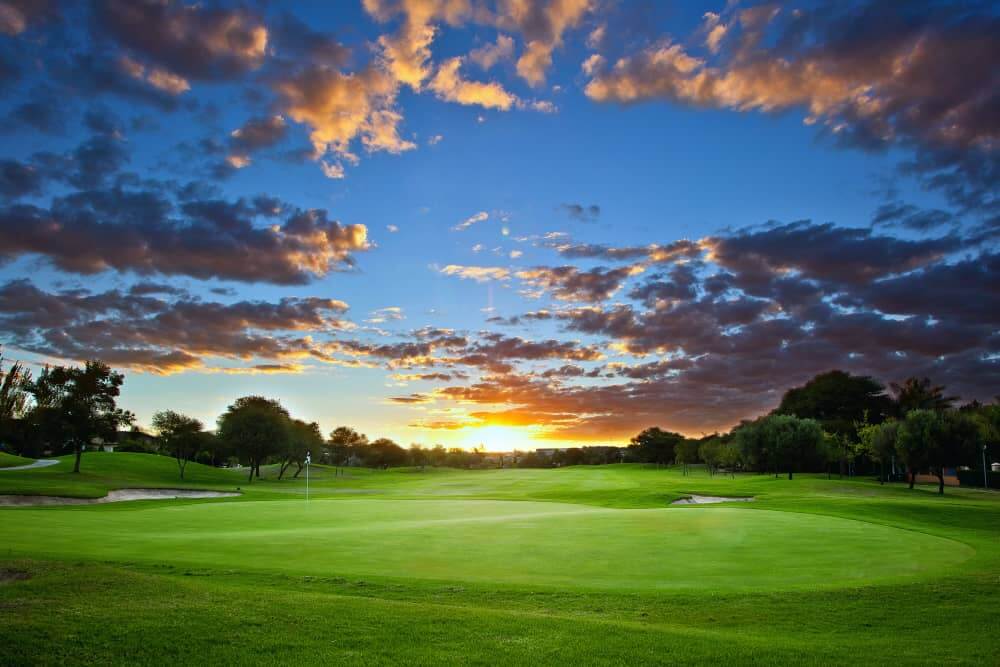 Rancho Santa Fe golf club.
It was the site of the first Bing Crosby 'Clambake' Pro-Am tournament in 1937, which grew in stature to become the AT&T Pebble Beach Pro-Am.
Sports aside, at the very heart of the Covenant lies the pedestrian-friendly village of Rancho Santa Fe, laid-out in the Beaux-Arts style by L.G. Sinnard in the 1920s. There you can find shops, restaurants, commercial businesses and the historic Inn at Rancho Santa Fe, which includes a popular wellness spa.
The neighborhood prides itself on its safety making it a perfect spot for families. Another plus is that the Rancho Santa Fe School District campus is located adjacent to the village. The R. Roger Rowe School, for elementary and middle school-aged students, features a state-of-the-art campus, a performing arts centre, classroom labs and more.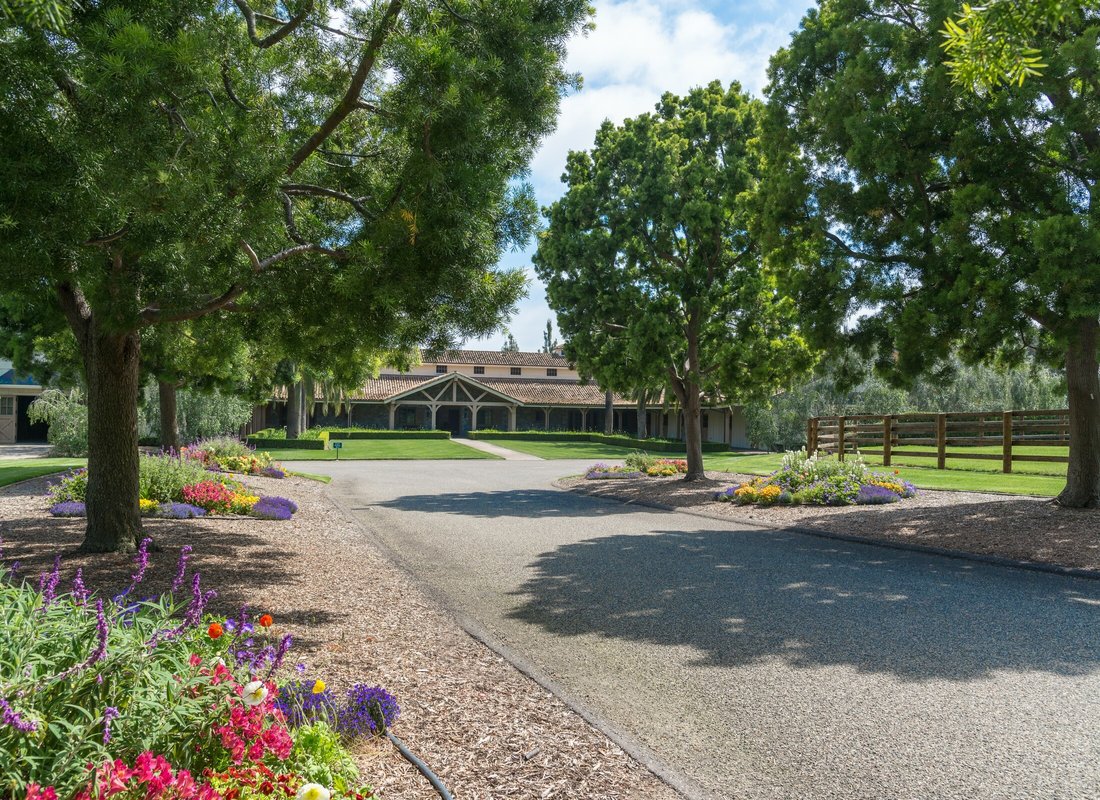 Willow Creek Estancia
Other institutions in the nearby area include Torrey Pines High School, San Dieguito Academy, and Canyon Crest Academy.
When it comes to real estate, the Covenant is home to spacious low-density, large-lot residential developments ranging from 1,700 to 15,000 square feet. These start in the region of $1.5million. The average lot size is more than two acres.
First-class equestrian lifestyle at Willow Creek Estancia
Willow Creek Estancia is considered one of the top equestrian estates in the Covenant, with the Californian-style farm boasting a range of standout facilities.
One of these includes a seven-stall family barn with clerestory windows, high wood ceilings with open beams, and both in-and-out and interior stalls.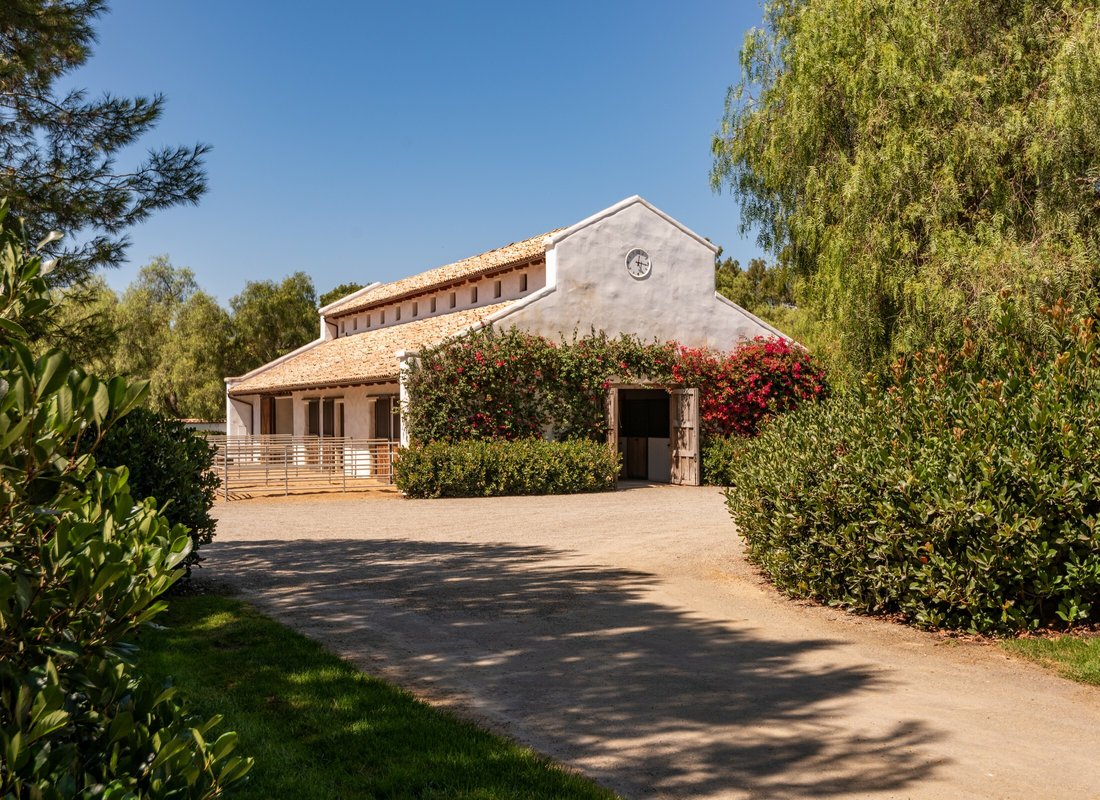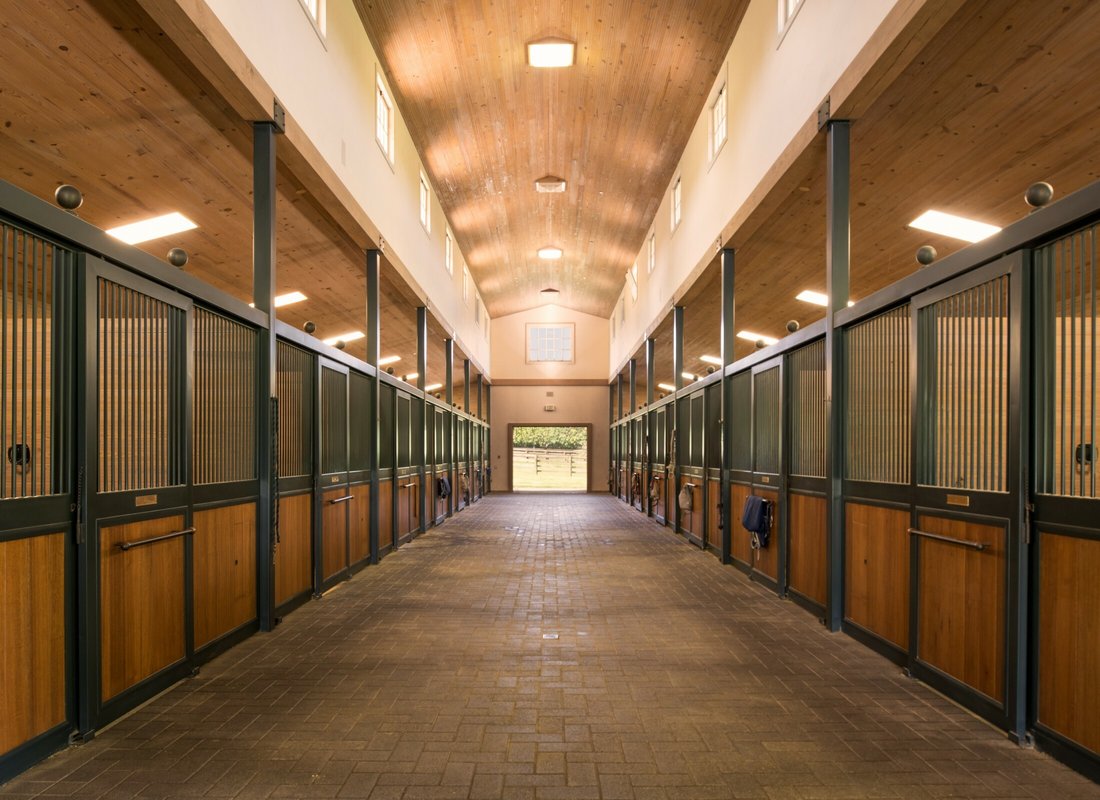 A seven-stall family barn in Willow Creek Estancia
Adjacent to the barn is a one-bedroom groom's apartment with a kitchen, bathroom, living room and secluded outdoor terrace matching the classic aesthetic of the main home.
Meanwhile, the main luxury stables have 27 stalls, a six-horse walker, multiple grooming areas, several tack rooms and a farrier workspace.
It was designed to manage the logistical side of horse-keeping, with well-thought-out features including a private lounge, a full kitchen, four office suites, and a conference room overlooking the ground.
Six cowboy apartments, a separate machine shop, a private caretaker's cottage, and a hay barn built to house an 80-foot trailer are among the other facilities on the farm.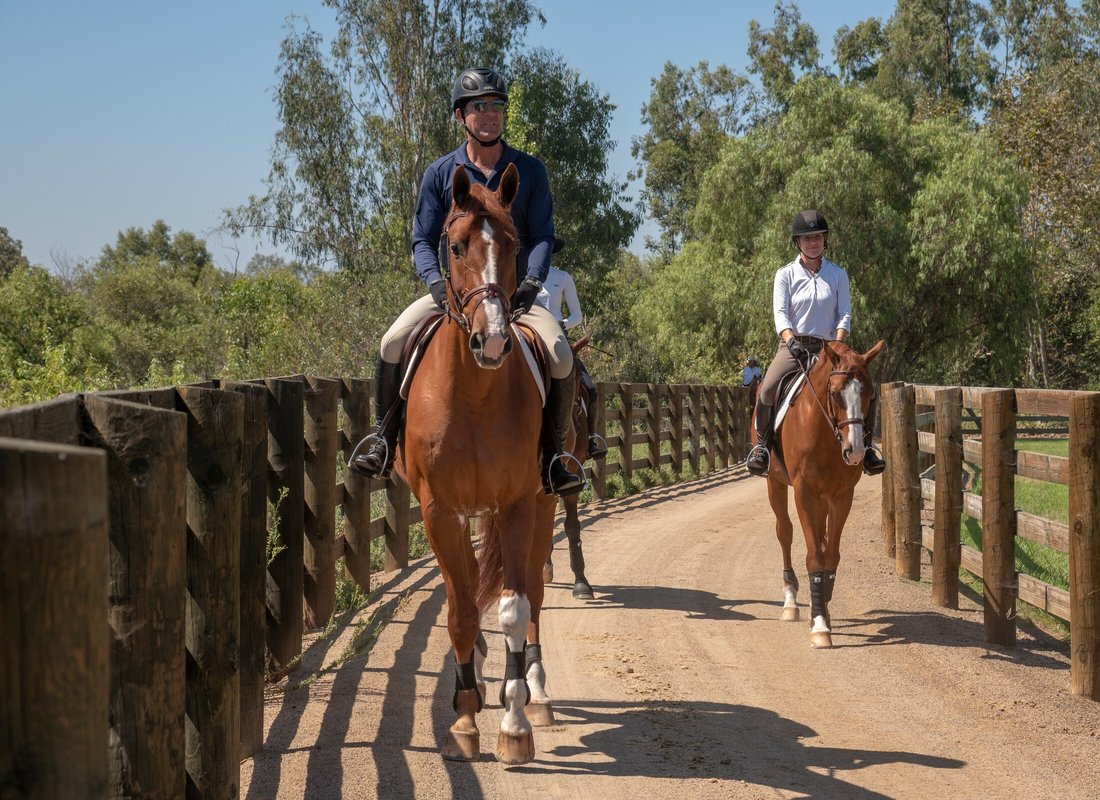 The property features groomed and picturesque equestrian trails
There is an opportunity to develop the estate further, with local Rancho Santa Fe land use attorney, C. Samuel Blick, able to assist with the evaluation.
He also represented the seller in securing the necessary entitlements for the property.
Along with furthering the equestrian facilities on offer, there are several other development ideas proposed.
One is to turn it into a multi-owned property among friends or family, with the additional construction of luxury casitas. These would have varying vantage points overlooking the lake or tree-lined meadows.
Another is to transform the wellness area further to make the estate a spa destination with private bungalows added for accommodation and a barn conversion to allow for a wellness centre, gym, treatment rooms, sauna and steam rooms. The lap pool could also be extended or a resort-style pool added.
One final proposal envisions the estate as a corporate or adventure retreat as there are already several offices and conference rooms as a starting point.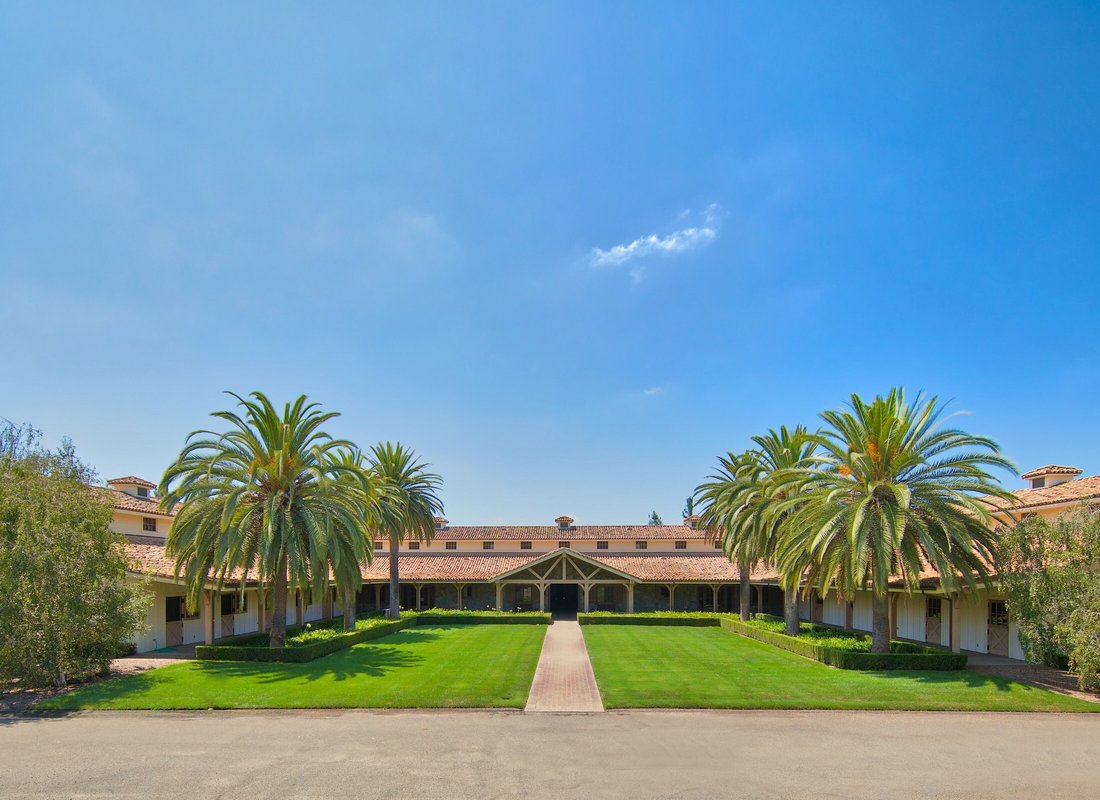 Thanks to its extensive lands, there are plenty of opportunities to develop the estate further.
Additional facilities could include an 18-hole pitch and putt course, indoor or outdoor rock-climbing walls, a parkour course with obstacles and archery and/or axe-throwing range.
In terms of accessibility for visitors, Willow Creek Estancia is conveniently located 30 minutes from San Diego's International Airport and Palomar Regional Airport.
Exclusive luxury insights
for newsletter subscribers only
Delivered every week to your inbox