Hillside villa overlooking Marbella, €4,500,000. Marbella is a number one location on JamesEdition by the number of saved searches.
Why Spain?
Spain is one of the major destinations for international luxury property hunters according to JamesEdition's data. Marbella, including the village of Benahavis, remains at the top by the number of searches. This is not surprising, as Spain is one of the few countries in Europe that leads when it comes to the multiple factors influencing the quality of life.
Spain boasts up to 320 sunny days every year, 579 beaches with Blue Flag, 204 Michelin-rated restaurants, 20 racing circuits and 250 golf courses, including Europe's best Valderrama course in Sotogrande.
Spanish real estate is so popular with the buyers that the national Housing Price Index (HPI) is used to evaluate the investment climate in the entire European Union.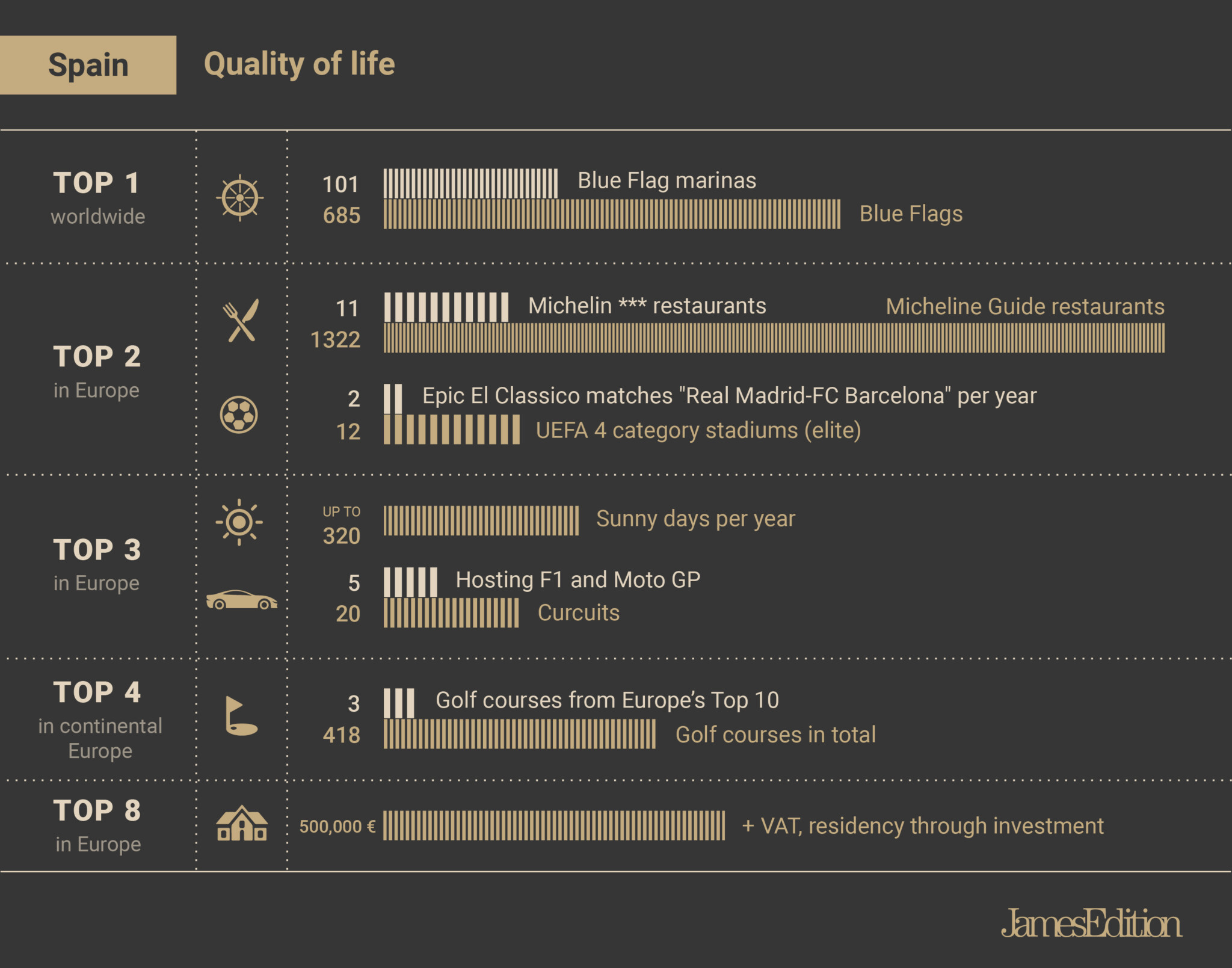 Should I buy a house in Spain?
Just how much investment is there in the elite real estate in Spain today and how much has the market recovered after the recession?
International Luxury Property Expo (ILPE) analysts report that when it comes to luxury buy-to-rent properties, in 2018 Spain ranked second investment-wise (after Great Britain, which is holding on to its leadership position despite Brexit).
Spanish real estate market has been growing steadily since 2016. And in 2018, the country received €4,8 billion of investments in elite properties, up 23% over 2017.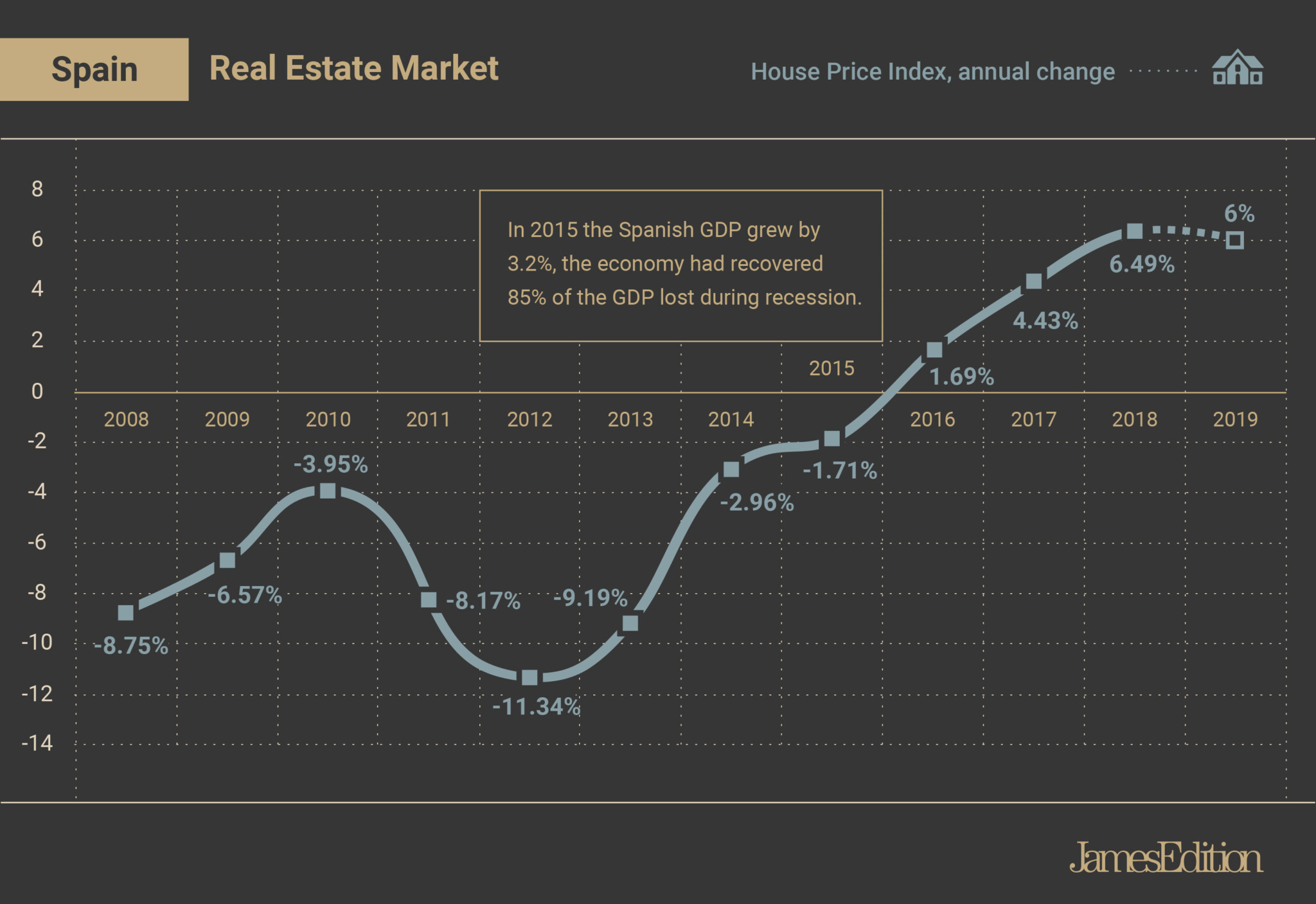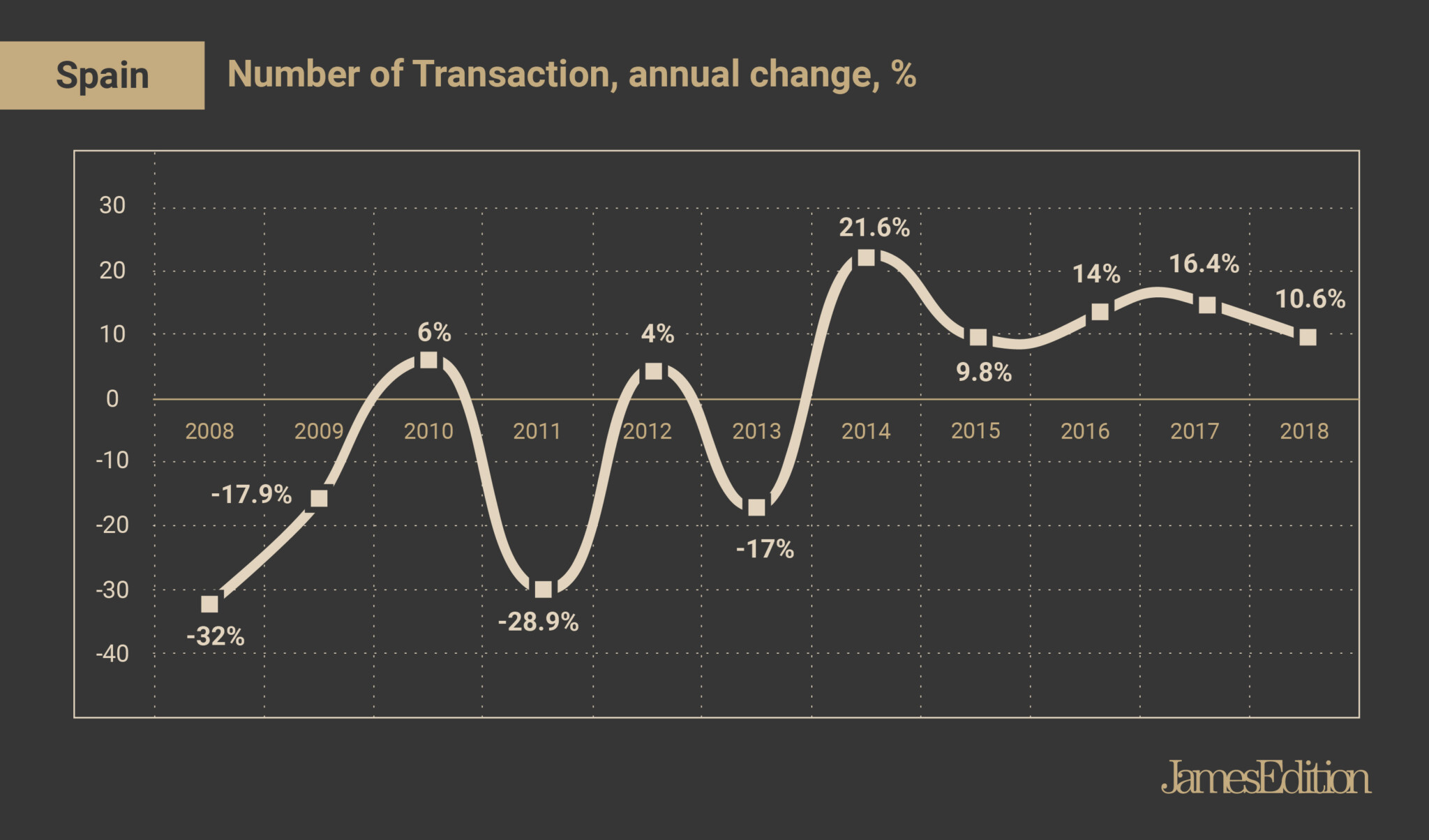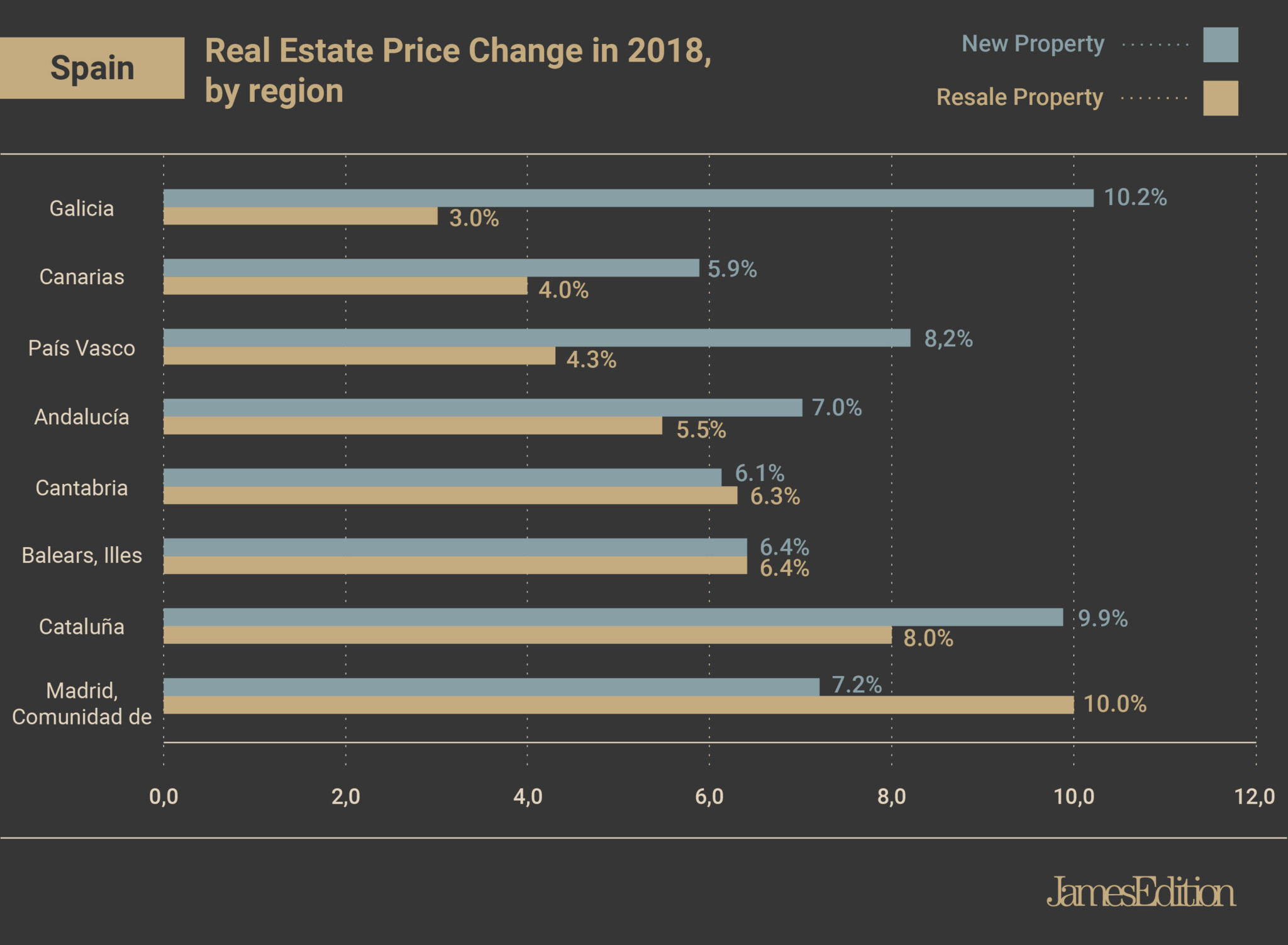 According to the National Statistics Institute of Spain, in 2018 real estate prices have increased by 6.49% in comparison to 2017 (or 5.25% inflation-adjusted). In 2017, the increase totaled 4.43% (not including inflation).
According to statista.com, there is also the continued increase in transactions: in 2016, the growth in demand totaled 14%, in 2017 – 16.4%, and in 2018 – 10.6% with the total number of transactions taken the market back to its 2008 level.
Also, in 2018, Spain's capital surprised many: Madrid showed a 10% value increase, leaving behind Paris and Berlin, both market leaders.
As for the 2019 forecast, experts predict 6% real estate market growth. The regions with the greatest price leap were the Canary and the Balearic Islands, Catalonia and Valencia.
To be neighbors with…
The positive market trend in Spain is mainly driven by foreigners (16.67% of all buyers) buying homes on the coast and in cities like Barcelona and on the Costa del Sol, one of the country's most popular areas with overseas purchasers.
According to statista.com, most foreign homebuyers are Britons, French, Germans, Belgians, Italians and Swedes.
An additional draw is a 'golden visa' program for property investors. Investing more than €500,000 in Spanish property makes buyers automatically eligible for a Spanish residency visa. Primarily aimed at retirees and holiday home buyers, this visa grants its holders to live in the country (but not to work).
What 1M euros can buy in Spain?
What kind of properties in Spain to buy as a second home or as an investment?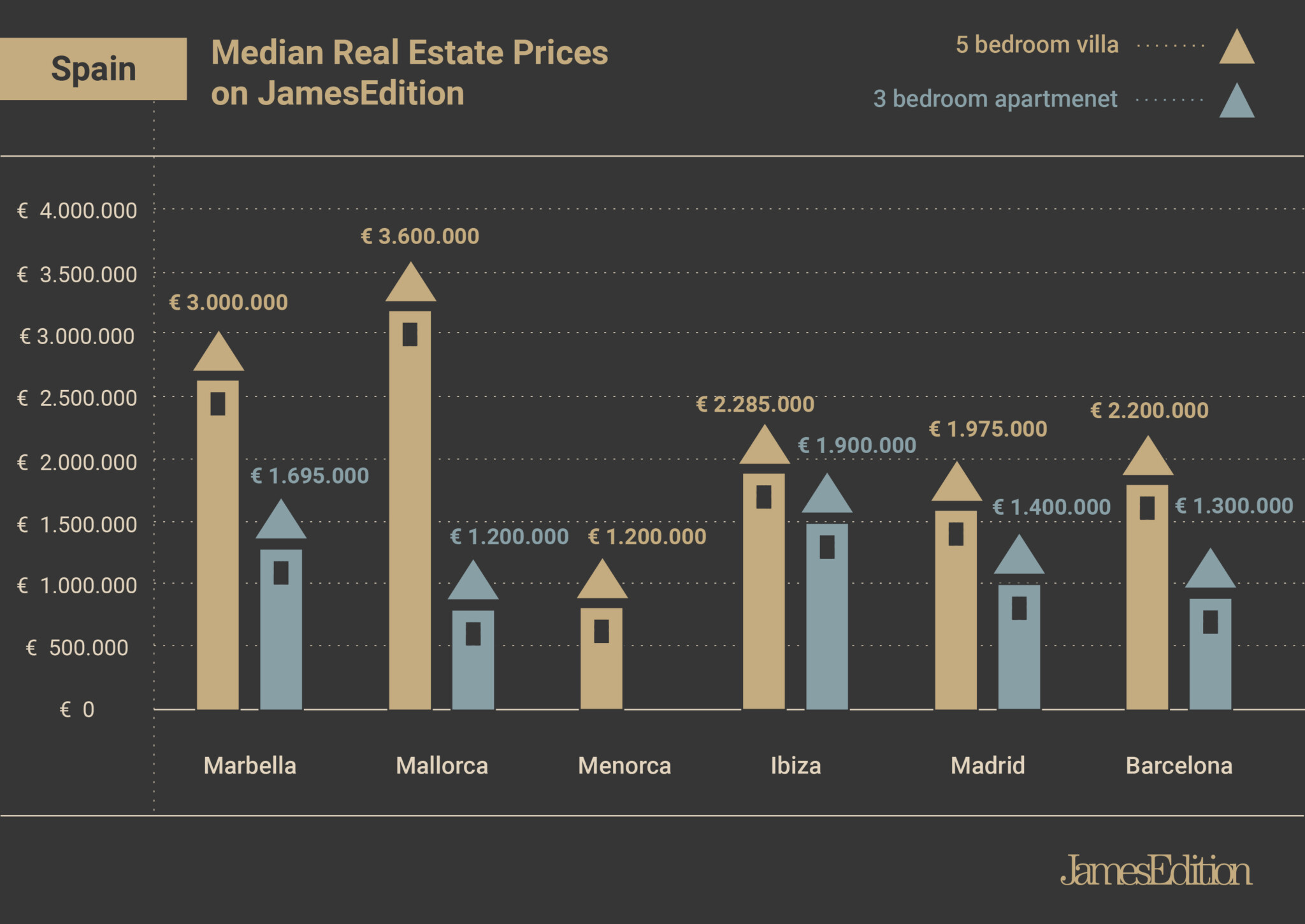 Adding fees and taxes
There are no restrictions on foreigners owning real estate in Spain. The buyer should account for an additional 8 to 14% of the sale price in taxes and expenses.
The amount of tax depends on whether you are buying a resale property or a brand new villa.
VAT is 10% on the purchase of a newly-built residential property.
When purchasing a resale property, a transfer tax applies, and it varies from region to region.
For example, this tax is 7% in Madrid, while a progressive transfer tax scale is in place in the south of Andalusia. The first €400,000 of the cost of the property is taxed at 8%, followed by a 9% tax on €400,001 to €700,000 and 10% for any amount above €700,000.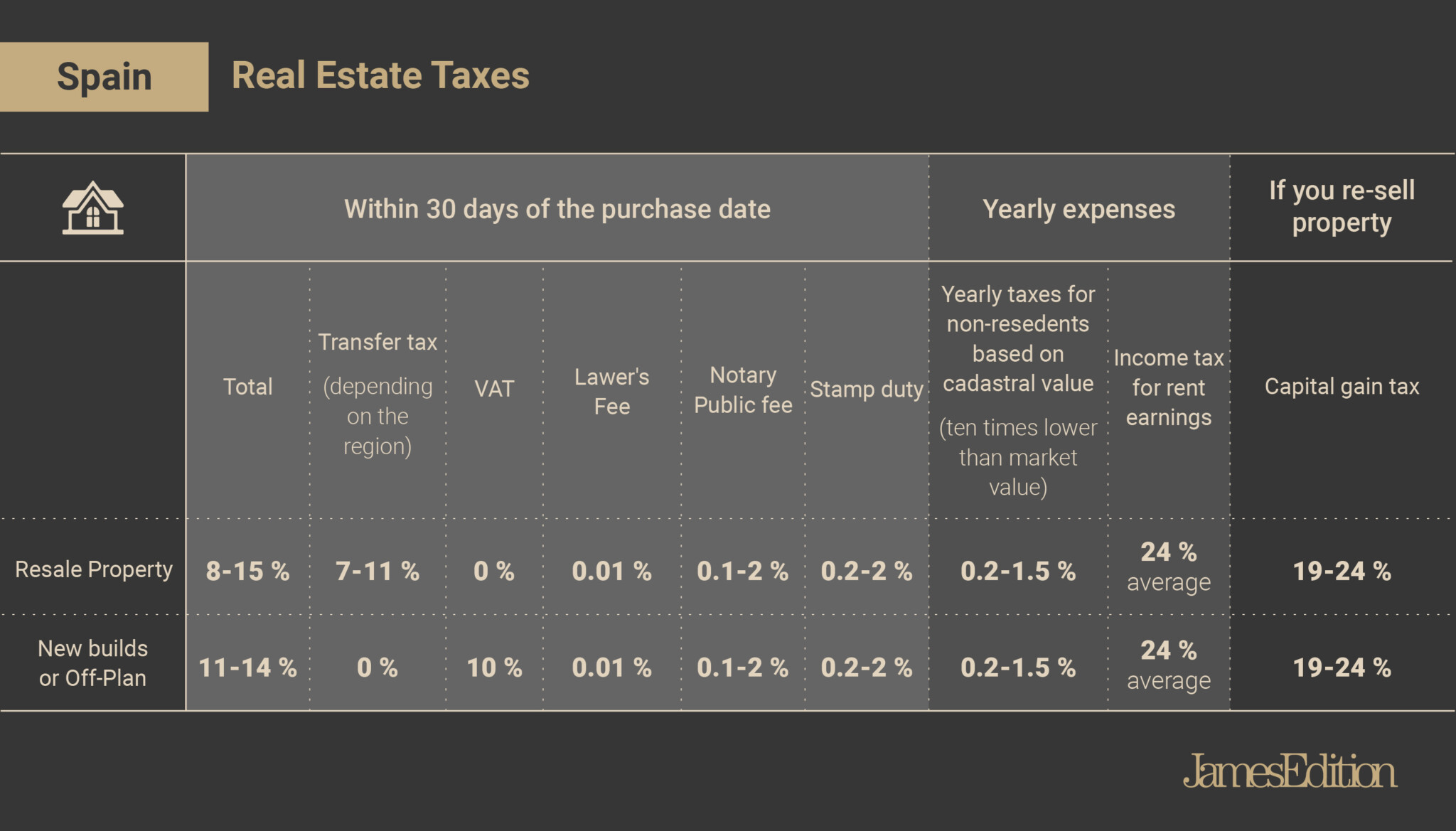 Buyers should also take into account lawyers' and notary fees, stamp duty, land registry fee.
Non-resident buyers pay an annual tax which is calculated based on the cadastral value of the property – it is dozens times lower than the market value of the property. Any rental income from a private property is also taxed.
Finally, should you decide to sell your home, a capital gains tax is payable.
Should I invest in the hospitality real estate market?
According to ILPE experts, in 2019, the EU hospitality real estate market will grow by another 4%.
This trend will be observed in Spain, Italy, Croatia, Slovenia, and Romania. But from these five, only Spain is ranked as the 4th most visited in the world with 63% tourists who reportedly visit the country on more than one occasion.
Where to buy a home in Spain: JamesEdition guides to the best areas and neighborhoods
Mallorca – Newly constructed luxury villas in Majorca are more beneficial in terms of tax payments compared to second-hand homes.
Menorca – А smaller and more traditional island – an incredible location to escape from a busy life elsewhere.
Ibiza – Smart investors are buying properties with tourist appeal.
Marbella – Buyers include owners of 30-meter yachts moored in the port of Puerto Banús and entrepreneurs wishing to invest spare 2-3 million euros in holiday homes on this stunning island.
Madrid – Is it a new "go-to" city for international buyers?
More inspiration from JamesEdition:
All homes available for sale in Marbella
Exclusive luxury insights
for newsletter subscribers only
Delivered every week to your inbox